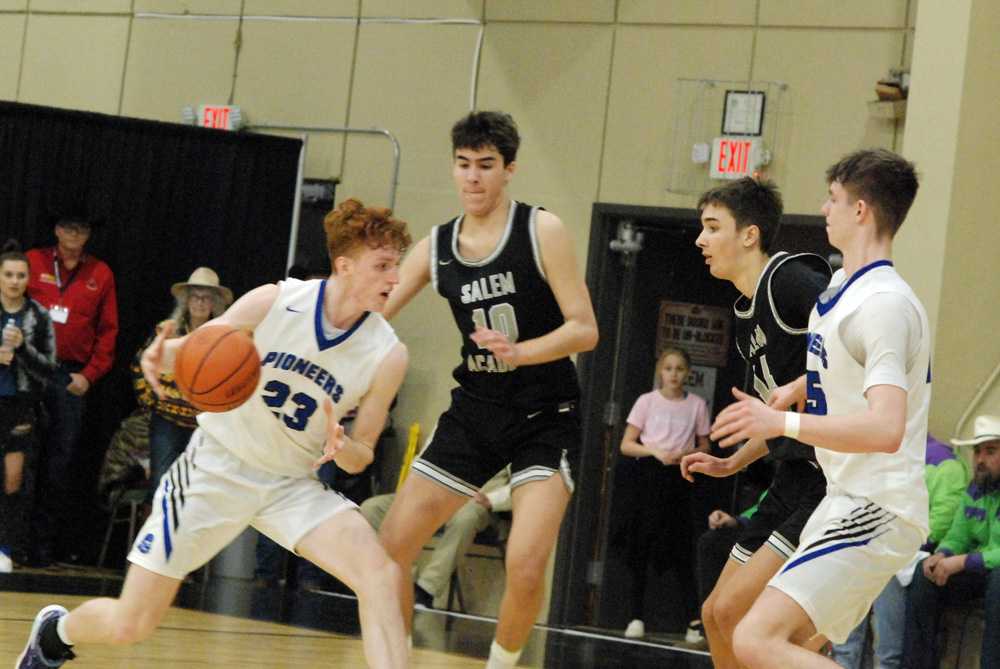 Salem Academy junior Jaren Oglesby worked his way into the lane as the clock ticked down. Four…three…two…The 6-4 wing spun on 5-9 Western Christian guard Lucas Zook and launched a shot near the free throw line in double overtime that would give the Crusaders their first official boys state championship in school history.
The iron was unkind. The ball clanged off the rim.
Western Christian senior Austin Sladek, positioned for a rebound, saw the ball bound right as the buzzer sounded.
"I didn't react," he said. "It didn't hit me that we won."
That's the kind of game it was Saturday evening for the state title at the OSAA / OnPoint Community Credit Union 2A Boys Basketball Championships, held at the Pendleton Convention Center. No one could believe that this edge-of-your-seat thriller was actually over. No one wanted it to be over.
But it was. Western Christian prevailed, 54-53, to claim its second title since 2019. That makes two titles and a championship finals appearance for the Pioneers in the three non-Covid years the championships have been held in Pendleton.
"Two in three is very sweet," said Western Christian's longtime coach, Gary Hull. "It's fun to take our little school and, hopefully, build a program the right way."
After the game, both coaches ruminated about how the outcome could have been completely different.
Salem Academy went 1-for-5 from the free throw line in the first half.
"I sure would like to have one of those back to go to triple OT," said Crusader coach Ben Brown.
Salem Academy also got into foul trouble and it cost the team. Chase Brown, one of its interior players, fouled out early in the first overtime. Jackson Oglesby, a 6-7 junior big man, fouled out in the first overtime's waning seconds. Playing without that duo would end up costing SA.
"We knew foul trouble could be the key," Hull said. "They don't go deep; we don't go deep. It played a big part. I'm glad it wasn't us."
Indeed, in games like this, it's always the little things that separate champions from runners up.
Champions recognize mismatches and exploit them. They make free throws when they must be made. They don't lose composure when everything seems to be going against them.
Runners up look away for just a second, leaving someone free on the perimeter to drain a last=second triple. They miss one more layup than their opponent or pass one up when shooting might have produced an easy bucket. They get a little too aggressive and foul because they're having to claw from behind.
One point.
One point.
That's what separated champion from runner up on Saturday. One missed free throw here or an empty possession there and the result might have been completely different. One point, maybe two, and Crusaders might have been climbing the green ladder to snip off that net rather than Pioneers.
That's how close it was.
If you asked Coach Brown, he would have been thrilled to know his team would be playing in overtime after the way his Crusaders fell behind, 15-5, with 90 seconds remaining in the first quarter. Two deep threes from Zook, another from Chaz Storm and strong play in the paint from Sladek were big reasons Western had forged a double digit lead.
"We didn't look so good and it didn't seem like anything we put into Scout was coming true," Brown said. "That put us back to the drawing boards."
A Landen Iversen free throw and triple from Landen Mitchell in the last 30 seconds helped bring Salem Academy to within 15-9 at the end of the first and John Pass' first bucket of the game helped SA open the second quarter with momentum and a 6-0 run. Sladek's baby hook slowed the Crusader run but did not stop it. Another Pass jumper and successive buckets from Jaren Oglesby – a baseline jumper and deep, deep three gave Salem Academy its first lead of the game with 4:30 remaining before halftime.
Western Christian regained the lead when Sladek found Owen Stalnaker back door for a layup with 2:41 left until the break.
In the meantime, Salem Academy was having one empty possession after another. After working to take the lead, the Crusaders did not score again in the second quarter.
Western Christian had one more bucket in it and it proved to be a huge one. Sladek found senior reserve guard Jaaron Janzen on the wing. He launched and hit a deep three-ball as the clock wound down to extend the Pioneer lead to four. That would prove to be huge as the game went on.
The third quarter began and Western Christian quickly built on its lead. Stalnaker hit two charity tosses, then finished off another terrific Sladek assists. Storm had two buckets as part of 9-3 run that again gave the Pioneers a 10-point lead at 31-21. With only two minutes remaining in the third, time was running out on Salem Academy.
Pass started a rally for SA that got the Crusaders to within 31-28 heading to the fourth. His corner three was followed by one bucket each from the Oglesby boys. Salem Academy had life!
The fourth quarter started with Sladek, who had a monster game, finishing inside with his left hand. Chase Brown made a free throw and Jackson Oglesby converted a jump hook to pull Salem Academy to within 33-31. The Crusaders had two possessions to tie or go ahead but could not get a ball to go down. Western also missed shots that could have extended its advantage.
Salem Academy put lots of pressure on Western Christian's young guards, looking to turn them over. Both Zook and Gavin Hall did a nice job of staying composed, but the end of the game was played at a frenetic pace, as the Crusaders looked to create extra possessions to aid their comeback.
Sladek inside with a hoop and a Stalnaker free throw made the score 36-32 Pioneers with 2:19 remaining in regulation.
A lot happened in those last 139 seconds, none bigger than Mitchell defying the laws of physics by banking in a three from the corner to pull SA within one, 38-37.
Sladek made two free throws to get Western Christian's lead to three.
Pass found Brown inside for a deuce.
Storm made one of two free throws.
The score was 41-39 Western with 27 seconds remaining.
Pass, a 6-2 senior guard with a complete skill set, had started to take over the game in the third quarter. He was ready for another big moment. Pass brought the ball up court and found his way into the key. He elevated and shot, kissing the ball off the front rim and then the backboard before going down with 13.9 seconds remaining. The game was tied at 41s, the first tie since 0-0!
Coming out of a time out, Salem Academy, seeking to defeat Western for the third time in four tries this year, applied full court pressure. Janzen broke it for Western Christian and attacked the rim. He got a great look, but his scoop did not go down. The teams fought for the ball and the jump ball call gave possession to Western, whose last-gasp attempt to get the ball inside to Sladek was unsuccessful.
The teams were bound for overtime.
No shots were attempted by either side in the first minute of the first four-minute overtime. In the second, Brown fouled out for Salem Academy. Stalnaker made the two free throws to give Western a lead. Storm then fouled Jackson Oglesby. He made both freebies to tie.
Zook drove all the way for the go-ahead hoop. After SA missed two layups, Pass hit a jumper to knot the game once more. A Western Christian turnover and questionable foul call on Stalnaker sent Pass to the line for two more free throws, which he hit to give Salem Academy its very first lead with 25 seconds remaining in overtime.
Sladek got the ball on the ensuing possession and drove to the basket, where he was fouled by Jackson Oglesby, his fifth. 11.9 seconds remained on the clock. Sladek needed to hit these free throws!
Sladek admitted that he was nervous before the biggest free throws of his life, but all that practice paid off. He hit them both.
There was enough time for Salem Academy to win state in the first overtime. Pass had the ball in his hands and had a good look on a jumper with only a few ticks remaining, but the ball would not fall and the teams were headed to double overtime tied at 47-47.
Salem Academy scored first, on Jaren Oglesby's turnaround jumper over a smaller defender, to go on top in the second overtime. After a free throw from Zook sliced the advantage to one, Sladek used his size to score inside and put Western Christian on top once more. Pass hit two free throws to reverse the lead but Storm, who stands 6-7, was unimpeded in the lane with SA's inside guys out of the game and scored easily to put the Pioneers back on top once more. Two more Pass free throws gave SA it's last lead of the game at 53-52 with 22 seconds left.
Western Christian had one last shot to win and everyone knew the ball was going inside. Storm maneuvered in the key, turned and dropped in a five footer as the clock ran with 10 seconds left.
Salem Academy, down 54-53 now, tried to hurry the ball up court. Its pass into the offensive zone was deflected out of bounds with 3.9 seconds remaining. This allowed the Crusaders the opportunity to call time and set up one final play.
SA tried to get the ball to Pass, but Western (30-3) was having none of that. Jaren Oglesby was the next best option. He worked for and got a great shot. The ball just didn't go down.
"It was a great game between two really rock solid teams," Hull said. "I'm so proud of our guys. I'm also very proud of Salem Academy. They're a great team. They got us the first two games. We made adjustments. I'll tell you, the Pass kid is a great player: So smooth, great off the drive, can stop and pop, elevates well for a 6-2 guard. Can't say enough god things about him."
Sladek was named Western Christian's Moda Health Player of the Game after generating, 19 points, with nine rebounds, five steals and four assists.
Sladek said that the game came to him because he slowed it down.
"Whenever I slow it down, I look around and see open people," he explained.
Sladek's scoring, including 9-of-10 from the stripe, was instrumental to Western's win, but so, too, were his assists.
"When he came to us three years ago, he was more of a perimeter player," Hull said. "He has become a very rock solid individual playing with his back to the basket and out to 15 feet. He can catch and face or take his guy to the rack. He had clutch free throws. I'm very proud of his development over these three seasons."
Storm complemented Sladek's play with 12 points and six rebounds. Stalnaker had 11 points and Zook added nine.
Pass had 21 points, three steals, two assists and five rebounds for Salem Academy (23-6) in the loss. Jaren Oglesby and Jackson Oglesby combined for 20 more points. Salem Academy fell two points short of winning state at an OSAA-sponsored event, after taking the state title during the Covid-delayed season last spring.
In the end, the difference in the game may have been fouls. Because Salem Academy was fighting aggressively from behind the entire second half, the Crusaders fouled more. It resulted in the disqualification of its two big insider presences. When Western needed a bucket to go ahead in that second overtime, it went inside and scored every time.
"I thought the boys stepped up," Coach Brown said. "We had a hard path to this game with Regis and Knappa. I didn't know if we'd have anything left in the second half and they stepped up huge. Obviously losing Chase and Jackson in overtime is tough but we still had a shot. The guys still played hard."
Sladek and his mates stayed on the floor long after the game had concluded, soaking in what it means to be state champions once again.
"The whole game I was thinking, while diving on the floors and stuff, 'I'm going to remember this for the rest of my life,'" Sladek said. "It means everything."
In the boys 3rd/5th game:
Knappa 49, East Linn Christian Academy 37: Brandon Gale hit two huge three pointers, to end the first half and in the fourth quarter; as Knappa (27-2) overcame a slow start to defeat ELCA for third place. Gale's first signature three capped gave Knappa a 21-20 lead and capped a half in which the Loggers played from behind, despite East Linn Christian playing without star junior Cole King. King hurt himself while fouling out of the semifinal game the day before. His second gave the Loggers their first 10-point lead with 2:04 remaining in the game. Gale made two other long range bombs to score 12 for the game. When Gale wasn't filling up the hoop, it was Knappa point guard Shane McMahan who dominated the floor. He controlled the tempo, hit tough shots and played hard-nosed defense. Named the Player of the Game, McMahan scored 14 and added six rebounds, two assists and two steals. Ashton Sewell scored 11 to lead the Eagles (21-9). Devin King had a terrific effort, scoring 10 and adding eight rebounds.
In the boys 4th/6th game:
Regis 56, Bonanza 49: Regis took a four-point lead to the fourth quarter and scored the first eight points of the fourth to put the game away. Nick Woods had 15 points and 11 rebounds to lead the way for the Rams (24-7). Isaiah Koehnke added 14 and Grant Goesch scored 10 and collected 11 caroms. Ty Nelson scored 17 and added 10 board for Bonanza (20-8) in the loss. Allen Hill had 11 and WD Ness amassed 10 points, six assists and five rebounds.
Sportsmanship Trophy: Regis
All-Tournament First Team:
Pass (Unanimous pick)
Sladek
Cole King, East Linn Christian Academy
Isaiah Koehnke, Regis
Logan Morrill, Knappa
All-Tournament Second Team:
Stalnaker
Storm
Ty Nelson, Bonanza
Riley Cantu, Kennedy
Shane McMahan, Knappa