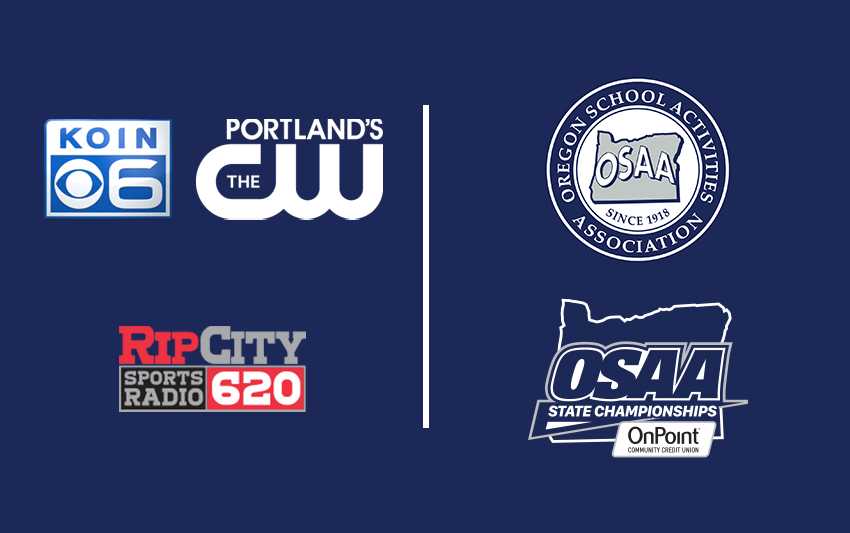 The Oregon School Activities Association (OSAA) / OnPoint Community Credit Union 6A Basketball State Championships will receive unprecedented broadcast coverage this year. The tournament, featuring the final eight girls and final eight boys teams, will take place at University of Portland's Chiles Center from March 9-12. The Boys 3rd Place, Boys Championship, Girls 3rd Place, and Girls Championship games will all air live on Portland's CW on Saturday, March 12. All twenty-two scheduled contests will be carried on 620-AM Rip City Radio.
"After two years, the excitement for our return to the Chiles Center is palpable and we are thrilled to showcase these amazing students and teams on radio and TV," said OSAA Executive Director Peter Weber. "We are extremely thankful for our partners at KOIN/KRCW and at iHeartRadio Portland for bringing these games to Portland."
After carrying a slate of 6A Football playoff games this past fall, Nextstar's KOIN 6 and Portland's CW is expanding its coverage of live high school sports. UP broadcasters Bryan Sleik and Joel Sobotka will handle play-by-play and color commentary duties, respectively, while KOIN 6's AJ McCord will report from the sidelines.
"KOIN 6 and Portland's CW is proud of its commitment to showcase our area's student-athletes as they compete on the biggest stage of local high school sports, the state championship," Tom Keeler – Vice President & General Manager of KOIN-TV and KRCW/Portland's CW said. Keeler adds, "Portland's CW is home to local sports in the Portland-Vancouver-Salem-McMinnville areas and our partnership with the OSAA underscores our on-going commitment to localism and sharing the stories and journeys of local athletes to our entire viewing area live on over-the-air broadcast television. We look forward to expanding our broadcast partnership with the OSAA in the future to provide local viewers with live, local sports content that can only be found locally on Portland's CW."
iHeartRadio Portland's Rip City Radio will carry the majority of the games live, with the exception of the last two Boys Quarterfinals on Wednesday and the Girls 3rd Place and Championships games on Saturday. These four games will be carried via tape delay at the conclusion of Portland Trail Blazers games each day.
"High school sports are incredibly worthwhile for students around the state of Oregon and here at iHeartRadio Portland we have had a long-standing relationship with OSAA to help encourage students and their parents to get involved," said Pete Landry, iHeartMedia Area President, Seattle + Portland. "At Rip City Radio 620, we are pleased to shine the spotlight on these fantastic athletes by broadcasting the Boys and Girls 6A Basketball Tournament to bring some of that high school basketball excitement to the airwaves."
OSAA's multi-media rights holder, Playfly Sports Properties, aided in the development of these radio and television broadcast partnerships. Video coverage of OSAA State Championship events will continue to be available online on the NFHS Network.
Tickets to the 6A Basketball State Championships are available at www.osaa.org/tickets.
6A Girls Basketball Bracket: https://www.osaa.org/activities/gbx/brackets?div=6A
6A Boys Basketball Bracket: https://www.osaa.org/activities/bbx/brackets?div=6A
---
About KOIN, Portland's The CW
Since 1953, KOIN 6 News has been Portland's CBS affiliate, providing local news, network and syndicated entertainment to viewers in Oregon and Southwest Washington. KOIN 6 News is Watching Out for You with 35 hours of local news broadcasts each week, featuring award-winning in-depth investigations, news, weather and traffic. KRCW-TV, Portland's CW, is an over-the-air broadcast television station broadcasting on channel 32.1 and is a network affiliate of The CW Television Network. Portland's CW also airs three hours of live news Monday through Friday, and two hours on the weekends powered by KOIN 6 News. Portland's CW also programs the best in syndicated situational comedies, as well as a myriad of local sports including the Portland Winterhawks, the University of Portland Pilots, and Linfield University, with more to come.
About Rip City Radio 620
Rip City Radio 620/KPOJ-AM is the flagship station for the Portland Trail Blazers and is owned and operated by iHeartMedia, which also owns and operates KKCW-FM, KLTH-FM, KKRZ-FM, KFBW-FM, KXJM-FM, KEX-AM and is part of iHeartMedia. iHeartMedia, Inc. [Nasdaq: IHRT] is the leading audio media company in America, reaching over 250 million people each month. It is number one in both broadcast and digital streaming radio as well as podcasting and audio ad tech and includes three business segments: The iHeartMedia Multiplatform Group; the iHeartMedia Digital Audio Group; and the Audio and Media Services Group. Visit iHeartMedia.com for more company information.
About Oregon School Activities Association
Created in 1918, the Oregon School Activities Association (OSAA) is a private non-profit, board-governed association comprised of 294 public and private member high schools. A member of the National Federation of State High School Associations, the OSAA annually sponsors 113 team and 426 individual event state championships for students competing in 19 interscholastic activities. For more information, visit OSAA.org or follow @OSAASports on social media.
About Playfly Sports
Playfly Sports is a full-service sports marketing company operating where sports marketing, media & technology converge. Playfly Sports drives outcome-based solutions for brands reaching approximately 83% of all US sports fans generating over 230bn impressions each year in pro, college, and high school sports. Utilizing the influence and durability of local sports fandom, Playfly Sports exclusive rights in the NBA, NHL, MLB, NCAA, esports, and high school sectors drive value for our local, regional, and national brand partners. Playfly's insights-infused multimedia and tech platforms drive innovation through scaled linear, digital, in-venue, and experiential marketing and engagement assets. Playfly Sports has the unique ability to partner, innovate, and advance the aspirations of athletes, brands, academic institutions, and sports fans across the U.S. Playfly Sports is Igniting Brands through the Love of Fans. Visit Playfly Sports online at playfly.com and follow Playfly Sports on LinkedIn, Twitter, and Facebook: @PlayflySports