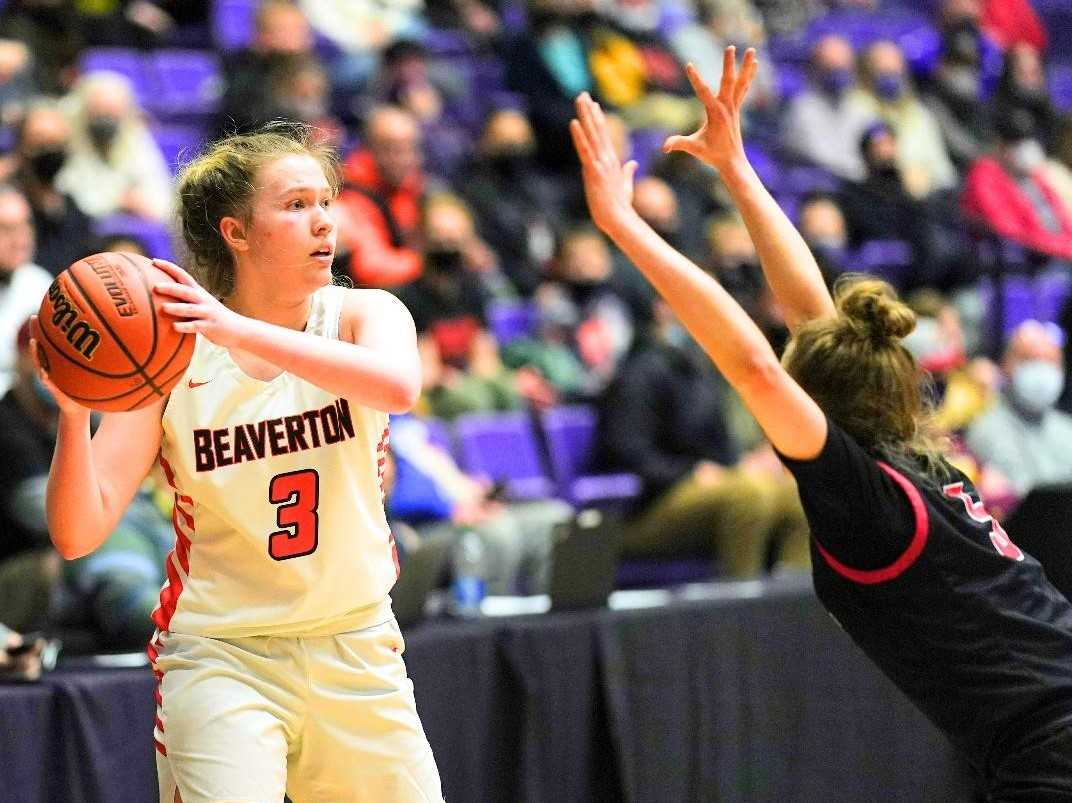 PORTLAND – Suffocating defense continues to make the difference for top-seeded Beaverton in the OSAA/OnPoint Community Credit Union 6A girls basketball tournament at the Chiles Center.
The Beavers (25-1) turned their 6A-leading defense loose on high-powered Clackamas (26-3) in a semifinal Friday night, holding the fifth-seeded Cavaliers to a season-low point total in a 41-28 win.
One night after holding West Linn to a all-time 6A tournament low 19 points in the quarterfinals, the Beavers locked down the usually freewheeling Cavaliers, who were averaging 61.2 points.
"We take a lot of pride in our defense," said Beaverton junior forward Lainey Spear, who was instrumental in limiting Clackamas freshman standout Jazzy Davidson to six points. "Holding them to 28 points -- they're so talented, they have a lot of offensive threats – that's just something really great."
Beaverton will go for its first state championship Saturday when it meets No. 7 Barlow (25-3) in the final. The Beavers and Bruins split two games this season, with Beaverton winning at home 39-28 on Dec. 8 and Barlow getting payback 53-46 in the POA Holiday Classic on Dec. 29.
It will be the second state championship game for Beaverton, which lost to Oregon City in the 2002 final.
"It's really cool," senior guard Emily Rice said. "We're definitely not trying to take it for granted, and just focusing on ourselves and what we can do as a team, and staying connected throughout this whole journey."
In 2020, the Beavers also entered the tournament seeded first and made the semifinals before the tournament was canceled due to the COVID-19 outbreak.
"It's definitely crossed my mind," said Spear, a freshman on that team. "Two years ago, we were supposed to be in this position. I just want to finish it for the seniors who didn't get the opportunity."
Borter had 16 points and six rebounds and Rice had 13 points and nine rebounds to lead Beaverton. The Beavers took control late in the first quarter, outscoring the Cavaliers 19-5 to take a 24-10 lead at half.
Rice scored 11 of her points in the first half, hitting two three-pointers. Rice, who entered averaging 6.2 points this season, said the attention paid to her teammates gave her opportunities to attack.
"I was just trying to be aggressive and trying to take everything they gave me, and creating for my teammates, as well," Rice said.
But defense was the answer for the Beavers, who in four postseason games are yielding just 22.8 points per game. They held Clackamas to 27.8-percent shooting (10 for 36).
"They knew most of the things we were running and they took away a lot of things that we like to do," said Cavaliers coach Korey Landolt, who starts four freshmen. "We struggled to get into the flow of what we want to do."
The Cavaliers were coming off a 70-48 quarterfinal win over Lakeridge in which they scored 46 points in the first half and had 63 points after three quarters before the game went to a running clock. Against the Beavers, though, they couldn't get into the open spaces and find their usual shots.
"I think it's definitely playing to more of our style, not giving into their style, fast-paced," Borter said.
Beaverton coach Kathy Naro said that defense is "a commitment the team has made as a group."
"We talk about honoring your teammates, and one of those ways you do that is by playing tremendous team defense," Naro said. "If all five people do their job, defense can just be incredible."
Beaverton and Clackamas had met once before this season, with the Beavers prevailing 50-44 in the POA Holiday Classic in late December to start their current 19-game winning streak. In that game, the 6-foot-1 Spear held the 6-1 Davidson to eight points.
Davidson, who entered the tournament averaging 22.4 points, had difficulty getting clean looks against the athletic Spear in Friday's game. She finished 2 of 12 from the field, including 0 for 5 from three-point range, and had five turnovers.
"With my size, I have an advantage, and I consider myself pretty athletic," Spear said. "I've guarded her before and I know what she likes to do, and she's super good at it. I just tried to take away her left hand and make every single shot tough for her, and I think I did that."
Freshman Sara Barhoum scored eight points to lead Clackamas. In addition to her six points, Davidson had five rebounds, four blocks and two assists.
"It would've been nice if we had been a little more physical," Landolt said. "We haven't seen that kind of physical play since the last time we played them. It's not something we were ready for. It's hard to replicate that."
No. 7 Barlow 44, No. 2 South Medford 42: The Bruins let a 17-point lead slip away, but held on in the final minute as junior Annie Koenig and senior Lindsay Barden each made two free throws.
Barlow (25-3) led 23-6 in the first half, but the Panthers (24-4) gradually came back, finally pulling even at 40-40 on a layup by junior Donovyn Hunter with 1:26 left.
South Medford had a chance to take the lead with one minute left, but Hunter missed a shot, and Koenig made two free throws with 39 seconds left to make it 42-40. South Medford senior Lottie Dillard missed, and Barden hit two free throws with 10 seconds left for a 44-40 cushion.
Koenig's tiebreaking free throws stemmed South Medford's momentum.
"You have to stay focused," Koenig said. "You focus on the ball and the hoop and that's all you've got to do. We've put in the reps at practice. No, we don't practice that kind of pressure."
The Bruins, who appeared in the semifinals for the first time since 1993, will play in their first championship game when they face Beaverton on Friday.
Koenig made four three-pointers and finished with a team-high 20 points, five rebounds, three steals and two assists. Junior point guard Kennedie Shuler had 12 points, nine rebounds, four assists and three steals.
Barlow took a 10-1 lead as Koenig hit two three-pointers and Shuler added a triple. Shuler connected from deep to make it 18-5, and when senior Melanie Hiu struck from behind the arc, the Bruins were up 23-6 in the second quarter.
South Medford pulled within 26-15 at half and 37-31 after three quarters. Hunter made a three-pointer to make it 37-34 and converted consecutive layups to tie 40-40.
Barlow coach Nick Hudson said his team needed to settle down to fend off the rally.
"We talked a lot about being resilient, and when the game got tied, I felt like we were going to either crumble or do well," Hudson said. "We called timeout and we stayed resilient."
Hunter shot 9 of 21 from the field and finished with 24 points, 11 rebounds and two steals for the Panthers. Senior forward Sierra Logue finished with seven points, six rebounds and three steals.