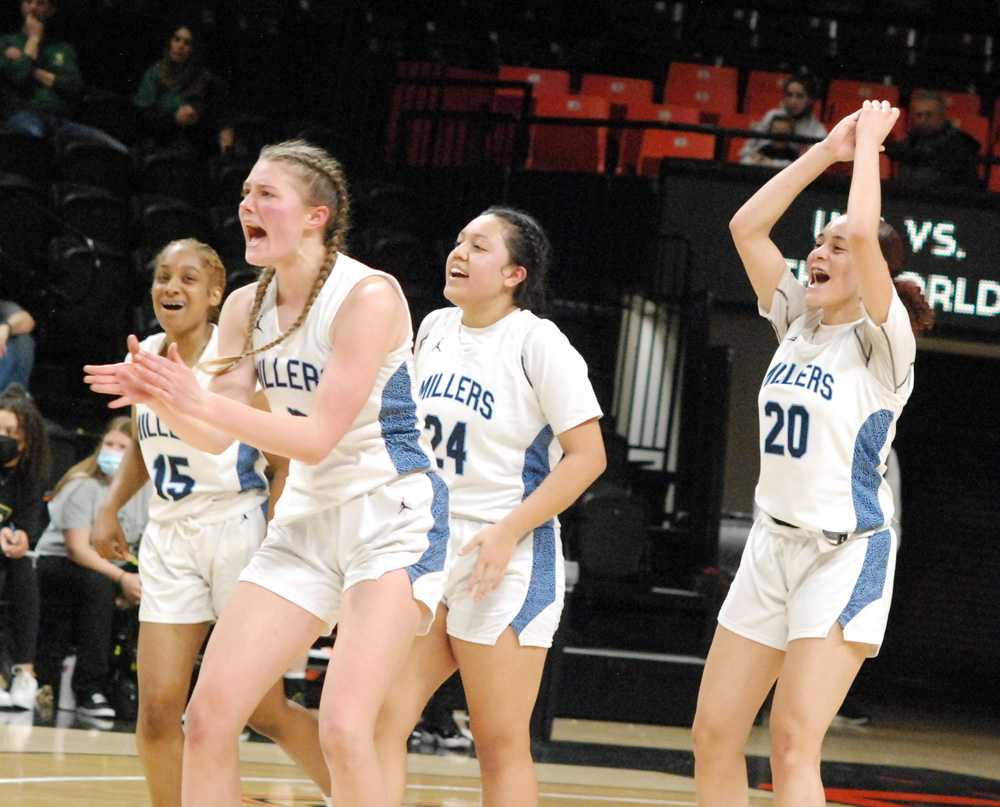 CORVALLIS: What happens when overwhelming offense meets suffocating defense?
For one night at least, defense prevailed, as the Springfield Millers held explosive Putnam to 26 percent shooting, including 2-for-26 from beyond the arc; in their 41-34 5A semifinal win at the OSAA / OnPoint Community Credit Union Basketball State Championships Friday night in Corvallis.
Springfield (21-7) led for all but the first two minutes of the game. Putnam's superb point guard, Maddie Olma, got into the paint and hit a jumper in the first minute, but the Kingsmen got no other good looks the rest of the quarter against Springfield's fantastic 2-3 defense.
Putnam, which scored 24 points in the first quarter of Thursday's quarterfinal win over Crook County, scored just the two points by Olma. The Kingsmen misfired on their other 10 shots.
"We try to make things hard on shooters," said Springfield head coach Joe Williamson. "Putnam was probably more of a challenge than anyone we've played all year. They have three good shooters and two really good posts who can pass and move the ball. The zone has been our go-to. Using it we're usually able to hold most teams to their season-low point totals. It's what we take pride in."
While Springfield was shutting down Putnam, the Millers were was exploiting holes in Putnam's zone defense to get easy scoring opportunities down low for freshman post Juju Henderson. Henderson had eight of Springfield's 11 first-quarter points.
The lid on the Putnam basket remained closed for most of the second quarter. Until the closing seconds of the half, Putnam had scored a total of seven points over the bulk of two, eight-minute quarters, on 3-of-23 shooting, including 0-for-13 from beyond the arc. Fortunately for Putnam, Springfield wasn't much better and, when the Millers yielded a late lay-up to Chloe Weaver, their lead was just 17-9 at the break.
The second half started with a bang for Springfield, which got back any lost momentum from the last second Weaver lay-up thanks to a three-pointer from sophomore point guard Danaeja Romero-Ah Sam. Romero-Ah Sam and Henderson scored all 13 of Springfield's third-quarter points.
Springfield was firmly in control, leading 28-18, when Olma nailed a three-ball with less than two minutes left in the third. Olma scored again with just over a minute to play, then assisted Riley Greenleaf's lay-up in the closing seconds.
With one quarter remaining, Springfield's once-imposing lead had been cut to just five, 30-25.
Putnam pulled within three almost immediately in the fourth quarter, when Greenleaf rebounded a miss and put the ball back in. Romero-Ah Sam answered on Springfield's next possession with a jumper off of one foot to give Springfield a little breathing room.
Putnam had several chances to seriously threaten Springfield's lead, but the Kingsmen struggled to make shots and shot themselves in the foot whenever the game got within three points.
The key sequence came with 3:38 remaining. Putnam rebounded a missed shot underneath its own goal and turned to pass out. Romero-Ah Sam was lurking, however, and got her hands on the ball. She completed the steal while falling out of bounds and tossed the ball in desperation towards the free throw line, where Alexi Morgan corralled it and got fouled on the drive.
She made 1-of-2 free throws, enough to make it a two-possession game at 33-29.
Morgan scored again on a jumper in the lane seconds later to extend the lead and, given Putnam's poor shooting, put the game essentially out of reach. Olma had five points late, including a three-pointer with 46 seconds remaining; but Putnam could never reduce the lead to one possession -- and give itself a chance -- as time expired.
Olma had 16 points to lead Putnam (20-7) but needed 19 shots to get them. Notably, she was 2-12 from three-point range. The brilliant passer finished with just one assist. The rest of the team combined to go 0-for-14 from beyond the arc.
Henderson scored 14 and had eight rebounds for Springfield, but the player of the game was Romero-Ah Sam. The sophomore controlled the tempo with her dribble, made smart passes for easy takes, hit her free throws in crunch time and finished with 16 points. Morgan had a solid game with seven points, four rebounds, four blocks and three steals.
Springfield will take on Crescent Valley on Saturday night for the 5A girls state title. The teams met once before, near the end of Christmas break, and CV won by eight at home.
"They're a good team," Williamson said. "They don't get tired and are really well-coached.
"What we have to do is play one more game of defense."
In other semifinal action:
Girls 5A
No. 9 Crescent Valley 51, No. 4 Ridgeview 34:
Senior-less Crescent Valley pulled off its second upset in as many days, dominating No. 4 Ridgeview to reach the 5A championship game.
It's safe to say that the young Raiders (21-7) are growing up before our eyes.
After a tight first quarter, Crescent Valley worked for a 29-20 halftime lead thanks to strong work from its starting five as well as freshman Kamden Mitchell, a great athlete and rugged interior player. Mitchell started the scoring in the second with a layup assisted by freshman Haley Bland. A great finish by another rugged freshman, Taelyn Bentley, extended CV's lead to 22-13, its largest to that point.
Kyrah Daniels, a do-it-all junior, scored on the fast break from Jenna Albrecht and fed Lexi Gates for a bucket, but Crescent Valley had a ready response to every challenge. A scoop and score from Molly Campbell and Nicole Huang's buzzer banker made the lead nine gain going to the break.
Two early baskets from close range by Bentley got Crescent Valley off to a fast start to open the second half. The 11-point deficit lit a fire under Ridgeview, because the Ravens responded with eight straight points, which included four points and an assist from Daniels, a mid-season move in from Australia.
Clinging to a three-point lead, Crescent Valley got a jolt of momentum when southpaw Charlotte Patel hit a jumper in the key and was fouled. She completed the three-point play to bring the Raiders back to a six-point lead, a lead which grew to nine again on a 3-ball from Gabby Bland. Bland continued to score from the free throw line, swishing eight straight down the stretch as Crescent Valley pulled away for the impressive win.
"We hit a wall there for a little bit, but people stepped up," CV head coach Eric Gower said. "Charlotte hit that huge and-1 when things weren't going our way. That kind of got us going again and we took off from there."
Gabby Bland finished with 23 points. In addition to perfection from the line, she was 3-for-4 from three and made three nifty lefty drives off glass. Bentley added 14 points and nine rebounds in a most impressive effort. The Raiders played a clean game, turning the ball over just nine times. They outrebounded the taller Ravens, 29-20, and made 4-of-7 from long range while Ridgeview misfired on all eight of its attempts.
"It is a complete team," Gower said. "They all work together. They keep the ball moving. We are always ready to attack from wherever."
Daniels had 12 points and six assists for Ridgeview (20-7). Jenna Albrecht, the team's leading scorer for most of the year, was limited to just five points.
Asked whether Crescent Valley, which starts two juniors, two sophomores and a freshman, is old enough to win a state title, Gower responded this way:
"I hope so. There's nothing they can't do. Every time I think they can't they do."
Boys 5A
No. 4 Silverton 50, No. 1 Redmond 36:
Hard-nosed defense and senior calm carried Silverton past Redmond Friday in Corvallis. The Foxes (23-5) capitalized on Redmond's poor long-distance shooting (3-for-17 for the game) and took care of the ball (18 Redmond turnovers to just five for Silverton) to pull away in the second half for a convincing win.
Silverton, which is vying to win the state basketball title after winning football in the fall, led 13-8 after one quarter. The Foxes put up more than twice as many shots, but struggled to convert against Redmond's length and athleticism, especially with 6-8 junior Evan Otten clogging the paint.
"I think we tried not to let it bother us," said Silverton senior point guard Jordan McCarty. "Obviously big boy in the middle is hard to finish around but I thought we did a good job going up and trying to finish strong and get him in a little bit of foul trouble.
Redmond, which came into the semifinal on a 14-game winning streak, tied the game at 17-17 in the second quarter on a bucket inside from Otten. Jamming the ball inside was a point of emphasis for the Panthers because of their struggles from long range. Otten responded with 11 points and 10 rebounds by halftime.
Silverton (23-5) countered Redmond's second-quarter surge by getting a wing three from Austin Ratliff, who had an impactful first half. The bucket gave Silverton the lead for good at 20-17. The Foxes had been 2-for-9 from behind the arc before Ratliff's shot.
Hard-nosed defense from point guard Jordan McCarty, rugged rebounding from Ryan Brown and the smooth shooting of Neil Efimov helped Silverton take control in the third quarter. The Foxes went up by 10 midway through, thanks to a 7-0 run to start the second half. Redmond never got closer than five the rest of the way, when Redmond's leading scorer, Garrett Osborne, scored five straight points to start the fourth quarter; but Silverton responded with a McCarty lay in and a sweet give-and-go to Ratliff from Brown, which was part of a run that restored Silverton's double digit lead.
Efimov finished with 20 points for Silverton, with four steals. He was 8-for-8 from the line, which proved big because Silverton otherwise struggled from the stripe. Ratliff had a dozen, McCarty had 10 and six assists and Brown finished with six points and 10 rebounds.
Otten had 13 points and 20 rebounds for Redmond in the loss. Yoshi Saito finished with 10. Nathan Wachs had an impactful game despite scoring just one point. The 6-4 junior contributed five rebounds and a game-high seven assists.
Osborne, who torched Ashland for 28 in a Wednesday quarterfinal, scored just 12, with seven boards. He was guarded all afternoon by McCarty, one of the premier defensive guards in the state.
"He's a great player," McCarty said. "It's fun to play against players like that. I just tried my hardest and trusted my help side behind me."
Silverton, with nine seniors, will try to win it all tomorrow evening versus Wilsonville, which won in dominant fashion over Churchill.
"I'm excited," McCarty said. "It's been the goal all year. Hopefully we can finish it off."
No. 3 Wilsonville 58, No. 2 Churchill 41:
Wilsonville outscored Churchill, 37-21, after halftime to beat the Lancers going away. It was a total team effort in which every Wilsonville starter shined.
"I thought we really rebounded and defended well today," Wilsonville coach Chris Roche said. "That's who we want to be at our core. I was really proud."
It took until the last play of the first half – a dazzling reverse stick back by junior point guard Maxim Wu – for Wilsonville to take its first lead of the game, 21-20. Until that time, Churchill, with Samaje Morgan dishing and Ty Weiskind scoring, had had the better of the play.
The Lancers jolted to a 7-0 lead to start the game, as Morgan, Churchill's senior star, dished to Bugsy Jensen for a three-ball and then two-handed one inside to Weiskind for a deuce.
Wilsonville was very static to start and didn't get on the board until Tristan Davis stole the ball at midcourt and drove to finish halfway through the quarter. Davis scored again on an "and 1" to keep his team engaged, but five late points from Weiskind put Churchill up three after one.
"He was huge for us early," Roche said of Davis. "We were down 7-0. If he doesn't score some for us we could have been down 15-2. But he held us in there and kept us going. "
A corner three from Matthew Forsyth to open the second quarter and a Weiskind teardrop extended Churchill's lead to eight. The Lancers threatened to blow the game open. Wilsonville stayed close thanks to a top of the key triple from Wu and his dogged defense on Morgan, who scored only three before the break.
"Maxim had the toughest assignment maybe in the state," Roche observed. "Morgan is an incredible player and very hard to guard. He played him great on defense, he scored, he was poised…he's getting better and better."
Davis, Wu and Enzo Chimienti helped Wilsonville pull away in the third quarter. Davis, a 6-7 junior, started things with two three pointers, one from beyond the arc and another "and 1," to extend Wilsonville's lead to six, 28-25. The Wildcat lead grew to seven, 34-27, after three quarters, when Chimienti hit a key jumper with a hand in his face at the buzzer.
"That was huge!" Roche exclaimed. "Enzo is a glue guy for us. He's tough, he's unselfish. When Enzo gets involved we're playing better."
The fourth quarter belonged to Wilsonville. Logan Thebiay, the Wildcats' 6-10 senior center, owned the glass, limiting any Churchill rally attempts to one shot time and again. He finished the game with 18 rebounds and nine points, including an emphatic dunk on a nice feed from Davis that put Wilsonville (26-2) up 50-36 with 2:41 to play. Churchill (22-6) could only foul thereafter, as Wilsonville, which had just 10 turnovers for the game, did a decent job of taking care of the ball.
Wu led Wilsonville in scoring with 15 points. Davis had 14 and four assists. Chimienti finished with 13, Thebiay had nine and Sophomore Kallen Gutbridge, the team's usual leading scorer, collected seven and five boards. Wilsonville shot 63 percent from the floor in the second half and 53 percent for the game.
"We're a very balanced team," Roche said. "Anybody can score for us. They're kind of learning that it doesn't matter who scores. If the team wins."
Weiskind had 13 and Morgan had 10 points for Churchill, which was outrebounded, 31-19, for the game and shot just 39 percent from the field.
In consolation action
Girls 5A
No. 1 Willamette 57, No. 5 Corvallis 21: Willamette jumped to a 5-0 lead and never trailed in its consolation rout of Corvallis. The Wolverines led by six after one and 12 at halftime, but really turned it on in the third quarter, when they outscored the Spartans, 22-5. Kayla Morris had nine points in that quarter, but it was freshman Brynn Smith who led Willamette in scoring with 25 points in 25 minutes of play. Holland Jensen had eight points to lead Corvallis, which shot just 16 percent from the field for the game.
No. 3 Crook County 47, No. 2 Silverton 44, OT: McCall Woodward hit a three-pointer with six seconds left in overtime to propel Crook County past Silverton. The Foxes, badly outplayed in the first half, went in front for the first time all game, when Paige Traeger hit a three with 45 seconds remaining. That gave Silverton, which trailed by 17 at halftime, a 38-36 lead. Katelynn Weaver had two free throws late to send the game to extra time, where Woodward hit her game-winning shot. Emma Bales had 17 points and 13 rebounds to pace Crook County. Kyleigh Ryan scored 25 for Silverton.