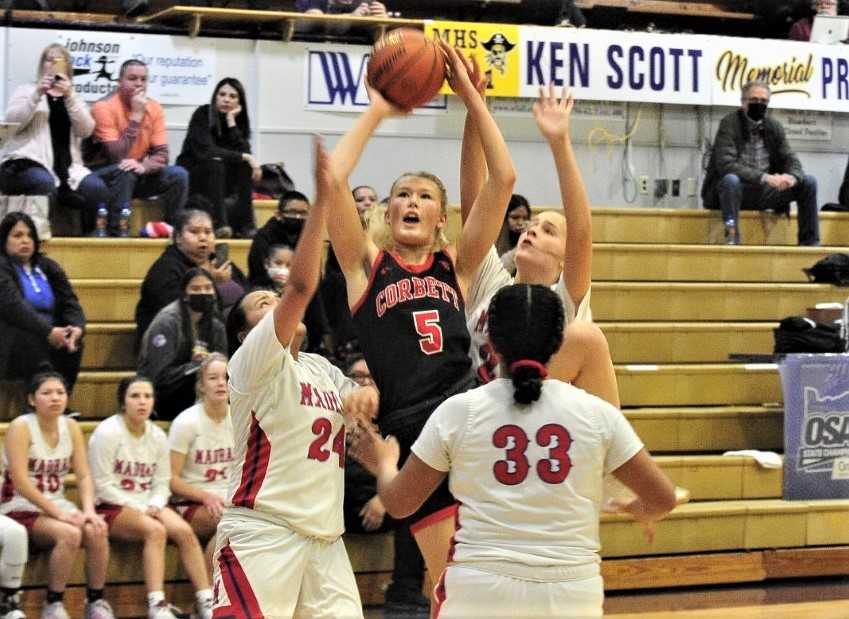 By JOHN GUNTHER/THE WORLD
COOS BAY — Nearly everyone expected Philomath to be in the final of the OSAA/OnPoint Community Credit Union 4A girls basketball tournament.
Not so much for Corbett.
But that's the matchup Saturday night when the teams tip off for the crown at 8:30 p.m. at Marshfield High School.
Both teams avenged losses to reach the finals. Corbett topped league foe Madras 60-36 after losing two close games to the White Buffaloes in the Tri-Valley Conference season. Philomath beat Hidden Valley 44-28 — the Mustangs edged the Warriors in the 4A Showcase event last June.
Corbett entered the playoffs as the No. 11 seed and beat Cowapa League co-champion Banks on the road just to get into the state tournament. Then they topped No. 3 seed Baker in the quarterfinals and the White Buffaloes in the semifinals.
"I think we've worked really hard for this," said Corbett post Grace Merrill. "We started at the bottom of 4A and now we've beaten the No. 3 team (Baker) and Madras, who beat us twice."
The third time was the charm against the White Buffaloes, she said.
"I think our defense was a lot better," she said. "We played as a team. We talked a lot more than the last two."
The Cardinals forced 27 turnovers and had 20 steals, nine by Allyson Schimel.
"Tonight we went out and played and put everything on the floor," Schimel said. "We let loose."
Schimel finished with 18 points and nine rebounds, along with five assists. Merrill had 14 points and eight boards and Taylor Donahue scored 16 points.
Schimel also hit two big three-pointers that helped give the Cardinals momentum.
"We always let those fly knowing Grace is going to get those rebounds and put them back in (if we miss)," she said.
While the Cardinals played a strong game, Madras struggled a night after an emotional overtime win over No. 2 seed Cascade.
The White Buffaloes shot just 28 percent for the game and 1-for-16 from three-point range. Sasha Esquiro and Rylan Davis scored nine points each to lead the way.
Madras started hot, with leads of 7-0 and 9-2 early before Corbett scored the final nine points of the first quarter. The Cardinals led 25-17 by halftime on a three-pointer by Schimel to beat the buzzer, and got the lead largely through dominating the rebounding battle late in the first quarter and through the second.
The Cardinals had 10 offensive rebounds to 11 defensive boards for Madras in the opening two quarters.
That made up for the team's 33-percent shooting (Madras wasn't much better at 35 percent).
Madras did a much better job rebounding in the second half, and even finished with a 36-33 edge overall, but the damage was already done.
Madras faces Hidden Valley in the third-place game at 2:15 p.m.
Corbett, meanwhile, will get a shot at another higher-ranked foe when it battles No. 1 Philomath.
"I think this is crazy," Schimel said. "I knew our team was good. I didn't know how far we would go. I'm proud of our entire team.
"This is amazing."
Philomath, meanwhile, earned its spot in the final with an efficient win over Hidden Valley.
"It feels so good," said Philomath's Hailie Couture. "That's what we came here to do.
"We are so excited (to play in the final). We worked so hard in the season to get here."
In a battle of two strong defenses, Philomath held the Mustangs to eight points or fewer in every quarter (12 total in the first half), limiting Hidden Valley to 20-percent shooting for the game.
The Warriors weren't much better on offense in the first half, scoring just 21 points of their own, but got going after halftime.
"Hidden Valley does a good job," Philomath coach Ben Silva said. "We talked (at halftime) about just being patient, let the game come to you. That's what we were able to do in the second half."
Philomath stretched the lead quickly in the third quarter and led by double digits most of the final two quarters.
An 8-0 run in the final 40 seconds of the third quarter essentially put the game out of reach. It included, a three-point play by Kramer, a steal and hoop by Kramer and another Hidden Valley turnover that led to Kramer being fouled and making a free throw and the Warriors getting a rebound basket by Couture when Kramer missed the second foul shot.
Couture said Philomath was strong on offense.
"We didn't let their pressure get to us," she said. "And we have Sage Kramer — she's a beast."
Kramer had 17 points, eight rebounds and seven steals in the win.
Abigail Brown provided 10 points and eight rebounds inside and Couture hit a pair of three-pointers and scored 10 points of her own. Ingrid Hellesto added six points and six rebounds off the bench for the Warriors.
"Hailie did a good job and Abigail did a good job finishing inside," Silva said.
Having multiple options to go with Kramer helps a bunch, Couture said.
"Nobody can guard us," she said. "If they (double team) Sage, I can go out and Reagan (Larson) can go out and hit a shot."
Larson didn't score Friday, but also plays a vital role to Philomath's success, Silva said.
"Reagan doesn't get a lot of credit," he said. "She guards the best player every night and handles the ball on offense."
Skylar Willey led Hidden Valley with 10 points and 10 rebounds and Teryn Powers added eight points.