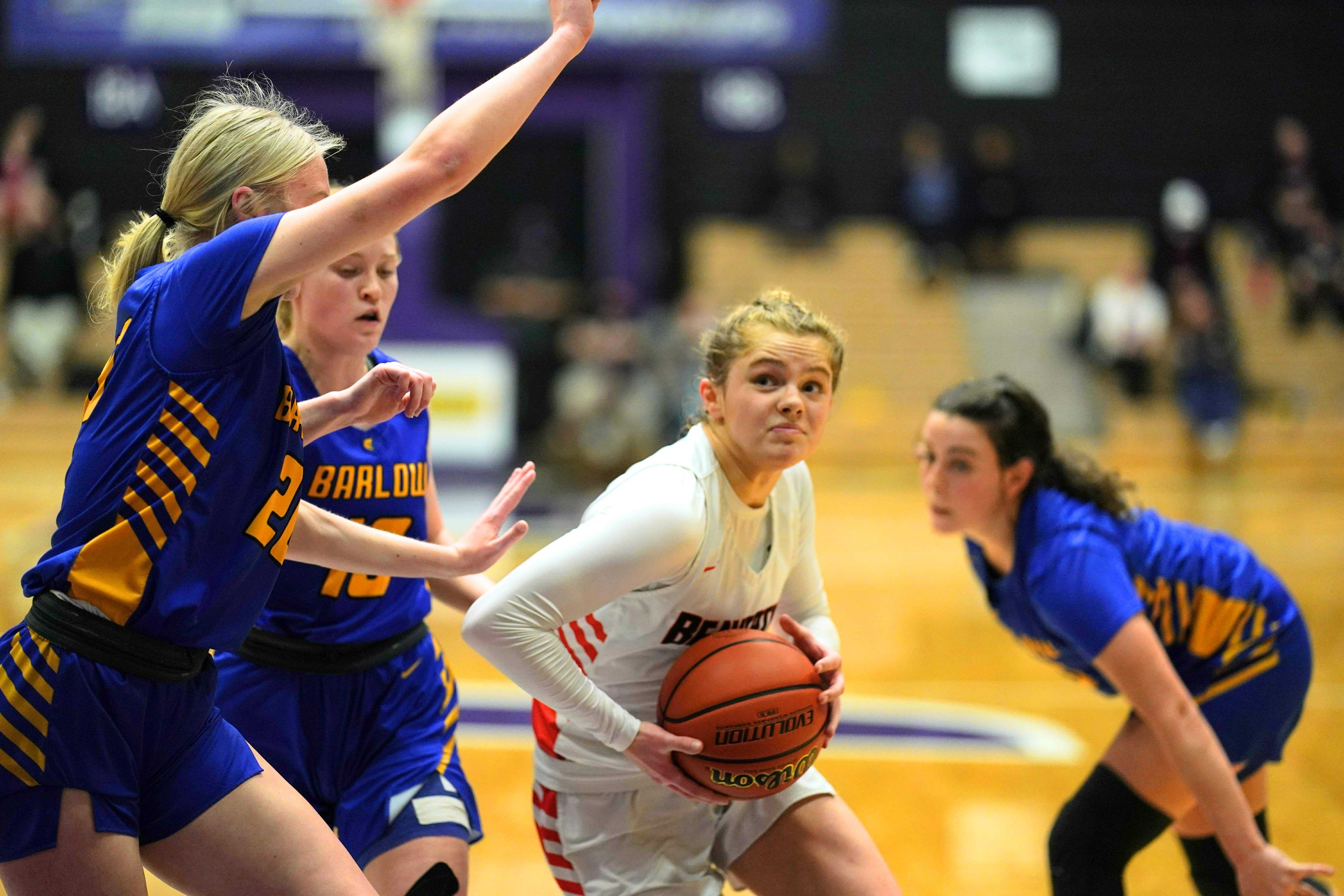 PORTLAND – It came a couple years later than they expected, but the Beaverton Beavers finally have their first girls basketball state championship.
The top-seeded Beavers left little doubt that they are the state's best team with a convincing 56-39 win over No. 7 Barlow in the final of the OSAA/OnPoint Community Credit Union 6A tournament Saturday at the Chiles Center.
Beaverton (26-1), playing in its first final since 2002, bolted to a 19-2 lead in the first quarter, extended the advantage as high as 22 points in the second quarter and withstood a Barlow rally that cut the margin to single digits in the third quarter.
After losing to Barlow in the POA Holiday Classic in late December, the Beavers finished the season with 20 consecutive wins. They were a cut above at the state tournament, winning three games by an average of 17.7 points.
"I think we were definitely peaking at the right time," said junior guard Zoe Borter, who scored a team-high 17 points. "Especially offensively, just moving and playing off each other. It was super special."
Two years ago, the Beavers held the No. 1 playoff seed and were on the cusp of history after making the semifinals, but were devastated when the tournament was canceled due to the coronavirus outbreak. The disappointment of the six seniors on that team served as motivation this season.
"Totally," junior forward Lainey Spear said. "We got something that they didn't get to have, that they were supposed to. I love them and I wish that they could be here, because they deserve it. But I just wanted to win for them, and I'm so happy that we finally got a win for them. I wish they were here to see it."
At least one player from that team, Mary Kay Naro – the sister of senior point guard Madison Naro and the daughter of coach Kathy Naro – was in attendance Saturday.
"My sister talks about it all the time, coming short," Madison said of Mary Kay, who now plays at Boise State. "It's like a memory that she'll never forget, feeling like not finished. So finishing that, it feels so good."
The title also was the first for Kathy Naro, who is No. 20 on the state's all-time wins list with a record of 410-100 at Jesuit (1995-2009) and Beaverton (2017-present). She won a title as a player for Tigard in 1988 but lost championship games as a coach for Jesuit in 2003 and 2007.
"It means everything," Borter said of giving the coach her first title. "Kathy is like the best person ever, and she deserves this so bad. It's so awesome."
Said Spear: "It just means that her coaching us, her late nights watching film, scouting, that just pays off for her. Us working hard reflects on her and how great of a coach she is."
Kathy Naro said she drew some coaching inspiration from her father, former NBA coach Rick Adelman, heading into the playoffs.
"I've been calling him, and he's given me such wise advice," she said. "About a week and a half ago, we talked through plays and switched a couple things."
The Beavers had split two games with the Bruins this season, winning 39-28 at home Dec. 8 before losing to them 53-46 in the POA Holiday Classic on Dec. 29 at Franklin High School.
Beaverton came out smoking on Saturday. Senior Emily Rice and junior Jaydin Lutu hit three-pointers to make it 6-0, and after a Barlow basket, the Beavers reeled off the next 13 points to lead 19-2. Early in the second quarter, Borter made a three-pointer and scored off a steal as the lead grew to 26-4.
"I feel like we wanted it so badly that we were going to do anything to get it," Spear said. "And that start kind of helped us win the game."
The 22-point deficit proved to be too much for Barlow (25-4) to overcome.
"That was it," Bruins coach Nick Hudson said. "They came out really hot. We know that they're a really good team, obviously, and they run their man-to-man stuff really well, and we were like, 'All right, let's see how the zone stuff works out.' And they were hot. They were just on fire from the beginning of the game."
The Bruins didn't roll over, though. Junior guards Annie Koenig and Kennedie Shuler each made three-pointers to start the second half, cutting the gap to 32-21. Shuler hit another triple and Koenig completed a three-point play to trim the deficit to 36-27 with 3:22 left in the third quarter.
It was starting to feel like the teams' last meeting, when Barlow wiped out a 13-point deficit to win at the POA Holiday Classic.
"I started having flashbacks," Spear said. "I was like, 'This isn't happening again.' I talk about leaning on our defense, and helping transition to offense. They made big shots, especially Kennedie, but our defense kind of won the game for us."
Borter made a three-pointer and scored on a drive to beat the third-quarter buzzer, making it 41-30. Naro drove for a basket and added three-pointer to push the lead back to 46-32 with 5:14 to go. Beaverton closed out the game with eight free throws in the last three minutes.
"We just had to settle down and come together and get back to focusing on our defense and rebounding, and talking and communicating with each other," Borter said. "And then we were fine."
Naro finished with 16 points and six assists, Spear had 10 points, five rebounds, three assists and four steals and Rice had 10 points for the Beavers. They shot 54.5 percent (18 for 33), including 6 of 10 on three-pointers.
Koenig made two three-pointers and scored 20 points and Shuler had four three-pointers and 13 points for Barlow, which shot 33.3 percent (11 for 33).
It was Barlow's first appearance in the state final. Considering Shuler and Koenig are among the players eligible to return next season, the Bruins could make another run soon.
"This proves to us and other people that we can make it this far," Koenig said. "We'll push each other, get better and work as a team, see how far we can go next time."
The Beavers, who started four juniors, also will be among the teams with state title aspirations in 2023.
"We're going to do it, hopefully," Spear said of a repeat.