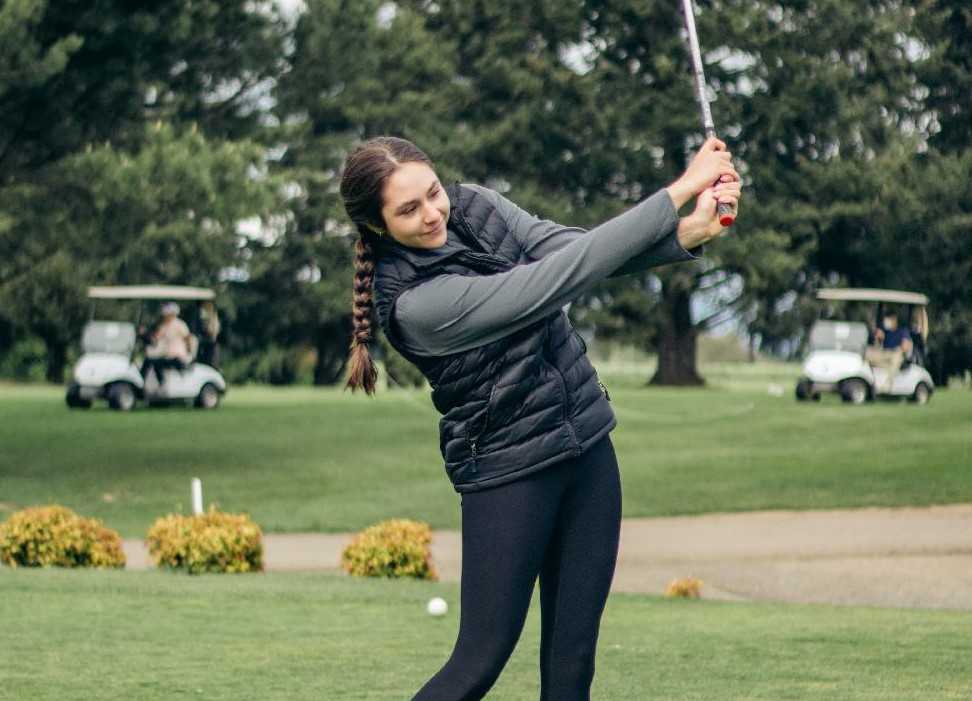 Coming off of a sterling 2021 season – capped by winning a defacto 6A tournament – Mountainside's senior-led girls golf team has its eyes on the school's first state championship in any sport.
After last week's first Metro League tournament, though, it's apparent that the Mavericks' immediate challenge will come from inside their district. They finished a close third behind Jesuit and Westview in the tournament at Meriwether National Golf Club.
"It was really good to see just how much talent there is, just in our own league, not even thinking about the whole state yet," Mountainside coach Merritt Richardson said. "I think that's going to push them."
Jesuit freshman Kate Lee shot a 4-under-par 68 to win the first of seven Metro League tournaments. Mountainside senior Emily Song and Sunset freshman Erika Kobayashi tied for second at 70 and Mavericks senior Sofia Fuenmayor was fourth at 71.
In the Stableford scoring system, Jesuit finished with 264 points to edge Westview (263) and Mountainside (260).
"The fact that it's so competitive in our league, they'll be up for every tournament," Richardson said of her players. "They're confident, but they also know they've got work to do."
Fuenmayor and Song, both committed to Weber State, lead the Mavericks. In the season-ending 6A tournament last year, Fuenmayor and Song finished first (3-under 68) and third (71), respectively, as the Mavericks shot a school-record 291 to pull away from runners-up Jesuit (324) and Clackamas (324) at the OGA Golf Course in Woodburn.
"They were excited coming out of that performance at the end of last year," Richardson said. "Even though they knew it wasn't a full-blown state tournament, they were excited about how they all showed up in that moment, so they know they have the potential to go after it."
Song and Fuenmayor placed 10th and 12th, respectively, in the 6A tournament in 2019, when Mountainside finished fifth, 53 strokes behind repeat champion Jesuit. The 2020 season was canceled, but the Mavericks came into their own last year, winning four of the five Metro tournaments before the dominant performance at the end.
Fuenmayor and Song built on that momentum in the summer, when both were selected to play for Team Oregon in the Girls Junior America's Cup, a prestigious West Coast event.
Fuenmayor won two Oregon Junior Golf majors, the Klamath Basin Junior and the Portland City Bob Allard Memorial. She also won the Future Champions Golf Washington championship at Chambers Bay Golf Course.
Song was the stroke play qualifying leader at the Oregon Junior Amateur. She also qualified – along with her partner, Cleveland senior Kyra Ly – for the 2022 Women's Amateur Four-Ball Championship, a USGA event set for April 20-24 in Puerto Rico.
Fuenmayor has a steady hand on the course and Song is more prone to hot streaks. But both are savvy, experienced competitors.
"You can tell that they've played a lot of tournament golf, coming up through the OGA Junior program," Richardson said. "They're very cool and calm and collected.
"It's been fun to watch their maturity as high school players. To watch them come in as freshmen, they were stars, and then we had two weird years, and now they're seniors and they're feeling like, 'Hey, this is our team and our time to lead.'"
Both earned scholarships to play at Weber State, where Song's sister – Aerin, a Southridge graduate – is a junior on the team. They weren't necessarily a package deal, according to Richardson.
"They both got to that decision somewhat independently," Richardson said. "I think it just worked for both of them."
Before moving on to college, they are focused on making a run for Mountainside, which opened in Beaverton in 2017.
"They've come into the season really excited about the chance to play a full, normal regular season, because they haven't had that since their freshman year," Richardson said. "They want to leave a little bit of a legacy at Mountainside, since it's still such a new school. They're ready to go out on top, whatever that looks like. We're in this as a team to chase down our potential."
Fuenmayor and Song led the team in scoring last season with averages of 72.7 and 73.6, respectively. The Mavericks graduated their No. 3 player in Cydney Chimm, who tied for fourth in the season-ending 6A tournament, but brought back junior Stella Lee, who had an 83.7 average as the No. 4 player last year. Sophomores Katherine Shin and Avree Doney also return.
"They know that there's an opportunity if they can put it together, all on the same day," Richardson said.