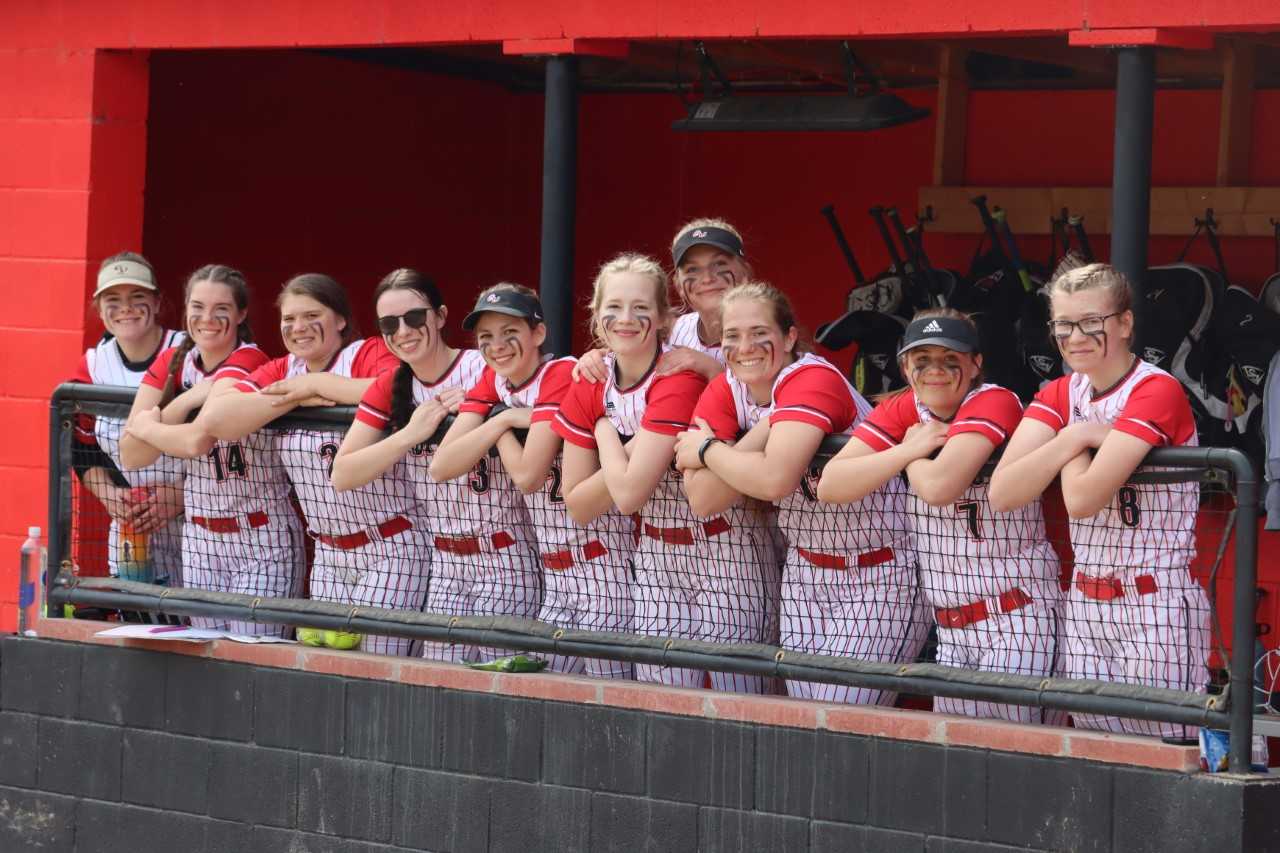 Heading into the softball season, Grant Union's nonleague schedule appeared daunting.
"I told the girls, 'You're most likely not going to go 6-0 in preseason,'" Prospectors coach Zach Williams said. "They proved me wrong."
Grant Union cruised through its first six games, then swept a Special District 6 doubleheader from Echo to improve to 8-0. The Prospectors, ranked No. 1 in the OSAAtoday 2A/1A coaches poll, have outscored their opponents 108-30.
They were up to the challenge against three teams in the 3A top 10, defeating No. 3 Scio 14-4, No. 4 Harrisburg16-12 and No. 6 Burns 4-0. They also posted a 15-0 thumping of No. 9 Kennedy, payback for a 16-0 loss to the Trojans in the final of the 2A culminating week tournament last year.
"I'm really excited about the way we have started," Williams said. "We intentionally made a preseason schedule that was tough."
Grant Union has never won a state title or played in an official state final, but the Prospectors have made giant strides since Williams took over as coach in 2018.
In his first season, they went 22-3 and made the 3A quarterfinals before losing to eventual champion Clatskanie 7-6. They moved to 2A/1A in 2019 and again went 22-3, taking the No. 1 seed into the state playoffs before falling to eventual champion North Douglas 5-0 in the quarterfinals.
Grant Union bounced back from the canceled 2020 season to go 14-3 last year, settling for second place in the season-ending 2A tournament. Seven starters from that team have returned -- including sophomore ace pitcher Drew Williams, the coach's daughter – and three freshman have earned starting spots.
Zach Williams said he believes this year's team, a co-op with Prairie City, is his best.
"We have a lot of depth. I have 14 girls that can play," he said. "These girls are an excellent softball team. They've been playing together a long time. But a lot can happen between now and then. Right now, eight games in, it's a great start."
Grant Union is averaging 13.5 runs per game.
Freshman Addy Northway is hitting a team-best .583 with five doubles in the leadoff spot. Freshman shortstop Savannah Watterson is batting .424 with six doubles, two home runs and a team-high 18 RBIs and sophomore Halle Parsons is hitting .500 with two home runs and 15 RBIs.
Seniors Paige Gerry (.500, 12 RBIs) and Riley Robertson (.400, one home run, nine RBIs) also are off to hot starts.
The Prospectors have hit seven home runs. Watterson ripped two homers in the win over Harrisburg, including a walk-off grand slam.
"Every year I tell the girls we're going to bunt more, and I'm always a liar, because we hit home runs," Zach Williams said. "We hit for power. We just put the ball in play hard."
Grant Union showed improvement from last season with the win over Kennedy. Facing Trojans junior pitcher Jenna Hopkins, who threw a three-hit shutout with eight strikeouts in last year's five-inning state final, the Prospectors had nine hits in the 15-0, five-inning win. Drew Williams picked up the win in the circle.
"We were baffled by her in the state championship last year, and the girls wanted another shot at her," Zach Williams said.
The coach said the rematch was played in much better conditions.
"Last year it was pouring rain at the state championship, It was miserable," he said. "And we had played in the semifinals earlier that morning. So it was just a different situation. We came out fresh, the sun was shining, and it was a nice field. The girls just got on it."
In 32 innings, Drew Williams has struck out 47 and walked six and has a 3.93 ERA. Parsons has started three games and has a 3.00 ERA.
The Prospectors play a non-league doubleheader at No. 4 Lakeview (7-1) on April 19. They will be home for a Special District 6 doubleheader against No. 3 Union/Cove (7-1) on April 29.
Bend dominates
Bend (11-0), the top-ranked team in 6A, did not allow a hit in three games last week, beating Redmond 19-0, Crook County 10-1 and Glencoe 13-0.
Sophomore ace Addisen Fisher struck out 24 in nine innings and went 8 for 12 with four RBIs. Junior Gracie Goewey struck out eight in three innings and went 5 for 8 with three home runs, a double and eight RBIs.
The Lava Bears have won 25 in a row since losing to 5A Pendleton 5-2 last season.
Neiss sparks Newberg
Senior left-handed pitcher Serayah Neiss is the driving force behind Newberg's 9-0 start.
Neiss (5-0, 0.00) has not allowed an earned run this season, striking out 75 batters. Last week, she fanned 10 in a 1-0 win over Mountainside and threw a five-inning perfect game to beat Grants Pass 10-0 in the second game of a doubleheader.
Neiss also is batting .348 for the third-ranked Tigers.
Notes: Junior outfielder Ava Carroll was on a roll for Canby last week. In four games, she went 12 for 16 with a double, four triples and a home run. She had six RBIs and scored eight runs for the Cougars (5-2), who won three of the four games. … Mountainside senior Addison Kachnik is batting .667 with seven doubles, one triple, four home runs and 14 RBIs. … Junior outfielder Paige Doerr led Marist Catholic's doubleheader sweep of Churchill, going 3 for 7 with six RBIs and four runs. She had a double, triple and grand slam in the 12-1 and 7-2 wins. … Burns sophomore pitcher Ayla Davies had back-to-back 17-strikeout games in shutting out Baker 5-0 and Madras 4-0. … Senior Lola Jarrette showed the way as Summit (2-4) posted its first two wins of the season Saturday, defeating South Eugene 10-7 and 19-13. Batting leadoff, Jarrette went 7 for 8 with five doubles, two walks, three stolen bases, seven runs and two RBIs.