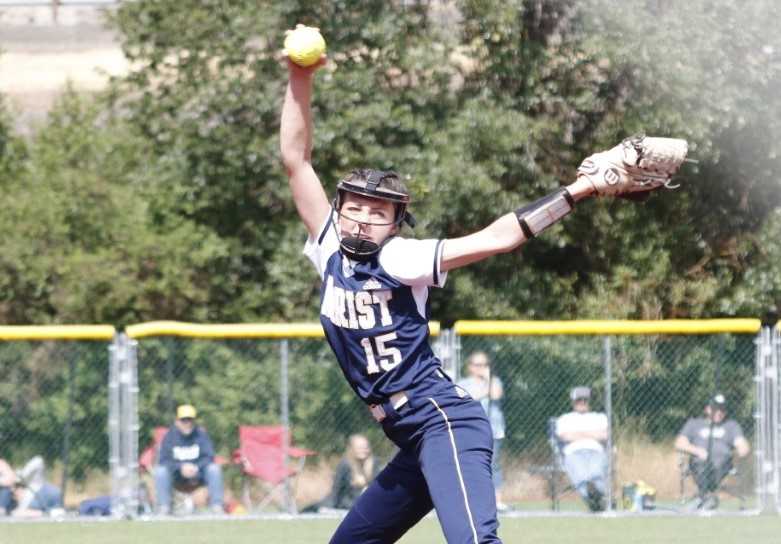 Given the dominance that Marist Catholic's softball team displayed last year in winning the 4A Showcase title, an encore performance this season seemed like a tall order.
So far, though, Marist Catholic hasn't missed a beat, even if opponents often have the Spartans in their crosshairs.
"Last year, we went right through the best of the best in the 4A playoffs, and I think everyone noticed and saw that," coach Stefan Schroffner said. "This year, we're not hiding and sneaking up on anyone. Everyone knows who we are."
Marist Catholic, ranked No. 1 in the OSAAtoday 4A coaches poll, is 12-1 and has outscored its opponents 147-7. With its nucleus returning mostly intact, the Spartans have carried over the momentum from last season, when they went 18-1 and outscored foes 223-13.
They are unbeaten in Oregon this season, losing only to Vintage (Calif.) 1-0. Of their 12 wins, 10 have come by mercy rule, including three in three innings. In their only full-length wins, they beat No. 2 Cascade 3-0 and 5A Churchill 7-2.
Schroffner said he believes that Marist Catholic is even better than a year ago.
"I would put our team up against any team in the state, regardless of classification," he said. "There's next-level talent on this team. We strive to challenge ourselves to play the best competition, because there's a lot of pride within our program."
Marist Catholic is getting consistently stellar pitching from senior Malia Williams, the 4A pitcher of the year in 2021, The Hawaii-bound Williams has struck out 142 in 66 innings and is holding opponents to an .074 batting average.
She set a state record with 25 consecutive strikeouts in a three-game span, fanning all 15 batters she faced to beat Henley 12-0 in a rematch of last year's Showcase final.
"From last year to this year she's added more to her repertoire of pitches, and she's also added some speed," Schroffner said. "She can get into the 60s, but she's really improved her accuracy. She can hit her spots. She's been really tough to hit this season. She'll always give us a chance to win."
The Spartans are batting .401 as a team, led by junior center fielder Paige Doerr, a 4A first-team selection last year. Doerr is hitting .600 with four doubles, six triples, three home runs and a team-high 30 RBIs.
"She's hitting at another level," Schroffner said. "She's a five-tool player. She can hit for power, she can hit for average, and she also has speed. And she's nearly impossible to strike out."
Williams is batting .526 with a .620 on-base percentage in the leadoff spot. A slap hitter, Williams has a team-high 13 stolen bases and has scored 20 runs.
Sophomore second baseman Kellie Schroffner, the coach's daughter, is batting .400 with a 10 stolen bases and a team-high 23 runs. Senior first baseman Chelsea Rustik (.361, 15 RBIs) and senior catcher Madeleine Hopkins (.429, two home runs, 13 RBIs) – first-team all-state picks last year – also are having big seasons at the plate.
"The majority of our lineup, up and down, can hit for power and average," Stefan Schroffner said. "And they're all athletic."
In the 1-0 loss to Vintage, Williams was in a pitchers' duel with Rutgers-bound Raimy Gamsby, with each allowing only two hits. Vintage's run in the bottom of the fifth inning was enough to win.
The Spartans' biggest in-state test came from Cascade (11-3) in their second game of the season March 17. Williams threw a one-hit shutout with 16 strikeouts and Marist Catholic scored three runs on six hits off Cougars senior Hannah Walliman.
Marist Catholic has emerged as the 4A favorite, but Cascade, No. 3 Stayton, No. 4 Astoria, No. 5 Sweet Home and No. 6 La Grande also look strong. The Oregon West Conference is loaded with Cascade, Stayton and Sweet Home.
"Having a strong league like that, they make each other better," Stefan Schroffner said.
Marist Catholic has won seven official state championships, the third most in state history behind Churchill (10) and North Medford (eight).
If the Spartans are to win their first official title since 2017 (5A), they must stay sharp. Nonleague games against 5A Dallas (May 12), 6A No. 8 Sheldon (May 17) and 6A No. 7 Tualatin (May 19) will help get them ready for the postseason.
"We don't want top get complacent," Stefan Schroffner said. "We don't want to be overconfident."
Bend halts Sprague
No. 1 Bend ended Sprague's eight-game winning streak Saturday by sweeping the visiting Olympians 1-0 and 12-1 in a 6A Mountain Valley Conference doubleheader.
Junior Gracie Goewey led the way in the first game, pitching a three-hitter with 12 strikeouts and driving in the game's only run in the first inning. Senior Violet Loftus had two of Bend's six hits off Sprague senior Sophia Honse, who has signed with Western Illinois
Lava Bears freshman Lauren Glasser, a swing player who has not started a varsity game, broke out in a big way in the six-inning second game. She entered the game in the second inning and went 3 for 3 with a grand slam, three-run home run and seven RBIs.
Bend (15-0, 3-0) erupted for 17 hits in the second game, getting three from Loftus. Junior Allison Parker earned the win, scattering six hits and striking out eight.
"Our defense was outstanding in both games," Bend coach Tom Mauldin said. "We had a couple of ESPN plays. We're more than pitching. We can hit and field."
Sophomore right fielder Bryanna Schaefer threw out runners at second and third base against the Olympians (11-4, 2-2).
"She's got a cannon," Mauldin said.
Bend has 22 home runs this season, closing in on a school record of 26. Goewey is batting .522 with eight home runs and 30 RBIs. Sophomore Addisen Fisher is batting .500 with six home runs.
All 14 runs the Lava Bears have allowed this season are unearned. In 51 innings, Fisher (10-0) has allowed 11 hits, struck out 116 and walked seven. In 31 innings, Goewey (4-0) has allowed 11 hits, struck out 64 and walked seven.
Grant Union flexes
Grant Union, No. 1 in the OSAAtoday 2A/1A coaches poll, stayed unbeaten by going on the road for an impressive sweep of No. 6 Lakeview on April 20.
The Prospectors (15-0) rode the pitching of sophomore Drew Williams to outlast the Honkers 3-0 in nine innings in the first game and rapped 11 hits to win 12-5 in the second game.
Williams tossed a one-hitter with 13 strikeouts in the opener. Grant Union broke the scoreless tie in the top of the ninth when junior Raney Anderson delivered a one-out, two-run triple to right field and sophomore Sivanna Hodge followed with an RBI double.
In the second game, freshman Savannah Watterson went 3 for 5 with a double and three RBIs, Williams went 2 for 4 with a triple and two RBIs and sophomore Halle Parsons drove in three runs. Parsons got the win in the circle, giving up 11 hits.