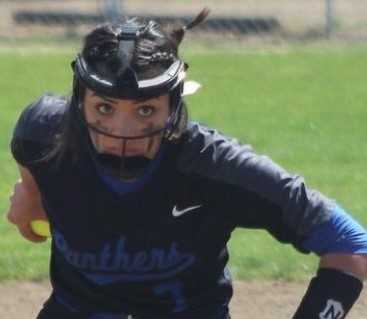 Coming off a 4-12 record last year, expectations were muted for South Medford's softball team this season.
The Panthers returned five starters and added three promising freshmen, but they would need to take a leap to compete in the 6A Southwest Conference with state power Sheldon and traditionally strong programs at Roseburg, Grants Pass and North Medford.
Two months later, surprising South Medford is in position to win its first league title in school history. The Panthers (18-3, 9-1), riding a nine-game winning streak, are unranked in the OSAAtoday 6A coaches poll but have climbed to No. 2 in the OSAA power rankings.
"We were pretty optimistic about having a good season, but not quite this good," said fifth-year coach Shane Ramsay, who starts one senior and two juniors. "We definitely have exceeded expectations."
South Medford has shown a knack for coming through in the clutch. Six of the Panthers' conference wins have come either by one run or in extra innings. They also defeated No. 7 Oregon City 1-0 in eight innings and 5A No. 4 Lebanon 2-1 in nonleague games.
"It's really stressful on me, but it's been working out," Ramsay said. "We've had some really exciting games."
The Panthers had plenty of drama in their biggest win of the season Tuesday, when they went on the road to defeat No. 9 Sheldon 3-2 and take sole possession of the first place in the conference.
South Medford was protecting a 3-2 lead in the bottom of the seventh with two outs and a runner on first base when sophomore pitcher Kacee Hudson gave up a deep drive that bounced over the fence for a ground-rule double. Instead of the Irish scoring the tying run, they had runners on second and third, and Hudson struck out the next batter to seal the win.
The high hop over the fence turned into a big break for the Panthers.
"If that was a dirt field, they score, no doubt about it," Ramsay said. "Their kid was rounding third when my left fielder picked the ball up. … That game was pins and needles. I'm still trying to mentally recover from that one."
South Medford took two of three games from Sheldon this season, a monumental achievement considering the Irish's recent domination of the Panthers. Entering the season, South Medford had lost the last seven games in the series by a combined score of 72-10.
The win gave the Panthers a one-game lead on Sheldon (16-5, 8-2) with five conference games remaining.
"The kids were so excited. It was incredible," said Ramsay, whose team went 1-8 in the Southwest last season. "Because they've been validating themselves. They don't know how good they are until they prove themselves. And they're even a little shocked. They're better than they think they are. They're still surprised they can get two from Sheldon."
South Medford also went 3-0 against crosstown rival North Medford for the first time ever. The Panthers completed the season sweep in a doubleheader April 30 by beating the host Black Tornado 10-2 and 7-4 in nine innings.
The second game was suspended at 10:30 p.m. Saturday due to a neighborhood lighting rules. Freshmen Jordan Knutson and Maleyah Thoele had RBI singles in a three-run ninth inning for the Panthers.
Hudson (11-2, 1.00 ERA) and Knutson (6-1, 0.96 ERA) have shared time in the circle. In 97 2/3 innings, Hudson has allowed 50 hits, struck out 159 and walked 33. in 43 2/3 innings, Knutson has given up 30 hits, struck out 58 and walked seven.
"The pitchers have complemented each other," Ramsay said. "They've both had off days and the other one had good days and came through. Without both of them, we wouldn't have the record we have."
The team brought back five starters from last season in Hudson, sophomore right fielder Nicole Ledendecker, junior second baseman June Wooster, sophomore first baseman Brianna Turrey and senior third baseman Maddy Fullenwider.
The Panthers added three freshmen starters in Knutson at pitcher, Thoele in left field and Shelby Hillyer at catcher. The other starters are junior shortstop Kristen Morgan and sophomore center fielder Nahlani Quigley.
The offense has been opportunistic, led by Morgan (.421, 14 RBIs), Hudson (.416), Wooster (.393, 12 RBIs), Ledendecker (.411, 18 RBIs) and Fullenwider (.336, 17 RBIs).
Ramsay said the team's winning chemistry is partially due to playing together in the offseason on South Medford's summer team.
"Our whole summer team is our high school team," he said. "That's what's kind of been making this work. We played like 100 games in the offseason. They've really improved."