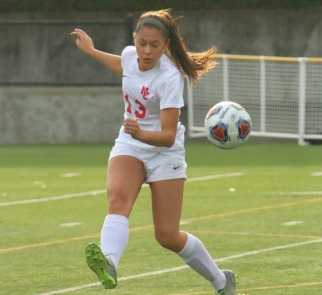 How would North Eugene girls soccer coach Brandy Wormdahl have reacted before the season if someone told her the Highlanders would enter the 5A playoffs with the No. 1 seed?
"Never," Wormdahl said. "I would have said, 'I'll bet you 100 bucks.'"
Wormdahl would have lost. North Eugene (10-1-3), which lost five starters from last year's state runner-up team and is starting five freshmen, will carry the top seed into Wednesday's first-round match against The Dalles/Dufur (4-7-3).
Of course, North Eugene wouldn't have the No. 1 seed if its 1-0 loss to Churchill in the regular-season finale had not been overturned by forfeit (Churchill used an ineligible player). But that does little to tarnish what the Highlanders have accomplished so far.
"I think their ranking is a little overrated, with some of the funny things that happened in our league," Wormdahl said. "I don't necessarily think they're the best team in the state right now, but I think they have the potential. They can play with anybody."
North Eugene's record includes wins against No. 2 Willamette, No. 3 West Albany, No. 4 Churchill and No. 5 Thurston. The Highlanders are getting it done with a balanced attack and a defense that has allowed a 5A-low eight goals.
"The thing that's great about them is they don't have that one superstar that they kind of lean on," Wormdahl said. "They know how to win because they've had those older players before them, and they know what to expect, and they've carried that on."
Freshman Ashley Hart leads the team in scoring with 17 goals. The team also is getting consistent offensive productions from junior forward Abbey Sellars and junior midfielder Sophie Cleland. Four of the team's five seniors had never scored before this season, but all have found the net this year.
Everyone pitching in has helped compensate for the loss of the 5A player of the year in Jordan Wormdahl, the coach's daughter, who had 67 goals and 56 assists in a brilliant career before joining the women's team at Oregon this season.
It also helps that the five freshman starters -- Hart, defenders Natalie Hobbs and Lauren Becraft, midfielder Olivia Hoskinson and defender/forward Avery Wormdahl, the coach's youngest of two daughters – are "playing beyond their years," according to the coach.
"I keep kind of holding my breath, like, 'Is it going to be too long of a season for them?' But they've really embraced it, and they're hungry," Brandy Wormdahl said. "It's kind of one of those things where they don't know what they're doing, and people don't know who they are."
The team suffered a blow in its second game when junior center defender Lauren Johnson dislocated her shoulder, requiring surgery. With Johnson out for the season, senior Kamryn Manley moved from forward to outside back and senior Lauren Martines shifted from outside back to center back.
Junior defender Kylie Stewart also has missed time with sore knees, but the reshuffled defensive line has more than held up in front of sophomore goalkeeper Audrey Ahlstrom. Having Stewart ready for the playoffs will be key, though.
"If we have her through the playoff run, we'll be good," Brandy Wormdahl said. "If we don't, we're going to be pretty young, and we'll have to score more goals."
Brandy Wormdahl was the Midwestern League player of the year for North Eugene in 1987, when she was known as Brandy DuBois and played for her father, Phil DuBois. Her team made it to the semifinals her senior year, a barrier that stood for North Eugene until last year's team became the first in school history to make the final, where it lost to Summit 3-2.
If things come together for the Highlanders, this year's team could take that final step.
"I've been impressed with them," Brandy Wormdahl said. "They're a hungry young bunch."