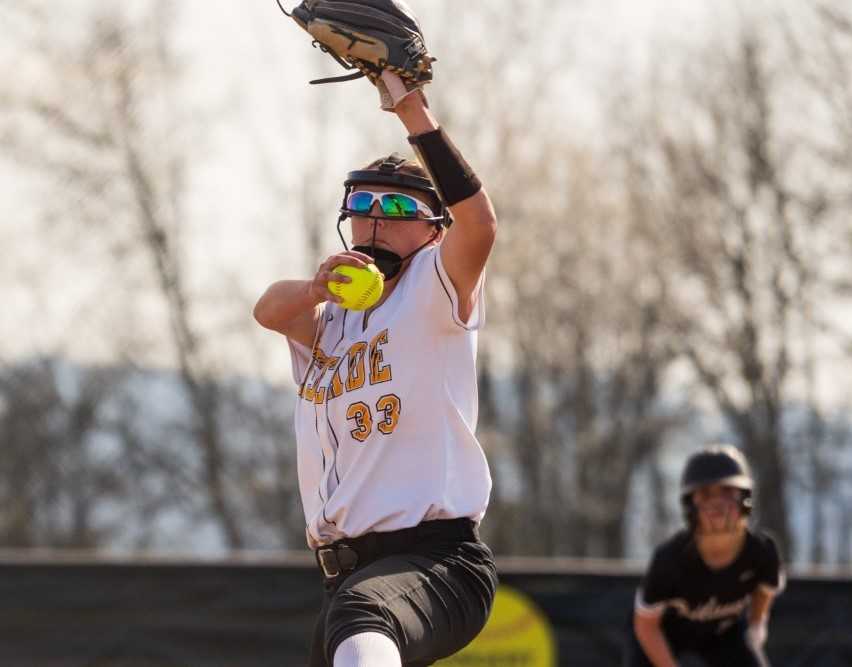 Entering the softball season, Cascade believed that its airtight defense would be a difference-maker.
So when the Cougars gave up two runs on errors in their first game – a 3-0 nonleague loss to Marist Catholic in a matchup of 4A powers – they had to keep it in perspective.
"It was like, 'This isn't normal for us. It probably won't happen again,'" Cascade coach Marty Jeppsen said. "It was a 1-0 game if you take away our uncommon mistakes."
As it has turned out, Cascade's defense has been excellent, as expected. The No. 2 Cougars (19-3, 16-0 Oregon West Conference) have backed the pitching of senior Hannah Walliman to hold opponents to 46 runs. The only team to allow fewer runs is No. 1 Marist Catholic (20-1), which has given up 16.
The teams could be on a collision course for a rematch in the 4A playoffs.
"We feel like we've grown since that game, and I'm sure they have, too," Jeppsen said. "We keep looking like, 'OK, we're going to see these guys again, so let's keep working toward that.'"
Cascade's everyday starters have committed only 10 errors in 22 games. During their current 16-game winning streak, the Cougars have yielded just 23 runs.
"Hannah is awesome, but we have all said, herself included, that we would put our defense up against anybody's in the state," Jeppsen said. "We just love the way our defense communicates."
The Cougars are strong up the middle with senior catcher McKenna Gramzow, senior second baseman Abby Jeppsen, senior shortstop Crystal Campell and senior center fielder Emma Hilfiker.
"I don't feel like there are any weak spots out there," Marty Jeppsen said. "We've always said that if we can score four or five runs, we'd give ourselves a chance against anybody."
In her second season as the team's ace, Walliman is 17-1 with a 1.16 ERA. In 102 2/3 innings, she has allowed 64 hits, struck out 130 and walked 28.
With three other pitchers helping to lighten the load, Walliman is in better position to finish strong than last season, when the Cougars lost four of their last six games and finished 12-6.
"Unfortunately for her last season, we didn't have much else, so by the time we got to the playoffs, she was pretty worn out and tired," Marty Jeppsen said. "In the 4A Showcase, I don't think she performed as well as she wanted to."
Cascade is averaging 10.5 runs per game. Campbell is leading the way, batting .548 with eight doubles, two triples, six home runs and 25 RBIs. Jeppsen (.458, 24 RBIs), Walliman (.400, 27 RBIs), Hilfiker (.386, 18 RBIs), freshman Malia Scanlan (.522, 17 RBIs) and senior Jaimy Bangert (.355, 17 RBIs) also have been productive.
Cascade won 4A titles in 2010 and 2011 under Tim Ganfield. The Cougars haven't been to the final since 2012, when they lost to Banks, but Jeppsen, who has coached the current seniors since they were eight years old, had a hunch this team had championship potential. The Cougars start seven seniors.
"We kind of had this on our radar for a long time," said Jeppsen, who is in his fifth season as coach.
Cascade can complete a perfect run through the Oregon West with home wins over No. 7 Sweet Home (16-6, 11-5) on Thursday and No. 3 Stayton (20-3, 14-3) on Friday. The Cougars have handed Stayton two of its three losses, beating the Eagles 7-3 and 9-3.
Cascade's only other losses came against 5A No. 6 Ridgeview and 3A No. 2 Yamhill-Carlton. The Cougars, who were shorthanded in the 3-2 loss to Yamhill-Carlton, will get another crack at the Tigers in a nonleague game Monday.
After that, they will turn their attention to the playoffs.
"We figured we would be a top-five team, for sure," Marty Jeppsen said. "We feel good about where we're at."
Strikeout record
Tigard senior Makenna Reid set a state record for strikeouts in a game Wednesday by fanning 27 in a 4-3, 10-inning home loss to Lakeridge in a 6A Three Rivers League game.
Reid's 27 strikeouts surpassed the previous mark of 26, set by Marist Catholic's Nyree White in a 13-inning game against Springfield in 2011. The loss to the Pacers (12-9, 4-6) ended a 13-game winning streak for the Tigers (21-2, 7-1), who are No. 1 in the OSAAtoday 6A coaches poll.
"She'd probably tell you that she'd trade the record for a team win," Tigard coach Pete Kostel said of Reid, who earlier this season struck out 23 in a 10-inning win over Oregon City.
In Wednesday's loss, the left-handed Reid gave up five hits and walked two in 10 innings. She surrendered a game-tying, two-run homer to sophomore Delaney Hoyle in the sixth inning and allowed two unearned runs in the top of the 10th as the Tigers committed two errors.
Senior Holly Beeman got the win for Lakeridge, pitching a six-hitter with 12 strikeouts.
Prior to Wednesday, the Florida State-bound Reid had pitched eight consecutive shutouts. For the season, she has thrown 144 innings, allowed 37 hits, struck out 322 and walked 22. She has given up six earned runs.
The 322 strikeouts is No. 10 on the state's all-time single-season list. The record is 449, set by Hood River Valley's Crystal Draper in 1997.
Mashing Maverick
Senior third baseman Addison Kachnik continues to swing a big bat for Mountainside (16-6, 9-2 6A Metro League).
Kachnik powered the Mavericks to three wins last week. She went 3 for 4 with two triples, a home run and five RBIs against Aloha. She went 3 for 3 with a home run and two RBIs against Beaverton. And she hit a home run and had three RBIs to lift her team to a 3-1 win over Jesuit.
For the season, Kachnik is hitting .629 with eight home runs.
Fisher perfect
Sophomore Addisen Fisher struck out all 15 batters she faced in Bend's 13-0, five-inning win at Summit last week.
Fisher also stood out on offense last week, with two home runs, two doubles and eight RBIs in three wins.
In 14 appearances this season, Fisher (12-0) has not allowed an earned run. She has thrown 64 1/3 innings, allowed 19 hits, struck out 151 and walked 10.
She also is hitting .547 with nine doubles, three triples, nine home runs and 24 RBIs for the No. 2 Lava Bears (20-1, 8-1).