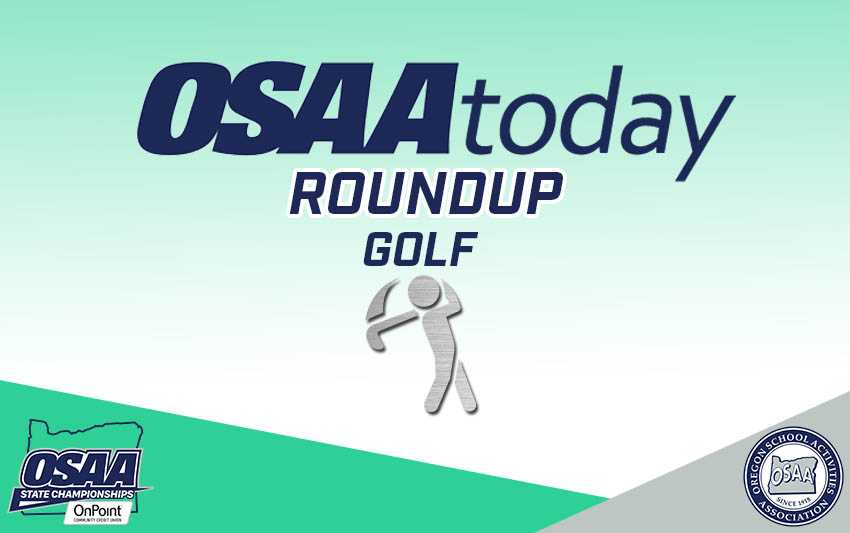 Summit's boys golf team took a big step toward a state title with its performance in the first round of the OSAA/OnPoint Community Credit Union 6A championships Monday at Trysting Tree Golf Club in Corvallis.
The Storm shot a 4-under 280 to open a 22-stroke lead over second-place Tigard (302). They are followed by Sunset (306), Beaverton (307), Lake Oswego (307) and Tigard (308).
Summit won 5A titles in 2015, 2016 and 2017 but has never won a 6A championship. It is the Storm's last season in 6A before moving back to 5A next year.
Summit junior Brody Grieb shot a 6-under 65 to lead McNary junior Colby Sullivan (66) and Mountainside senior Collin Hodgkinson (67). Grieb had six birdies to go along with an eagle on the par-five, 553-yard 14th hole.
Storm senior Sam Renner is in fourth place with a 70. Summit's other scorers, seniors Ethan Jaehn (72) and Lucas Hughes (73), are tied for sixth and 10th, respectively.
Lincoln sophomore Tanner Overby is in fifth place after shooting 71.
Jesuit, which won the last three state tournaments in 2017, 2018 and 2019, is in eighth place at 316.
The second and final round is Tuesday at Trysting Tree.
5A
Senior Cole Rueck shot a 2-under 69 to spark Corvallis to the first-round lead of the 5A tournament at Trysting Tree.
The Boise State-bound Rueck, who had four birdies, lead by one stroke over La Salle Prep junior William Koch, who had an eagle on the par-five No. 16 on his way to a 70. Corvallis senior Jaxon Wallis and Thurston senior Kellen Humphries, the winner of the season-ending 5A tournament last year, are tied for third at 75.
Corvallis shot 311 to set the pace ahead of Crater (325), Thurston (330) and La Salle Prep (335). Rueck, Wallis and seniors Vance John (81) and Colin Smith (86) were the scorers for Corvallis. Junior Marcus Idiart (78) and senior Ben Idiart (79) led the way for Crater.
4A
Valley Catholic senior Ryoma Lane, Tillamook junior Elliot Lee and Woodburn junior Ty Beyer are tied for first place after one round of the 4A tournament at Quail Valley Golf Course in Banks.
Banks senior Aaron Brown is fourth at 75 and Baker/Powder Valley freshman Isaiah Jones is fifth at 76.
Valley Catholic shot 329 to hold the first-day lead over Baker/Powder Valley (335), Banks (335), Marist Catholic (343) and Cascade (343). The Valiants were led by Lane, junior Aiden Liu (84), sophomore Lucas Howell (86) and junior DJ Romano (86).
3A/2A/1A
Oregon Episcopal holds a two-stroke lead over St. Mary's of Medford after one round of the 3A/2A/1A tournament at Quail Valley Golf Course in Banks.
The Aardvarks, who won their first title in 2019 after finishing second in 2017 and 2018, finished with a score of 310. St. Mary's (312), Bandon (327) and Catlin Gabel (351) are next.
St. Mary's junior Brock Drury is the leader after shooting a 4-under 68. Oregon Episcopal senior Ethan Tseng, who had six birdies and five bogeys, is second at 71. Brookings-Harbor freshman Lucas Vanderlip and Bandon senior Ryan Flynn are tied for third at 74.
Oregon Episcopal also got a 77 from senior Henry Ehlich (77), 78 from sophomore Alex Tseng and 84s from junior Matthew Chan and senoir Ronit Mehta.
Girls
6A, 5A: First-day coverage
4A/3A/2A/1A
Valley Catholic junior Challin Kim, the 4A Showcase champion last year, is tied for the lead with St. Mary's senior Riley Hammericksen at 1-over 73 after one round of the 4A/3A/2A/1A tournament on the Ridge Course at Eagle Crest Resort in Redmond.
Marist Catholic senior Sandhya Vaikuntam (76) is third and Dufur junior Tora Timinsky (77) and Catlin Gabel sophomore Ava Austria (77) are tied for fourth.
St. Mary's, which won the last four state championships by an average of 65.0 strokes, shot 338 to lead Marist Catholic (351), Valley Catholic (387) and Marshfield (401).