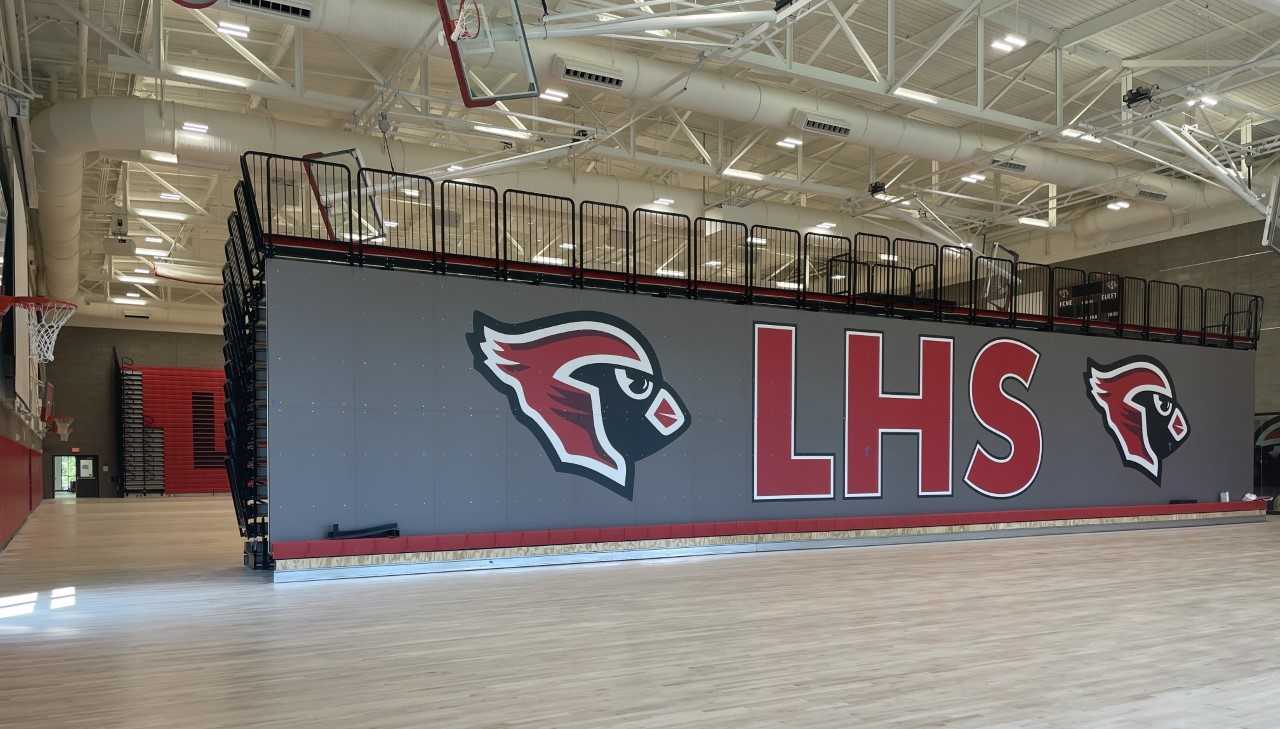 It won't be long before Lincoln athletic programs finally begin to reap some benefits from the school's sweeping remodel.
The main gym, part of the new school built on the old football field, is expected to be open for use in late August. With three full basketball courts, it will allow the school to accommodate more athletes, thus eliminating the need for 6 a.m. practices.
"The upgrade I'm most excited about is our megagym," athletic director Jessica Russell said. "It's really going to change the way we're able to schedule. Whole programs will be able to get into a two-hour time slot."
The new building also includes a wrestling room. For years, Lincoln wrestlers were forced to practice off campus – using Portland State, then the nearby Metropolitan Learning Center – after the former wrestling space was combined with a weight room.
"Our wrestling coach won't be walking kids to MLC at 5 o'clock at night so they can practice," Russell said. "So that's a huge change, obviously. How do you grow a program, especially a sport as hard as wrestling?"
Russell said the new space will be a boon to wresting at Lincoln, which has been bolstered by a burgeoning girls program in recent seasons. It also will allow Lincoln more space to host tournaments.
"If I were a wrestler, I would be so pumped," Russell said.
Lincoln moved out of its old building in the middle of June. It will soon to be torn down to prepare for the next phase of the remodel, which will include a new football field and track.
The football field will be in the oriented in the same direction as the previous field, but instead of the west end zone bordering SW 18th Ave. near Providence Park, the east end zone will be next to SW 14th Ave. near I-405.
"The down side is the site has a lot of odd restrictions," Russell said. "There are some waterways that run underneath the property. So the capacity of the bleachers will be smaller than it was before. We're looking into some possible alternatives to find a way to get more people in the stands.
"It's going to be similar to Franklin where it's kind of a bowl so you can have people along the perimeter looking down, including a lawn area near one of the end zones."
The new track will be a "big upgrade," according to Russell.
"We're going to have an IAAF-certified track," she said, comparing it to the ones at Jesuit and Summit. "It would open us up to potentially host some bigger events."
The field and track aren't scheduled for completion until next year, which means the programs that use them will be displaced for the third year in a row in 2022-23.
The last two seasons, the football team has practiced at Wells and played home games at Wells, Cleveland and Jefferson. Varsity soccer has practiced at Rieke Elementary School near Wells and played matches at Wells, Delta Park and Buckman Field Park.
Lincoln and Benson are the latest high schools in the Portland School District to undergo facelifts. Russell said the improvements were desperately needed for Lincoln athletics.
"Being landlocked, and having the smallest campus and building out of all the PPS high schools – and still serving a full 6A population – the facilities are really the biggest frustration," she said. "I do think it's a barrier for participation for a lot of kids."
Molalla's 'vision'
Molalla has opened its new outdoor tennis facility, which features five U.S. Open-style courts.
The project was prioritized in a community visioning process – Ideal Athletic Program, run by district consultant Kevin Bryant -- that began meeting in Sept. 2020. Athletic director Kristen Rott helped spearhead the monthly meetings, which brought together 40 to 60 community members.
"We absolutely just let them tell us everything wrong that we needed to change," Rott said. "We just hashed it out, month after month. They were tough conversations, but what it allowed us to do was build trust in our community, and then actually build a brand new mission and vision.
"That brought unity to what we were doing. We were all agreeing that the No. 1 priority in our district was new tennis courts."
Molalla's school board approved the funds for the project last summer and construction began last fall. The school hoped to have the courts ready for the spring season but wet weather delayed construction, forcing the high school teams into makeshift practices in a parking lot and indoors. They played their matches on the road.
The courts opened to the community last week. The school will have a ribbon-cutting ceremony, featuring food vendors, for the courts July 16.
"We want to showcase it, show it off," Rott said.
Rott said community partners donated $8,000 for a wind screen to cover a chain-link fence that goes the length of the courts. The screen is scrawled with "Molalla Proud."
"It makes it more visually appealing," she said.
Molalla's next project is a soccer scoreboard. The school replaced the football scoreboard last season.
Rott is stepping down as athletic director to take a position as the state director for the Fellowship of Christian Athletes. She is succeeded by Pat Davis.
Willamina upgrades
For the first time since the Reagan administration, Willamina will have a new track.
Construction on the track began June 6 and is expected to be completed in early September. The 2A school hasn't hosted a meet in nearly two decades on the track, which was built in 1987.
"We've been trying to put money away for about five years," athletic director Jerry Buczynski said. "It had a slight band-aid on it from about 10 years ago of about 60 yards. We probably led the state in shin splints. It was in that bad of shape."
Buczynski said the price tag for the project has risen to more than $800,000 due to unforeseen issues. The black top was beyond repair and needed to be torn up for construction to start from scratch.
"If we would've done it when we should have, the cost would've been so much less," he said. "The first time it should've been done was 1997. We are way past due."
Buczynski said superintendent Carrie Zimbrick, a former standout athlete at Sheridan who was a track coach, was a "catalyst" for the project.
"She understands how important it is," he said. "This is big for the kids, not to have to travel for every meet. We'll host meets and some middle school meets. We're going to have the nicest track around."
Waiting game
Supply chain issues have left Vale in a precarious position for football season.
The school tore down the bleachers at Frank Hawley Stadium with the plan of replacing them in time for football home games in September. Due to shortages of steel and aluminum, however, the delivery of the new bleachers has been delayed.
"The new estimated installation date is now late September," Vale superintendent Alisha McBride told EasternOregonSports.com.
That means that Vale's two September home games – Sept. 1 vs. Parma, Idaho, and Sept. 16 vs. Baker – will be played without seating for spectators. A new cement pad – poured for the bleachers – can be used for lawn chairs and a grassy area can provide space for fans to sit on blankets.
Without bleachers to mount a camera, the games will not be available for live streaming.