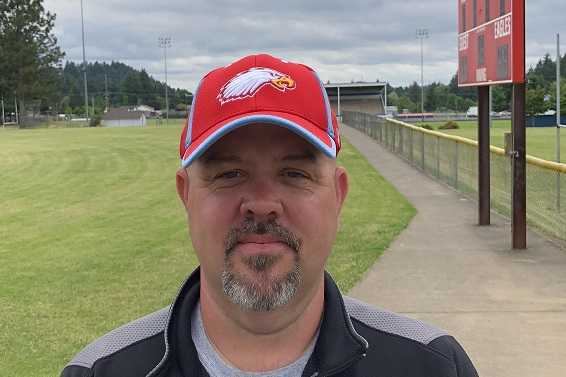 During Chris Knudsen's 32-year tenure as Centennial's football coach, the Eagles became synonymous with the veer offense.
So as Butch Self prepares to replace Knudsen this season, the big question is about offensive strategy.
"Everyone wants to know. It's the elephant in the room," Self said with a laugh. "Centennial runs the veer, how's that for an answer?"
Self, who spent the last 11 seasons assisting at Sandy, West Linn and Glencoe, will put his own spin on the veer as the offensive coordinator. But don't expect radical changes.
"Part of the reason Centennial was such a perfect fit for me is because of what I wanted to do as a head coach," Self said. "It was a perfect mesh between offensive philosophy and what I've done.
"Some of the stuff we did at Glencoe was option-oriented. A little more spread stuff at West Linn, but a lot of our running game was option-based."
Self, a Sandy graduate, has learned under such prominent coaches as Randy Wegner, Don McCarty, Ron Chappell and Mike Fanger. He struggled in his first stint as a head coach – going 3-16 in two seasons at Estacada (2005-06) – but he believes he is much better prepared this time.
"I feel like I've worked with some of the best coaches in the state of Oregon," he said.
Self applied for the West Linn job in 2012 and has looked for other head-coaching opportunities in recent seasons. When Knudsen retired, the Centennial job piqued his interest.
"I've known Chris for a really long time," Self said. "There have actually been a couple times over the course of my career where we tried to get me on staff at Centennial, but the teaching didn't work out."
Now Self gets a chance to follow Knudsen, who was the longest-tenured coach in Class 6A, compiling a 158-158 record. He said Knudsen has helped make the transition a smooth one.
"Like I told him, I hope I do half as well as he did," Self said. "Doing it the way he did it, coaching the kids that walked through the door, he's really someone all the coaches should look up to and try to emulate.
"Really, that's my goal, to continue the tradition of what Chris has established in doing things the right way. I'm really blessed that he wants to stay a part of it. I think it helps that we have a friendship. I don't feel threatened by him being around."
The Eagles went 2-7 last season, but 28 players who either started or saw significant action are eligible to return. The junior class got plenty of varsity experience as sophomores. The sophomores went 6-3 as freshmen, beating Clackamas in their season finale.
"I know Chris was really excited about the talent returning," Self said. "He made a comment that it might be one of the best groups he's ever seen in his time there. And he's right."