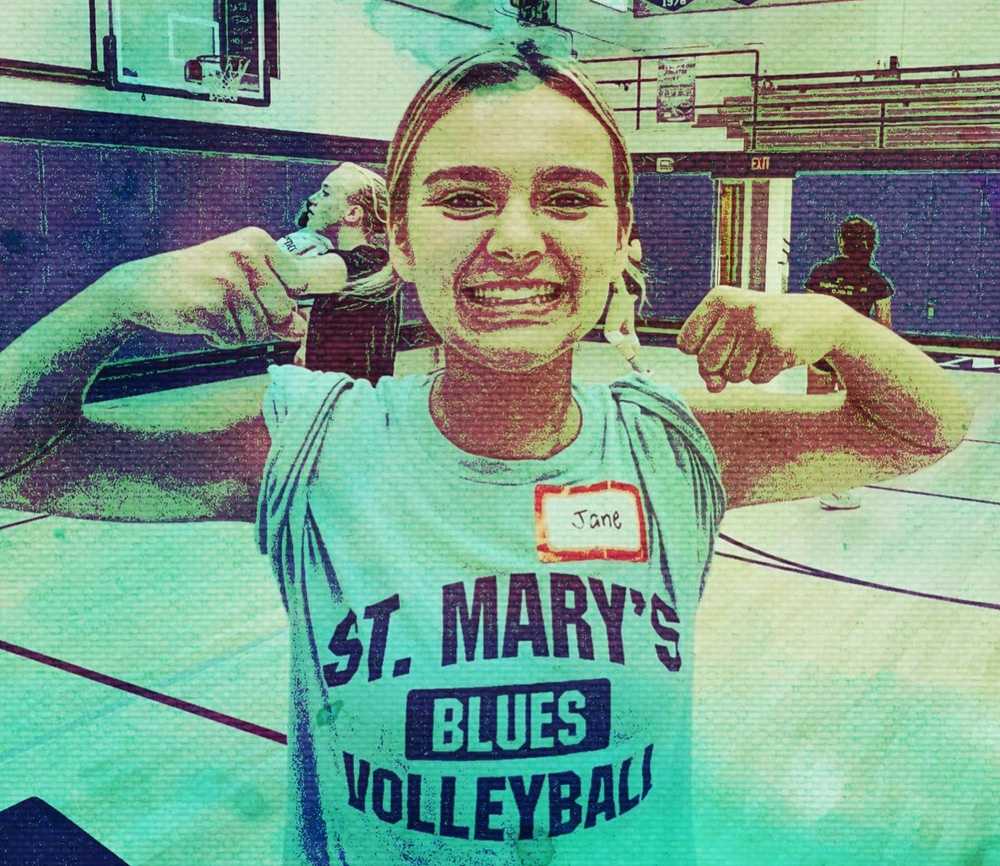 We are now just two days away from first serve in the 2022 OSAA girls volleyball season. There are no superstar teams in 6A but Jesuit looks very good. 3A looks like it has more high-level balance than any other classification. The best individual players may be Alexis Haury of Silverton and Chloe LeLuge of Bend, both of whom compete in 5A. In other words, everywhere you look across the OSAA volleyball landscape, there are intriguing storylines heading into the fall season.
Last Thursday, OSAAtoday published a pre-season volleyball notebook, which you can find here: https://www.osaa.org/today/article/2804/view?title=Aug.+18+volleyball+notebook. Here's another one, because there's so much to be excited about!
Quick hits…
Crosshill Christian (1A) graduated only one off of its 9-10 team, but OH Hope Witham was a First Team All-League selection and her loss will be felt. Coach Julie Bennett is excited for the return of five experienced starters, including junior hitter Vanessa Makarenko; and equally excited about a large group of freshmen she describes as "talented, driven and competitive." Look for 5-11 Ellie Bartel to have an immediate impact on the left side…
The move to 5A should be a boon to Summit, which was 10-13 in 2021. The Storm have a new coach in Emily McMahon, who coached the JV last season; and some exciting newcomers to go along with power hitters Shannon MacCallum and Avery Ruhl. Look for sophomores Lucy Reynolds and Sahalie Oceguera to shore up a back row in need of more consistent control…
South Salem made the 6A quarterfinals a year ago and came oh so close to beating Central Catholic for a spot in the semis. Four starters graduated for the Saxons, including All-State setter Laila Leaks; but a strong group returns for head coach Matt Leichty and there is hope for another contending season in 2022. South Salem returns two outsides, Kayleigh Carpenter and Brooksie Isham, as well as libero Mackenzie Scott. Look for 6-0 freshman Briella Mathis to make her mark on the right side. Freshman setter Kamree Orizotti is another key newcomer…
Valley Catholic had to make do without star hitter Naima Foster due to injury for most of last season. The Valiants will be without her again in 2022 after surgery, but do return attackers Frances Eisenhardt, Addie Emerson and Abby Berndt as well as middle JoJo Christiansen and defender Sophia Rewers. Newcomer Willa Kayfes, a 5-9 sophomore, will be an impact player in the middle. Valley Catholic is not a tall team, but should be a trophy contender now in 3A…
Eddyville Charter placed second in league play for the first time last fall. The Eagles graduated just two, so look for continued improvement behind returning contributors Brianna Lopez, Kendall Choat, Terra Thomson and Makayla Rice. Freshman Zoey Silvonen should be an impact newcomer whether setting or playing libero…
Bend finished third in 6A last year, but moves down to 5A in 2022. The Lava Bears should contend despite graduating five starters, including both standout middles. LeLuge, a springy 6-2 junior; teams with senior Jillian Stein to give Bend a strong 1-2 hitting punch on the left. Setter Taylor Clark and DS Natalie Reveles, moving to libero this year, are also back for head coach Kristin Cooper, who expects Olivia Cutshaw (RS) and Riley Ahmuty (MB) to step into starting roles and contribute…
David Douglas qualified for the post-season last year in 6A for the first time in 15 years. That Fighting Scots team had 11 seniors, including four starters. Coach Janeen Rainey will build around All-League libero Angeleena Acosta, junior S/OH Haley Moreschi and junior MB Ellianna McMoore, a newcomer who developed into a strong hitter and blocker during the club season…
Look for Eagle Point to be much more competitive in 5A after just three wins a year ago. The Eagles have six returning regulars, including senior OH Abby Trautman; and should be better across the board. "We are better in all aspects of the game and our girls have worked hard and had a great offseason," noted head coach Jacob Shauffler…
Clackamas piled up 21 wins in 2021, despite having a new coach and losing much of their depth to new district school Nelson. Nathan Blankenship has only two starters back – All-Conference OH Hailey Brummit and senior MB Summer Artman – but says that his gritty, team-first squad will hasten the rebuilding process…
5A runner up Wilsonville graduated a ton of impact players, including four-year starters Ashli Edmiston and Tatum Lubisch. Senior setter Makenna Wiepert, First Team All-League in 2021, leads five returnees who, along with five new impact players, make the Wildcats contenders to be in the state championship match for a third straight year…
6A runner up Jesuit looks like the favorite to add an eighth blue trophy to the shelf. Longtime coach Teresa Zimmerlee graduated two impact defenders and a star middle, but the Crusaders return starting setter Jackie Carle and a slew of hitters, including dynamic Isabel Patterson and Ceanna O'Loughlin. Jesuit also returns pin Avery Pickard and middle Lilly Lansing and welcomes nine newcomers, including sophomore libero Addie Azavedo and three freshmen who have the potential to play early in their careers…
Twenty days of quarantine made it tough for Barlow, a traditional eastside power, to find continuity in 2021. But the Bruins' spirit remained unbowed, something head coach Jessie Mott was very proud of. Barlow brings back six contributors – all juniors – including outsides Morgan Calcagno and Olivia Brown and libero Amiyah Eason. This team will pass and play defense and will be resilient. The present looks good for the Bruins; the future even better...
Horizon Christian of Tualatin went 15-6 a year ago and made the 3A quarterfinals with only underclassmen in the starting lineup. The Hawks are hungry and motivated to be the top-seeded team entering the playoffs and they have a roster full of heavy hitters to make that happen. Pins Reagan Anderson and Ellie McDonald and setter Sammie McDonald lead the charge again this season…
Leaf Jensen comes back to Crater as head coach for the third time and has a talented team with big aspirations. Players to watch include setter Katie Stidham and outsides Kendra Bittle and Maddie Kocina. The Comets have great size and setting acumen and won't be held back if their first contact is as good as the next two. When Jensen was last coach, Crater won a league title and placed sixth at state, its highest finish. Can history repeat itself?
Central Catholic went 24-4 and placed fourth in 6A a year ago. The Rams graduated stars Lauren Stemple and Elliot Bush among six seniors; but have four returning standouts to watch: senior setter Mia Starr, a three-year starter and All-League performer; senior MB Sofia Cooper, a three-year starter and All-League performer; sophomore OH Mia Hunt, a rising star; and sophomore MB Malia Parker, who is recovering from a foot injury and isn't expected back until late September. The Rams would be even more complete but for the recent ACL injury to senior pin Alycia Wilson. That should give freshman Reese Kincaid an opportunity to make an impact…
Returning stat stars
Below are some players to watch based on the numbers they put up in 2021.
Kills (300 or more)
393 – Halsey Brumitt, 5-11 Sr. OH, Clackamas (6A)
387 – Tatum Montiel, 5-11 Soph. OH, Marshfield (4A)
377 – Mackenzie King, 6-1 Sr. OH, Burns (3A)
343– Elsa McDermott, 5-7 Sr. OH, Catlin-Gabel (3A)
333 – Olivia Maulding, 5-1 Sr. MB, La Salle Prep (5A)
309 – Shannon MacCallum, 5-11 Sr. OH, Summit (5A)
304 – Kayleigh Carpenter, 5-7 Sr. OH, South Salem (6A)
Assists (700 or more)
966 -- Ashley Wright, 5-9 Jr. S, Burns (3A)
Aces (70 or more)
97 – Mallorie Taylor, 5-5 Sr. libero, La Salle Prep (5A)
87 – Makayla Murphy, 5-8 Sr. S, Sutherlin (5A)
86 -- Ashley Wright, 5-9 Jr. S, Burns (3A)
79 – Lucretia Benolken, 5-9 Sr. OH, Cascade (4A)
74 -- Macy Temple, 5-3 Sr. libero, Burns (3A)
71 – Elsa McDermott, 5-7 Sr. OH, Catlin-Gabel (3A)
70 – Hanna VanderPloeg, Sr. DS, Mohawk (1A)
Total blocks (70 or more)
120 – Akylah Kaino, 6-0 Soph. MB, Burns (3A)
79 – Sofia Cooper, 5-11 Sr. MB, Central Catholic (6A)
74 – Taelyn Bentley, 5-11 Soph. MB, Crescent Valley (5A)
71—Brooksie Isham, 5-10 Sr. OH, South Salem (6A)
Digs (250 or more)
330 -- Haley Smoldt, 5-5 Sr. libero, Sutherlin (3A)
298 – Mackenzie King, 6-1 Sr. OH, Burns (3A)
284 -- Macy Temple, 5-3 Sr. libero, Burns (3A)
268 – Jadyn Daviscourt, 5-6 Jr. libero, Cascade (4A)
College-Bound!
In this space, we list those players, playing Oregon high school volleyball in the current senior class and younger, who have made a commitment to attend a college or university of their choice and play volleyball. Please email [email protected] to add players to the list, using the format you see below.
Emily Blagg, 5-8 Sr. RS, McNary -- George Fox University
Halsey Brummit, 5-11 Sr. OH, Clackamas – Dominican University of California
Kayleigh Carpenter, 5-7 Sr. OH, South Salem – Boise State (for defense)
Maddie Corpe, 5-10 Sr. S, McNary -- Oregon State University
Gwen Fife, 6-0 Sr. OH, Sheldon – University of Utah (Beach)
Bridget Gould, 5-11 Jr. RS, Marshfield - University of Oregon
Sophia Gregoire-Salagean, 6-2 Sr. OH, Newberg – University of Oregon
Alexis Haury, 5-10 Jr. S, Silverton – University of Washington
Kennedy Hines, 5-10 Sr. OH, Roseburg -- Umpqua CC
Brooksie Isham, 5-10 Sr. OH, South Salem -- Air Force Academy
Kalista Lukovich, 6-0 Sr. OH, Nelson – Eastern Washington University
Grace Luttrell, 6-0 Sr. MB, Roseburg -- Linn-Benton CC
Hayden Pinard, 5-10 Sr. S, Roseburg -- Western Oregon University
Mia Starr, 5-10 Sr. S, Central Catholic – UC Davis
Jillian Stein, 5-8 Sr. OH, Bend -- Austin Peay (for Beach)