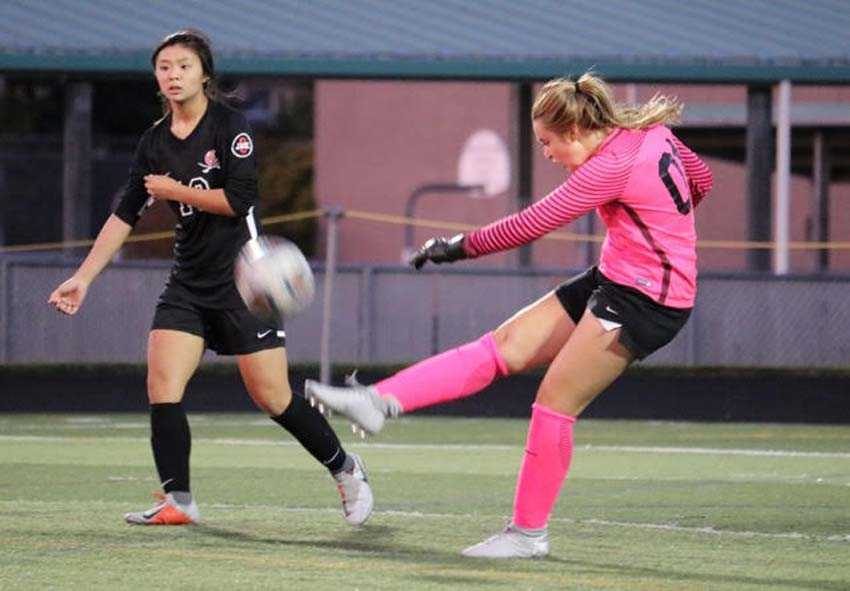 See below for results and highlights from all the playoff matches in girls soccer, as the second round in 6A and the first round in the other three classifications were contested on Wednesday. We will add more highlights as we receive them.
The quarterfinals in all classifications are Saturday.
6A Second Round
Jesuit 8, Bend 0 -- Callan Harrington had four goals, Madi Koleno added two more and Katie Duong had three assists as undefeated Jesuit (16-0) scored early and often in building an 8-0 lead en route to dispatching Bend in second-round action.
West Salem 2, Summit 1 – Summit broke on top in the third minute of the match on a goal from Molly Day but host West Salem scored twice before the first-half whistle, on a goal from Madison McDougal in the 18th minute and a penalty kick converted by Abbey Knoll in the 37th minute. The second half was scoreless. Each side had opportunities to put the ball into the back of the net but none was converted.
Sunset 3, Canby 2 (OT) -- Sunset scored in the 70th minute on a penalty kick to even a back and forth battle between two evenly-matched and determined teams. The Apollos then tallied once in extra time, as freshman midfielder Malea Cesar scored for the second time, connecting from the top of the box to the upper left corner. Makena Speer and Ellie Shorter scored the Canby goals.
Mountainside 2, Sheldon 1 (OT) – After a scoreless first half, Sheldon broke on top with about 15 minutes remaining. It appeared that might be enough to help the 13th-seeded Irish pull off the upset on the road. Mountainside proved resilient and equalized when Sierra Nees scored from a scrum in the goal mouth with about four minutes remaining in regulation. After a scoreless first 10 minutes of overtime, a great pass from Nedya Sawan found Stella Bauman about six yards from the goal and she converted what would be the game winner for the Mavericks.
Clackamas 3, Tualatin 1 -- – See feature story on game at this link: http://www.osaa.org/today/article/280/view?title=Girls+soccer%3A+Mt.+Hood+champs+Cav+what+it+takes+to+down+Tualatin
Sherwood 6, Westview 5 (PKs) -- Tied at 4-4 heading into overtime, Westview scored first in the extra period on a goal from Carly Carraher. Sherwood knotted the score once more on Loma McNeese's fourth goal of the match before winning on penalty kicks.
Barlow 2, Cleveland 0 -- In a physical game, Barlow tallied once in the first half, on a goal from Joanie Holland, who beat the keeper one-on-one; and once in the second half, when Abi Hoffman curled a shot over the goalie from 20 yards away; to win at home and advance.
West Linn 2, St. Mary's Academy 1 – Rae Peters scored late in the first half and Sophie Conrad tallied midway through the second, giving undefeated West Linn (15-0-1) enough cushion to survive a late goal from league rival St. Mary's Academy to defeat the Blues for the second time this season.
5A First Round
North Eugene 4, The Dalles / Dufur 0 – The top-seeded Highlanders scored four goals in the first 15 minutes, two from Ashley Hart, to advance. Sophie Cleland got the scoring started in the fifth minute with a direct free kick. One minute later, two freshmen, Olivia Hoskinson and Avery Wormdahl, collaborated on North Eugene's second goal.
Corvallis 4, Scappoose 2 -- Anna Dazey scored in the first two minutes for Corvallis, on a rebound of a shot from Jordan Taylor that hit the post; and added an insurance tally in the second half as the Spartans doubled up Scappoose at home on Wednesday. After Scappoose tied the score 12 minutes later, Heather Wright scored for Corvallis to give the Spartans a 2-1 lead they would never relinquish.
Thurston 1, Hillsboro 0 -- Marcy Weiss set up Brittany Anderson in front of the goal with 16 minutes gone by in the second half. Anderson finished with a beautiful shot into the corner for the Colts, who completed the shutout win.
Churchill 4, La Salle Prep 1 -- Ciana Reyes scored in the first half for the Lancers, who added three goals in the second, two by Makenzy Stiffler, in the comfortable home win.
West Albany 1, Springfield 0 -- The third-seeded Bulldogs (11-2-2) pitched their 10th shutout of the season and got a goal from Sienna Higinbotham in the 23rd minute from about 10 yards out to get past visiting Springfield.
Silverton 1, Ridgeview 0 -- Silverton snapped Ridgeview's 10-match winning streak, scoring a goal on a free kick late in the first half from Bella Jensen and riding it to an upset of the host Ravens in a match described as a "high pressure defensive struggle."
Crescent Valley 2, Wilsonville 1 -- Crescent Valley controlled possession at Wilsonville and got a goal in the 48th minute from Ana McClave to break the tie on its way to a fifth straight win and a berth in the quarterfinals.
Willamette 6, Hood River Valley 0 – Willamette pounced on three early mistakes by Hood River Valley to score three times in the first 17 minutes and never looked back. The Wolverines got on the board 55 seconds into the match when a poor clearance led by Jerusalem Morris' goal from short range. Briana Kubli scored the first of her three goals at the seven-minute mark and also assisted on Christianna Garcia's goal. Kubli was dynamic in the midfield all match long.
4A First Round
Hidden Valley 5, Cottage Grove 0
Philomath 4, Banks 0 -- Halle Hewitt scored two first-half goals one minute apart, both set up by Madison Francis, as host Philomath (11-3-1) built a 3-0 advantage before the break and cruised to the quarterfinals.
Marist Catholic 2, Henley 1 -- High-scoring Marist Catholic scored two first-half goals, on a penalty kick from Elle Ficek and a volley from Delaney Pratt and held on in the Spartans' first year back in 4A after the previous eight in 5A. Henley scored on a curling corner by Raigan Loney midway through the second half and kept up the pressure to the end but could not net the equalizer.
North Valley 9, McLoughlin 0 – Five players scored in the North Valley romp, including Baylee Touey, who found the back of the net four times. Touey now has 114 career goals with as many as three more matches yet to play. She is 17 goals from matching Olympian Tiffeny Milbrett's longstanding Oregon record.
Valley Catholic 3, Woodburn 1 -- Valley Catholic opened a two-goal halftime lead after tallies by Kate McNaughton and Sarah Jones. Woodburn scored in the second half and controlled play for much of it before McNaughton's header off of a corner kick gave the Valiants the cushion they needed.
Stayton 5, Molalla 1 -- Down a goal after 10 minutes of play, host Stayton fought back with five unanswered goals, two from KJ Nyquist, to advance.
Gladstone 6, Baker / Powder Valley 0 -- Gladstone scored just once in the first half as Baker goalie Emily Black stood tall. The Gladiators used their fast, accurate passing game to tally five times in the second stanza to advance.
La Grande 4, North Marion 3 (PKs) – A back and forth battle between evenly-matched teams needed penalty kicks to determine the winner. Lexee Gomes scored for La Grande to the give the Tigers a 1-nil lead at halftime. North Marion's Haley Welch scored after the break to knot the score. Each team tallied once more in regulation, with a goal by North Marion with only minutes remaining sending the teams to overtime. When overtime produced no further scoring, the teams went to penalty kicks, where the second-seeded Tigers (13-0) prevailed at home to remain undefeated on the season.
3A/2A/1A First Round
Catlin Gabel 8, Creswell 0 -- In a match played on Tuesday, the top-seeded Eagles (14-0-1) got an early goal from Ann Louise Naito and then scored five goals between the 32nd and 50th minutes to put the match away. Naito finished with a hat trick for Catlin Gabel. Sophie Wand and Lola Diaz Gonzalez added two goals apiece.
Riverdale 1, Santiam Christian 0 – In a hard-fought physical match from both teams, Rashel Wray's goal off of a cross from Yvonne Vinceri 18 minutes into the second half was the only goal.
Blanchet Catholic 3, Portland Christian 2 (PKs) -- Blanchet Catholic scored two goals in the first 20 minutes only to see Portland Christian rally to tie early in the second half. The contest remained tied through two overtime periods before being decided, in Blanchet Catholic's favor, in the penalty kick phase.
Yamhill-Carlton 5, Nyssa 1 -- Yamhill-Carlton scored three first-half goals to put the home match versus Nyssa, played in wet and muddy conditions, out of reach early.
Oregon Episcopal School 11, Dayton 1
Brookings-Harbor 3, Lakeview 2 (OT) -- "Both teams were there to battle and that it was," said Brookings-Harbor coach Kyla Siri, whose team edged Lakeview in overtime. The Bruins scored first but Lakeview answered. Brookings scored again, taking a lead late into regulation only to see the Honkers come up with the equalizer with two minutes remaining. The Bruins had a great chance to win with only seconds remaining but missed a penalty kick. The match went into overtime, where Avana Pettus scored with a left-footed shot that held up. "The girls stayed locked in mentally and were not going down without a fight," said Siri.
Riverside 1, Western Christian / Perrydale 0 (OT) -- Jasmin Lopez scored in the fifth minute of the second overtime, netting a loose ball in the box, as Riverside prevailed in a match that was closely contested. Western Christian had two chances to tie the game in the frenzied final moments, but Riverside's defense responded each time.
St. Mary's, Medford 5, Douglas 0 -- The Crusaders won their 12th match in a row, scoring three times in the first 10 minutes of a convincing 5-0 home win over Douglas. Meghan Michels finished with two goals and two assists for the victors, who played without senior defender Grace Weber, who will miss the playoffs with a back injury.