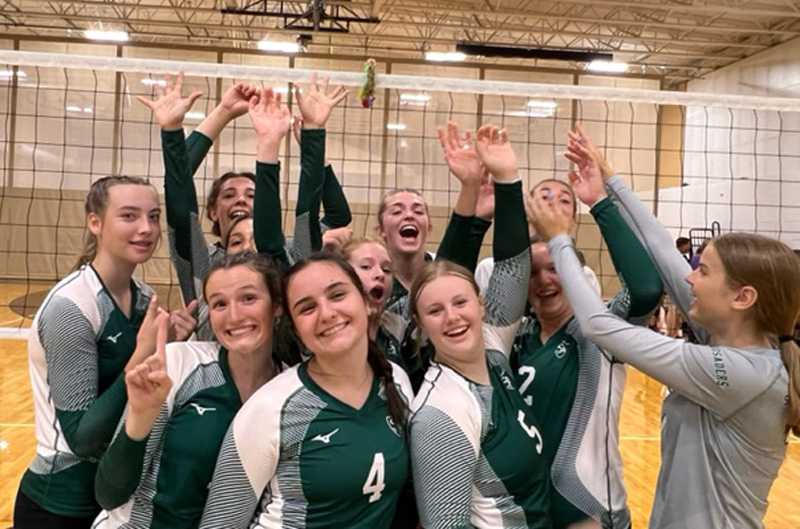 We are four playing dates into the 2022 OSAA girls volleyball season. Roseburg, Sheldon, Bend, Baker, La Pine and Nixyaawii are already 3-0. North Clackamas Christian and Open Door Academy are 4-0!! Meanwhile, more than 125 teams have yet to play a single match. That means in this Notebook, we are still mostly looking back and looking head rather than focusing on what's currently happening on the floor.
3A action riveting from the start
Keep your eye on 3A this year. It will be a dogfight and probably the most entertaining classification to follow.
Pre-season No. 3 Santiam Christian and No. 9 Horizon Christian played at Santiam Christian in the season opener for both of them. Horizon Christian has huge expectations for 2022 after returning everyone and the Hawks made a statement by driving home with a sweep of an Eagle team that was seeded first in 3A going into the playoffs last year.
"It was a team effort!" exclaimed coach Jay Lazaro "The girls really played together with all cylinders firing from the very first point and never let up."
Horizon got it done at the service line, missing just five serves all match long.
Outsides Reagan Anderson and Sadie Eisert showed off their physicality and efficiency by scoring time and again.
The defense of Alexis Sumner and Nyla Karnes helped neutralize the powerful swings of Santiam Christian's 6-1 sophomore MB Joya Euhus.
Setter Sam McDonald did a terrific job of parlaying good passes into hittable balls. MB Emily Miller was a wall at the net and provided the enthusiastic energy the team needed. Finally, RS Ellie McDonald was a beast in all rotations. She scored front row and back and passed and served well.
"Everything she touched turned to gold," Lazaro said.
***
Meanwhile, on Saturday, defending 2A champion Salem Academy traveled to Medford to take on 3A Cascade Christian and Vale in a 3-way. Salem Academy, No. 1 in the 2A pre-season coaches poll, won both, but the wins did not come easily.
Against unranked Vale, the Crusaders were down two sets to none before rallying to win in five, 17-15 in the fifth!
Salem Academy turned right around and played No. 6 Cascade Christian. The Crusaders won in four, but not before rallying from down 10 points in the fourth set.
"We witnessed absolute determination and grit!" said coach Melissa Holman. "These girls work and play hard!
Sheldon, Silverton shine at Mountain View Invite
Sheldon, No. 4 in the 6A coaches poll; and Silverton, No. 7 in the 5A poll, both went an impressive 3-0 on Friday at Mountain View. Sheldon was particularly sharp, notching sweeps of the host school, Crater and 2021 3A champion Burns. Silverton, which boasts the state's best player in Gatorade POY Alexis Haury, took 2-0 decisions over South Eugene, Roseburg and Redmond.
St. Paul's grad gesture
For the past several years, 1A St. Paul has given up a play date to take on its alumni.
"The alumni team is composed of the last 10 years of players and mostly All-Star players.....half All-State players," noted coach Les Hiller. "It is usually one of our most competitive matches of the year. I really encourage other schools to add this match into their schedule. It does cost a play date but is so worth it.. It is a great community event and all the players enjoy seeing the alumni players again, as do I."
This year's match took place on Thursday. The varsity team had the home-court advantage (duh!) but lost the first set, 25-11! The Buckaroos shook off the butterflies and won the next three – conditioning, ladies! – 25-18, 25-18, 25-20.
"There were a lot of long rallies, hard hitting and digging," Hiller said. "It was a great match."
Quick hits…
Weston-McEwen has been a constant in the 2A state tournament over the past two decades. The TigerScots have made the final eight in 16 of the last 19 seasons, with three state titles over that span. Look for Shawn White's team to continue that tradition with seven contributors back, including senior middle Genevieve Robinson, senior outside Lily Lindsey and junior libero Lirian Holden. "We should be very competitive with whoever we play," said White, whose team has started 3-1, losing only to defending 1A state champion North Douglas…
Sherwood was 18-4 a year ago while winning the Pacific Conference. Eight players return for the Bowmen, who opened at No. 9 in the OSAAtoday 6A pre-season coaches poll. Senior libero Sidney Knowles is a key player to watch. She will play volleyball at Florida's Eckerd College. Other key contributors include setter Hannah Brown, RS Aria Birdsong, outsides Emily Fulto and Rylee Perlmutter and MB Caitlin Kirkpatrick…
Trinity Lutheran was 14-9 in 1A last fall, its first winning record in five years. The Saints should be even better in 2022, as only one starter, a middle, graduated. Second-year head coach Kristin Bryan has replaced her with junior Ava Elliott, an outside moving to middle to replace her sister. Elliott will team with All-League middle Jillian Kuhn to made Trinity Lutheran formidable at the net. Others to watch include libero Kaitlyn FitzHenry, setter/right sides Maggie Speed and Lexi Valentine and impact freshman outside Kiya Young, a budding six-rotation standout…
Central has started 1-1 in 2022 after a 7-15 campaign a year ago. Coach Bruce Myers said the team will be better this fall despite graduating four starters. Look for setter Ashley Barba and outsides Kendall Seidel and Hadley Craig to lead the way…
The McDaniel Mountain Lions were 7-11 overall and placed fifth in the 6A PIL a year ago. Kyla Henry's team graduated four, including amazing libero Janice Lee; but there is more talent on the roster this year, including consistent freshman setter Mae Buerkle. Others to watch include OH Macey Pine and RS/MB Nyah Johnson. Both received All-League recognition a year ago…
Illinois Valley won just one match in 2021. The 2A Cougars have a new coach in Joe Kolkow and he brings his daughter, experienced junior S/RS Rylie Kolkow. With four returning starters, including All-Conference libero Morgan Melton; and Kolkow, this should be an improved Illinois Valley squad…
Salem Academy captured the 2A state title last fall, the third in school history. The Crusaders graduated three stalwarts who were All-State and will have a young core in 2022. Senior All-State MB Aly Herber and sophomore S/RS Lexi Herber will lead the way. Keep an eye on 6-0 freshman outside Emma Brewer, whose mother was on the SA team that won state 26 years ago…
Toledo won 11 matches and made the 2A playoffs for the third straight year in 2021. The Boomers have loftier goals for the fall: to make the eight-team state tournament. A strong defense anchored by seniors Avery Tyler and Kendall Smith will lead the way. Others to watch include senior hitter Sierra Ferguson, setters Kylie Warfield and Lindsey Otis and junior middle Marliee Rozewski…
Mazama won its league for the first time in 2021, part of a sterling 19-2 campaign for the Vikings. Five starters have departed. All of that lost experience may mean a step backwards for Coach John Downey's program, which will have a strong defense behind libero Kayla Rietdyk. Others to watch include MB Annika Lindow and OH Ella Bailey. Freshman Calli Bitzer, who stands 5-11, is a potential impact newcomer in the middle.
St. Mary's of Medford hasn't been to the state tournament since 2018. The Crusaders were 9-10 last fall, a season that saw the team suffer multiple injuries and a COVID quarantine all in the same week! Two hitters have graduated for head coach Katie Miller but a good core returns, led by four All-League seniors: 6-4 MB Kelsey Dunn, 5-9 S Kaitlyn Hansen, 5-4 libero Albie Borovansky and 5-9 OH Emma Johnston. Junior middle Maddie Ward also returns for St. Mary's, which will play the first four weeks of the season away from its home court.
La Salle Prep went 25-8-1 in 2022, including a 13-1 league slate. The Falcons graduated five big contributors, including All-League setter Mia McCaffrey; but return three of their top four players. Two 6-2 middles, senior Olivia Maulding and junior Hailey Heytvelt, will anchor the team along with libero Mallorie Taylor. Senior Alana Keepes will be a steady presence on the outside, while Avery Richards and freshman Abby Maulding will have opportunities at the setter position…
Second-year Caldera is playing its first varsity schedule in 2022. The Wolfpack roster consists of seven juniors, five sophomores and freshman OH Aubrey Walker. There is energy and excitement surrounding the program as its works to build a foundation for success in 5A…
Klamath Union has never won a conference title in volleyball. The 4A Pelicans, who have started 1-1 this fall, bring back six regulars, including two juniors, 5-11 OH Gillian Merhoff and 5-10 MB Keely Hall; who received All-Conference recognition. Klamath Union won eight matches last year. The team should easily reach double digits in 2022…
Tillamook's 2021 team was top 10 in 4A with nine underclassmen on the roster. Four varsity starters graduated, but Coach LaVonne Stein-Rawe says, "We were well-rounded, so I don't anticipate much of an impact of these four being gone." The Cheesemakers will build around All-League players Kate Klobas, a 6-0 junior middle who is the team leader on offense and defense; Emily Sklar, a 5-6 senior OH and the team ace leader; and DS Kylie Burden, who paced the team in points from the service line. Team assist leader Dannika Goss also is back for a Tillamook team whose seven juniors will bring big competition to the practice floor and matches, elevating everyone around them.
Damascus Christian went 26-6 a year ago, capped by a third-place finish at the 1A state tournament. Two starters on the right graduated but the rest of the Eagles return, including superstar senior S/OH Sierra Hale, senior MB Julia Mitchell, senior S/OH Abbigayle Bailey and sophomore libero Abigail Huspek. Expect no worse than a third-place finish again this fall…
Scappoose was 4-12 a year ago with just one senior on the roster. The team will have seven seniors this year. "We will compete every game, be consistent, play together and have fun," said second-year coach Mary Schorn…
Returning stat stars
Let's take one final look at some players to watch in 2022 based on the numbers they put up in 2021.
Kills (300 or more)
440 -- Bella Gamache, 6-0 Sr. MB, Monroe
393 – Halsey Brumitt, 5-11 Sr. OH, Clackamas (6A)
387 – Tatum Montiel, 5-11 Soph. OH, Marshfield (4A)
377 – Mackenzie King, 6-1 Sr. OH, Burns (3A)
351 -- Stella Koch, 5-10 Jr. MB, St. Paul
343– Elsa McDermott, 5-7 Sr. OH, Catlin-Gabel (3A)
333 – Olivia Maulding, 5-1 Sr. MB, La Salle Prep (5A)
309 – Shannon MacCallum, 5-11 Sr. OH, Summit (5A)
304 – Kayleigh Carpenter, 5-7 Sr. OH, South Salem (6A)
Assists (700 or more)
966 -- Ashley Wright, 5-9 Jr. S, Burns (3A)
832 -- Gracie Koch, 5-6 Jr. S, St. Paul
Aces (70 or more)
97 – Mallorie Taylor, 5-5 Sr. libero, La Salle Prep (5A)
95 -- Gracie Koch, 5-6 Jr. S, St. Paul
87 – Makayla Murphy, 5-8 Sr. S, Sutherlin (5A)
86 -- Ashley Wright, 5-9 Jr. S, Burns (3A)
85 -- Anabelle Davidson, 5-10 Sr. MB, St. Paul
79 – Lucretia Benolken, 5-9 Sr. OH, Cascade (4A)
74 -- Macy Temple, 5-3 Sr. libero, Burns (3A)
71 – Elsa McDermott, 5-7 Sr. OH, Catlin-Gabel (3A)
71 -- Frankie Lear, 5-8 Sr. DS, St. Paul
70 – Hanna VanderPloeg, Sr. DS, Mohawk (1A)
Total blocks (70 or more)
120 – Akylah Kaino, 6-0 Soph. MB, Burns (3A)
112- Stella Koch, 5-10 Jr. MB, St. Paul
80 -- Anabelle Davidson, 5-10 Sr. MB, St. Paul
79 – Sofia Cooper, 5-11 Sr. MB, Central Catholic (6A)
74 – Taelyn Bentley, 5-11 Soph. MB, Crescent Valley (5A)
71—Brooksie Isham, 5-10 Sr. OH, South Salem (6A)
Digs (250 or more)
338 -- Sarah Thompson, 5-5 Sr. S, Monroe
330 -- Haley Smoldt, 5-5 Sr. libero, Sutherlin (3A)
330 – Bella Gamache, 6-0 Sr. MB, Monroe
298 – Mackenzie King, 6-1 Sr. OH, Burns (3A)
284 -- Macy Temple, 5-3 Sr. libero, Burns (3A)
268 – Jadyn Daviscourt, 5-6 Jr. libero, Cascade (4A)
College-Bound!
In this space, we list those players, playing Oregon high school volleyball in the current senior class and younger, who have made a commitment to attend a college or university of their choice and play volleyball. Please email [email protected] to add players to the list, using the format you see below.
Emily Blagg, 5-8 Sr. RS, McNary -- George Fox University
Halsey Brummit, 5-11 Sr. OH, Clackamas – Dominican University of California
Kayleigh Carpenter, 5-7 Sr. OH, South Salem – Boise State (for defense)
Tatum Chase, 6-1 Sr. MB, Catlin Gabel -- Seattle University
Maddie Corpe, 5-10 Sr. S, McNary -- Oregon State University
Gwen Fife, 6-0 Sr. OH, Sheldon – University of Utah (Beach)
Bella Gamache, 6-0 Sr. MB, Monroe - USC (for Beach)
Bridget Gould, 5-11 Jr. RS, Marshfield - University of Oregon
Sophia Gregoire-Salagean, 6-2 Sr. OH, Newberg – University of Oregon
Alexis Haury, 5-10 Jr. S, Silverton – University of Washington
Kennedy Hines, 5-10 Sr. OH, Roseburg -- Umpqua CC
Brooksie Isham, 5-10 Sr. OH, South Salem -- Air Force Academy
Sidney Knowles, 5-8 Sr. libero, Sherwood -- Eckerd College
Kalista Lukovich, 6-0 Sr. OH, Nelson – Eastern Washington University
Grace Luttrell, 6-0 Sr. MB, Roseburg -- Linn-Benton CC
Olivia Maulding, 6-2 Sr. MB, La Salle Prep - University of Notre Dame
Elsa McDermott, 5-8 Sr. OH, Catlin Gabel – University of Pennsylvania (for defense)
Ceanna O'Loughlin, 5-11 Sr. OH, Jesuit - Colorado State University - Pueblo
Hayden Pinard, 5-10 Sr. S, Roseburg -- Western Oregon University
Mia Starr, 5-10 Sr. S, Central Catholic – UC Davis
Jillian Stein, 5-8 Sr. OH, Bend -- Austin Peay (for Beach)