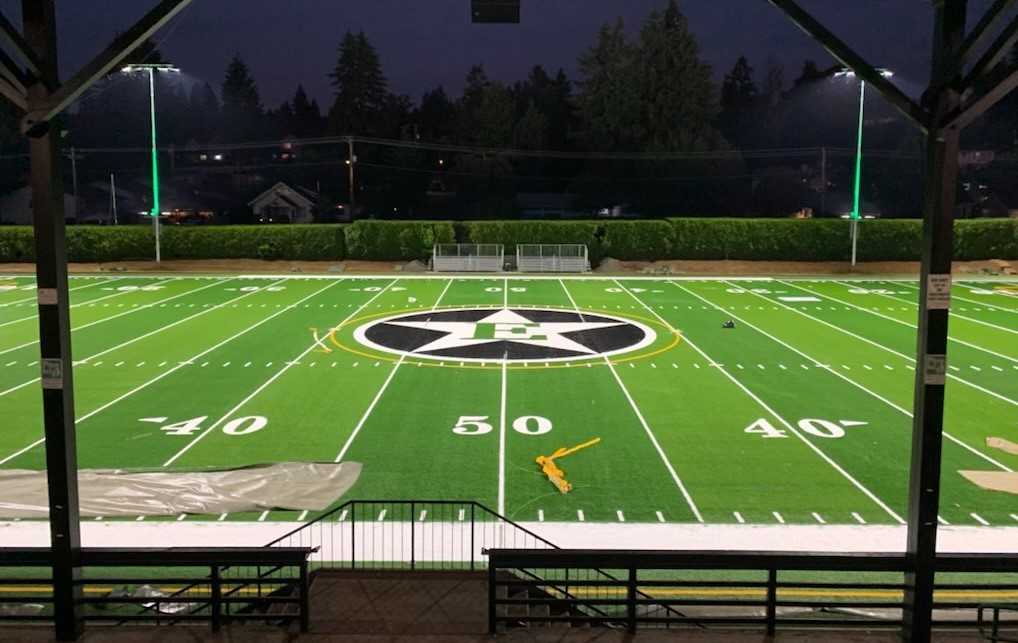 In nearly a century of football, Estacada has never won a state championship. The Rangers have made only one state final, losing to Crook County in 1953.
This year, though, they might be ready to end that drought.
"We've talked about that. It would be pretty special," coach Andy Mott said. "Hopefully we can make some noise."
Coming off a school-record 11 wins and a 4A semifinal appearance, Estacada appears to have its best team in years. The Rangers return four starters on their offensive line and a cast of talented skill players, including senior quarterback Cory James. They sense the opportunity before them.
"They definitely want to try to achieve more and get back to that stage again," Mott said. "The sky's the limit. There's definitely a buzz among the group."
It all gets started Friday night when No. 3 Estacada plays host to No. 4 Mazama in a 4A nonleague game. Not only does it mark the start of what could be an historical season for the Rangers, it also will be the first game on Estacada's new artificial turf field. The school replaced the severely crowned grass field this summer, hauling off about 650 dump trucks worth of dirt to level it out.
"I'm really excited for our community. It's going to be really cool," Mott said. "It's going to be an exciting year."
Mazama, the eight-time reigning Skyline Conference champion, presents a formidable obstacle. The Vikings won the 4A Showcase title in the COVID-shortened season and went 9-3 last fall, reaching the semifinals.
Mazama lost many key players to graduation but is eager to test its new lineup against Estacada.
"We're looking forward to it," Vikings coach Vic Lease said. "They've got all these kids that are pretty heralded. We're going to have our hands full, but we've never backed away from a challenge. We know they're going to be one of the best teams in the state. It will be interesting to see. There are a lot of people that don't think we're going to be very good."
Estacada and Mazama are a near mirror image on offense in how they execute the veer. Mott is expecting a battle in the trenches.
"If you're an old-school football guy, this will be a game to come watch," Mott said. "You'll probably see some wishbone, some triple-option, and some smashmouth old-school stuff."
Estacada's strength is its offensive line, led by senior Dominic Nacoste (6-3, 245), a fourth-year starter who was a 4A first-team pick last season. Senior linemen Cody White (6-7, 265), Andrew Turner (6-2, 200) and Mariano Martinez (5-8, 275) also were starters last year.
At quarterback, James rushed for a team-high 887 yards and threw nine touchdown passes last season in being named the Tri-Valley Conference offensive player of the year. Mott expects James to be more of a threat as a passer this season.
"He's a heck of a passer, which is something he's improved a ton since last year," Mott said. "If we can get that phase going this year, it's going to be a huge plus. But our identity is to run the ball and be physical."
Estacada's top running back is senior Waylon Riedel, a 5-11, 220-pound fullback known to his teammates as Tank.
Mazama also returns its starting quarterback in junior Tyson Van Gastel and has a stable of capable running backs, but must replace four starters on the offensive line.
It hurts the Vikings that their only returning starter up front, senior guard Caleb Moran (6-3, 285), is probably out for the season after suffering a knee injury at a camp in June. Also, massive junior guard Ryan Murdock (6-3, 275) is dinged up after spraining a knee in a scrimmage.
"My skill guys, we're good there," Lease said. "But our mainstay has been our offensive line, and when we're beat up there, it makes it rough for us."
Other notable games in Week 1:
(2021 records)
Thursday
North Salem (7-4) at Roosevelt (7-3), 7 p.m.: North Salem made dramatic improvement in 5A, reaching the quarterfinals last year for the first time since 1963, but will be put to the test in moving back to 6A this year. Vikings junior quarterback TC Manumaleuna and senior running back Josiah Davis are an explosive combo.
Barlow (6-5) at Lake Oswego (10-2), 7 p.m.: Lake Oswego, which made the quarterfinals for the fourth postseason in a row last year, has much to prove after getting hit hard by graduation. Junior quarterback Max Brauner is the leading candidate to replace Jack Layne, the Three Rivers League co-offensive player of the year.
Friday
West Linn (11-2) at North Medford (4-5), 7 p.m.: It's a new era for 6A powerhouse West Linn. The Lions will play their first game under former Camas (Wash.) coach Jon Eagle, who replaced state-championship winning Chris Miller. They also have a new elite quarterback in Washington State-bound Sam Leavitt, who transferred from Westview.
Summit (9-3) at Tualatin (12-1), 7 p.m.: Tualatin, the 6A runner-up last year, graduated arguably its best-ever class and lost coach Dan Lever to 5A Silverton. But the Timberwolves have high hopes with new coach Dominic Ferraro, the coach at Forest Grove last season, and senior quarterback Jack Wagner, an Idaho commit. Summit, which dropped from 6A to 5A this season, will be looking for payback for last year's 42-13 quarterfinal loss at Tualatin.
Skyview (Wash.) (7-3) at Jesuit (11-2), 7 p.m.: Jesuit, which lost in the 6A quarterfinals to champion Central Catholic last year, is built for another long playoff run. The Crusaders not only have their usual beefy line, but have a dangerous quarterback in junior Jacob Hutchinson and an electric playmaker in junior receiver Jace Burton. Skyview of Vancouver is a good opening-night barometer.
West Salem (9-2) at Sherwood (7-5), 7 p.m.: Two reigning conference champions meet in a rematch of a 6A second-round playoff game from last year, won by Sherwood 35-27. Sherwood, adjusting to a new head coach for the second year in a row in interim coach Mark Gribble, brings back 16 starters, including Boise State-bound tight end Oliver Fisher. The Titans have only four starters back, none on offense.
Wilsonville (11-1) at Thurston (10-1), 7 p.m.: Wilsonville hits the road to face 5A playoff nemesis Thurston. The Wildcats' last three postseasons have ended with losses to the Colts in the 2018 final, 2019 quarterfinals and 2021 semifinals. Thurston won titles in 2018 and 2019 but fell to Silverton in the final last year.
Lost River (10-2) vs. Adrian (13-0) at Dufur, 7:30 p.m.: Adrian, coming off its third 1A title in eight seasons, squares off in the neutral-site game against Lost River, a team it defeated 62-20 in last year's semifinals. Lost River, with all but two players eligible to return from last season, could chase after its first title since 2004.
Saturday
Central Catholic (14-0) at Bellevue (Wash.) (14-0), 1 p.m.: A clash of titans as Oregon's two-time reigning 6A champion takes on Bellevue, which won Washington's 3A title last year and is No. 1 in the preseason rankings. The teams met in 2008, with Bellevue beating the host Rams 41-13.