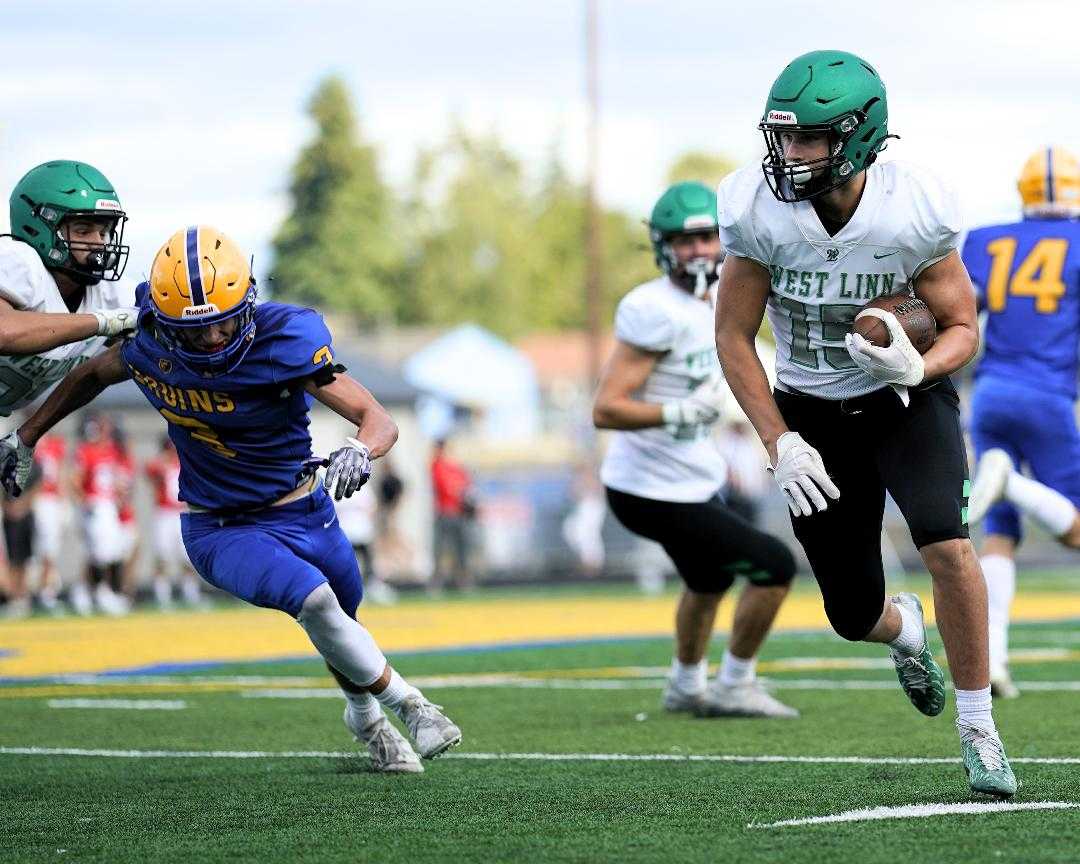 As the new football coach at West Linn, Jon Eagle still has plenty to learn about what his players can do under the bright lights.
But last week's 52-6 win season-opening at North Medford confirmed, at the very least, that the Lions have no shortage of talent.
"We've got a lot of good kids," said Eagle, who led Camas to Washington big-school titles in 2016 and 2019. "We've got lots of weapons, and the kids play really well on defense."
Eagle will get another good look at his team Thursday night when West Linn, No. 2 in the OSAAtoday 6A coaches poll, plays host to No. 6 Sheldon. The Irish are coming off a 56-0 win over Glencoe, which, like West Linn's opener, had a running clock in the second half.
"I didn't see any mistakes," Eagle said of Sheldon's performance. "It looks like a bunch of kids that have been in a system for a lot of years. They're in place, and they tackle well.
"It's going to be a good game, I'll tell you that."
West Linn's first game marked the debut of senior quarterback Sam Leavitt, a transfer from Westview. The Washington State-bound Leavitt completed 10 of 15 passes for 118 yards and two touchdowns and ran for a team-high 49 yards on six carries. Four of Leavitt's runs resulted in first downs.
"He's phenomenal. He's electric," Eagle said. "We kind of knew this, but he's a weapon with his feet. We're working on that. He took the ball down in situations, took off and ran it and made some spectacular plays. He made a lot of great throws. He spread the ball around to a lot of different people."
The Lions also got a big game from senior receiver Mark Hamper. He not only scored touchdowns receiving and rushing, but provided a spark with two long punt returns, one for a score and the other setting up West Linn inside the 5-yard line.
"He is such a playmaker," Eagle said. "He made just about every guy on the other team miss. We spent a lot of time in the preseason on our special teams and it certainly paid off."
West Linn's defense smothered North Medford. Seniors Calvin Reynolds and Jake Holmes and sophomore Baron Naone dominated up front, junior Gus Donnerberg excelled in his move from defensive line to inside linebacker and senior linebacker Earl Ingle returned an interception 32 yards for a score.
"Our defensive line is very dynamic," Eagle said.
The Lions will have their hands full Thursday with a Sheldon offense run by senior quarterback Brock Thomas, who as a junior passed for 1,968 yards and 19 touchdowns and ran for 1,339 yards and 18 scores. He has offers from Army and Air Force.
"He's a big-time threat with his feet and his arm," Eagle said. "They design the scheme around him. He looks like he's been doing that scheme for a while."
Thomas ran and passed for touchdowns against Glencoe. Senior running back Grafton Robinson, a Southwest Conference first-team pick last season, ran for more than 100 yards and scored three touchdowns.
The Irish also picked up an impact transfer in senior receiver/defensive lineman Teitum Tuioti, who has committed to Oregon for defense. He brings a new element to a defense that is well-drilled.
"They don't get out of position," Eagle said. "They're really sound. They made every yard tough for Glencoe to get."
Thursday's game will be West Linn's first home game at its high school stadium since the COVID-shortened season in the spring of 2021. The Lions played their home games at Wilsonville last season while their stadium underwent renovations.
Eagle said his players are "100 percent excited" about playing on their own turf again. Considering the light schedule of Thursday games, Eagle is hoping for a big crowd.
"If you're looking for a good high school football game on a Thursday night, you ought to be there," he said.
West Linn plays at No. 3 Jesuit next week.
Other notable Week 2 games:
Thursday
1A-8 No. 1 St. Paul (1-0) at 2A No. 3 Santiam (1-0), 7 p.m.: St. Paul, which rushed for 443 yards to beat Dufur 66-6 last week, faces a Santiam defense that posted a 30-0 shutout last week against Knappa, the preseason No. 4 team in 2A. Santiam's Trenton Stafford rushed for two touchdowns against Knappa before leaving the game with an injury. The game will be played under nine-man rules.
Friday
Westview (1-0) at 5A No. 1 Wilsonville (1-0), 7 p.m.: Wilsonville showed its grit in the opener at No. 3 Thurston by winning 38-35 in overtime despite blowing a 32-10, third-quarter lead. Now the Wildcats draw the task containing Westview's Jordan Fisher, who rushed for 237 yards and two touchdowns in a 31-28 win over Clackamas.
St. John Bosco, Calif. (2-0) vs. 6A No. 1 Central Catholic (1-0) at Autzen Stadium, 7 p.m.: The two-time reigning 6A champion Rams faces St. John Bosco, ranked No. 1 in the country by MaxPreps and CalPreps. In two previous meetings against St. John Bosco, Central Catholic hasn't been close, losing on the road 42-14 in 2014 and at home 66-17 in 2015. The Rams hope to build on the momentum of a season-opening 24-23 win at Bellevue, the reigning champion of Washington's second-highest classification.
6A No. 3 Jesuit (1-0) at 6A No. 5 Lakeridge (1-0), 7 p.m.: The Pacers believe they have a team to contend with the best of 6A this season, and the Crusaders will provide a good measuring stick. The teams haven't met since the 2013 quarterfinals, when Jesuit rolled to a 62-33 win in a controversial, penalty-marred contest.
5A No. 3 Thurston (0-1) at 5A No. 2 Summit (0-1), 7:15 p.m.: Both teams will be looking to get on track after opening with hard-fought losses. The Colts rallied from 22 points down before losing to Wilsonville 38-35 in overtime and the Storm slugged it out with 6A power Tualatin but fell 19-12.
Eagle Point (1-0) at 4A No. 1 Mazama (1-0), 7 p.m.: One week after playing the first game on Estacada's new artificial turf – and winning 26-14 – Mazama will break in its own new field. The Vikings will try to slow down Eagle Point running back David Brown, who ran for 300 yards and seven touchdowns in a 54-33 win over Ashland last week.
4A No. 5 Estacada (0-1) at 4A No. 4 Scappoose (1-0), 7 p.m.: Scappoose, which has returned to 4A from 5A this season, got off to a good start by winning 26-7 at Gladstone. The Indians will play the first game on their new artificial turf field against the Rangers, who will be looking to make up for a 26-14 home loss to Mazama.
3A co-No. 4 Kennedy (1-0) at 3A co-No. 4 Siuslaw (1-0), 7 p.m.: Reigning 3A champion Siuslaw takes on a new challenger in Kennedy, a perennial 2A power before moving up this season. Siuslaw got two touchdown runs from Ian Sissel in beating Newport 44-7 last week; Kennedy thumped Stanfield 52-8 as Owen Bruner caught two scoring passes.
3A No. 6 Dayton (1-0) at 3A No. 7 La Pine (1-0), 7 p.m.: Dayton is hungry for payback for last season, when the Pirates lost at home to La Pine 37-16, their only regular season defeat. Zach Smith rushed for 201 yards and four touchdowns in Dayton's 48-13 win over Yamhill-Carlton last week. La Pine handled Corbett 56-0.
1A-6 No. 6 Eddyville Charter (0-0) at 1A-6 No. 2 Powers (1-0), 3 p.m.: It's the season opener for Eddyville, which improved from 0-5 to 6-1 last season. Powers pulled out a 14-7 win at Elkton last week behind Alex Mahmoud, who rushed for 118 yards and two touchdowns.