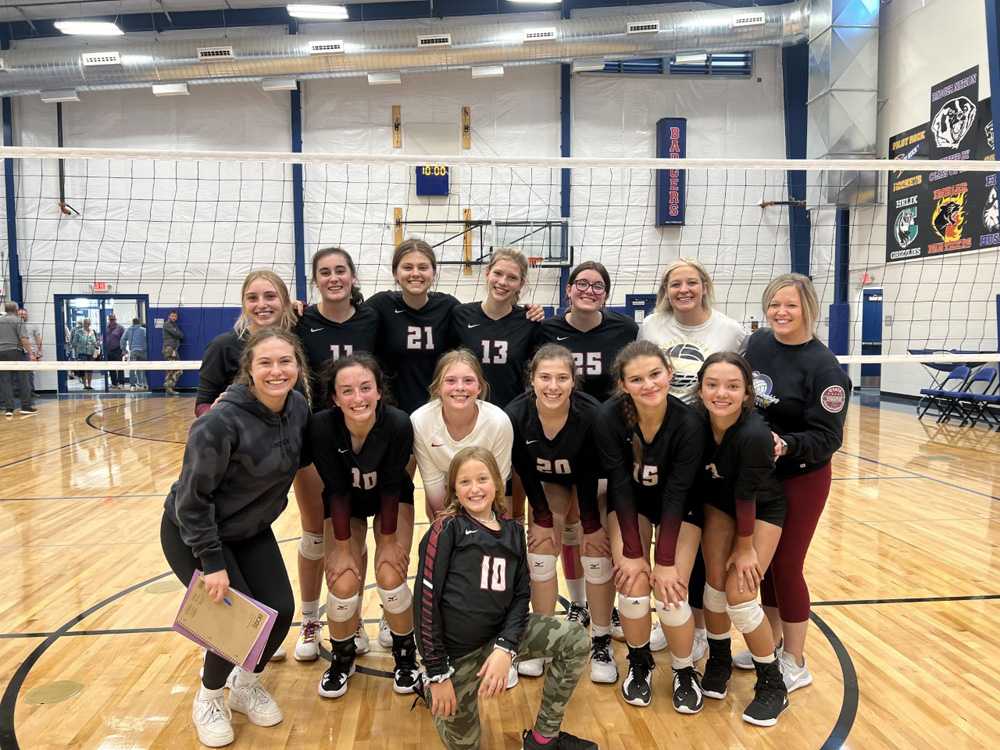 Here's what happened last week in Oregon volleyball:
The Undefeateds
According to the results pages at www.osaa.org, there are nine teams across all classifications that remain undefeated. They are Jesuit, McNary and Ida B. Wells in 6A. Wilsonville and Bend in 5A, Philomath in 4A and St. Paul, Damascus Christian and Nixyaawii in 1A.
By Saturday, that number will probably be cut in half of more. Jesuit, Wilsonville and Bend are all at the State Preview in Albany. At most one can leave still unbeaten.
McNary will play in the Rogue Valley Classic at North Medford. A win there and the Celtics, unranked in the pre-season, will be bona fide candidates to place at the state tournament.
Philomath is playing at the North Marion Tournament against the likes of Marist Catholic and North Bend, a tough test indeed for the Warriors.
Nixyaawii takes on Powder Valley (9-3) on Saturday. St. Paul and Damascus Christian play one another that same day.
Only Ida B. Wells isn't at risk over the next seven days.
Check back next week, but my best guess is that by this point next week, there will be only three teams left with a blemish to their official records. And no, I won't hazard a guess as to which three teams they will be!
Eagles dare at East West Classic
Damascus Christian traveled to North Powder on the eastern side of the state for the East West Classic and was the only team to win all of its matches in the tournament. The Eagles (10-0) earned five sweeps in their six matches, including in their final game against host Powder Valley, which at the time also was 5-0 for the event.
Seniors Sierra Hale, Abbigayle Bailey and Julia Mitchell catalyzed the win. Hale had 50 kills and 85 assists for the tournament. Bailey had 48 kills and 57 assists. Mitchell added 41 kills and 8 blocks.
"It's always great to go play in that tournament against some good competition and get a look at the talent on the other side of the state," noted head coach Emily Russau.
Ticked off, Bulldogs bugged, then flea hotel before winning
North Bend had an eventful but ultimately successful weekend at the Estacada Invitational on Saturday. The Bulldogs intended to stay the night before Saturday's tournament at a hotel in Wilsonville, but discovered bed bugs in their rooms, prompting a change.
The next morning, a fire alarm at the tournament disrupted pool play. North Bend finished second to Scappoose in its pool, then won three bracket matches to take the championship. The Bulldogs defeated Fort Vancouver in three sets in the quarterfinal, exacted revenge on Scappoose in a semifinal sweep then recovered from a dropped set in the final to Estacada, which hadn't dropped a set all tournament long, to down the Rangers in three sets. Senior setter Hayden Napier sparked North Bend with some great serving to start the final set.
"We played a solid match and it was a great all-around team performance to beat the home team on their own turf," noted North Bend coach Summer Sawyer. "We are a young team which has had a pretty rocky start coming off of a tremendous senior-led season last year. We are learning to work through the growing pains and this weekend was just what we needed to boost our confidence and morale!"
Winning on the Horizon
Horizon Christian of Tualatin overcame a pool play injury to standout senior outside Reagan Anderson to win Saturday's Crusader Classic hosted by Salem Academy.
The Hawks faced Salem Academy, the defending 2A state champs, in the final and won behind inspired play from Emilie Miller and Sammie McDonald.
MB Aly Herber and OH Emma Brewer were standouts for the Crusaders for the tournament. Salem Academy was the only 2A school at the event.
"We fought point for point with Horizon Christian in a match that easily could've gone either way," noted Crusader coach Melissa Holman. "The Crusaders didn't get the win this time, but we were SO proud of their success among such high quality teams in the 3A division."
Quick hits…
Willamina volleyball hosted an after-school youth camp last Friday. More than 50 campers from second through sixth grades learned skills and played games as the high school players instructed the event. Willamina coach Heather Hughes noted that the three-hour camp was a great event to promote the program within the community.
Silverton is 9-1 after wins over Central and South Albany last week. Alexis Haury and Rowan Reilly teamed for 44 kills in the two wins. Haury added 37 assists. Libero Gracie Jensen held down the back row, passing above 2.0 in both matches, while Tayler Westfall and Olivia Rosborough were stalwarts at the net.
In Crater's two home matches on Saturday, both wins, senior setter handed out 70 assists, many to senior outsides Kendra Bittle (36 kills) and Madison Kocina (19 kills). Kocina added 20 digs and six aces.
Stat stars
This week, I asked coaches on our bulk email list to help me compile a list of astounding single-game statistical achievements! We will keep a running tally of players who stat at these levels for a single match:
50 assists or more in a match
30 kills or more in a match
30 digs or more in a match
10 blocks or more in a match
10 aces or more in a match
Here's what we have so far…
30 or more digs in a match
Kaili Kirkhart, 5-3 Jr. libero, Oakridge – 45 digs in a four-set win over Oakland on Sept. 17
Alli Hu, 5-6 junior libero, Umpqua Valley Christian – 33 digs in a match
Delaney Mitchell, 5-4 Sr. libero/setter, Molalla – 31 digs in a 3-1 win over Cottage Grove on Sept. 6.
Any coaches may email [email protected] to add to the list at any time.
Nose-bleeders
Jumping 10-feet on approach remains a lofty goal for most volleyball players. If you get enough air to touch a regulation basketball rim, you have the ability to hit over blockers and pick your own spots. That makes you a very dangerous scorer on the court!
In this space, we will recognize those Oregonians who have achieved that lofty mark. We will add to it in each Volleyball Notebook as coaches tell us about the players who have reached rare air. Here's where we stand currently in the 10-Foot Club:
Katie Clevenger, 6-0 Sr. OH, South Medford
Hailey Heytvelt, 6-2 Jr. MB, La Salle Prep
Sophia Gregoire-Salagean, 6-2 Sr. OH, Newberg
If you are a HS coach and want to add someone to the list, by all means email me, [email protected], put "10-foot club" in the subject line and provide the info in the manner shown above.
College-Bound!
In this space, we list those players, playing Oregon high school volleyball in the current senior class and younger, who have made a commitment to attend a college or university of their choice and play volleyball. Please email [email protected] to add players to the list, using the format you see below.
Emily Blagg, 5-8 Sr. MB, McNary -- George Fox University
Halsey Brummit, 5-11 Sr. OH, Clackamas – Dominican University of California
Kayleigh Carpenter, 5-7 Sr. OH, South Salem – Boise State (for defense)
Tatum Chase, 6-1 Sr. MB, Catlin Gabel -- Seattle University
Katie Clevenger, 6-0 Sr. OH, South Medford – Cal Poly
Maddie Corpe, 5-10 Sr. S, McNary -- Oregon State University
Mia Fedota, 6-2 Sr. MB, St. Mary's Academy -- University of Puget Sound
Gwen Fife, 6-0 Sr. OH, Sheldon – University of Utah (Beach)
Emma Frye, 5-10 Sr. MB, Tigard -- Schreiner University
Bella Gamache, 6-0 Sr. MB, Monroe - USC (Beach)
Bridget Gould, 5-11 Jr. RS, Marshfield - University of Oregon
Sophia Gregoire-Salagean, 6-2 Sr. OH, Newberg – University of Oregon
Alexis Haury, 5-10 Jr. S, Silverton – University of Washington
Kennedy Hines, 5-10 Sr. OH, Roseburg -- Umpqua CC
Brooksie Isham, 5-10 Sr. OH, South Salem -- Air Force Academy
Vivi Kaelin, 5-10 Sr. OH, Lake Oswego -- Cal State Bakersfield (Beach)
Sidney Knowles, 5-8 Sr. libero, Sherwood -- Eckerd College
Kalista Lukovich, 6-0 Sr. OH, Nelson – Eastern Washington University
Grace Luttrell, 6-0 Sr. MB, Roseburg -- Linn-Benton CC
Olivia Maulding, 6-2 Sr. MB, La Salle Prep - University of Notre Dame
Elsa McDermott, 5-8 Sr. OH, Catlin Gabel – University of Pennsylvania (for defense)
Ceanna O'Loughlin, 5-11 Sr. OH, Jesuit - Colorado State University - Pueblo
Isabel Patterson, 5-11 Sr. OH, Jesuit – University of Oregon (Beach and Indoor)
Tia Picknell, 5-9 Sr. MB, Oakland — Bushnell University
Hayden Pinard, 5-10 Sr. S, Roseburg -- Western Oregon University
Mia Starr, 5-10 Sr. S, Central Catholic – UC Davis
Jillian Stein, 5-8 Sr. OH, Bend -- Austin Peay (Beach)
Kait Wood, 5-11 senior MB, Sheldon – Rocky Mountain