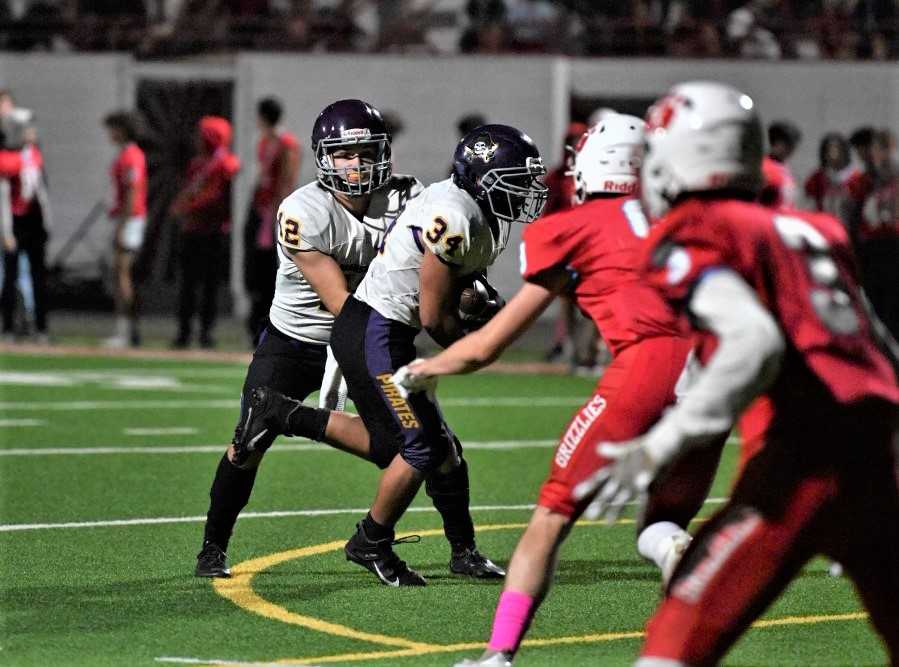 Entering the season, Marshfield knew that it faced a difficult encore to last year, when the Pirates won their first state championship since 1992.
They graduated starters at 16 positions, including prolific dual-threat quarterback Dom Montiel, who passed for 50 touchdowns and ran for seven scores in leading the team to an unbeaten season.
But after a rocky start, Marshfield is starting to find its stride. The Pirates (5-1, 3-0), No. 7 in the OSAAtoday 4A coaches poll, have won four in a row heading into a Special District 4 showdown Friday at home against co-No. 4 Henley (6-0, 3-0).
"A lot of the kids practiced and were on the scout team last year, and were a part of it all," Marshfield coach John Lemmons said. "So I'm sure hoping they remember what got us there.
"We've got some skill kids, but not as many as we had last year. But I think up front, we're as good or better than we were. We're trying to be a balanced team. We just don't have the Dom Montiel factor."
The new skill players – such as senior quarterback Landon Croff, junior running back John Lemmons and senior receivers Mitchell George and Mekhi Johnson -- are warming up to their roles.
"We're getting better every week. We're starting to find our identity," coach Lemmons said.
Croff, recovered from a torn ACL from last season, turned out after the season started and assumed the quarterback job in Week 4 after sophomore Ashton Fitzgerald-Thornton suffered a torn ACL. Croff broke out last week in a 45-8 win over Ashland, throwing for 345 yards and five touchdowns.
"He was a little bit late to the game," Lemmons said of Croff's belated start to the season. "He was a little bit nervous about re-injuring himself. He watched our first game and decided he could play."
The Pirates have found a go-to running back in Lemmons, the coach's son. The 5-foot-6, 150-pound Lemmons, who became the starter in Week 2, has rushed for 622 yards and seven touchdowns, eclipsing 100 yards in each of the last four games.
"He's not a big kid, but he's quick," coach Lemmons said.
Lemmons wears No. 34, a break from the No. 47 worn by his father, the star tailback and linebacker on Marshfield's 1992 championship team. The coach's older son, Tristan, who played on Marshfield's state runner-up team in 2017, wore No. 47.
"Living in a small town, it kind of bothered by older son," coach Lemmons said. "Everybody always wanted to talk about his dad, compare him to his dad. So this year, I just said, 'Why don't you just stick with wearing your own number?'"
George, who had three catches last season, has 42 catches for 470 yards and four touchdowns. He exploded last week against Ashland, catching 10 passes for 142 yards and two scores.
The addition of the multitalented Johnson, a transfer from Indiana, has been a bonus. The 6-3, 170-pound Johnson ran for 92 yards and two touchdowns on jet sweeps in the win over Klamath Union and has caught passes for scores in each of the last two games.
"He's just trying to learn everything, get up to speed," coach Lemmons said. "But he's as athletic as anybody we had last year."
The Pirates have a solid foundation up front with three returning starters in senior center Luke Parry, senior tackle Toby Johnston and senior guard Gilbert Hernandez, as well as a rotation player from last year in senior guard Sebastian Gabriel Kutsch.
Since losing to co-No. 10 Cascade 30-6 in Week 2, the defense has allowed only 35 points in four games. Sophomore lineman Lucas Folau (6-2, 240) has 12 tackles for loss and senior safety Drake Rogers has four interceptions.
But Henley, which beat Cascade 40-22 in Week 4, is a formidable obstacle. Behind a dangerous dual-threat quarterback in 6-2 senior Shaw Stork and junior running back Logan Whitlock (911 rushing yards), Henley is averaging 40.2 points per game.
The Hornets also will be looking for payback from last year, when they lost to Marshfield 42-7 in the state quarterfinals.
"They're a quality football team," coach Lemmons said. "They're physical, tough kids. Good up front. Their quarterback was good as a junior and he's even better as a senior. They've definitely got the best running back we've faced all year, and they've got some real talented receivers."
Marshfield and Henley are tied for first place with No. 1 Mazama (6-0, 3-0). Henley plays host to Mazama next week; Marshfield goes to Mazama in the regular-season finale Oct. 28.
Other notable matchups in Week 7:
Thursday
6A No. 3 Central Catholic (5-1, 4-0) at Barlow (3-3, 3-1), 7 p.m.: Central Catholic already has handed Nelson and Sandy their only Mt. Hood Conference losses, and now can put a stranglehold on first place by beating the other second-place team in Barlow. The Bruins are coming off a 37-34 loss to Nelson.
Sherwood (4-2, 2-0) at Newberg (4-2, 1-1), 7 p.m.: Pacific Conference leader Sherwood, which blasted McMinnville 54-12 last week to take over first place, looks to gain further separation this week against the Tigers. Sherwood won 23-17 last year, avenging a 14-9 loss Newberg in the COVID-shortened season.
Friday
6A co-No. 6 Tigard (6-0, 2-0) at 6A No. 2 West Linn (5-1, 2-0),, 7 p.m.: West Linn keeps stacking up impressive wins, the latest a 42-30 victory at previously undefeated Tualatin last week. Now the Lions meet the unbeatenTigers with first place in the Three Rivers League up for grabs.
6A No. 1 Sheldon (6-0, 4-0) at North Medford (4-2, 4-0), 7 p.m.: Can anyone in Special District 1 give Sheldon a game? The Irish, who smashed previously undefeated South Medford 49-0 last week, have outscored their four league foes 208-6. Now it's up to the Black Tornado, riding a four-game winning streak, to take its shot.
5A No. 4 Wilsonville (4-2, 1-0) at 5A No. 8 Southridge (5-1, 0-1), 7 p.m.: The Wildcats have bounced back from losses to Tualatin and Summit with two wins, and now looks to extend its Northwest Oregon Conference winning streak to 34 against 5A newcomer Southridge. The Skyhawks suffered their first loss last week, falling at Forest Grove 42-13.
3A No. 1 Banks (6-0, 3-0) at 3A No. 7 Yamhill-Carlton (5-1, 4-0), 7 p.m.: It's been a terrific season so far for Yamhill-Carlton, which has won five in a row since losing its opener to Dayton. But they must beat the Braves, who have allowed 27 points in five games (one win was a forfeit), to hold on to first place in Special District 1.
3A No. 5 Santiam Christian (6-0, 4-0) at 3A No. 6 Dayton (5-1, 3-1), 7 p.m.: Santiam Christian, tied for first place in Special District 2 with Kennedy, needs to get past the Pirates to stay on course for a showdown with the Trojans in the regular-season finale. Santiam Christian outslugged Dayton 7-6 in a first-round playoff game last season.
2A No. 9 Santiam (4-2, 3-1) at 2A No. 2 Colton (6-0, 3-0), 7 p.m.: Colton – which went 2-4 in the Tri-River Conference last year, including a 20-6 loss to Santiam – can make a big move toward the conference title by beating the Wolverines. Santiam has outscored its last three opponents 143-0.
1A-8 No. 9 Enterprise (4-2, 2-1) at 1A-8 No. 4 Powder Valley (6-0, 4-0), 7 p.m.: With a win, the Badgers can pad their lead in the Special District 2 West division and tune up for a big game next week against reigning state champion Adrian, the leader in the East division.
1A-6 No. 8 Joseph (4-1, 4-1) vs. 1A-6 No. 1 Spray/Mitchell/Wheeler (5-0, 5-0) at Wheeler HS, 7 p.m.: Spray/Mitchell/Wheeler, undefeated last year, goes for its 16th consecutive win in the key Special District 1 game against the Eagles.