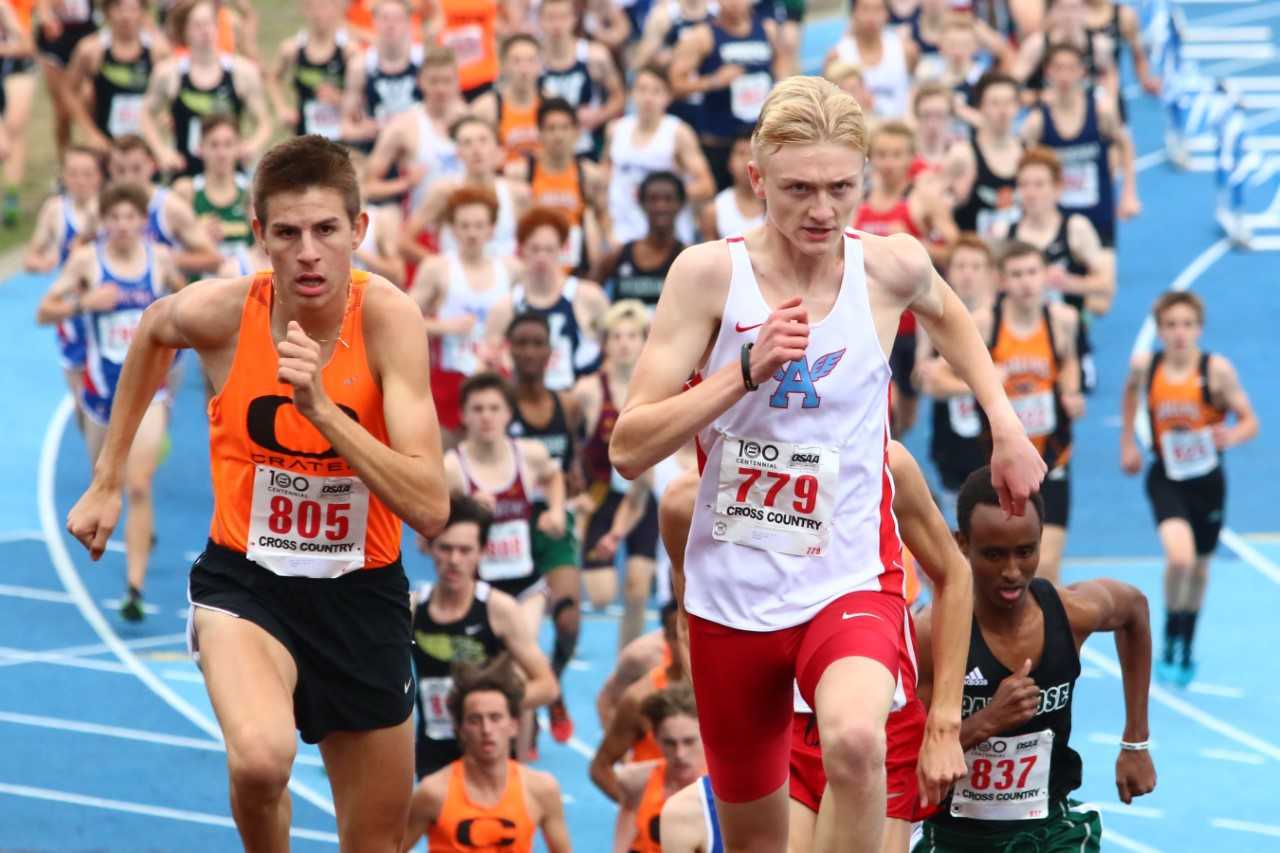 EUGENE – Heading into Saturday, Central Catholic was almost an afterthought at the OSAA/OnPoint Community Credit Union 6A boys cross country championships at Lane Community College.
The Rams didn't post blazing-fast times -- lacking a single runner among the top 14 best times in the classification this season -- and were fourth in the final OSAAtoday coaches poll.
But coach Dave Frank, who had guided the Rams to nine titles since 2005, had a hunch that his team was going to make its presence felt.
"We said that after the race, somebody's going to say, 'They were better than we thought they were,'" Frank said. "Because we hadn't run anything really good all year. We've been OK, but we haven't run any super-fast courses."
Central Catholic stunned the field Saturday, finishing tied for first place with Jesuit (93 points) and earning the title by virtue of its sixth runner. The Rams had only one top-10 finisher in the meet – senior Ben Brown (fourth) – but got quality performances throughout their lineup.
"Even if we had not won, I'd be pretty happy because that was by far the best race we've run all year," Frank said.
Brown, juniors Jameson Westhead (17th), Spencer Hardy (19th) and Josue Corona-Solis (33rd) and sophomore Anders Beil (28th) were Central Catholic's top scorers. The team's sixth runner, junior Joseph Halsey (35th), finished ahead of Jesuit's No. 5 runner, junior Declan O'Scannlain (37th).
Halsey was one of four Rams to compete in the JV district meet for the final two spots on the state roster. He earned the second berth.
"Joe, honestly, had not had a good year," Frank said. "And today he stuck his nose in there and he fought like crazy."
When the team scores were announced, and the Rams learned that they won by sixth-man tiebreaker, they ran over to hug Halsey.
Central Catholic wasn't the only surprise in the 6A meet. Sunset senior Ethan Reese bolted from behind to take the lead with 250 meters left and held on to beat Franklin junior Aidan Palmer by one second for the title.
"I hadn't run as fast as a lot of these guys, so I really didn't know what I could do," said Reese, who placed ninth in the meet last year. "Going into it, I just wanted to hang with the leaders as long as I could.
"I assumed that would be the first two miles, and the third mile, just try to make a move, see if I could counter all the other moves. I know on the track, I can beat anyone in a race. I thought somebody was going to pass me. I thought I was going to run out."
Reese's winning time of 15:37 edged Palmer (15:38), Jesuit senior Will Sheaffer (15:40) and Central Catholic's Brown (15:42).
Reese's title helped Sunset grab third place with 124 points. Franklin, which was ranked No. 1 in the final coaches poll, settled for fourth place with 145 points.
5A
Ashland junior Evan Holland, who entered with the state's best time for all classifications and the No. 18 time in the nation, was hoping to make a splash. But after a strong start, he fizzled and settled for a winning time of 15:30, well off his season best of 14:53.
Holland said he "felt a little zapped" in the second mile.
"I didn't know what it was," he said. "I kind of realized when I came to Mile 2, it's not going to happen. I was going for sub-15, and I was going to try to break the junior class record of 14:56, but I came through two miles and I was off pace already, so I realized it's not going to happen, so I just kind of cruised it in."
It didn't help that his district rival, Crater senior Jantz Tostenson, pushed him hard in the first mile, which Holland completed in 4:42.
"I think I started getting going a little too fast, and the adrenaline maybe pushed me a little too hard," Holland said.
Still, it was a much better ending for Holland than last season, when he lost to Crater's Andy Monroe at the finish line. Holland said he looked at photos of the finish on his phone on the bus ride to the meet.
"I was like, 'You know what, I really hope it doesn't come out like that again,'" he said.
Tostenson (15:47), Parkrose junior Ahmed Ibrahim (15:55) and Ashland junior Arlo Davis (15:59) finished behind Holland.
Crater won its third consecutive team title, scoring 58 points to beat Crook County (120) and Ashland (136).
4A
Sparked by a surprise title from senior Joey Peterson, Marist Catholic won its first championship.
The Spartans (54 points), who moved down from 5A this season, outscored Newport (81) and Tillamook (84). Backing Peterson were juniors Evan Villano (sixth), Wiley Watts (17th) and Chris Heer (22nd) and senior Gabe Garboden (23rd).
Peterson had the No. 12 time in 4A entering the meet but ran a five-second personal best of 16:10 to win by three seconds over Stayton senior Matthew Frazeur. Newport junior Kolby Spink (third) and Tillamook senior Carter Kunert (fourth) were five seconds behind.
Peterson, who placed 24th in the 5A meet last year, admitted that he surprised himself.
"I was kind of hoping for it, but I didn't expect it," he said. "I was with the lead group, and they seemed to slow down, but I was feeling good, so I just pushed the pace and held it as best as I could. My legs were feeling super good today. I was ready to race."
Peterson finished third in his district meet.
"I was trying to save as much as I could for state, because that's what mattered to me," he said.
3A
In the inaugural 3A meet, Burns edged district rival Enterprise/Wallowa/Joseph 52-54 to win its first title. The Highlanders avenged a three-point loss to Enterprise in the district meet.
Seven years ago, the Burns program had only five runners. But Andrea Letham started a middle-school program in 2012 and took over as the high school coach in 2014, building the team into a contender.
"I sat the kids down this week and I said, 'Guys, we're making history,'" Letham said. "Was it my vision from the get-go? I don't know. But it definitely became that after a couple years."
The title wouldn't have been possible without a sterling effort from senior Emmett Klus. After finishing second by 18 seconds to Enterprise freshman Henry Coughlan at district, Klus beat him by two seconds for the state title.
"After districts, I was kind of down," Klus said. "But then I remembered, my goal – as weird as it sounds – was never to win districts. It was always to win state."
After Klus, Burns' next three placers were juniors JP Friedrichsen (fifth), Ryan Robles (12th) and Calvin Bates (13th).
Enterprise showed that it will be a force in the future, though, with freshman finishers Coughlan, Zac Knapp (third) and Bayden Menton (ninth).
2A/1A
Union/Cove's Tim Stevens capped an impressive senior season by handily winning the individual title and leading his team to its second consecutive championship and sixth in 12 seasons.
Stevens, who has the No. 2 time in the state this season behind Holland, ran 15:33 to beat the runner-up, East Linn Christian senior Jedaiah Wasson, by 42 seconds.
Union's previous titles came in the 3A/2A/1A division. This year, with 3A having its own classification, the Bobcats' field of challengers shrank.
"It definitely makes things different," Stevens said.
Senior Jack Silveira (fifth) and junior Andrew Lackey (11th) also placed high for Union, which scored 44 points to easily defeat St. Stephens Academy (101) and Heppner/Ione (102).