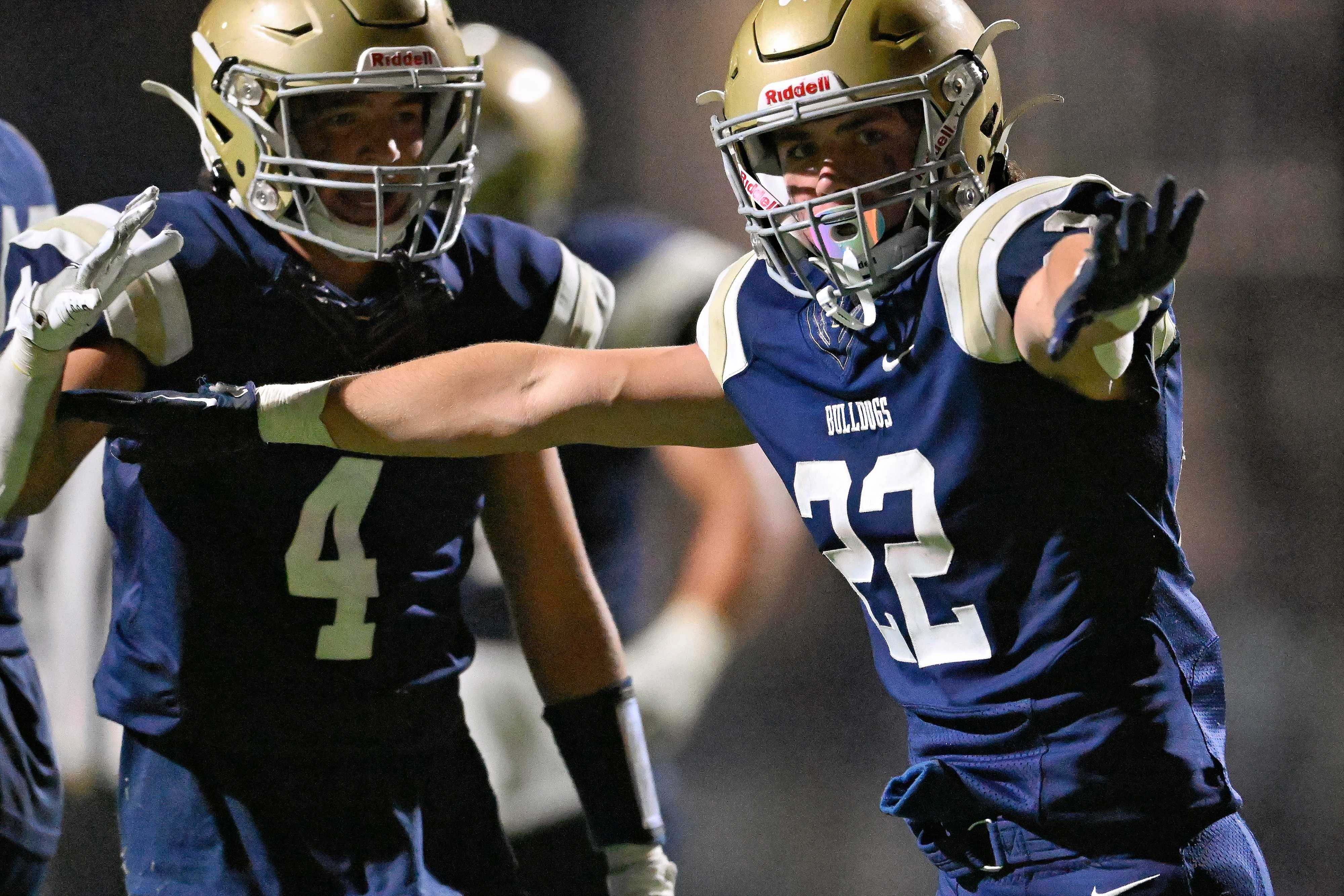 No. 8 West Albany needed an heroic special-teams performance from senior Camden Johnson to pick up its biggest win of the football season Friday night at No. 3 Silverton.
Johnson not only blocked what would have been the game-tying extra point in the middle of the fourth quarter, but he blocked the potential game-winning, 25-yard field goal with 9.7 seconds left to preserve a 21-20 win in a 5A Mid-Willamette Conference game.
Johnson, who plays safety, came off the edge to block both kicks, propelling the Bulldogs (5-2, 5-2) to their third consecutive win and handing reigning state champion Silverton (6-2, 6-1) its first conference loss.
"He has kind of that dog mentality in him," West Albany coach Brian Mehl said of Johnson. "Both of those were just special efforts on his part. That's a play that he's selling out for the team. It was just cool to see him make those plays."
The game was the latest chapter of a developing rivalry between perennial contenders in the Mid-Willamette. West Albany's only two losses last year came against Silverton, 28-21 in a conference game and 44-14 in the 5A semifinals.
"All those battles that we have with Silverton are really crazy, high emotions," Mehl said. "This game was more impactful for just where we are in the season, and what we've had to accomplish to get to this point. We've put three exceptional performances together the last three weeks. To do it again was really special."
Down 7-0 at half, West Albany pulled ahead 21-14 after three quarters on touchdown runs by sophomore Tyler Hart-McNally, junior quarterback Lukas Hews and senior Marcus Allen.
Silverton drew within 21-20 with 6:45 left on a 16-yard touchdown pass from sophomore Sawyer Teeney to junior Cohen Mulick, but Johnson blocked the extra-point attempt. On their final drive, the Foxes took over at their own 3-yard line and drove to the West Albany 5 before Johnson snuffed out the field-goal try.
Silverton had a 376-274 edge in total yards. West Albany rushed for 194 yards, getting 87 on 15 carries from Allen and 77 on five carries from Hart-McNally.
West Albany has overcome inexperience and injuries to win three in a row since falling to falling to Dallas 26-21 and Central 35-28 in conference games.
"Those are two games that kind of got away from us," Mehl said. "We weren't playing well through our first three weeks, and we started playing well against Central. We've got a lot of guys that haven't done anything at this level, so it was going to take time, for sure, before we were playing to the standard that we're expected to play at."
The 6-foot-3, 190-pound Hews has passed for 1,646 yards and 12 touchdowns. Hart-McNally, a key contributor last year as a freshman, has rushed for a team-high 532 yards.
"We're trending in the right direction," Mehl said. "When our guys are available, we know we're a pretty tough out."
Youthful push
Sophomores are helping lead the way for Woodburn (7-1, 4-0), which has won five in a row and is tied with No. 2 Estacada (7-1, 4-0) for first place in 4A Special District 2.
Cruz Veliz is 4-0 as the starting quarterback, linebacker Owen Elsasser leads the team in tackles, lineman Sergio Bravo is a two-way starter and lineman Logan Taylor is starting on offense for the Bulldogs, who added to their momentum Friday with a 41-0 win at La Salle Prep.
Veliz is the brother of former Woodburn quarterback and multi-sport standout RJ Veliz, now on the basketball team at Western Oregon, and the son of Woodburn boys basketball coach Raul Veliz. He began the season at running back before switching to quarterback in place of Kaleb Robles, who moved to running back.
"He's really a super athlete," Bulldogs coach Rob Kassebaum said of the 6-0, 165-pound Veliz, who had two interceptions at cornerback in Week 7 and returned a punt for a score Friday. "He's got great instincts. He allows us to run a little bit more option and kind of expand the playbook a little bit."
Elsasser (5-8, 180) is averaging more than 10 tackles per game.
"He's just a really, really hard-nosed kid," Kassebaum said. "He's got a great nose for where the ball is going. He's improved immensely on being able to break down and finish tackles."
Woodburn also is getting big seasons from senior running back and defensive back Ty Beyer, the team's leading rusher, as well as senior offensive lineman Ricardo Ascencio and junior fullback and linebacker Carter Pickett. Beyer returned an interception for a touchdown Friday.
The Bulldogs – who went 6-3 and missed the playoffs last year under coach Ken Mace, now an assistant at 6A McNary – are flourishing in their first season under Kassebaum.
Kassebaum, who coached Nyssa to state titles in 2005 and 2006 in his only two seasons as the team's coach, spent the last four seasons as the defensive coordinator at 5A Central. He was hired in July to take over at Woodburn, where he did student teaching early in his career.
"I wanted to get back into head coaching again," Kassebaum said. "I've still got a lot of connections in Woodburn, and a lot of friends that I trust were pretty adamant in telling me that there were athletes there. They thought that my personality would be a good influence for them."
Kassebaum, co-offensive coordinator with Cory Foster, has added some tweaks to the wing-T offense. The Bulldogs are averaging 32.7 points per game, up from 23.8 last season.
"They've been running the wing-T for a while, and since I was hired late, I just kept it," he said. "But I've expanded it a little bit. We're doing some stuff out of the gun, and the fly, things like that.
"They're open-minded to expanding the playbook and trying new things. We've been making a concerted effort to develop a passing game. We've made some strides in that area."
Woodburn, which in 2018 posted its first winning season in 27 years and appeared in the playoffs for the first time since 1973, will play for the district title Friday at home against Estacada.
On his 'horse'
It didn't take long for the light bulb to go on for Eagle Point senior running back David Brown this season.
Early in the opener against Ashland, he followed his coaches' advice and saw the immediate results.
"You jump-cut at a certain point, and you'll see nothing but green," coach Erik Johnson remembers telling Brown. "And he was like, 'Oh my goodness, you're not kidding.' I was like, 'Yeah, so get on your horse, let's go.'"
Brown, who last season ran for 272 yards in a secondary role, exploded against Ashland by running for 300 yards and seven touchdowns. And he has kept right on running, compiling a 5A-high 1,443 yards and rushing for 21 touchdowns, including 151 yards and two scores in Friday's 49-3 win over South Eugene.
The 6-1, 170-pound Brown has eclipsed 200 yards five times for the No. 10 Eagles (6-2, 5-1 Midwestern League), who are bidding to make the playoffs for the first time since 2016. The only games in which he has failed to reach 100 yards are losses to 4A No. 1 Mazama and 5A No. 5 Thurston.
"It's been a blast, it's been fun," Brown told the Mail-Tribune. "I've pretty much waited my whole life for this and it's finally here. My running style is reflective of how much I want it and how much I want to win and just get stuff done. I want to make sure all the effort I put in, it all pays off."
After playing behind Isaiah Hill the last two seasons, Brown took the starting spot this year and has delivered in a big way.
"The year he's having has exceeded expectations," Johnson said. "What's brought him to this point is just the confidence of the whole offense. He'll attribute that big-time to the offensive line. But then he's breaking second- and third-level tackles, too, and outrunning people.
"You can tell that it's clicking that he's trusting what we're showing him."
Brown ,who wrestled at 152 pounds as a junior, added 10 to 15 pounds of muscle during the summer. In wins over Churchill and Willamette, he showed his strength by shedding tacklers in clinching touchdown runs down the stretch.
"He's gotten bigger," Johnson said. "That's the thing, he's filled out a lot. He runs hard. He tries to run through people when he has to."
Brown is excelling behind a rebuilt line that includes two part-time starters from last year in junior left tackle Garrett Matthews and senior tackle Emilio Ayala and three new starters in junior left guard Hayden Weaver, junior center Diego Salas and senior right guard Nathan Self-Cordova.
"They've played like they've been playing a few years together," Johnson said. "They're really clicking."
Taft rejuvenated
A move from 3A to 2A this season has breathed life into the program at Taft of Lincoln City, where the No. 9 Tigers improved to 7-1 on Thursday by beating Central Linn 35-22, giving them their most wins since going 7-3 in 2003.
Taft went 0-3 in the COVID-shortened campaign and struggled to field a team last season, unable to play the first two games because of COVID issues and forfeiting three varsity games in favor of playing JV contests with its young roster.
Coach Jake Tolan said opting for JV games last year was the best way to keep the program together, rather than facing the tough competition in its 3A district. The Tigers won JV games against 4A Marshfield and 4A Philomath.
"If I had just thrown them in there, week in and week out, against teams like Amity and Dayton, I don't know if they would have lasted, honestly," Tolan said. "Being able to navigate that season and find small victories and goals, that was the momentum we needed last year going into this season."
Due to its struggles, Taft met OSAA criteria to drop down one classification. The Tigers opted to play in 2A and landed in Special District 2, where they are 4-1 and contending with No. 4 Lowell (8-0, 5-0) for the top spot.
Taft lost at Lowell 50-26 in Week 4, a game in which the Tigers were within one score in the middle of the third quarter before the Red Devils made big plays to pull away.
"We learned a lot from that game," said Tolan, whose team plays at Toledo (4-3, 3-2) in the regular season finale.
The Tigers won 33-28 at Gaston to avenge a 58-0 loss from last year. They also outlasted Monroe 61-54.
"In the past, we've had teams that would get down and make more mistakes and end up losing," Tolan said. "We've had several moments where we've faced adversity and we always do a good job of answering. We're a team that's going to persevere and we're going to find a way to win in the end."
Junior Armando Fajardo (5-8, 215) moved from center to quarterback this season and has thrown for 1,390 yards and 17 touchdowns and rushed for 404 yards and three scores.
"He moves pretty well for that size," Tolan said.
Senior Devin Evjen has rushed for 829 yards and 12 touchdowns. Freshman Kol Tolan, the coach's son, has a team-high five touchdown catches and seniors Baron Delameter and Gavin Koceja have four apiece. Senior cornerback Roman Pena leads the team with 11.5 tackles per game.
Due to their success, the Tigers are ticketed to move back to 3A next season. With their large sophomore and freshman classes, they are hoping by next year that they can hold their own in a 3A district that includes top programs such as Kennedy, Santiam Christian, Dayton and Amity.
"Could we compete with those teams? I don't know. Many teams can't compete with them," Jake Tolan said. "Could we compete with the bottom half? Absolutely. I feel like my team this year would be somewhere in the middle of the pack."
Championship rematch
In a rematch of last year's 1A-8 final, No. 3 Powder Valley got some payback with a 46-14 home rout of No. 4 Adrian on Friday.
Senior quarterback Cole Martin rushed for 285 yards and three touchdowns on 21 carries and passed to senior Jackson Chandler for a score. Sophomore Tucker Martin ran for 113 yards and two touchdowns, including a 77-yard score on the game's first play.
"It felt amazing," said Powder Valley coach Josh Cobb, whose team lost to Adrian twice last season, 38-0 in the regular season and 46-38 in the state final. "I know it's two different teams, but it still feels really good. It was a great confidence builder for our guys."
With the nonleague win, the Badgers improved to 8-0 for the first time since 2003. They can complete a perfect run through the Special District 2 West division with a win at Pilot Rock in the regular season finale.
Powder Valley knocked off an Adrian team that was surging with a six-game winning streak since opening the season with a 44-28 loss to No. 2 Lost River.
"It proved to the players that they could play against the top four teams in the state," Cobb said. "We as coaches have kind of known that if we play our best game, we can play with anybody.
"We brought our A game, absolutely. You have to bring your A-plus game to beat Adrian. If you bring your A-minus game, they're going to beat you."
Powder Valley led 30-6 at half and held on against an Adrian team that entered averaging 45.7 points per game. The Badgers smothered the Antelopes on defense as Tucker Martin and Cole Martin had 17 and 16 tackles, respectively, and senior defensive tackle Cade Lind had three sacks, a forced fumble and a fumble recovery.
Powder Valley stopped Adrian several times on short-yardage plays in the red zone. Cobb credited the 6-4, 175-pound Cole Martin, who plays safety, for his run support and defense against Adrian senior running back Jace Martin.
"He was over the top," Cobb said of Cole Martin. "He made some phenomenal tackles and pretty much shut down the fastest kid in the staate."
Cobb said it was "hands down" the team's best performance of the season.
"Cole Martin threw absolute dimes when he needed to throw dimes," he said. "And Riley Martin's defense – our defensive coordinator -- was spot-on. He had them well scouted. He had a great defensive scheme."
Other highlights from Week 8:
6A
South Medford coach Bill Singler picked up his 150th win by beating Roseburg 37-0. Deacon Edgar completed 13 of 16 passes for 273 yards and four touchdowns and ran for a score. Andrew Walker had seven catches for 111 yards and two touchdowns for South Medford, which had three interceptions and held the Indians to 112 yards. … Alexander Angulo rushed for three touchdowns filling in for the injured Ty Pugliano in North Medford's 52-6 win over McNary. … Brock Tnomas accounted for eight touchdowns – six passing, two rushing – to lead Sheldon past Grants Pass 56-6. … Andre Miller had two interceptions, returning one for a score, and had 117 receiving yards and a touchdown catch in Gresham's 49-14 win over David Douglas. Jaden Mitchell ran for 95 yards and two scores for Gresham. … Sunset's Cole Massar ran for a touchdown and returned a punt for a score to help the Apollos down Aloha 36-6. … Payton Roth rushed for 201 yards and three touchdowns, all in the first half, to lead Jesuit past Mountainside 40-10. Jacob Hutchinson passed for 217 yards and two scores for the Crusaders. …
Jackson Shelstad returned a blocked field goal 70 yards for a touchdown in West Linn's 58-6 win over Lakeridge. … Central Catholic brushed off Clackamas 49-7 behind Cru Newman, who completed 19 of 27 passes for 237 yards and four touchdowns – two to Solomon McDaniel – and ran for 148 yards. It was the 200th win for coach Steve Pyne. ... Lake Oswego got a touchdown run from Calvin Macy and a scoring catch from Matt Layne in beating Tigard 14-6. … South Salem's Daschel Smith passed for four touchdowns, three to Tini Tinitali III, to help beat Sprague 42-12. Tinitali also ran for a score. … Jordan Fisher rushed for 245 yards and three touchdowns as Westview blitzed Beaverton 40-0. … Nelson's Avirey Durdahl passed for three touchdowns, two to Reid Gray, as the Hawks turned back Sandy 28-16. … Jefferson had eight takeaways, getting two interceptions each from Montral Brazile Jr. and Jeray Mott, in defeating Lincoln 29-0. D'Marieon Gates returned an interception for a touchdown and Isaiah Matthews recovered a fumble in the end zone for a score. ... Tualatin's Bodan Griffith rushed for three touchdowns in a 24-15 win over Oregon City, which got 108 yards and two touchdowns on 18 carries from Marcus Jordan.
5A
Pete Pennington ran for a 10-yard touchdown, his second score of the game, in overtime to give Churchill a 13-7 win over Crater. The Comets failed to score in the first series of overtime. … Malakai Nutter ran for 187 yards and four touchdowns on 25 carries to propel Bend past Ridgeview 41-6. … Noah Blair passed for 162 yards and four touchdowns as Thurston subdued Willamette 54-0, holding the Wolverines to minus-10 total yards. … Sam Stephens ran for 265 yards and four touchdowns on 20 carries to lead Summit to a 49-23 win over Mountain View. Hogan Carmichael passed for 225 yards and two touchdowns and ran for a score for Summit. … Hillsboro amassed 566 yards in beating Southridge 41-21. Preston Echevarria ran for 145 yards on 11 carries for the Spartans. ... Caldera blocked an extra-point attempt in the final minute to hold on for a 20-19 win over Redmond. Caldera led 14-0. …
Devon Anderson ran for two touchdowns and passed for a score for North Eugene, which beat Springfield 22-13. … Central took care of Dallas 31-10 as Chase Nelson passed for three touchdowns and Myles Crandall caught two scoring passes. … Putnam stayed undefeated with a 34-19 win over Canby. Konnor Bickford passed for four touchdowns, two each to James Bauman and Tyler Creswick. Three of the scores were by 59 yards or more. … Jamahl Wilson rushed for more than 250 yards – his third consecutive 200-yard game – and four touchdowns to lead McKay past Corvallis 42-25. Kyrin Fuimaono threw two touchdown passes to Anthony Justice in the win. ... Lebanon held Crescent Valley to less than 100 total yards in a 35-7 win.
4A
Mazama held off rival Henley 44-36 to take sole possession of first place in the Skyline Conference. Tyson Van Gastel broke a 36-36 tie with a one-yard run with 42 seconds left. Mazama led 22-8 and 36-22, but the Hornets rallied to tie both times. … Tillamook took over first place in the Cowapa League by defeating Scappoose 17-14 in overtime. In overtime, the Cheesemakers held Scappoose on four plays inside the 3-yard line, and Tillamook's Tanner Hoskins booted a school-record 45-yard field goal to win it. Judah Werner rushed for 118 yards and one touchdown on 15 carries for the Cheesemakers. Scappoose missed a 40-yard field goal attempt at the end of regulation. … North Bend rallied from a 19-0 first-half deficit to defeat Ashland 33-27 in overtime. With 52 seconds left in regulation, Ashland's Jojo Harrower scored on a one-yard run and threw a two-point conversion pass to Noah Shrader to tie 27-27. North Bend quarterback Cole Hansen scored on a two-yard run in overtime for the win. Hansen ran for three touchdowns and threw for two scores. …
La Grande raced to a 20-0 lead in the first quarter and beat Pendleton 33-20. Logan Williams threw a six-yard touchdown pass to Korey Newman to start the scoring for the Tigers, who also scored on a fumble return. Pendleton's Payton Lambert rushed for 118 yards and three touchdowns on 26 carries. … Warwick Bushnell scored on a 60-yard interception return and 65-yard catch for Philomath, which handled Klamath Union 35-6. David Griffith had touchdown runs of 70 and 12 yards for Philomath. … Marist Catholic outlasted Cascade 27-22 as Jackson Gibeau passed for three touchdowns and AJ Sargent had three scoring catches. … John Lemmons rushed for 136 yards and one touchdown and Landon Croff passed for two scores to lead Marshfield past Hidden Valley 28-0.
3A
Cascade Christian scored touchdown on its first five possessions on its way to beating St. Mary's 56-13, setting up a first-place showdown with South Umpqua in the regular-season finale. Kameron Rague ran for 156 yards and one touchdowns, Keith Reed passed for 219 yards and two scores and the Challengers had three interceptions, two by Drew Hall. … Lakeview got three touchdown runs from Brandon Markus in downing Phoenix 37-6. … Colton Stepleton completed 9 of 10 passes for 191 yards and three touchdowns and returned an interception for a score for Vale, which handled Nyssa 45-0. Eli Aldred ran for 108 yards and two scores on 18 carries for Vale. … Jace Johnson passed for 226 yards and two scores and Aden Williams had touchdowns rushing and receiving for South Umpqua, which rolled up 482 yards in defeating Sutherlin 47-6. … Kennedy picked up a forfeit win over Newport. …
Nate Arce ran for three touchdowns as Dayton pulled away from Jefferson 44-3. Aiden Hendrickson and Zach Smith had rushing touchdowns and Gavin Koch had three tackles for the loss in the win. … Jayden Christy rushed for 98 yards and three touchdowns as Santiam Christian blanked Scio 36-0. The Eagles held Scio to minus-18 yards. … Siuslaw grinded out a 20-7 win over Sisters as Ian Sissel ran for three touchdowns. … Warrenton stopped North Marion 48-0 as Max Smith ran for 107 yards and two touchdowns on eight carries and caught a 33-yard scoring pass. Dylon Atwood rushed for 103 yards and and two scores on nine carries for Warrenton, which held the Huskies to 77 yards. … Banks defeated Valley Catholic 56-0 as Caden Harris rushed for 132 yards and three touchdowns and Jackson Lyda returned two punts for scores. ... Diego Rodriguez threw three touchdown passes, two to Matt Bell, and Ethan Hendrickson ran for two scores in Ontario's 43-14 win over Yamhill-Carlton.
2A
No. 3 Oakland knocked off No. 1 and previously unbeaten Gold Beach 50-8. Cade Olds and Gabe Williamson each ran for two touchdowns and Cole Collins passed for two scores to James Baimbridge on his only two pass attempts. The Oakers had a 417-140 edge in total yards and forced five turnovers. … JaMar Thurman exploded for 495 rushing yards and five touchdowns on 28 carries for Lowell, which topped Toledo 42-18. … Kaden Salamanca ran for three touchdowns to lead Umatilla past Stanfield 43-0. Alex Escamilla scored touchdowns rushing and on an interception return and Emilio Jaimez had three interceptions for Umatilla. … Jahsiah Demuth threw for two touchdowns and ran for a score as Illinois Valley blanked Glide 21-0. …
Nolan Earls ran for two touchdowns and Noah Bjornstedt caught a 90-yard scoring pass from Wyatt Holliday in Colton's 52-6 rout of Gervais. … Heppner smothered Grant 14-0, getting touchdown runs from Caden George (152 rushing yards) and Ty Boor and two interceptions from David Cribbs. … Hunter Vaughn ran for touchdowns of 34, 25 and 74 yards and Ashton Hardy ran for two scores as North Douglas/Yoncalla rolled over Reedsport 56-16. Hugh Sannes returned a kickoff for a touchdown for North Douglas/Yoncalla. … Kollin Schumacher threw touchdown passes of 60 yards to Tim Crowell and 73 yards to Noah Koenig in Regis' 44-9 win over Willamina. The Rams also returned a blocked field goal for a score.
1A-8
Lost River blasted Crosspoint Christian 66-6 as Emmett O'Brien rushed for 113 yards and two touchdowns on six carries and Connor Dunlea passed for three scores, two to Isaac Hernandez ... Camas Valley outscored Bonanza 54-42. Seth Lamell rushed for 198 yards and four touchdowns on 19 carries and Riley Wolfe ran for 160 yards and three scores on 16 carries. Lamell had 16 tackles. ... Enterprise turned back Ione/Arlington 52-20 as Caden Fent passed for 192 yards and two touchdowns and ran for a score. Ashtyn Irwin ran for 143 yards and two touchdowns on 11 carries and excelled on defense with two sacks and a fumble-return score. Chase Duncan caught a touchdown pass and had two interceptions and Tegan Evans had four sacks. ... Myrtle Point downed Alsea 68-12, getting two touchdown runs and two scoring catches from Andreas Villanueva. Jacob Koser returned a fumble for a touchdown and Billy Reynolds returned a kickoff for a score.
1A-6
Powers stayed unbeaten by dispatching Riddle 52-6. Alex Mahmoud rushed for 177 yards and four touchdowns and passed for a score and Michael Pedrick had five tackles for loss in the win. … Sean Hazen rushed for 122 yards and three touchdowns on 13 carries and Christian Halstead scored rushing and receiving as Elkton thumped North Lake 48-0. … Spray/Mitchell/Wheeler defeated Echo 58-19 behind a big game from Nate Clark, who rushed for 137 yards and three touchdowns on 11 carries, returned an interception for a score and had eight tackles. Oran Davis had a 90-yard touchdown run in the win. Echo's Dom Curiel passed for 294 yards and three touchdowns. ... Ivan Surcamp rushed for 172 yards and two touchdowns and Mitch Dumford had four catches for 168 yards and two scores from Gus Gamache for Triangle Lake in its 67-6 win at Mapleton. Dee Ray Cragun had three tackles for loss and two sacks and Marshall Mather returned an interception 50 yards for a touchdown. ... Joseph's Zander Walker completed 11 of 14 passes for 162 yards and three touchdowns in a 55-18 win over Dayville/Monument. Jaxon Grover had two interceptions -- returning one 65 yards for a touchdown -- a 51-yard punt return for a score and a touchdown catch. Kale Ferguson rushed for 121 yards and one touchdown.