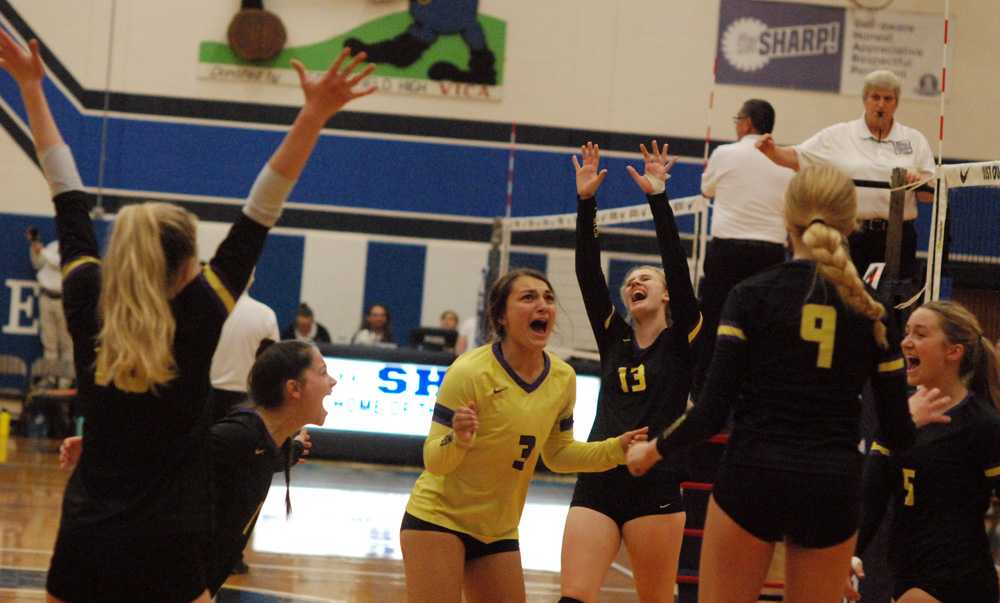 SPRINGFIELD -- After impressive semifinal sweeps, top-seeded Marshfield will take on defending champion Cascade for the OSAA 4A title tomorrow evening.
Which begs the question…
Which team is the hunter and which is the hunted?
Could it be that each team is a little of both?
"I think we're the hunted," said Marshfield senior captain Kate Miles. "Being the No. 1 seed, everyone is trying to beat us."
"It's anyone's game really," noted Cascade head coach Cristina Williams. "It's just like last year, when Sisters was No. 1 and we were No. 2. It's going to be a battle. They're a great hitting team. We're a good defensive team. It's going to be fun."
Cascade will head to the championship match tomorrow riding the momentum of two dominating sweeps on Friday at the OSAA /OnPoint Community Credit Union State Volleyball Championships. The Cougars took out Henley in a morning quarterfinal; then overwhelmed Mazama in the semis. Bella Oliver's great serving, great leadership at setter from Meah Carley, effortless defense from Jadyn Daviscourt and a relentless middle attack featuring Annabelle Peterson proved too much for hard-working Mazama to overcome. Whenever the Vikings made a run, Cascade coolly looked to its five returning starters from last year to get the Cougars back on track.
"We have so much chemistry and camaraderie," Williams said. "They genuinely love each other and fight for each other."
Marshfield, on the other hand, had to rally from down two sets to one to put away talented Crook County in a morning match. The evening semifinal, however, was a different story, as the Pirates overwhelmed Baker from the service line thanks to countless ace serves from Miles, Allie Clarke and Tatum Montiel. One Marshfield assistant coach noted that the 25-12, 25-12, 25-4 sweep was the best the Pirates had ever played.
"This morning we're weren't ourselves," Miles explained. "We've never been good with early morning games. But we fought and played as best as we could. This afternoon we just came out and played like we know we can."
Williams expects that the experience gained in last year's championship match will give Cascade the edge as it bids for a second title in a row.
"We know what it takes to win," she said. "Just battle. Be beasts out there with no regrets."
Top-seeded Marshfield will be searching for its first state title tomorrow. Miles thinks this could be time for the Pirates to leave Springfield with a little treasure.
"We're the hunted but we're not going to get caught," she said. "We're just going to keep fighting and hopefully win a state championship."
In 4A quarterfinal play…
No. 1 Marshfield 3, No. 8 Crook County 2 – Eighth-seeded Crook County looked like the better team through three sets. The Cowgirls had an unstoppable offensive force in McKenzie Jonas, solid defense led by Jaycee Villastrigo and was exposing Marshfield's passing game with blistering serves from the likes of Callie Winebarger and others. Down 23-13, Marshfield made a late run in Game 3 thanks to four aces in succession from Tatum Montiel, which gave the Pirates momentum going into the fourth. Southpaw Bridget Gould made sure that Marshfield kept that momentum with several quality strikes, sending the game to a deciding fifth set. Crook County raced to a fast 5-1 lead in the final frame, but an Ava Ainsworth dump helped put Marshfield back on track and the Pirates benefited from several Cowgirl errors late to run away with the 15-8 set win and the match. "They haven't been down in a lot of sets," said head coach Tammie Montiel. "We practiced being down this week. We were able to thankfully put that into play. It was great to see the grit of the girls come out."
No. 5 Baker 3, No. 4 Tillamook 1: The higher-seeded Cheesemakers won the first set behind high-scoring middle Kate Klobas, but the athleticism of Baker showed in the final three sets. Jozie Ramos, playing mostly middle, dominated the net and the Bulldogs won the service game to win a state tournament match for the first time in school history.
No. 2 Cascade 3, No. 7 Henley 0 – The defending champion Cougars dominated start to finish behind a strong all-around game from Bella Oliver. The junior RS scored often on her serve in Game 1, delivered her share of blocks at the net in the ensuing two sets and slammed home the game winner in the third. Lucretia Benolken, Meah Carley and silky smooth libero Jadyn Daviscourt also had strong showings for Cascade. Freshman Kahlia Cage had several nice moments for Henley in the loss.
No. 6 Mazama 3, No. 3 The Dalles 2 – A 6-0 Game 5 run, fueled by the serving of Isabella Lowe, helped the Vikings surge from behind to take control, 9-6. Mazama never relinquished the lead thereafter, as Ella Baley supplied the offense and Kaylea Rietdyk the defense. Nishika Irish scored the game winner on a roll shot set up by Alexia Lowe. Libero Lydia Di Gennaro, setter Jeilane Stewart, OH Zoe LeBreton and MB Kennedy Abbas played with distinction for The Dalles, in a match that could easily have gone the other way.
In 3A quarterfinal play…
No. 1 Sisters 3, No. 9 St. Mary's, Medford 0 – Junior OH Gracie Vohs terrorized St. Mary's passers, serving 14 aces, and was strong on attack, as a blocker and as a defender in the Outlaws' convincing win. Kelsey Dunn had a nice showing for the Crusaders, but they had no answer for Sisters' relentless serving, which also featured multiple aces from Holly Davis.
No. 5 Valley Catholic 3, No. 4 Horizon Christian, Tualatin 1 – Valley Catholic brought the energy and Frances Eisenhardt, Willa Kayfes and Sophia Rewers were outstanding in the Valiants' win, their third straight over their league foe after losing the first one. Senior libero Alexis Sumner distinguished herself in defeat for the Hawks.
No. 6 Burns 3, No. 3 Santiam Christian 2 – Burns recovered from a 25-7 Game 1 blowout to play competitive volleyball in a Game 2 loss, but still came up short to Elise Linderman and the Eagles. After that, however, it was all Hilanders. Behind the effective and emotional play of MB Caitlyn Horrell and the steady dominance of OH Mackenzie King, Burns not only came all the way back, Paula Toney's team dominated the final three sets to earn a berth in the semifinals, winning on a closing service run from DS Lacie Tiller..
No. 15 Siuslaw 3, No. 7 Creswell 0 – Desi Tupua could not be stopped, whether from left front or behind the service line. She scored and scored and scored. Rhianna Lane also was good, as was libero Meika Shappell. It all added up to a Siuslaw sweep over conference rival Creswell, a team that had swept it three times previously. Libero Ashelyn Sharkey was a Creswell standout. "I knew we had it in us," said Siuslaw coach Ashlee Cole. "This is the potential I knew we had. This is what helped us beat No. 2 Pleasant Hill [to make it to state]. Cole said that Siuslaw (15-11) started the season playing this well, but then hit a lull that lasted until Senior Night. "That's when we came back together," Cole said. "They realized this is our year. They turned it around and from there we've been a completely different team. We're at the potential I knew we could have."
In 3A semifinal play…
No. 6 Burns 3, No. 15 Siuslaw 0 – There will be no storybook ending for Siuslaw, which could not sustain its excellence in the semifinals. The Vikings got a nice effort from MB Rhianna Lane, but they were overwhelmed by the power in the middle of the defending champions. Akylah Kaino took over the final two sets in a big way to propel the Hilanders to the championship match.
No. 5 Valley Catholic 3, No. 1 Sisters 0 – Valley Catholic showed grit and great defensive intensity in knocking off the top seeds in straight sets. The Valiants played error-free ball, served Sisters off the court and never let up. Valley got terrific offensive play from lefties Abby Berndt and Addie Emerson and an exceptional setting game from Katiya Arellano in the win. Gracie Vohs had a good second set but the Outlaws struggled to muster any offense from its other big guns, falling to a defensive-minded team as the top seed for the second straight year.
In 2A quarterfinal play (Ridgeview HS, Redmond)
No. 1 Salem Academy 3, No. 8 Willamina 0 -- The defending champion Crusaders won in straight sets behind Graceyn Tucker's precision serving and OH Aly Herber's big day. The state's kills leader terminated 28 times and added six blocks. Emma Brewer added 14 kills for SA.
No. 5 Culver 3, No. 13 Oakland 0 -- Hensley Wachter and Kayden Leeann set the tone offensively and Brooke Bush was a force behind the service line for the Bulldogs in the sweep.
No. 3 Gaston 3, No. 6 Stanfield 2 – Gaston won the odd sets and was on the right side of a deuce score in Game 5. "We battled the whole game and didn't let our errors define us as a team," said first-year head coach Charity Hall. "Everyone contributed to the win. We kept our positive energy up and moved the ball around in all the places we needed to to win the game." Libero Cayden Henderson carried the torch for the Greyhounds defensively, while setter Lexi Fern ran the offense, spreading the ball around between Sofie Fox, Ally Lazott and Maya Rosenberg.
No. 2 Monroe 3, No. 7 Oakridge 0 --
In 2A semifinal play…
No. 1 Salem Academy 3, No. 5 Culver 0 -- The Crusaders found a way to win three competitive sets versus a Culver team that had no quit in them. Lexi Herber had 26 assists, five kills and two aces for the victors. Aly Herber and Brewer combined for 36 kills.
No. 2 Monroe 3, No. 3 Gaston 0 -- Bella Gamache had 25 kills and 12 digs and Lainie Bateman contributed 25 assists to the win for Monroe, which will play for the title for the first time.
In 1A quarterfinal play (Ridgeview HS, Redmond)
No. 1 Damascus Christian 3, No. 8 Umpqua Valley Christian 0 – The top-seeded Eagles got strong performances from their senior stars, Sierra Hale, Abbigayle Bailey and Julia Mitchell, in the workmanlike win.
No. 5 Rogue Valley Adventist Acad. 3, No. 4 North Clackamas Christian 2 --
No. 3 St. Paul 3, No. 6 Powder Valley 0 – A complete team win allowed the Bucks to move into the semifinals. Gracie Koch distributed 30 assists to a balanced offense led by Stella Koch's 11 kills. Audra Rose had three stuff blocks, Isla Haven, Halsie Hempfling and Frankie Lear did a tremendous job in the back row.
No. 7 North Douglas 3, No. 2 Crane 2 – Defending champion North Douglas rallied from a two sets to one deficit with the heart of a champion, coach Emily Reed said. Brooke McHaffie, Makayla Murphy and Savannah Harkins all had double digit kills for the victorious Warriors. Murphy added 21 assists and four aces.
In 1A semifinal play…
No. 1 Damascus Christian 3, No. 5 Rogue Valley Adventist 2 -- The Eagles made the state final for the first time in school history by using all of its heart and fight to take down a terrific RVAA team. Senior Sierra Hale led the Eagles in kills. Damascus Christian won the match by playing the fifth set at a very high level. Eleven of DC's 15 points in the final frame came on kills.
No. 7 North Douglas 3, No. 3 St. Paul 1 -- Gracie Koch had 37 assists and Stella Koch and Audra Rose teamed for 35 kills for St. Paul, but too many errors doomed the Buckaroos.