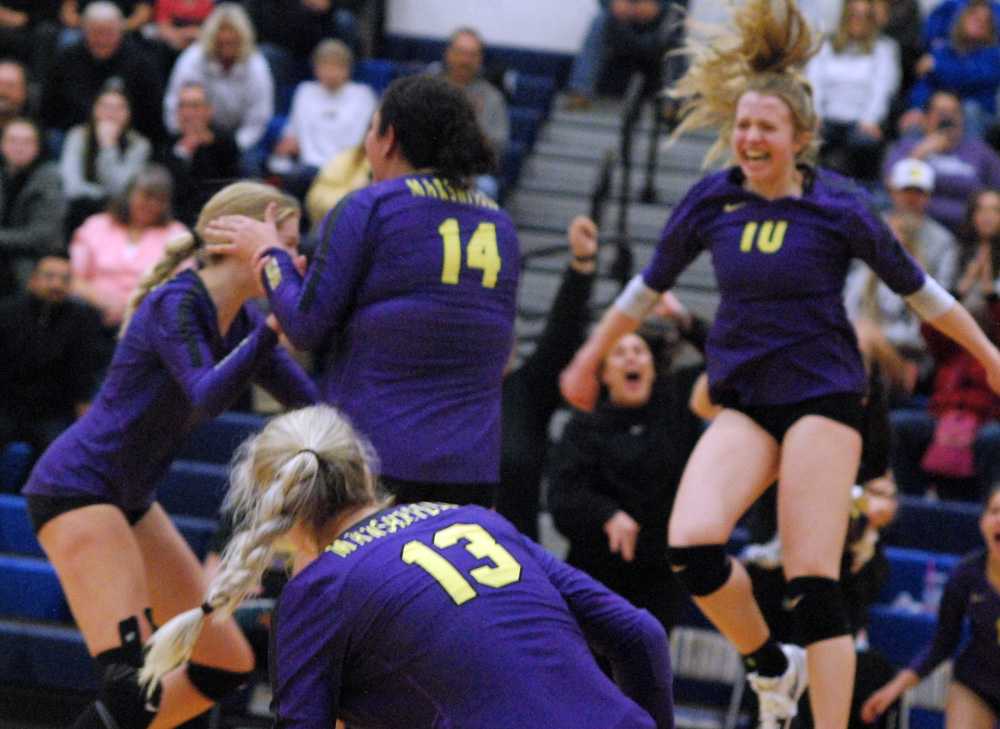 SPRINGFIELD -- Top-seeded Marshfield captured its first volleyball state championship Saturday evening, going wire to wire to dethrone 2021 4A champion Cascade at the OSAA /OnPoint Community Credit Union State Volleyball Championships in Springfield, 25-14, 25-23, 25-16. The very young Pirates (24-3) played like steely veterans in the highly charged atmosphere. They not only met the moment; they vastly exceeded it.
***
The genesis of Marshfield's championship run began in grade school when the core group that forms this Pirate team learned volleyball together. They learned how to set, how to spike, how to bump.
They also learned the most important thing: trust.
"They know each other and know they can depend on the person next to them," said head coach Tammie Montiel.
Marshfield went 12-7 last year and lost at Baker in the first round in five sets.
Montiel said that the loss, after a long ride to Eastern Oregon to play in a hostile environment, was just what her girls needed.
"Our girls were a year away last year," Montiel said. "I think they learned a lot about themselves and did things in the off season to prepare themselves for this."
Montiel was already thinking about a potential state championship with this team when Oregon recruit Bridge Gould, a southpaw sniper from the right side, transferred into the school after two years starring at North Bend. Montiel admitted that the junior, who was Midwestern League Player of the Year as a sophomore, added a big dynamic to this team.
Gould also knew that Marshfield could be special.
"The way that we bonded by that first practice I just knew that we were champions," she said.
***
Cascade surprised 4A last year by winning its first state title. The Cougars were heavy underdogs to powerhouse Sisters but used a defensive style to frustrate the Outlaws and win in five.
With five returning starters, and with Sisters and Valley Catholic moving down to 3A, the Cougars had to like their chances to repeat.
A young team in 2021, they were the veteran team in 2022 with big match experience. Cascade's setter, Meah Carley, was a senior. So, too, was its top player on the outside, Lucretia Benolken. The Cougars knew what the pressure of playing for a championship would be like. They'd experienced it and had thrived.
Montiel was worried before the match.
"With Cascade playing and winning in this environment last year I thought they might have the emotional edge," Montiel admitted. "When we got those first few points, I relaxed a little bit and thought, 'Our emotions are in check and we can settle down and play volleyball.'"
Bella Oliver, a junior lefty with a powerful serve, toed the line and got the final started with a Cascading rocket to the back row. Sophomore Tatum Montiel stepped in and passed it perfectly to fellow soph Ava Ainsworth. Ainsworth, who stands 6-1, set the ball behind her back to Gould on the right. The springy junior attacked the ball with ferocity, the ball finding the floor in the very place she intended.
It was going to be a good night for Marshfield…
***
Marshfield bolted to a 4-0 lead to open the match. Junior OH Paige MacDuff followed Gould's kill with one of her own, destroying Ainsworth's inside side into the seam of Cascade's defense. A Cascade error and block from senior middle Kate Miles extended the Pirate lead.
Cascade answered Marshfield run with a four-spot of its own, keyed by a Benolken kill and a great play from Carley, who went low to cover a dump attempt and then got back up in time for a block.
Tied at 4-4, Marshfield's response to Cascade's run was devastating. Eight straight points. It started with a Cougar serving error and ended with Ainsworth's swipe kill and featured two Montiel kills, blocks from Ainsworth and Miles, and an ace serve from MacDuff in between.
Cascade was flustered. Marshfield was the team playing like it had been there before. Without the Pirates showing some signs of their youth, Cascade, which could not match Marshfield's terminating ability, was in trouble.
Annabelle Peterson stopped Marshfield's run with a line shot from the right. To get back into the set, Cascade needed to string points together. That proved to be a problem for the Cougars, who committed four straight serving errors to blunt any momentum they might be mustering.
Leading 20-13, Marshfield continued to apply the pressure. Montiel unloaded for her fifth and sixth kills of the set to extend the Pirate lead to nine. Miles followed with successive aces to put Marshfield's advantage into double digits and Montiel's softie – kill No. 7 for the set – completed the 25-14 win.
***
The atmosphere surrounding a state tournament might have been a little much for Marshfield when play began on Friday morning. The Pirates dropped two of their first three sets to Crook County and were in danger of being ousted before they rallied to win in five to advance. The semifinal that evening versus the same Baker squad that took them out of the playoffs a year ago was a different story. Marshfield played flawlessly in the 25-12, 25-12, 25-4 revenge win.
After thrashing Cascade in the first set, It was apparent that the good play from the night before was carrying over to the championship final.
"We carried the momentum over to today," Miles said. " I think we were telling each other before the game that we have to play like we know how to play. I don't know how we did it. I give a huge shout out to those younger girls. I don't know how they kept their cool so well."
"We talked about before the game about there being the same 900 feet on either side of the net," Coach Montiel said. "It doesn't matter the gym you still have to play the game how we can play it. They stepped up and really impressed me tonight. They didn't let anything get to them."
***
An early 6-0 Marshfield run in Game 2, featuring the serving of junior middle Alie Clarke, threatened to bury Cascade before the 25-point chase even began. The Cougars, however, showed life. Benolken, who missed half of the league season due to injury, helped Cascade get to within 14-12 thanks to a series of kills and ensuing team-motivating celebrations.
Marshfield remained unfazed. The Pirates scored four straight out of a time out, capped by successive Tatum Montiel aces; and eventually grew their lead back to a robust eight, 21-13.
Tayler Kamm slowed Marshfield's momentum with a scoring tip out of the middle and Oliver added on with a right side tick tock off the block. After a lift call gave Marshfield a point, Cascade's late surge continued when Peterson put a ball down off of a nice Carley set to end a long rally. Cascade kept the pressure on behind the offense of Peterson, a springy junior middle, and the relentless service pressure from Oliver. Indeed, thanks to three Oliver aces and four Peterson kills during a 7-0 run, Cascade came all the way back to tie the score at 22-22.
With Marshfield reeling, Gould stopped the run when she found the opposite corner with a back row bail out swing. Marshfield's lead grew to two seconds later when libero Gracie Peach made a desperate stab to prevent Peterson's tip from going down. The ensuing tip went wide, giving Marshfield two set points. Cascade saved one with another Peterson kill, but any hopes of a Cougar comeback were dashed when Cascade's serve sailed long, giving Marshfield a two sets to none lead.
***
The same fight that made Game 2 a battle at the end showed up for Cascade to start Game 3. Benolken and Peterson scored early, as expected, but the Cougars also got contributions from Kamm and Carley in building a 10-7 lead.
Cascade could not sustain the momentum because of another service error – the Cougars had 12 for the match compared to just five for Marshfield – and gave the serve back to Marshfield. The Pirates ran with it, tacking on another eight points to go in front 16-10. The 9-0 run featured strong Ainsworth serving, Montiel blocking, Gould hitting and Clarke hitting and blocking.
By this point Marshfield had all the momentum. With the crowd chanting, "Pirate Power," the team from Coos Bay used the energy to play its best stretch of volleyball yet. Peach and Montiel were laying out for balls defensively, Montiel served rockets, Ainsworth ran the show up front and Clarke and Gould blocked as the Pirates grew their lead to 23-12, just two points from the dogpile.
Cascade scored four of the next five points to stay alive, including an Oliver kill and ace. But one final serving error ended Cascade's reign atop 4A. The crown was now Pirate booty.
***
On Cascade's side, there were tears but also admiration for what Marshfield just accomplished.
"They're a good team," Williams said. "They have hard hitters and were pretty impressive."
"We knew going into it that they were strong," Benolken added. "It's impressive for how young they are."
Williams said that the tears weren't for finishing second, but for the journey being over.
"This is a group I'll always remember," she said. "They're good girls. Good character, hard-working… Coming back and getting to the championship again is really hard to do. I am nothing but proud of these girls. I'm less sad about getting second than I am about the season being done with these girls."
Benolken was sad that the season ended on a loss but proud of the legacy the team left making it to the title tilt for the second straight year.
"It shows anything's possible," she explained. "If you believe in yourselves and play for yourselves and your teammates, and you are selfless, you can come out on top."
***
There were tears on Marshfield's side as well, but for a completely different reason.
"We've been working really, really hard for this," Peach said. "We finally got it together. We're a young group but we put on our big girl pants and brought this together, I'm so proud of everyone on our time. I'm so excited for us that we finally got this."
"We just made history for our town," Miles said. "It is just a huge accomplishment that will be remembered forever."
Tatum Montiel was named Player of the Game for Marshfield, as she contributed match highs of 11 kills and five aces. But the truth is that everyone played well for the Pirates.
"Our offense did a great job," Tammie Montiel said. "Defensively we passed well. Ava spread it around. Everybody played well. It was a total team effort. It's hard for teams to play us because we are so spread out and diverse with what we can do."
Libero Jadyn Daviscourt had nine digs to lead Cascade. Peterson paced the offense with nine kills, many coming during the stretch of Game 2 where Cascade threatened to make it a match. Marshfield's players, however, did not let the pressure get to them.
"It's a goofy bunch," Coach Montiel said. "They're young, but they are competitors and have a lot of fight in them.
"Cascade went on that run in the second game.We could have decided we wanted to fold at that point.
"But we didn't."
In the 3rd/5th match:
No. 6 Mazama 3, No. 5 Baker 1 – Senior libero Kaylea Rietdyk had a memorable final match for the Vikings. She was spot on in serve-receive and on defense, scored a passel of points on her serve and even delivered the coveted "libero kill," this one a flat-footed missile to the right sideline to make it 21-15 Mazama in Game 3 after the teams split the first two sets. Isabella Lowe, Alexia Lowe and Ella Baley distinguished themselves with strong play for Mazama (17-8), as did junior Nishika Irish, whose dump on match point was the clincher. Sofia Hanson, Makenzie Flanagan and Kaydence Thomas played well in defeat for Baker, which won Game 2 thanks to a mid-set surge but yielded large leads in the final two sets, including 6-0 to start Game 4.
In the 4th/6th match:
No. 8 Crook County 3, No. 7 Henley 2 – Crook County won a stirring match that could have as easily gone the other way. After being down through the first set and a half, Henley found another gear and put relentless pressure on the error-prone Cowgirls, so much that it appeared hopeless to think that Crook County had a comeback in it. Come back the Cowgirls did, forcing a fifth and deciding set on Callie Winebarger's ace serve. Crook County then jetted to a 10-5 lead in the final sprint to 15 points, thanks to clutch serving from setter Jacey Ramoss. But with local rival Mazama cheering them on, Henley rallied to take the lead thanks to its two best players in the match: aggressive setter Lily Cline, who dump knotted the score at 11-11; and OH Kendal Hadwick, whose cross-court swing put the Hornets up one. Crook County, which struggled mightily to find a consistent second option behind superstar middle McKenzie Jonas; pulled even again on a change-of-pace swing from Cylie Hartzell. That brought Jonas back up front. Her first swing was roofed by Henley middle Jewell Northcutt, which gave the Hornets two match points. Jonas was undeterred. The senior scored on the high ball set to get the Cowgirls within one at 14-13. She scored again on a tip to send the set to extra points, then hit two beautiful, blistering cut shots to open court to give Crook County the win in a highly entertaining match.
Other standouts for Crook County included libero Jaycee Villastrigo and DS Danner Hemphill. Henley libero Hailee Gibson had an outstanding match in her final time in a Hornet uniform.