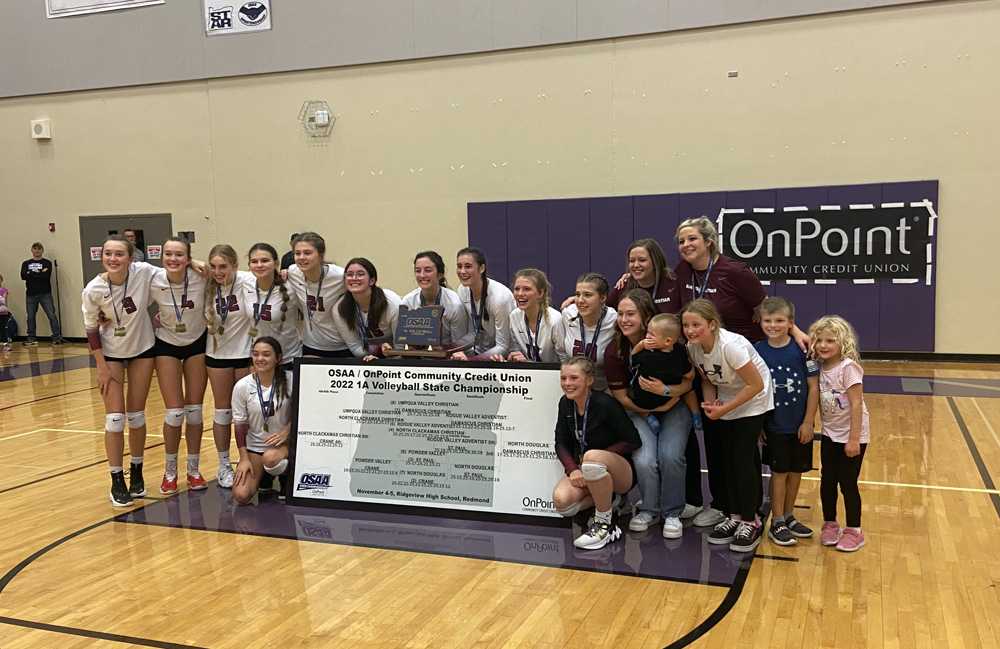 Damascus Christian rallied from a two-set deficit Saturday at the OSAA / OnPoint Community Credit Union Volleyball State Championships to stun defending champion North Douglas in 1A to claim its first-ever championship in volleyball. The Eagles (36-0) also finished undefeated on the year, the only team in all of the OSAA to do so this fall.
"I felt so excited and proud of the girls for never giving up and the grit that the entire team showed, from the seniors to the bench," said Eagle head coach Emily Russau. "It was an incredible moment; one these girls will never forget."
"It was such a fun season, such a blessing this year," Russau continued. "We play every match for God and all my teams give thanks to him after every game, win or lose."
North Douglas, which came in as the No. 7 seed, almost pulled off the miracle trifecta. The Warriors, playing without injured senior RS Asia Ward, upset No. 2 Crane in a five-set quarterfinal and defeated No. 3 St. Paul in four in the semifinals before setting their sights on No. 1 Damascus Christian in the championship final.
"To say that I am disappointed that we didn't repeat would be an understatement, especially since we were SO close," said North Douglas coach Emily Reed. "It will haunt me for many years. But finishing the last two years at first and second is something that we will always be so very proud of!"
Game 1 started and North Douglas started fast, which was typical of its performance at the state tournament. The Warriors scored 11 points over a 12-point span to pull away, turning a two-point deficit at 10-8 into an insurmountable 19-11 advantage.
North Douglas had led early in the set, thanks to two aces and a kill from Makayla Murphy, but yielded a 6-0 run, which included two Sierra Hale kills and four North Douglas errors; to fall into that two-point hole. That's when the Warriors surged. An initial 6-0 run was fueled by four Murphy kills. After a hitting error ended the run, an ensuing 5-0 streak featured four Murphy aces in a row!
Damascus Christian never got closer than five after that. Three late kills from Brooklyn Williams put Game 1, a 25-17 win, in North Douglas' column.
Damascus Christian started off hot in Game 2. The Eagles led 4-1 thanks to ace serves from Hale and Lucy McAllister before North Douglas rallied to tie at 6-6, on kills from Williams, Audri Ward and Savannah Harkins.
The teams traded points, back and forth, until the scoreboard showed the teams tied at 11-11. That's when North Douglas devastated Damascus Christian with a definitive 7-0 run, which featured three aces from Brooklyn Cyr and bookend kills from Brooke McHaffie.
North Douglas kept Damascus Christian at bay the rest of the set and won, 25-17, to get within one set win of a magical repeat.
"Damascus Christian came out and made a lot of mistakes the first two sets," Reed said. "We were able to capitalize on them and we were doing everything right. We had so much momentum!"
Buoyed by its outstanding play over the first two sets, North Douglas came out blazing to start Game 3. A McHaffie kill and Murphy ace staked the Warriors to a 2-0 lead. They added on with a 4-0 run, which included a Cyr ace, to go up 6-2.
That's when everything changed. Damascus Christian, which started the third set with great energy, found life and slammed the door shut on North Douglas, which would score just five points the rest of the set.
A Damascus Christian 7-0 run, highlighted by three kills from Abbigayle Bailey and two more from Laelie Rasmussen; turned the set around for good. A motivated Eagle squad gained confidence and momentum and ran with it. After North Douglas clawed within 15-11 on a McHaffie kill, Damascus Christian closed out the 25-11 win on a 10-0 run, which featured five kills from Julia Mitchell and the final kill courtesy of Bailey.
Damascus Christian also won Game 4 with a late, but definitive, and devastating, surge. The game was played back and forth for the first dozen points for either side. A Williams kill put North Douglas ahead, 14-13, before the Eagles got their surge on. Successive kills from Hale launched a 6-0 run that put Damascus Christian up for good at 19-14. An Eagle hitting error helped North Douglas stop the run, but did not stop Damascus Christian from surging again. The Eagles scored the final six points to win, 25-15, and force a fifth set. Abby Huspek contributed a kill to the closing run. Hale had two and Mitchell had two, including the clincher.
Damascus Christian controlled the fifth set from the start.
"We had momentum going in to the fifth set and my girls wanted it so bad," Russau said. "They came out in the fifth set dialed in and ready to play. I've never seen a group of girls more determined in a game like I saw that last set."
The Eagles bolted to an 11-4 lead and never looked back, completing the rare reverse sweep, 15-8. Crucial digs by Sara Puha, Bailey and Huspek carried the momentum along with kills from Bailey and Mitchell and superior floor leadership from Hale.
The final point highlighted Damascus Christian's three seniors, who were so instrumental to the Eagles' success over four years: Mitchell dug a big hit from North Douglas, sending it perfectly to Bailey, who set Hale on the outside for one final swing, and kill, to clinch victory.
"When the momentum shifted in the third and we started to get down, we struggled mentally," Reed said. "Damascus Christian woke up a bit, cleaned up their mistakes and starting blocking us, and we got tight and stopped being so aggressive. They took advantage. There is a reason that they went undefeated this season."
Hale finished with 15 kills, 16 digs, 20 assists and five aces to lead Damascus Christian. Bailey had 11 kills, 17 digs and 15 assists. Mitchell contributed 12 kills. The Eagles hit .232 for the match, compared to 0.80 for North Douglas, had 14 fewer hitting errors and a 9-3 blocking advantage.
Of course, we wouldn't be talking about Damascus Christian as first-time state champs without that massive comeback.
"We struggled to find a flow in the first two sets and North Douglas came out ready to play," Russau said. "We told our girls in the huddle after losing the second set that we as coaches believed in them and that, if we found our flow, played relaxed and executed our game plan, we could come back and win."
Russau said that falling behind 6-2 in Game 3 was discouraging, but that she believed her team would turn it around.
"We came out playing with so much heart," Russau said. "I knew if we made a few adjustments and executed we could come back. The leadership and heart to win of my trio of seniors and the determination they showed motivated the entire team. We started to execute our game plan, block well and began to pick apart the court."
Murphy led North Douglas (25-11) with 11 kills, 15 assists and nine aces. Williams contributed 11 kills, 15 digs and 12 assists. Lailah Ward had 15 digs and McHaffie contributed a team-high 14 kills.
"I really did not expect to do that kind of damage about three weeks ago when Asia Ward tore her CAL," Reed said. "We had to do a complete lineup change late in the season. I am SO proud of this team and all that we had to overcome this season. It was a season of adversity and these girls powered through and fought so hard, pretty impressive from a No. 7 team."
In the 3rd/5th match:
No. 3 St. Paul 3, No. 5 Rogue Valley Adventist Acad. 1 -- St. Paul won the first two sets but dropped the third and were in danger of going to a fifth, trailing 19-11 in Game 4. After the Buckaroos used their last time out, a rally ensued. A stuff block by sophomore Audra Rose gave the serve to St. Paul. With senior Halsie Hempfling toeing the line, St. Paul got to within four with help from two Mer Coleman kills. The rally continued with junior Isla Haven serving down 22-17. She served six straight for St. Paul, which got two kills from junior Stella Koch in the run. The teams battled back and forth, forth and back, after that, until senior Anabelle Davidson put away a sweet Gracie Koch set to complete the comeback, 30-28.
"Our Lady Bucks showed heart and grit," said St.Paul coach Les Hiller. "It was a total team effort and was the biggest comeback for a win I have ever coached in my 22 years of coaching."
Rose had 14 kills and eight blocks to lead St. Paul. Davidson and Stella Koch combined for 17 kills and 13 blocks.
In the 4th/6th match:
No. 2 Crane 3, No. 4 North Clackamas Christian 0