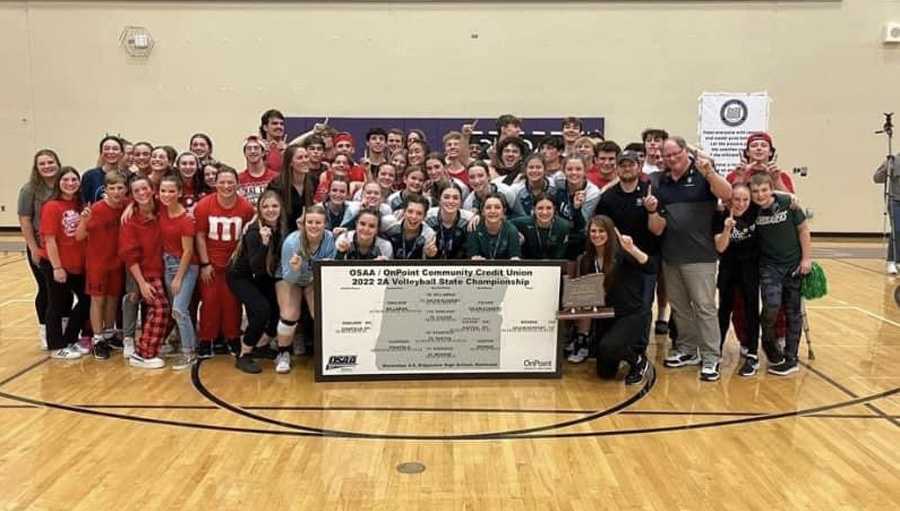 Top-seeded Salem Academy (26-5) successfully defended its 2A title on Saturday night at the OSAA / OnPoint Community Credit Union Volleyball State Championships. The Crusaders withstood a spirited Monroe rally, from two sets down, by scoring the final three points in Game 5, after the teams were tied at 12-12,, to defeat the Dragons, 25-15, 25-20, 19-25, 22-25, 15-12.
"Once we finally hit 15, I felt disbelief that it happened, relief that it was over and incredible joy watching the dog pile on the court," said Crusader head coach Melissa Holman.
To win, Salem Academy had to beat a Monroe team that it bonded with the night before the state tournament began.
"Our teams shared the same hall at the same hotel," Holman explained. "The night before our first matches at Ridgeview, we were all crammed into one tiny hotel room, laughing, joking and just being excited about what was ahead. Both teams hoped to see each other in the end based on mutual respect and inspirational camaraderie."
Once the match started, however, winning was the goal for both teams.
Salem Academy won despite a record-setting night from Monroe senior middle Bella Gamache. Gamache finished the five-set match with 41 kills, 17 digs and five aces. The 41 kills place her tenth all-time in Oregon for a single match and likely is a record total for a championship match.
"Bella is a powerhouse on the court," said Holman. "Getting a block or dig on her is rare. She is also an exceptional human and a joy to be around."
In a match that came down to the final three points, the difference in the match might have come down to experience handling the natural nerves teams have in state championship matches. The final two points for Salem Academy came on hitting errors.
Salem Academy also made 13 fewer hitting errors and perhaps surprised Monroe by how impactful freshman outside hitter Emma Brewer was. When the teams saw each other this season at the Creswell Tournament, Brewer was injured and did not play at 100 percent. On Saturday, she contributed a team-high 26 kills, along with 19 digs and two aces.
"I don't think they saw her coming," Holman said.
If you watched the first two sets Saturday night in Redmond, it would have been hard to imagine this match going the full five sets. Salem Academy commanded the court in taking a 2-0 sets lead. Holman said that her team played those first two sets "at an all-time high."
Monroe opened the match with a Gamache kill and Sarah Thompson ace to take an early 2-0 lead. The Dragons still led by a two-point margin, 7-5, after a Josie Essner ace. But a Dragon serving error sparked an 8-0 Crusader run that took Salem Academy from behind into the lead for good, up 14-7. Senior Aly Herber, the state's kills leader, had three kills during the run and Lexie Herber added two for SA, which led by as much as 11 but no fewer than six the rest of the way. Aly Herber's kill, her sixth of the set, got Salem Academy to 24-15. A Monroe ball handling error completed the 25-15 Crusader win.
The start of Game 2 was characterized by several early runs. Two Aly Herber kills helped Salem Academy start with a 3-0 lead. Gamache, who had eight kills in the first set, scored back to back to square matters at 3-3.
The set went back and forth like that until the middle stages. Salem Academy would open up a lead with a run of points. Monroe would tighten things up with a run of its own. At 18-17 Crusaders, Brewer delivered a kill, her seventh of the set; to give Salem Academy the serve. She then aced the Dragons to make the margin three. Monroe, unnerved, then made three consecutive errors, which extended the Crusader lead to six at 23-17. Aly Herber finished off the set with a kill, her 11th of the match, to put Salem Academy firmly in control of the final.
Holman was uneasy despite the two-set lead.
"I knew deep down that finishing this would be an all-out battle," she explained. "So it didn't shake me too much that they rallied to win those next two sets. But the constant shift in momentum was exhausting."
Monroe won the third set, 25-19, to get back in the match. The Dragons did it early by taking advantage of Salem Academy errors and late by having Essner, Hannah Hicks and Emily Hull join the kill parade that Gamache had been leading the entire match. Gamache had eight kills in the set, but Essner, Hicks and Hull provided balance by combining for an additional eight terminations. With the score knotted at eight apiece, Monroe broke away on the strength of three runs of three or more points that put the Dragons in command up, 19-11. Hull's kill grew Monroe's advantage one further, to 24-15. The nine-point margin proved too much for Salem Academy to overcome, though the Crusaders got closer, as a result of four straight Monroe errors, before Essner terminated to send the teams to a fourth set.
Monroe (27-5) kept the pressure on in Game 4. The Dragons, who never trailed in the set, opened up a 7-2 lead on the arm of Gamache, who had her team's first three kills and then went back to serve and aced Salem Academy four straight times. The Salem Academy deficit grew to six at 9-3 before the Crusaders rallied to within one at 12-11. But Monroe scored eight of the next 11 points, including two more Gamache kills and another Gamache ace, to take command at 20-14. Brewer had four kills down the stretch to help Salem Academy close to within 21-19, but Gamache had three late kills and Hull delivered the clinching ace in the 25-22 win that forced a fifth and deciding set for the state title.
The fifth set, with everything riding on which team could get to 15 first, was tension filled. Salem Academy scored the first point on a Monroe hitting error, led by two, 4-3, on Kacyn Hiley's second kill of the entire match, and extended its advantage to 6-3 on consecutive Brewer kills.
Salem Academy held the lead through 9-7, when Monroe scored three straight – two Gamache kills sandwiching a Thompson ace –to go in front,10-9. Aly Herber scored for Salem Academy to stop the Monroe run and the team went back and forth to 12-12.
It was a game to three, with both teams undoubtedly praying for a positive outcome.
Brewer got Salem Academy back on the path to 15 with her team-high 26th kill of the night.
Monroe had no magic left.The Dragons made consecutive hitting errors to get Salem Academy to 15 and complete the Crusaders' title defense.
Brewer and Aly Herber combined for 48 kills and 31 digs in the win. Aly Herber also recorded four solo blocks.
Holman felt that having two prime hitting options to just one for Monroe was a critical difference in the match.
"This allowed us to move the ball more and run several different plays to keep them guessing," she explained. "It also helps to share the pressure of performance."
Sophomore setter Lexi Herber also was a force with 34 assists, 13 digs, five kills and two aces.
Beyond Salem Academy's "big three," Holman also lauded setter Haley Krieger, who added to her setting duties by playing three rotations on the right side during the state tournament. Krieger had 14 assists and 19 digs.
"She excelled and made some incredible, super plays that kept our rallies going," Holman said. "Having that second set of hands in the front row was critical for us."
Holman praised libero Sydnie Reed as well, for stepping up the team's regular-season libero dislocated her shoulder.
"She provided us with consistency in the back as well as her killer serves," Holman said.
For Monroe, which finished third a year ago, Essner had nine kills and 10 digs, Hicks had eight kills and nine digs, Thompson contributed nine digs and 12 assists and Lainie Bateman had 33 assists, 16 digs and two aces to complement Gamache's massive effort. The Dragons will build around Bateman and Essner in 2023.
"Losing the last game of the season is hard to handle,: Monroe coach Angie Robertson said. "I think we all feel a sadness to have had a state title within our grasp and then lose it. There is also the sadness that it is over. We are losing six seniors who have put their hearts and souls into this team. I know this is cliché but we are truly a family. So with that being said, even with my sadness, I could not be more proud of my team. They are not only great competitors but are great human beings."
In the 3rd/5th match:
No. 5 Culver 3, No. 3 Gaston 1
In the 4th/6th match:
No. 6 Stanfield 3, No. 13 Oakland 0