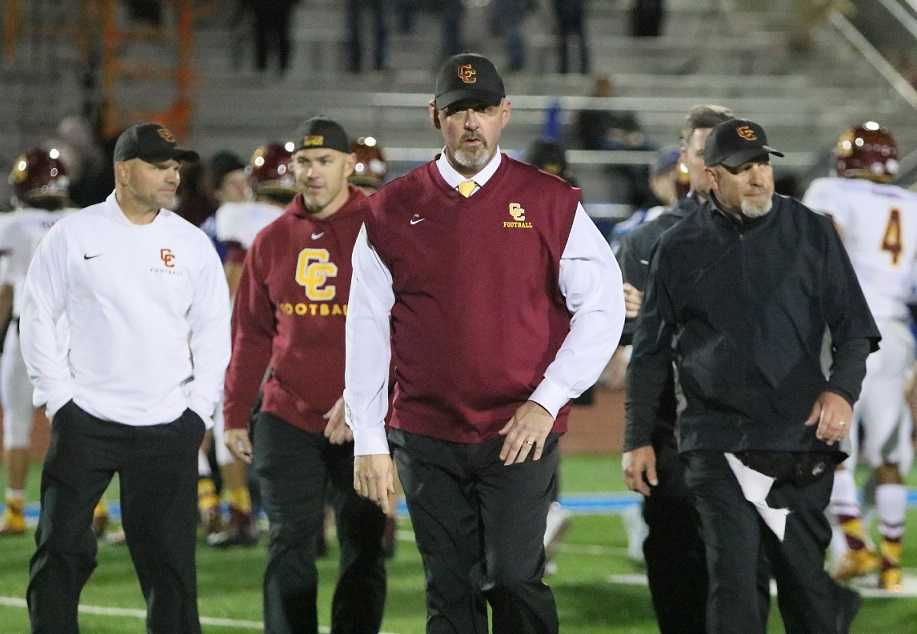 For those doing a double-take while browsing the Three Rivers League football schedule, that's right, Lake Oswego and Tigard do not meet this season.
And no, Mt. Hood Conference powers Clackamas and Central Catholic do not have a scheduled meeting, either, although it still could happen in the regular-season finale.
It's just a couple of the quirks in the schedule this season as Class 6A athletic directors shook up things in the ongoing quest for competitive balance.
To better match teams, they wanted more nonleague games, which means fewer league games, which means some league matchups won't happen. The plan has its detractors, but considering 47 percent of Class 6A games were decided by at least 28 points last season, the athletic directors figured it was worth trying on a two-year basis.
"We'll see how it all shakes out. Obviously, we're going to have to reevaluate," Roseburg athletic director Russ Bolin said. "There's always pushback. But we'll try this for two years, and if it works, it works, and if it doesn't, we'll go back and play in our leagues."
Many coaches aren't thrilled with the prospect of not playing a full league schedule. Class 6A teams will play four league games, the only exception being the Metro League, which will play five games (Jesuit gets six).
Tigard coach Craig Ruecker doesn't like the prospect of not playing Lake Oswego. Both teams made the semifinals last year and are expected to be state contenders again this season.
"We're right across the freeway from each other. Our attendance areas butt up against each other," Ruecker said. "Last year, we had a game that was 31-28 that we won in the last 19 seconds, and it was a tremendous football game, and both teams ended up in the semifinals. And now we don't get to play each other."
The eight-team Mt. Hood Conference opted to split into two divisions. Each team will play the three other teams in its division and have an open date for Week 9, when the conference will have interdivision play matching the first-place teams, second-place teams, etc.
"At least Clackamas and us might have a chance to play if we're division leaders," Central Catholic coach Steve Pyne said.
It's not a popular plan among Mt. Hood coaches, according to Pyne, who believes the schedule changes were done in haste.
"In the end, the coaches wanted to play seven league games," Pyne said. "I think if you ask most coaches across the state, they wanted to play all of their league games. This was a process that should have taken about two years but it was pushed through in a four- or five-month period."
So instead of playing David Douglas, Gresham and Reynolds this season, Central Catholic added powerhouse teams to its nonleague schedule, which includes West Linn, Eastside Catholic (Wash.), Sprague, Sherwood and Jesuit.
"This is surely going to benefit Team X,Y and Z that has struggled, which is fine," Pyne said. "But who it's going to kill is Jesuit, Central Catholic, Tigard, Lake Oswego, Sheldon, because we're all going to end up beating the hell out of each other for five weeks going into league play. That's not fair and it's not competitive balance. No one builds their schedule like that."
Jesuit is squeezing in showdowns against Central Catholic and Sheldon in Week 5 and Week 6, respectively, right smack in the middle of its Metro League schedule.
"I would prefer to play nonleague games and then finish with league games, but in order to make it work and play all the schools in our league, we get the opportunity to play CC and Sheldon in the middle," Jesuit coach Ken Potter said.
Jesuit will be the only Metro team to play a full, six-game league schedule, with the other teams playing five league games. The unbalanced schedule isn't ideal for the Metro, but it's better than the four games other leagues are getting.
"We as coaches wanted to play everyone in our league," Potter said. "We felt this is the true indicator of league champions. We felt not doing that would diminish the importance of league championships."
The five-team Southern Oregon Conference – or Special District 7 -- is the only league that will play a full schedule. The nonleague scheduling complications facing the smallest conference were a factor in the statewide overhaul.
Ruecker isn't a fan of the Three Rivers' four-game league schedule.
"I don't think it's a very good thing," Ruecker said. "So now, who's the league champion? There isn't going to be one. How can they? Not everybody is playing everyone.
"How do you make an all-league team? For example, we don't play Lake Oswego, so how do I vote for a kid from Lake Oswego if I've never seen him play?"
Another concern is the effect on the power rankings, which determine the playoff brackets. Will there be enough competition between the top teams and lower teams to separate them in the power rankings?
"We'll kind of have to see how this all plays out with the RPI," Bolin said.
Pyne wishes the athletic directors had paused longer before taking drastic action.
"I don't know if anybody has answers yet," Pyne said. "But let's take some time and research how other states might be dealing with competitive balance."