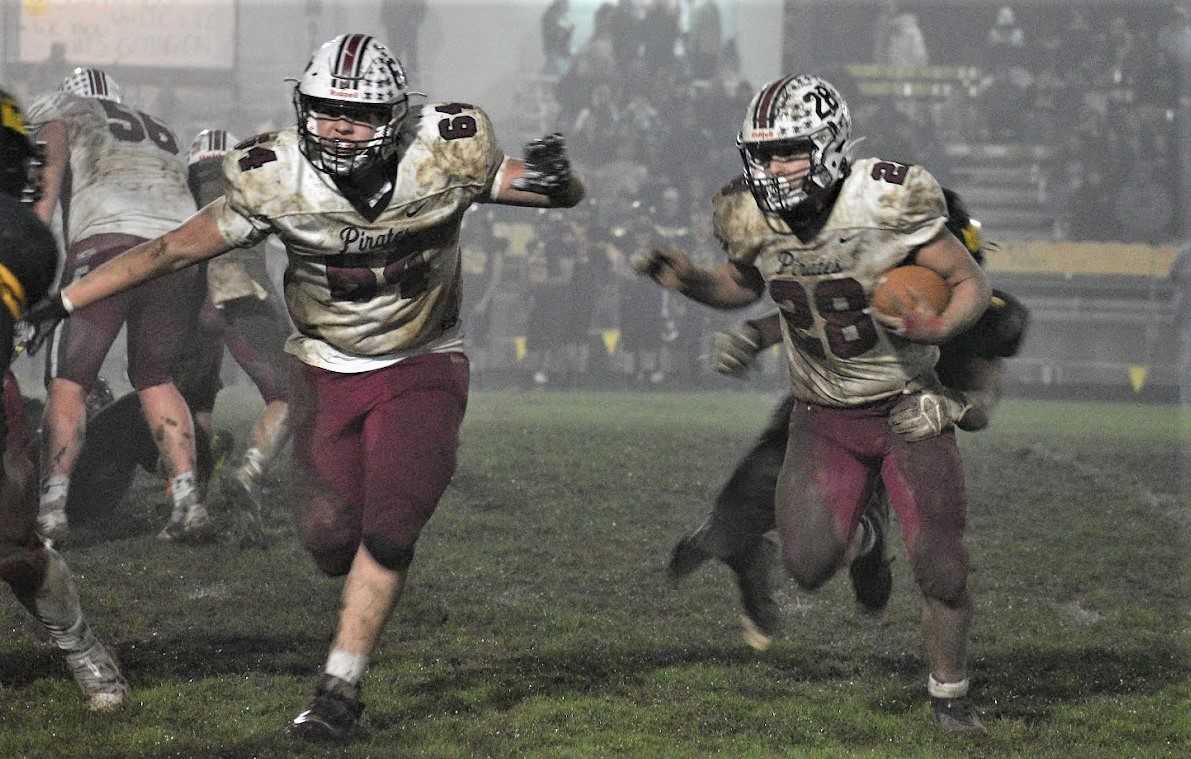 Nate Arce's healthy hamstring has bolstered Dayton's chances in the 3A football playoffs.
The 5-foot-11, 195-pound senior rushed for 335 yards and six touchdowns on 33 carries as the sixth-seeded Pirates went on the road to stun No. 3 South Umpqua 53-13 in a quarterfinal Friday.
Arce, the Special District 1 West division player of the year as a junior, saw limited action for much of this season because of a sore hamstring before returning to full-time duty in the regular-season finale against Amity.
"He tried to play against Kennedy and Santiam Christian but he was just not himself," said Dayton coach Jacob Peterson, referring to the team's two losses this season. "Forcing those games didn't help much. But Amity was the first game he was 100 percent healthy."
In the last three games, Arce has rushed for 799 yards and nine touchdowns, averaging 10.2 yards per carry. He carried much of the load against South Umpqua, getting some help from junior Zach Smith, who ran for 118 yards and two touchdowns on 18 carries.
Dayton (9-2) racked up 504 rushing yards against the Lancers (9-2) and threw only one pass, which fell incomplete.
"Our offensive line is clicking right now," Peterson said. "The line is making the right calls and opening holes."
The running game allowed the Pirates to gain traction on South Umpqua's muddy field. Dayton took advantage of two turnovers to jump to a 21-0 lead in the first six minutes and never looked back.
"That game fit us a lot compared to South Umpqua," Peterson said. "The first few plays were hilarious watching the O-line and D-line try to take off. They looked like cartoon characters peeling out."
Dayton will meet No. 2 Cascade Christian (11-0) in a semifinal Saturday at Cottage Grove High School. Peterson called the Challengers "probably the best overall team in the state," but the Pirates will be packing momentum and confidence.
"We know we can play with anybody," Peterson said. "We've been in two tough games with Santiam Christian and Kennedy, and those teams made a few more plays than us to turn those games. In the next close one, we need to be the team making those plays."
No. 1 goes down
Eighth-seeded Scappoose came through with the biggest upset of the playoffs so far when it knocked off No. 1 Mazama 28-27 in overtime in a 4A quarterfinal Saturday.
"That was something else, to be able to pull that off," Scappoose coach Sean McNabb said. "I don't know if very many people gave us a chance against the No. 1 seed. Physical teams have given us some trouble. But our kids really stepped up and played well. They believed that they could win the game."
The Indians (9-2) took a 28-21 lead on the first series of overtime, getting a nine-yard touchdown pass from sophomore Max Nowlin to senior D'Angelo Macedo-Becker and an extra point from senior Aimar Cancinos.
Mazama (10-1) answered with a two-yard touchdown run by senior Trevor Anderson. The Vikings opted to run for a two-point conversion, but Anderson was stopped by a Scappoose swarm that was led by seniors Trey Dieringer and Wyatt Anicker.
"The effort of the D-line was amazing. Everybody did their job," McNabb said.
Scappoose tied it at 21-21 with 1:04 left in regulation on a six-yard touchdown pass from Nowlin to senior Chase Olsen and an extra point by Cancinos. Initially, the Indians lined up for a two-point conversion, but after a penalty, opted to kick.
"Maybe it worked out better because after watching film, I don't know if our receiver could have gotten open or not," McNabb said.
McNabb said he expected Mazama coach Vic Lease to go for two after the touchdown in overtime. They have been acquainted since their college days at Western Oregon.
"I know his personality," McNabb said. "I think I even said to our receivers coach, 'If they score, they're going for two.'"
Nowlin completed 18 of 34 passes for 194 yards and four touchdowns, two to Macedo-Becker and one each to Olsen and senior Colby Campbell.
"For a sophomore, he did a fantastic job," McNabb said. "He showed a ton of poise and toughness. He threw couple interceptions, but he didn't let it affect him or rattle him."
Scappoose advances to the semifinals to play No. 5 Estacada (10-1) on Saturday at Hillsboro Stadium. The Indians lost to the Rangers 48-19 at home Sept. 9 on a night when Scappoose retired the number of former quarterback Derek Anderson.
"They embarrassed us," McNabb said. "Our kids are excited about that rematch, that opportunity. They're jacked up about that."
Bear minimum
Facing playoff competition hasn't stopped Bend's defense from continuing its seasonlong dominance.
After handling No. 14 Hillsboro 41-0 in a 5A first-round game, the No. 3 Lava Bears blanked No. 6 South Albany 40-0 in a quarterfinal Friday.
It was the seventh shutout this season for Bend (10-1), which has allowed a 5A-low 62 points this season. With another shutout, the Lava Bears would match their school record of eight, set in 1966. The state record is 11 (Phoenix, 1963).
"I'm pretty excited about the way we've played on defense," Bend coach Matt Craven said. "It's been a collective effort. The defensive line has played extremely well, the linebackers have read extremely well, and when we've brought pressure, the secondary guys have been able to play a lot of effective man-to-man."
South Albany (7-3) entered the quarterfinal averaging 32.3 points per game, but could muster only 137 yards as the Lava Bears smothered the RedHawks' triple-option attack.
"It's not something you see every week," Craven said of South Albany's offense. "It requires some specialization. I felt like the fact that we are a reading team helped us going into that game. We run a reading defense. We're not a blitz-o-rama-fest. When the pieces come together, it looks pretty good."
Senior nose guard Erick Samayoa was key in setting the tone against South Albany.
"He's just a lightning-quick nose, and he caused a lot of chaos in there," Craven said. "Our defensive tackles and ends just did a great job of squeezing down on down blocks, trying to get their head across the fullback."
Senior defensive tackles Dennis Gaede and Kaden Isola and senior defensive ends Blake Groshong and Trenton Karpstein dominated the line of scrimmage.
Bend senior quarterback Logan Malinowski passed for three touchdowns, two to Groshong and one to Malakai Nutter, who also ran for a score. Senior Jack Sorenson had a touchdown run.
Up next for the Lava Bears is a semifinal date against No. 2 Wilsonville (9-2) on Friday at Barlow High School. The Wildcats, led by dual-threat junior quarterback Kallen Gutridge, are averaging 36.7 points per game.
"What's especially scary about him is when things break down, he's still capable of running 60 yards for a touchdown," Craven said of Gutridge. "When you play guys like that, it definitely challenges your defensive line to contain him and wrap him up."
Bend has won five in a row since a 35-21 loss at No. 1 Summit.
"That game definitely made us better," Craven said.
Six-man semifinals
No. 2 Triangle Lake (10-0) and No. 4 Spray/Mitchell/Wheeler (9-1) will meet in the inaugural 1A six-man final after the teams won semifinal games at Wilsonville High School on Saturday. It is a rematch of the unofficial six-man championship last season, won by SMW 30-0.
Triangle Lake defeated No. 3 South Wasco County 46-20 in the first game Saturday. The Lakers (10-0) opened a 20-0 lead in the first quarter and held on for the victory.
Senior Garrett Warren ran for 198 yards and four touchdowns on 21 carries for Triangle Lake., which rushed for 281 of its 406 yards. Junior Marshall Mather returned an interception 79 yards for a touchdown and junior Gus Gamache threw a 54-yard touchdown pass to senior Matt Wyse.
First-year Triangle Lake coach Steve Cragun said it was difficult for everyone to get on the same page early in the season, but the common goal of reaching the state final helped them get through the "growing pains."
"We feel like we haven't received the respect that we deserve all season," Cragun said. "But our players have worked really hard and played with a chip on their shoulders all season to prove that we are the best."
Spray/Mitchell/Wheeler routed No.. 1 Powers 55-19 in the second semifinal. SMW piled up 427 rushing yards, getting big games from seniors Carter Boise (22 carries, 219 yards, four touchdowns) and Nate Clark (16 carries, 159 yards, two touchdowns).
Boise also threw touchdown passes of 17 yards to Clark and seven yards to junior Zach Neuburger.
"We played our best game as a team," SMW coach Jerry Anderson said. "We blocked well and our defense was solid. Carter Boise was fantastic on both sides of the ball. His rushing was spectacular, and we had him throwing a little on our RPO set. He plays great pass defense. We always match him against their best receiver. And he tackles so well.
"Nate Clark ran the ball with absolute determination. It usually took three defenders to bring him down. And he's such a great pass catcher."
Pacer perspective
One team making the most of its appearance in the first 6A Columbia Cup is No. 22 seed Lakeridge (5-6), which earned a spot in the semifinals Friday with a 35-14 win at Three Rivers League rival Oregon City.
The Pacers, who start non-seniors at 16 of 22 positions, have an eye toward the future as they gain valuable practice time and game experience. They will meet No. 18 Westview (6-5) in a semifinal Friday at Hillsboro Stadium.
"A lot of the younger guys are finally maturing a little bit," Lakeridge coach Spencer Phillips said. "They're coming along. It's been fun to watch. We're building momentum into next year. We have so many guys coming back."
Freshman Ansu Sanoe rushed for 129 yards and one touchdown in the win over No. 19 Oregon City (5-6). Senior Ryan Oliver passed for one touchdown and ran for two scores as the Pacers got payback for a 29-28 loss at Oregon City in Week 7.
"We didn't play well in the second half of that first game," Phillips said. "I feel like this game, from the get-go, we were pretty dominant."
Despite entering the Columbia Cup with a 3-6 record, the Pacers liked their chances considering five of their losses came against teams that finished in the top 13 of the OSAA 6A power rankings. They finished the regular season with a 14-9 win at seventh-ranked Lake Oswego.
"You could make an argument that the TRL is a playoff bracket in its own," Phillips said. "It's hard because you tell them all year, 'You guys are a good football team, you just happened to play the No. 1 team, the No. 2 team, the No. 4 team, the No. 5 team.' It's just nice for them to be able to finally see the results on the scoreboard and not just hear it from me all the time."
Phillips said he still would prefer a single championship bracket in 6A, but the Columbia Cup has its merits.
"Our kids are playing hard and we're having a lot of fun. For that reason, I do love it," Phillips said. "At the end of the day, we're still playing football, and that's the coolest thing."
Other highlights from the second week of the football playoffs:
6A
West Linn led 42-0 at half and drubbed Sherwood 56-7. Sam Leavitt completed 14 of 19 passes for 269 yards and three touchdowns, all first-half strikes to Jackson Shelstad, who had four catches for 111 yards. Koffi Kouame rushed for three touchdowns for the Lions, who outgained the Bowmen 405-151. … Central Catholic turned back Jesuit 23-20, stopping the Crusaders on downs after they reached the Rams' 16-yard line in the final minute. The Rams got the go-ahead touchdown on a 15-yard pass from Cru Newman to Zhaiel Smith with 7:55 left. Newman passed for 141 yards and two scores and ran for 95 yards on 15 carries. Payton Roth rushed for 158 yards and one touchdown on 32 carries for Jesuit. …
Tualatin ousted Mountainside 53-21 as Jack Wagner completed 12 of 17 passes for 172 yards and three touchdowns, two to Richie Anderson. The Timberwolves took a 14-0 lead in the first quarter on an 85-yard kickoff return for a touchdown by AJ Noland and a 37-yard interception return for a score by Naasei Lynn. Tualatin had four interceptions. … Sheldon dropped Lake Oswego 42-7 behind Brock Thomas, who ran for 148 yards and four touchdowns on 16 carries and completed 9 of 14 passes for 182 yards and one score. Sheldon had five interceptions, getting two from Zach McEwen. Teitum Tuioti returned an interception 22 yards for a touchdown.
Columbia Cup (6A)
Liberty held off Clackamas 28-18 as Elijah Streeter had an interception, setting up a touchdown run by Tytan Rekow, and caught a scoring pass from Rekow. Houstyn Lee-Perry and Tanner Steinbach had touchdown runs for the Falcons. … Josiah Davis ran for 180 yards and three touchdowns and Jerrik Wangler ran for two scores to propel North Salem past Jefferson 42-8. … Westview tailback Jordan Fisher had another big game, running for 324 yards and five touchdowns on 34 carries in a 41-0 win over Sprague. For the season, Fisher has rushed for 2,354 yards and 32 scores.
5A
Top-seeded Summit spotted Central an early touchdown before taking control to win 35-7. Sam Stephens had 37 carries for 199 yards and one touchdown and Hogan Carmichael completed 20 of 26 passes for 164 yards and three scores, two to Charlie Ozolin, who also had two interceptions. … Noah Blair completed 15 of 16 passes for 214 yards and three touchdowns in Thurston's 27-14 win over Dallas. Luke Newell caught scoring passes of 43 and 30 yards for the Colts. Emilio Miranda rushed for 95 yards and Steven Ward had six sacks for Dallas. …
Wilsonville eliminated Silverton 39-26 as Kallen Gutridge rushed for 97 yards and two touchdowns and passed for 109 yards and two scores, including a 63-yarder to Mark Wiepert. Jacob Ogden had 12 carries for 130 yards and one touchdown for the Wildcats, who got four sacks from Ryder McElroy. Silverton's Jackson Pfeifer ran for 171 yards and four touchdowns on 24 carries.
4A
Estacada blocked an extra-point attempt with 4:04 remaining and held on to beat Henley 17-16. The Hornets led 10-9 before the Rangers took a 17-10 lead on a touchdown run by Tucker Jackson and a two-point conversion run by quarterback Cory James. Henley answered with a 16-yard touchdown pass from Shaw Stork to Owen Cheyne to make it 17-16, but Cheyne's extra-point attempt was blocked. Estacada also got a touchdown run from Waylon Riedel and a 39-yard field goal from Ben Haefs. Logan Whitlock ran for 99 yards and one touchdown on 20 carries and Cheyne had a 26-yard field goal for Henley. …
Judah Werner ran for two touchdowns and Tanner Hoskins and Tyler Moncrief each rushed for one score for Tillamook, which beat Gladstone 28-6. Zeyon Hurliman had an interception in the end zone at the end of the first half to preserve a 14-0 lead. … La Grande built a 28-0 lead and turned away Pendleton 28-13 as Logan Williams ran for 173 yards and three touchdowns. La Grande's Myer Whitmore recovered a fumble in the end zone for a touchdown on the game's first play. Pendleton quarterback Jack Davis was knocked out on the final play of the first half and taken to a hospital. Payton Lambert rushed for 73 yards for the Buckaroos.
3A
Cascade Christian romped past La Pine 49-6, owning a 492-89 edge in total yards. Keith Reed completed 11 of 18 passes for 291 yards and three touchdowns, one to Brody Sample, who had four catches for 107 yards. Kameron Rague had 12 carries for 130 yards and two touchdowns. … Caden Harris ran for a touchdown, Logan Kind had 10 catches for 108 yards and Cole Crossen kicked a 35-yard field goal for Banks, which defeated Santiam Christian 10-7. Braves quarterback Christian Lyda completed 14 of 20 passes for 138 yards. …
Kennedy stopped a two-point conversion attempt with 30 seconds left to turn back Vale 14-12. Down 6-0 at half, Kennedy pulled ahead 14-6 in the third quarter as Elijah Traeger threw a 28-yard touchdown pass to Brett Boen and ran for a three-yard score. Vale got within 14-12 in the final minute on a 1-yard run by Colten Stepleton, but on the two-point conversion attempt, Carlos Recendiz intercepted a halfback pass. Vale took a 6-0 lead with seven seconds left in the first half when Brooks Haueter caught an eight-yard pass from Eli Aldred, but the extra-point attempt failed. Kennedy had a 188-180 edge in yards.
2A
No. 7 Weston-McEwen upset No. 2 Lowell 27-21. Tied 21-21 in the fourth quarter, the TigerScots got the go-ahead score on a three-yard run by Maddox King on a drive kept alive by a fourth-and-10 conversion. Easton Berry threw touchdown passes of 60 and 15 yards to Anthony Nix to give Weston-McEwen a 14-7 lead at half. Gunnar McBean's six-yard touchdown run put the TigerScots up 21-14 in the third quarter. King rushed for 92 yards on 18 carries. … Top-seeded Oakland ran over Umatilla 32-14 behind Cade Olds, who rushed for 202 yards and five touchdowns. Brayden Webb and Gabe Williamson had interceptions for the Oakers, who led 20-6 at half. Kaden Salamanca gave Umatilla a 7-0 lead on a 20-yard touchdown run. …
Caden George rushed for 152 yards on 31 carries in Heppner's 8-6 win over Regis. Saul Lopez scored on a six-yard run and George threw a two-point conversion pass to Cameron Proudfoot for an 8-0 lead in the first quarter. Regis got within 8-6 in the third quarter on a 23-yard pass from Kollin Schumacher to Noah Koenig, but Koenig was stopped by George and Lopez on the two-point conversion attempt. Regis drove to the Heppner 2-yard line in the third quarter but turned it over on downs. Schumacher completed 11 of 31 passes for 134 yards for Regis, which had 233 total yards. … Colton dispatched Gold Beach 12-0. Rickie Hendrickson ran for a touchdown on Colton's first drive and Jeb Ethington ran for a score late in the fourth quarter to provide some breathing room.
1A-8
Lost River eliminated two-time reigning champion Adrian 44-8 as Nathan Dalton rushed for 113 yards and three touchdowns and had 12 tackles. Codey Lyman ran for a touchdown and Connor Dunlea caught a 25-yard scoring pass for the Raiders, who led 36-0 at half. The defense held Adrian to 157 yards, getting two interceptions from Dunlea and three sacks from Carson Parrish. … Cole Martin rushed for 253 yards and three touchdowns and had an interception on defense to lead Powder Valley past Cove 46-8. Tucker Martin ran for a 48-yard touchdown and Jackson Chandler caught a scoring pass. Colt Cobb and Chandler recovered fumbles. …
Hunter Naumann ran for touchdowns of 73 and 59 yards on his only two carries as St. Paul throttled Perrydale 62-6. Clay Smith ran for 85 yards and two touchdowns on seven carries and George Pohlschneider ran for a score and passed to Warren Rose for a touchdown. St. Paul had five interceptions, three by Ralph Pohlschneider, who returned one 65 yards for a touchdown. Rose brought back an interception 21 yards for a score. … Myrtle Point's Billy Reynolds rushed for 159 yards and three touchdowns and had an interception and fumble recovery in a 38-22 win over Crane. Troy Warner had 12 carries for 124 yards and one touchdown (a 65-yarder) for the Bobcats, who rushed for 282 of their 454 yards.