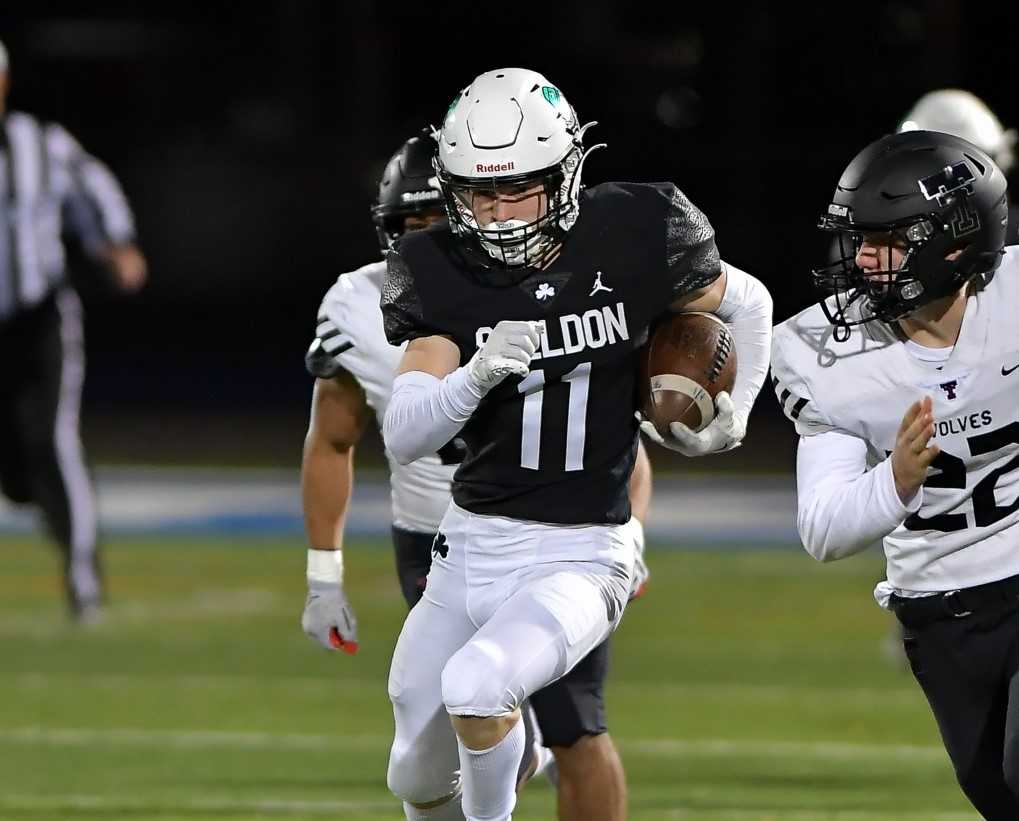 No. 2 seed Sheldon earned a berth in the 6A football final with a 28-14 win over No. 3 Tualatin in a semifinal at McNary High School on Friday night.
Irish senior quarterback Brock Thomas completed 13 of 21 passes for 173 yards and two touchdowns and ran for a score as Sheldon improved to 12-0. The Irish will meet top-seeded West Linn, a team it defeated 35-31 in Week 2, for the championship Nov. 25 at Hillsboro Stadium.
With the scored tied 14-14 in the second quarter, Sheldon took the lead for good on an eight-yard touchdown pass from Thomas to Luke Leighton. Thomas scored on a three-yard run in the third quarter to make it 28-14.
Leighton, who also caught a 47-yard touchdown pass from Cade Welch in the second quarter, finished with five catches for 114 yards and two scores. Teitum Tuioti had Sheldon's other touchdown, a 30-yard catch from Thomas in the first quarter.
Tualatin (9-3), the 6A runner-up last year, had advantages in total yards (357-314) and first downs (17-15). The Timberwolves ran 66 plays to Sheldon's 44.
Tualatin quarterback Jack Wagner completed 20 of 30 passes for 218 yards and one touchdown, a 30-yard strike to Naasei Lynn in the second quarter. Luke Ash ran for 97 yards and one touchdown on 22 carries.
Sheldon has not won a state title since 2012. The Irish last appeared in the final in 2018, losing to Lake Oswego.
A look at other semifinal games Friday:
6A
No. 1 West Linn 49, No. 5 Central Catholic 17: Game story
Columbia Cup (6A)
No. 28 North Salem 39, No. 17 Liberty 21: At Wilsonville, High School, Jerrik Wangler rushed for 155 yards and three touchdowns on 20 carries to lead the Vikings (8-4) past the Falcons (7-5). TC Manumaleuna II threw a touchdown pass to Erick Gonzalez for North Salem, which also got an interception return for a score from Pierce Walker.
No. 18 Westview 35, No. 22 Lakeridge 14: Jordan Fisher rushed for 201 yards and three touchdowns on 32 carries as the Wildcats (7-5) defeated the Pacers (5-7) at Hillsboro Stadium. Nolan Keeney ran for a touchdown and passed to Jaydon McBreen for a score. Lakeridge's Ryan Oliver completed 17 of 25 passes for 205 yards and one touchdown.
5A
No. 1 Summit 41, No. 4 Thurston 14: At Willamette University, the Storm (11-1) blew out to a 41-0 halftime lead and dispatched the Colts (9-3), who had appeared in the last three 5A finals, winning in 2018 and 2019.
Hogan Carmichael completed 11 of 17 passes for 233 yards and three touchdowns and ran for two scores for Summit. His scoring throws went to Charlie Crowell, Ethan Carlson and Charlie Ozolin.
No. 2 Wilsonville 23, No. 3 Bend 14: With the game tied 14-14 early in the fourth quarter, the Wildcats (10-2) stopped the Lava Bears (10-2) on fourth-and-two at the Wilsonville 17-yard line, then drove 83 yards to take a 20-14 lead on a one-yard run by Jacob Ogden with 8:35 left. Greg Keswick added a 37-yard field goal with 1:45 to go for the final margin in the game at Barlow High School.
Wilsonville got a 70-yard fumble return for a touchdown from Cooper Hiday and a 21-yard scoring pass from Kallen Gutridge to Mark Wiepert to lead 14-6 in the second quarter. Malakai Nutter had 42 carries for 242 yards and two touchdowns for Bend, which owned a 314-211 edge in total yards.