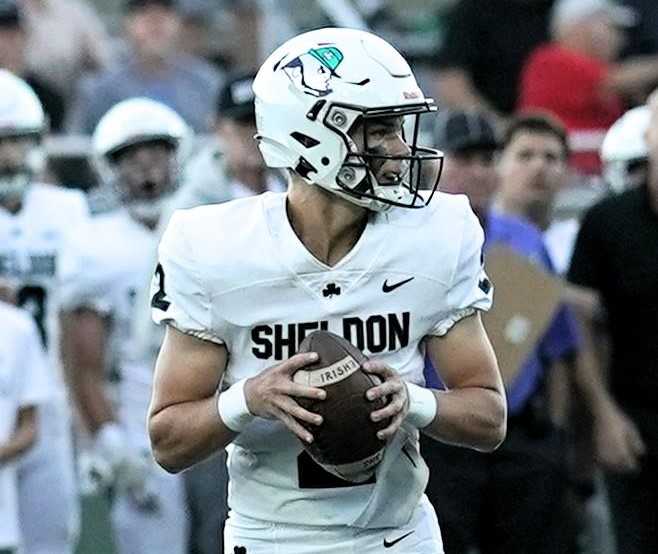 For a nonleague football game in Week 2, there was something about Sheldon's 35-31 win at West Linn that seemed particularly significant.
It wasn't so much that the Irish beat the Lions, but that the game was played at such a high level, it hinted that the teams could be a cut above the others in 6A.
"I would say probably five seconds after the game was over, I had an inkling that we might find each other along the way at some point," Sheldon coach Josh Line said. "It was a really fun high school football game, one of the more fun games I've ever been a part of."
Sheldon and West Linn have seemingly been on a collision course since that game, and at 3 p.m. Friday at Hillsboro Stadium, they will lock horns to decide the 6A championship.
For top-seeded West Linn (11-1), which has laid waste to its foes during a 10-game winning streak, it's a chance to right the wrongs from its only defeat.
"They exposed us," first-year Lions coach Jon Eagle said. "I told our players, 'That's the best thing that's ever happened to us is getting beat, and by a good team that played harder and was better prepared.' I think it changed our trajectory. We wouldn't be where we are today without that loss."
To beat the Lions, Sheldon got a kickoff return for a touchdown, a blocked punt that set up another touchdown, and two scoring passes on trick plays from senior receiver Cade Welch.
"We had a few things go our way," Line said. "Whenever you play a really good team, you've got to have that a little bit. We made our own luck, and we made the plays to come out on top.
"The thing I remember most is just how talented and explosive they are in pretty much all facets of the game. It's going to take everything we've got to get after them again this time."
West Linn overcame a 21-7 deficit in the first quarter to take a 31-28 lead early in the fourth quarter, but Sheldon got the deciding score on an 11-yard touchdown pass from senior Brock Thomas to senior Luke Leighton.
This time, the Lions will know all about the arm of Welch, who also threw a 47-yard touchdown pass in a 28-14 semifinal win over No. 3 Tualatin.
"That's how they play," Eagle said. "Tualatin had tape of all those plays, and they still were effective. They're good at disguising them, too. That's the thing."
One of the biggest keys will be if West Linn can give Washington State-bound senior quarterback Sam Leavitt enough time to throw against Sheldon's tenacious defensive front, led by Oregon-bound senior defensive end Teitum Tuioti. Leavitt has thrown for 2,928 yards and 36 touchdowns.
"We know they want to pressure Sam," Eagle said. "And they're good at it. And they're able to pressure with three, which is pretty amazing."
Sheldon has held every opponent to seven points or fewer, except for West Linn and Tualatin. The 6-3, 225-pound Tuioti (30 tackles for loss, 13 sacks) is a wrecking ball, leading a defensive line that features junior end Will Haverland and seniors Josh Merriman, Noah Snyder and Ryan Yakovich.
"Combined with Teitum's leadership and intensity, they're kind of a family inside the family," Line said. "Everyone striving to match their effort level is what's made our defense really good."
Sheldon must contend with West Linn senior receiver Mark Hamper, who had 10 catches for 277 yards and three touchdowns in the first meeting. For the season, Hamper has 67 catches for 1,380 yards and 19 touchdowns.
"The Hamper kid is one of the best players I've seen in a while," Line said. "Hamper is a problem that no one's been able to solve yet. You have to play team defense and all be dialed into your defense to stop a player like him."
The 6-3, 205-pound Hamper had six catches for 174 yards and two touchdowns as the Lions defeated two-time reigning 6A champion Central Catholic 49-17 in the semifinals.
"He's unusual because you don't find too many 200-pound receivers that are good at making people miss," Eagle said. "And when they finally do get their hands on him, he breaks a lot of tackles. Sam throws a pretty hard ball, and he does not miss much. He's got great hands."
Lions senior running back Koffi Kouame (856 yards, 14 touchdowns) has excelled in the playoffs, rushing for 300 yards and six scores in three games.
Sheldon's offense revolves around Thomas, a third-year starter. Thomas has completed 68.8 percent of his passes for 2,777 yards and 41 touchdowns with four interceptions and rushed for a team-high 634 yards and 16 scores.
In his career, Thomas has passed for 5,726 yards and 71 touchdowns and run for 2,387 yards and 42 scores.
"His motivation is not for himself. His motivation is for his team," Line said of Thomas. "That's what makes him special. He's always led by example, but he's got a voice now. He's overcome that shyness with his voice. It's given the kids a lot more confidence."
Eagle said that Thomas is a "pretty electric quarterback. He is the straw that stirs their drink, for sure."
Welch and Leighton lead Sheldon in touchdown catches with 10 apiece. Tuioti and seniors Zach McEwen and Isaac Peters have six each.
West Linn will appear in its first final since winning its only title in 2016, when Chris Miller was coach. The Lions lost in the quarterfinals in 2017, 2018 and 2019 and in the semifinals last year. In the teams' last playoff meeting, Sheldon won 38-26 in the 2018 quarterfinals.
Championship games are nothing new for Eagle, who guided Camas to Washington big-school titles in 2016 and 2019. The season has been a crash course to the Oregon scene for him.
"Getting to know the state and its coaches is something that's taken me a while," Eagle said. "I feel like I'm behind. I have to ask a lot of dumb questions. At Camas, it's not unlike Ashland with regards to Oregon. We traveled everywhere. Just getting used to how things work here."
Sheldon won titles under Marty Johnson in 2002, 2007 and 2009 and Lane Johnson in 2012. Line, who is in his sixth season, led the Irish to the state final in 2018, when they lost to Lake Oswego 34-27.
A look at other finals matchups this weekend:
Columbia Cup (6A)
No. 28 North Salem (8-4) vs. No. 18 Westview (7-5), 11 a.m. Friday, Hillsboro Stadium: The Vikings and Wildcats play in the inaugural final of the Columbia Cup, 6A's secondary bracket. The teams have a common opponent in Sprague, which defeated North Salem 26-19 and lost to Westview 41-0 in a quarterfinal. The game marks the end of the brilliant career of Westview tailback Jordan Fisher, who has rushed for 2,555 yards and 35 touchdowns this season, giving him 4,027 yards and 58 rushing scores for his career. North Salem's leading rusher, senior Josiah Davis (1,259 yards), left a semifinal win over Liberty with an injury and is doubtful. The Vikings, who returned to 6A this year after four seasons in 5A, still have junior quarterback TC Manumaleuna II and junior fullback Jerrik Wangler, who rushed for 155 yards and three touchdowns last week.
5A
No. 2 Wilsonville (10-2) vs. No. 1 Summit (11-1), 7 p.m. Friday, Hillsboro Stadium: Summit, a 6A quarterfinalist last year, is playing in its first final since winning the 5A title in 2015. Wilsonville is 1-3 in championship games, winning in 2004 and losing in 2003, 2016 and 2018. The Storm has won 11 in a row since opening with a 19-12 loss at 6A semifinalist Tualatin. The streak includes a 33-21 home win over Wilsonville in Week 4. In that game, Summit opened a 33-7 lead as senior Hogan Carmichael threw three touchdown passes, two to seniors Ethan Carlson. Carmichael has passed for 2,424 yards and 34 touchdowns with five interceptions and ran for four scores. Carlson (34 catches, 564 yards) and senior Charlie Ozolin (41 catches, 806 yards) each have 10 touchdown catches. Senior Sam Stephens has rushed for 1,270 yards and 18 scores. Summit has a dominant defensive front led by seniors Chip Allers (13 sacks) and Spencer Elliott (10 sacks). Wilsonville has won eight in a row since losing to Summit. Wildcats junior quarterback Kallen Gutridge is a dual threat, passing for 2,248 yards and 32 touchdowns with 10 interceptions and rushing for 702 yards and 10 scores. Senior Cooper Hiday (51 catches, 1,045 yards, 16 touchdowns) is a deep threat. Senior Jacob Ogden (703 yards, six touchdowns) is the team's leading rusher. Senior Ryder McElroy has 18 tackles for loss and 13 sacks. Wilsonville lost in the semifinals last year.
4A
No. 6 Tillamook (10-2) vs. No. 5 Estacada (11-1), 4:30 p.m. Saturday, Hillsboro Stadium: A battle between teams that have never won a state championship. Each has made one finals appearance, Estacada in 1953 and Tillamook in 1977. Since opening with a 26-14 home loss to Mazama, Estacada has won 11 in a row. The Rangers grinded out a 14-7 semifinal win over No. 8 Scappoose, which upset top-seeded Mazama in the quarterfinals. Estacada running back Waylon Riedel, a 5-11, 220-pound senior, has rushed for 840 yards and 14 touchdowns and 33 two-point conversions. He also stands out at linebacker, recording 15 tackles for loss and three interceptions. Rangers senior quarterback Cory James has passed for 11 touchdowns and run for 13 scores and collected seven interceptions on defense, returning two for touchdowns. Senior Dominic Nacoste (6-5, 255) has 19.5 tackles for loss and six sacks. Tillamook knocked off No. 2 La Grande 28-21 in the semifinals. The Cheesemakers started the season by losing to Marshfield 15-14 and Banks 20-12, but have won 10 in a row, picking up their first league title in 23 years. Senior Judah Werner (848 rushing yards, eight touchdowns) ran for 100 yards and four scores against La Grande. Tanner Hoskins has passed for 1,202 yards and 12 touchdowns. Senior Zeyon Hurliman has 36 catches for 755 yards and 10 scores.
3A
No. 2 Cascade Christian (12-0) vs. No. 1 Kennedy (12-0), 4:30 p.m. Saturday, Cottage Grove HS: Two perennial state contenders collide. Cascade Christian, a three-time state champion (2006, 2013, 2017), is in its first final since taking second in 2018. Kennedy, which jumped up from 2A this year, is in the championship game for the fourth consecutive postseason. The Trojans won the state title in 2018 and were runners-up in 2019 and 2021. They are 1-6 in championship games. Among 11-man teams in the state, Cascade Christian is No. 1 in scoring (50.9) and Kennedy is tied for No. 2 in scoring defense (5.6). Cascade Christian has scored at least 35 points in every game. Challengers senior quarterback Keith Reed, who missed the first month of the season with a partial ligament tear in his throwing elbow, has passed for 1,218 yards and 15 touchdowns and run for six scores in eight games. Kameron Rague, a 6-2, 185-pound sophomore, has rushed for 1,210 yards and 19 touchdowns, averaging 12.5 yards per carry. Senior Brody Sample and junior Peyton Maurer each have six touchdown catches and more than 500 receiving yards. Senior William Schaecher (725 yards, eight touchdowns) leads the Trojans in rushing. Junior Elijah Traeger has passed for 959 yards and 18 touchdowns. Seniors Brett Boen and Owen Bruner have eight and six touchdown catches, respectively.
2A
No. 7 Weston-McEwen/Griswold (9-2) vs. No. 1 Oakland (11-1), 1 p.m. Saturday, Hillsboro Stadium: A rematch from a nonleague game in Week 2, when Weston-McEwen won at home 24-16. In that game, sophomore Easton Berry threw a 28-yard touchdown pass to senior Cameron Reich to give the TigerScots an 18-16 lead with 3:18 left. Oakland outgained Weston-McEwen 325-189 but was hurt by three interceptions. Weston-McEwen won at No. 2 Lowell 27-21 in the quarterfinals and beat No. 3 Colton 31-30 in the semifinals to make its first final since 1996. Weston was runner-up in 1964, and after merging with McEwen in 1974, lost in the final in 1996. Berry has thrown for 1,465 yards and 14 touchdowns and run for 10 scores. Sophomore Maddox King (578 yards, eight touchdowns) leads the TigerScots in rushing. Reich has 26 catches for 540 yards and four scores. Weston-McEwen's only losses were 36-25 at Umatilla and 14-6 at Heppner, a team Oakland beat 26-0 in the semifinals. The Oakers have a diverse running attack led by senior Cade Olds (1,386 yards, 29 touchdowns), who transferred from 2A North Douglas as a junior. Sophomore Coen Egner and junior Jacob Chenoweth have 14 and 13 sacks, respectively. Cole Collins has 10 interceptions, including two in the semifinals. Oakland won titles in 1964 and 2012. Three members from the 2012 team are assistants under coach Ben Lane, who is 92-40 in 13 seasons.
1A-8
No. 3 Lost River (10-1) vs. No. 1 St. Paul (10-0), 1 p.m. Saturday, Cottage Grove HS: Lost River will try to avenge its only defeat this season against the Buckaroos. In Week 3, St. Paul defeated the Raiders 46-32 at home by rallying from a 16-0 deficit behind junior quarterback George Pohlschneider, who threw four touchdown passes, three to 6-5, 200-pound senior Warren Rose. Sophomore Clay Smith rushed for 201 yards and two touchdowns in the win. St. Paul has won six titles (1984, 1991, 1992, 2002, 2009, 2010) and has finished second nine times, including 2018 and 2019. Pohlschneider has passed for 1,272 yards and 22 touchdowns and run for 390 yards and seven scores. Rose has 38 catches for 617 yards and 13 touchdowns and Smith has rushed for 1,008 yards and 18 scores. Lost River is 2-2 in championship games, losing in 1972 and 1995 and winning 2A titles in 1997 and 2004. The Raiders beat two-time reigning champion Adrian 44-8 in the quarterfinals. In a 40-14 semifinal win over Powder Valley, 6-3 junior Chase McAuliffe completed 7 of 12 passes for 241 yards and five touchdowns. Junior Connor Dunlea, who also has played quarterback, has accounted for 10 touchdowns passing, 10 receiving and six rushing. He has 12 interceptions on defense. Senior Nathan Dalton has rushed for 929 yards and 13 touchdowns.