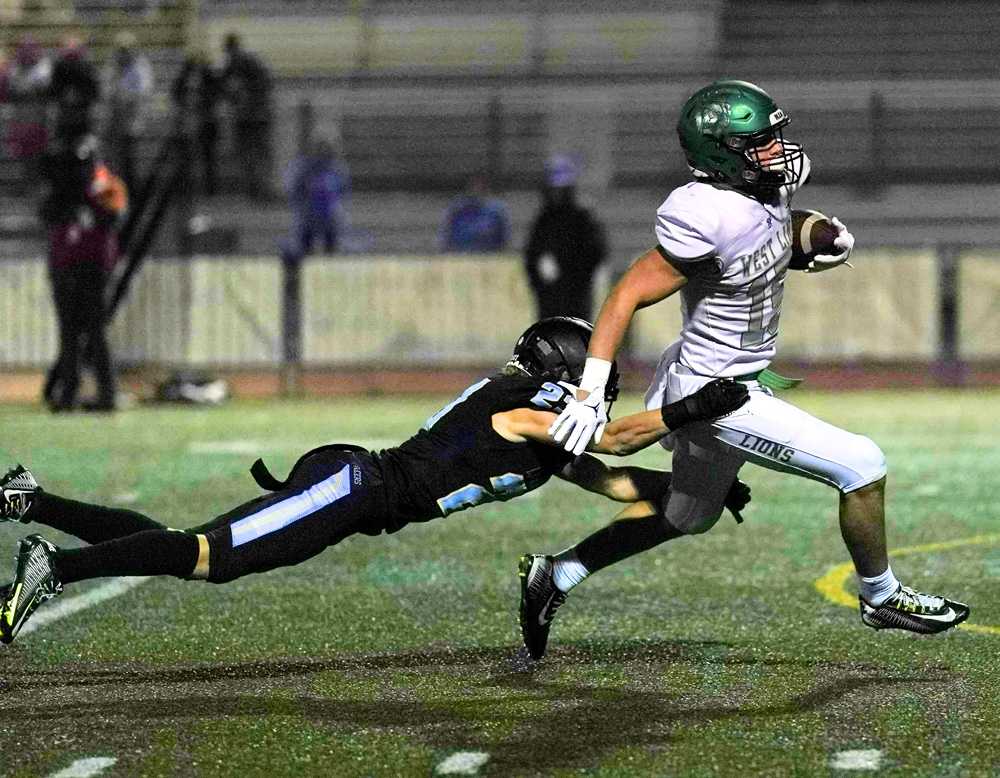 OSAAtoday is tracking football stat stars this fall, identifying both single-game and season-long achievements based on established thresholds.
Below, find stat stars for each week of the nine-week regular season, plus the first three weeks of playoffs, starting with high achievers in the most recent week. At the very end, we disclose the season-long stat stars who have met the thresholds listed below.
Varsity head coaches only may email [email protected] to make additions or modifications to the list, which will come out every Thursday.
Single-game achievements
Playoff Week 3
Passing yards (300 or more yards through the air)
305 -- Sam Leavitt, Sr., 6-2, 200, West Linn (6A)
Touchdown passes (4 or more)
5 – Chase McAuliffe, Jr., 6-3, 175, Lost River (1A-8)
Rushing yards (200 or more on the ground)
242 – Malakai Nutter, Sr., 5-9, 205 Bend (5A)
201 -- Jordan Fisher, Sr., 5-8, 175, Westview (6A)
Receiving yards (150 or more)
174 -- Mark Hamper, Sr., 6-2, 205, West Linn (6A)
Return yards (200 or more)
None reported
Tackles (12 or more)
19 – Jonaton Lazaro-Hampton, Sr., 6-2, 250, Wilsonville (5A)
18 – Anthony Nix, Jr., Weston-McEwen / Griswold (2A)
15 -- Warren Haatia, Jr., 6-0, 192, Scappoose (4A)
13 – Mazon Langford, Jr., Weston-McEwen / Griswold (2A)
13 – Wesley Hur, Sr., 5-11, 180, Wilsonville (5A)
13 - Zach Smith, Jr., 5-11, 210, Dayton (3A)
12 – Lance Gunter, Sr., Colton (2A)
12 – James Baimbridge, Jr., 5-10, 145, Oakland (2A)
12 – Bowen Johnson, Jr., 5-10, 185, Dayton (3A)
Interceptions (2 or more)
2 – Cole Collins, Sr., 5-7, 165, Oakland (2A)
2 – Jackson Shelstad, Sr., 6-0, 170, West Linn (6A)
Sacks (3 or more)
None reported
Touchdowns scored (3 or more actually scored (rushing, receiving and return); does not include TD passes))
4 -- Judah Werner, Sr., 5-10, 185, Tillamook (4A)
3 – Easton Berry, Soph., Weston-McEwen / Griswold (2A)
3 -- Jerrik Wangler, Jr., 5-11, 170, North Salem (6A)
3 -- Jordan Fisher, Sr., 5-8, 175, Westview (6A)
3 -- Carter Boise, Sr., 5-10, 180, Spray / Mitchell / Wheeler (1A-6)
Playoff Week 2
Passing yards (300 or more yards through the air)
None reported
Touchdown passes (4 or more)
4 – Max Nowlin, Soph., 6-4, 173, Scappoose (4A)
Rushing yards (200 or more on the ground)
335 – Nate Arce, Sr., 5-10, 195, Dayton (3A)
324 -- Jordan Fisher, Sr., 5-8, 175, Westview (6A)
253 -- Cole Martin, Sr., 6-4 175, Powder Valley (1A-8)
233 – Trevor Anderson, Sr., 5-11,195, Mazama (4A)
219 -- Carter Boise, Sr., 5-10, 180, Spray / Mitchell / Wheeler (1A-6)
202 -- Cade Olds, Sr., 5-10, 190, Oakland (2A)
Receiving yards (150 or more)
188 – Blake Groshong, Sr., 6-4, 205, Bend (5A)
Return yards (200 or more)
None reported
Tackles (12 or more)
20 -- Warren Haatia, Jr., 6-0, 192, Scappoose (4A)
18 -- Trey Dieringer, Sr., 6-1, 203, Scappoose (4A)
15 – Dakota McConnell, Sr., Triangle Lake (1A-6)
12.5 – Jake DeVos, Soph., 6-3, 195, Vale (3A)
12 – Cade Gehlen, Jr., 5-9, 175, Central Catholic (6A)
Interceptions (2 or more)
3 – Ralph Pohlschneider, Jr., 6-1, 170, St. Paul (1A-8)
2 – Charlie Ozolin, Sr., 6-1, 185, Summit (5A)
2 – Elijah Streeter, Jr., 6-1, 165, Liberty (6A)
2 – Connor Dunlea, Jr., 5-10, 167, Lost River (1A-8)
Sacks (3 or more)
6 – Steven Ward, Jr., 6-0, 220, Dallas (5A)
3 – Carson Parrish, Sr., 5-10, 180, Lost River (1A-8)
3 – Ben Wyse, Sr. 6-2, 183, Triangle Lake (1A-6)
Touchdowns scored (3 or more actually scored (rushing, receiving and return); does not include TD passes))
6 – Nate Arce, Sr., 5-10, 195, Dayton (3A)
5 -- Jordan Fisher, Sr., 5-8, 175, Westview (6A)
5 -- Cade Olds, Sr., 5-10, 190, Oakland (2A)
4 – Brock Thomas, Sr., 6-0, 175, Sheldon (6A)
4 – Jackson Pfeiffer, Sr., 5-11, 180, Silverton (5A)
4 – Garrett Warren, Sr., 5-7, 175, Triangle Lake (1A-6)
4 -- Carter Boise, Sr., 5-10, 180, Spray / Mitchell / Wheeler (1A-6)
4 -- Josiah Davis, Sr., 6-1, 225 – North Salem (6A)
3 – Koffi Kouame, Sr., 5-9, 200, West Linn (6A)
3 – Jackson Shelstad, Sr., 6-0, 170, West Linn (6A)
3 – Logan Williams. Sr., 5-10, 175, La Grande (4A)
3 -- Nathan Dalton, Sr., 5-11, 195, Lost River (1A-8)
3 -- Cole Martin, Sr., 6-4 175, Powder Valley (1A-8)
3 – Billy Reynolds, Jr., Myrtle Point (1A-8)
Playoff Week 1
Passing yards (300 or more yards through the air)
None reported
Touchdown passes (4 or more)
4 – Kallen Gutridge, Jr., 6-3, 185, Wilsonville (5A)
4 – Jace Johnson, Sr., 6-2, 175, South Umpqua (3A)
4 – Logan Backman, Jr., 6-0, 170, Myrtle Point (1A-8)
Rushing yards (200 or more on the ground)
347 – Marcus Jordan, Sr., 5-9, 180, Oregon City (6A)
295 – Garrett Warren, Sr., 5-7, 175, Triangle Lake (1A-6)
250 – Logan Whitlock, Jr., 5-9, 175, Henley (4A)
249 -- Jordan Fisher, Sr., 5-8, 175, Westview (6A)
Receiving yards (150 or more)
None reported
Return yards (200 or more)
None reported
Tackles (12 or more)
12 -- Nate Clark, Sr., 6-0, 200, Spray / Mitchell / Wheeler (1A-6)
12 – Dylan Nance, Sr., 5-9, 180, Wilsonville (5A)
12 – Ashtyn Irwin, Soph., 5-10, 155, Enterprise (1A-8)
12 – Jaime Cavan, Soph., 5-10, 190, Heppner (2A)
Interceptions (2 or more)
2 – Elijah Douglass, Sr., 6-1, 180, Sherwood (6A)
2 – Dylan Abrahmson, Sr., 5-10, 165, Pendleton / Nixyaawii (4A)
Sacks (3 or more)
3 – Campbell Sager, Sr., 6-5, 240, Westview (6A)
3 – Sean Ward, Soph., 5-6, 120, Dallas (5A)
Touchdowns scored (3 or more actually scored (rushing, receiving and return); does not include TD passes))
6 -- Nate Clark, Sr., 6-0, 200, Spray / Mitchell / Wheeler (1A-6)
5 – Garrett Warren, Sr., 5-7, 175, Triangle Lake (1A-6)
4 – Brandon Lux, Jr., 5-11, 180, Perrydale (1A-8)
4 -- Zach Smith, Jr., 5-11, 210, Dayton (3A)
3 – Jace Martin, Sr., 5-11, 170, Adrian (1A-8)
3 – Jayden Christy, Sr., 6-0, 185, Santiam Christian (3A)
3 – Andreas Villanueva, Sr., 5-10, 160, Myrtle Point (1A-8)
3 – Ashton Crossen, Jr., 6-0, 165, Banks (3A)
3 – Sean Roggerio, Jr., Weston-McEwen / Griswold (2A)
3 -- Cade Olds, Sr., 5-10, 190, Oakland (2A)
3 – Cru Newman, Jr., 5-11, 180, Central Catholic (6A)
3 – Marcus Jordan, Sr., 5-9, 180, Oregon City (6A)
3 -- Jordan Fisher, Sr., 5-8, 175, Westview (6A)
3 – Logan Whitlock, Jr., 5-9, 175, Henley (4A)
3 – James Best, Sr., 5-10, 168, South Wasco County (1A-6)
3 – Zach Frazier, Sr., 5-11, 210, Clackamas (6A)
3 – Alex Briseno, Sr., Silverton (5A)
3 – Sam Stephens, Jr., 5-8, 155, Summit (5A)
3 – Aden Williams, Sr., 5-10, 150, South Umpqua (3A)
3 – JaMar Thurman, Soph., 5-9, 151, Lowell (2A)
3 – Kameron Rague, Soph., 6-2, 185, Cascade Christian (3A)
Week 9
Passing yards (300 or more yards through the air)
654 – Rocco McClave, Jr., 6-2, 175, Crescent Valley (5A)
392 – Brock Thomas, Sr., 6-0, 175, Sheldon (6A)
348 – Davis Parr, Soph., 5-10, 147, Hood River Valley (5A)
320 -- Daschel Smith, Sr., 6-2, 190, South Salem (6A)
303 – Brady Jordan, Sr., 6-2, 180, Tigard (6A)
300 – Kaden Hale, Jr., 6-3, 190, Forest Grove (5A)
Touchdown passes (4 or more)
10 – Rocco McClave, Jr., 6-2, 175, Crescent Valley (5A)
5 -- John Ausdomore, Sr., 5-9, 190, Douglas (3A)
5 – Brock Thomas, Sr., 6-0, 175, Sheldon (6A)
5 – Allen Hill, Sr., 6-1, 145, Bonanza (1A-8)
5 – Dom Curiel, Jr., Echo (1A-6)
4 -- Sam Leavitt, Sr., 6-2, 200, West Linn (6A)
4 – Ian Ongers, Sr., 6-3, 190, South Wasco County (1A-6)
4 – Anthony Alimenti, Jr., 5-10, 155, Elkton (1A-6)
4 -- Daschel Smith, Sr., 6-2, 190, South Salem (6A)
4 – Hogan Carmichael, Sr., 6-4, 205, Summit (5A)
4 – Davis Parr, Soph., 5-10, 147, Hood River Valley (5A)
4 – Jack Klee, Jr., 6-1, 170, Southridge (5A)
Rushing yards (200 or more on the ground)
512 -- Cole Teel, Sr., 6-1, 185, Prairie City / Burnt River (1A-6)
332 – Rayden Taylor, Sr., 6-2, 190, Toledo (2A)
309 -- Jordan Fisher, Sr., 5-8, 175, Westview (6A)
283 – Jake White, Soph., 6-0, 180, Seaside (4A)
281 – Nate Arce, Sr., 5-10, 195, Dayton (3A)
262 – Seth Lamell, Jr, 5-9, 165, Camas Valley (1A-8)
229 -- Cayden Mack, Sr., 5-10, 160, Glencoe (6A)
222 – Ashtyn Irwin, Soph., 5-10, 155, Enterprise (1A-8)
218 – James Best, Sr., 5-10, 168, South Wasco County (1A-6)
209 -- Tyler Konold, Jr., 6-0, 200, Canby (5A)
205 – Wyatt Wessel, Jr, 6-3, 205, Lebanon (5A)
Receiving yards (150 or more)
313 – Luey Campos, Jr., 5-10, 145, Crescent Valley (5A)
216 – Walker Still, Sr., 5-10, 150, Crescent Valley (5A)
180 – Austin Sieminski, Sr., 5-9, 150, Bonanza (1A-8)
154 – Esteban Mendez, Sr., 5-8, 160, South Salem (6A)
Return yards (200 or more)
None reported
Tackles (12 or more)
20 – Ty Borde, Sr., 5-11, 180, Stayton (4A)
18 – Chad Spitz, Sr., 5-11, 210, Redmond (5A)
18 – Kaden Starr, Sr., 6-0, 160, Marist Catholic (4A)
17 -- Bishop Smzyd, Jr., 5-11, 160, Stayton (4A)
17 – Lehi Zylstra, Sr., 5-7, 175, Lowell (2A)
16 -- Kale Hubert, Soph., 6-1, 200, Stayton (4A)
16 -- Aiden Hazen, Soph., 6-0, 180, Marist Catholic (4A)
16 -- Gabe Erickson, Sr., 6-3, 250, Stayton (4A)
14 -- Wyatt Anicker, Sr., 5-10, 194, Scappoose (4A)
14 – Bowen Johnson, Jr., 5-10, 185, Dayton (3A)
14 -- Morgan Gallagher, Jr., 6-3, 205, Dayton (3A)
14 – Vaughn Croxton, Sr., 6-1, 230, Tigard (6A)
12 – Eli Wright, Sr., 6-4, 210, Prairie City / Burnt River (1A-6)
12 – Joaquin Tijerna, Soph., 5-11, 180, Southridge (5A)
Interceptions (2 or more)
3 – Sterling Buckley, Jr., Siletz Valley (1A-6)
2 – Luke Womack, Jr., 6-4, 190, Nelson (6A)
2 – Alex Nita, Sr., 6-2, 205, Nelson (6A)
2 – Zach Wusstig, Sr., 6-1, 190, South Salem (6A)
2 -- Tyler Creswick, Jr., 6-1, 180, Putnam (5A)
Sacks (3 or more)
4 – Lamar Stewart, Fr., Jefferson (6A)
3 – DJ Johnson, Jr., Jefferson (6A)
Touchdowns scored (3 or more actually scored (rushing, receiving and return); does not include TD passes))
7 -- Cole Teel, Sr., 6-1, 185, Prairie City / Burnt River (1A-6)
7 – Rayden Taylor, Sr., 6-2, 190, Toledo (2A)
5 – Austin Sieminski, Sr., 5-9, 150, Bonanza (1A-8)
5 – Luey Campos, Jr., 5-10, 145, Crescent Valley (5A)
5 – Payton Lambert, Sr., 6-0, 170, Pendleton / Nixyaawii (4A)
5 -- Jordan Fisher, Sr., 5-8, 175, Westview (6A)
5 – Jake White, Soph., 6-0, 180, Seaside (4A)
5 -- Zach Smith, Jr., 5-11, 210, Dayton (3A)
4 – Walker Still, Sr., 5-10, 150, Crescent Valley (5A)
4 – Devon Anderson, Sr., 6-0, 155, North Eugene (5A)
4 – Tyee Yanez, Sr., 5-8, 160, Siletz Valley (1A-6)
4 – Seth Lamell, Jr, 5-9, 165, Camas Valley (1A-8)
4 – Gage Blay, Jr., 5-11, 180, Grants Pass (6A)
4 – Shaw Burns, Sr., 6-1, 175, Hood River Valley (5A)
3 – Sterling Buckley, Jr., Siletz Valley (1A-6)
3 – Colton Campbell, Sr., 6-3, 200, La Pine (3A)
3 – Tyson Van Gastel, Jr., 6-2, 210, Mazama (4A)
3 – Mac Nasario, Sr., Echo (1A-6)
3 – James Best, Sr., 5-10, 168, South Wasco County (1A-6)
3 -- Cade Olds, Sr., 5-10, 190, Oakland (2A)
3 – Hayden GeDeros, Sr., Coquille (3A)
3 – Sean Hazen, Jr., 5-10, 175, Elkton (1A-6)
3 – Esteban Mendez, Sr., 5-8, 160, South Salem (6A)
3 – Clay Smith, Soph., 5-10, 180. St. Paul (3A)
3 – Ashton Crossen, Jr., 6-0, 165, Banks (3A)
3 – Nate Young, Jr., 5-8, 138, Monroe (2A)
3 – Andres Mojica, Sr., 5-9, 164, Bonanza (1A-8)
3 – Isaiah Mosley, Jr., 6-3, 195, Dallas (5A)
3 – Connor Cesaro, Jr., 6-2, 185, North Medford (6A)
3 – Trevor Reeves, Sr., 5-10, 190, Grants Pass (6A)
3 – Malakai Nutter, Sr., 5-9, 205 Bend (5A)
3 – Zayvian Webster, Jr., 5-8, 170, Dallas (5A)
Week 8
Passing yards (300 or more yards through the air)
325 – Paul Hobson, Jr., 6-3, 185, Baker (4A)
Touchdown passes (4 or more)
6 – Brock Thomas, Sr., 6-0, 175, Sheldon (6A)
4 -- Sam Leavitt, Sr., 6-2, 200, West Linn (6A)
4 – Noah Blair, Soph., 6-0, 160, Thurston (5A)
4 – Cru Newman, Jr., 5-11, 180, Central Catholic (6A)
4 -- Daschel Smith, Sr., 6-2, 190, South Salem (6A)
4 -- Deacon Edgar, Sr., 5-11, 180, South Medford (6A)
4 – Kallen Gutridge, Jr., 6-3, 185, Wilsonville (5A)
Rushing yards (200 or more on the ground)
407 – JaMar Thurman, Soph., 5-9, 151, Lowell (2A)
285 -- Cole Martin, Sr., 6-4 175, Powder Valley (1A-8)
265 – Sam Stephens, Jr., 5-8, 155, Summit (5A)
250 – Jamahl Wilson, Jr., 6-0, 185, McKay (5A)
245 -- Jordan Fisher, Sr., 5-8, 175, Westview (6A)
210 – Ty Borde, Sr., 5-11, 180, Stayton (4A)
202 – Payton Roth, Sr., 6-4, 200, Jesuit (6A)
Receiving yards (150 or more)
168 – Mitch Dumford, Sr., 6-2, 165, Triangle Lake (1A-6)
164 – Noah Koenig, Jr., 5-9 155, Regis (2A)
155 – James Bauman, Jr., 5-7, 145, Putnam (5A)
Return yards (200 or more)
None reported
Tackles (12 or more)
17 – Lehi Zylstra, Sr., 5-7, 175, Lowell (2A)
16 – Seth Lamell, Jr, 5-9, 165, Camas Valley (1A-8)
16 – Vaughn Croxton, Sr., 6-1, 230, Tigard (6A)
15 – Gilbert Whitlatch, Sr., 5-11, 180, Tillamook (4A)
14 – Tanner Starbuck, Soph., 5-9, 155, Stayton (4A)
12.5 – Oaklund Selfors, Sr., 6-3, 190, Putnam (5A)
12 -- Trey Dieringer, Sr., 6-1, 203, Scappoose (4A)
Interceptions (2 or more)
3 – Tanner Starbuck, Soph., 5-9, 155, Stayton (4A)
3 – Emilio Jaimez, Sr., 6-0, 155, Umatilla (2A)
2 – David Cribbs, Sr., 6-1, 165, Heppner (2A)
2 -- Chase Duncan, Sr., 5-10, 155, Enterprise (1A-8)
2 – Austin Goetz, Sr., 6-2, 215, Tigard (6A)
2 – Andre Miller, Jr., 6-1, 180, Gresham (6A)
2 – Jeray Mott, Jr., Sr., Jefferson, Potland (6A)
2 – Montral Brazile Jr., Jr. Jefferson, Potland (6A)
2 – Drew Hall, Soph., 6-3, 175, Cascade Christian (3A)
Sacks (3 or more)
4 – Tegan Evans, Jr., 6-0, 160, Enterprise (1A-8)
3 – Ashtyn Irwin, Soph., 5-10, 155, Enterprise (1A-8)
3 – Porter Overbaugh, Fr., 5-11, 150, Triangle Lake (1A-6)
Touchdowns scored (3 or more actually scored (rushing, receiving and return); does not include TD passes))
5 – JaMar Thurman, Soph., 5-9, 151, Lowell (2A)
4 -- Nate Clark, Sr., 6-0, 200, Spray / Mitchell / Wheeler (1A-6)
4 – Seth Lamell, Jr, 5-9, 165, Camas Valley (1A-8)
4 – Alex Mahmoud, Sr., Powers (1A-6)
4 – Sam Stephens, Jr., 5-8, 155, Summit (5A)
4 -- Konnor Bickford, Sr., 5-9, 160, Putnam (5A)
4 – Malakai Nutter, Sr., 5-9, 205 Bend (5A)
4 – Jamahl Wilson, Jr., 6-0, 185, McKay (5A)
3 -- Jordan Fisher, Sr., 5-8, 175, Westview (6A)
3 – Sean Hazen, Jr., 5-10, 175, Elkton (1A-6)
3 – Payton Roth, Sr., 6-4, 200, Jesuit (6A)
3 – Jayden Christy, Sr., 6-0,185, Santiam Christian (3A)
3 – Ian Sissel, Sr., 6-0, 225, Siuslaw (3A)
3 – Cade Welch, Sr., 6-0, 170, Sheldon (6A)
3 – Mitch Dumford, Sr., 6-2, 165, Triangle Lake (1A-6)
3 -- Tini Tinitali, Sr., 6-0, 190, South Salem (6A)
3 – Marshall Mather, Jr., 5-9, 165, Triangle Lake (1A-6)
3 – Ashtyn Irwin, Soph., 5-10, 155, Enterprise (1A-8)
3 – Alexander Angulo, Sr., 5-8, 180, North Medford (6A)
3 -- David Brown, Sr., 6-1, 175, Eagle Point (5A)
3 – A.J. Sargent, Sr., 5-9, 155, Marist Catholic (4A)
3 – Cooper Hiday, Sr., 5-11, 160, Wilsonville (5A)
3 – Caden Harris, Sr., 6-0, 155, Banks (3A)
3 -- Cole Martin, Sr., 6-4 175, Powder Valley (1A-8)
3 – Nate Arce, Sr., 5-10, 195, Dayton (3A)
3 -- Bodan Griffith, Sr., 6-0, 210, Tualatin (6A)
3 – Cole Hansen, Jr., 6-1, 180, North Bend (4A)
3 – Payton Lambert, Sr., 6-0, 170, Pendleton / Nixyaawii (4A)
3 – Brandon Markus, Jr., 5-10, 155, Lakeview (3A)
3 – Hunter Vaughn, Fr., 5-10, 160, North Douglas / Yoncalla (2A)
Week 7
Passing yards (300 or more yards through the air)
451 – Cru Newman, Jr., 5-11, 180, Central Catholic (6A)
357 – Brock Thomas, Sr., 6-0, 175, Sheldon (6A)
347 -- Sam Leavitt, Sr., 6-2, 200, West Linn (6A)
343 -- Drew Nees, Jr., 6-1, 180, Sunset (6A)
334 – Hogan Carmichael, Sr., 6-4, 205, Summit (5A)
317 – Kaden Hale, Jr., 6-3, 190, Forest Grove (5A)
316 -- Daschel Smith, Sr., 6-2, 190, South Salem (6A)
312 – Max Nowlin, Soph., 6-4, 173, Scappoose (4A)
308 – Hudson Normand, Jr., 6-0, 180, Clackamas (6A)
305 – Brayden Locey, Jr., 6-0, 189, Irrigon (2A)
Touchdown passes (4 or more)
6 -- Sam Leavitt, Sr., 6-2, 200, West Linn (6A)
6 – Cru Newman, Jr., 5-11, 180, Central Catholic (6A)
6 -- Daschel Smith, Sr., 6-2, 190, South Salem (6A)
5 – Jace Johnson, Sr., 6-2, 175, South Umpqua (3A)
4 – Brock Thomas, Sr., 6-0, 175, Sheldon (6A)
4 – Hogan Carmichael, Sr., 6-4, 205, Summit (5A)
4 – Chase Nelson, Sr., 6-4, 215 – Central (5A)
4 – Hudson Normand, Jr., 6-0, 180, Clackamas (6A)
4 – Tyson Delplanche, Sr., 5-11, 175, St. Mary's (3A)
4 – Kaden Hale, Jr., 6-3, 190, Forest Grove (5A)
4 – Liam Davis, Soph., 6-0, 170, Lake Oswego (6A)
4 – Paul Hobson, Jr., 6-3, 185, Baker (4A)
4 – George Polschneider, Jr., 5-11, 170, St. Paul (1A-8)
4 – Kane Johnson, Jr., Joseph (1A-6)
Rushing yards (200 or more on the ground)
311 – Austin Rapp, Sr., 5-7, 155, McMinnville (6A)
292 – Payton Roth, Sr., 6-4, 200, Jesuit (6A)
277 -- Alex Garcia, Sr., 5-10, 160, Crow (1A-6)
243 – Rayden Taylor, Sr., 6-2, 190, Toledo (2A)
233 – Trevor Anderson, Sr., 5-11,195, Mazama (4A)
233 – Dylon Atwood, Sr., 5-10, 185, Warrenton (3A)
231 – Blake Herinckx, Jr., 5-8, 145, North Lake (1A-6)
228 -- David Brown, Sr., 6-1, 175, Eagle Point (5A)
215 – JaMar Thurman, Soph., 5-9, 151, Lowell (2A)
212 – Braiden Ellis, Jr., 5-11, 145, Monroe (2A)
204 -- Nate Clark, Sr., 6-0, 200, Spray / Mitchell / Wheeler (1A-6)
200 – Garrett Willenberg, Sr., 5-10, 220, Sandy (6A)
200 – Jake White, Soph., 6-0, 180, Seaside (4A)
200 – Said McWillie, Sr., 5-8, 160, Rogue River (2A)
Receiving yards (150 or more)
266 – Justin Hudson, Sr., 6-1, 160, David Douglas (6A)
211 – A.J. Perez, Sr., 6-2, 190, Clackamas (6A)
174 – Charlie Ozolin, Sr., 6-1, 185, Summit (5A)
170 – Noah Holub, Jr., 6-6, 190, Valley Catholic (3A)
168 – Owen Cheyne, Sr., 6-3, 175, Henley (4A)
167 – Jackson Tunick, Sr., 6-0, 168, Grants Pass (6A)
166 -- Mark Hamper, Sr., 6-2, 205, West Linn (6A)
164 – Tony Ortiz, Sr., 6-2, 185, Klamath Union (4A)
152 – Tyler Rebson, Sr., 6-0, 165, Forest Grove (5A)
150 – Braden Atkins, Sr., 6-0, 170, Irrigon (2A)
Return yards (200 or more)
None reported
Tackles (12 or more)
17 -- Alex Garcia, Sr., 5-10, 160, Crow (1A-6)
17 -- Kolby Coxen, Soph., 5-11, 210, Toledo (2A)
16 – Ash Blomstrom, Jr.., 6-1, 195, Toledo (2A)
16 -- DJ Heikes, Sr., 5-10, 140, Dayville / Monument (1A-6)
15 – Owen Hess, Sr., 6-1, 185, Dallas (5A)
14 -- Javier Rodriguez, Sr., 6-2, 190, Kennedy (3A)
14 -- Isaac Berning, Jr., 5-9, 180, Kennedy (3A)
12 – Logen Grassman, Soph., 6-0, 155, North Lake (1A-6)
12 – Dylan Ott, Jr., 5-7, 170, Hillsboro (5A)
12 – Ty Borde, Sr., 5-11, 180, Stayton (4A)
12 – Tanner Starbuck, Soph., 5-9, 155, Stayton (4A)
12 -- Gauge Jenks, Sr., 5-10, 155, Dayville / Monument (1A-6)
Interceptions (2 or more)
2 -- Tyler Mishler, Sr., 5-9, 145, McMinnville (6A)
2 -- MyQuis Fesser, Sr., 6-1, 165, Roosevelt (6A)
2 – Gavin Sandoval, Soph., 6-1, 170, Crook County (4A)
2 – Cruz Veliz, Soph., 6-0, 165, Woodburn (4A)
2 – Jace Aguilar, Sr., 6-0, 170, Stayton (4A)
2 – Tyson Delplanche, Sr., 5-11, 175, St. Mary's (3A)
2 – Cole Shields, Sr., 6-1, 210, Cascade Christian (3A)
2 -- DJ Heikes, Sr., 5-10, 140, Dayville / Monument (1A-6)
Sacks (3 or more)
5 -- Owen Koegler, Jr., 6-2, 160, Camas Valley (1A-8)
5 – Logan Bowman, Jr., 6-0, 180, Crow (1A-6)
4 -- James Mickelson, Sr., 5-11, 190, Warrenton (3A)
3 -- Jonathan Berrien, Jr., 6-4, 220, Mountainside (6A)
3 -- Boone Standley, Jr., 6-5, 245, Nelson (6A)
3 – Nywaun Campbell, Sr., 6-3, 235, Roosevelt (6A)
Touchdowns scored (3 or more actually scored (rushing, receiving and return); does not include TD passes))
5 – Jaidon Siler, Sr., 5-9, 175, Nelson (6A)
5 – Marcus Allen, Sr., 6-0, 200 West Albany (5A)
5 – Isaac Real, Sr., 5-9, 140, South Umpqua (3A)
5 -- Nate Clark, Sr., 6-0, 200, Spray / Mitchell / Wheeler (1A-6)
4 – Nathan Rausch, Sr., 5-11, 170, Elkton (1A-6)
4 – Blake Herinckx, Jr., 5-8, 145, North Lake (1A-6)
4 – Austin Rapp, Sr., 5-7, 155, McMinnville (6A)
4-- Mark Hamper, Sr., 6-2, 205, West Linn (6A)
4 – Manny Smith, Jr., 6-0, 225, Monroe (2A)
4 – Jimmy Lathen, Sr., 6-4, 215, West Albany (6A)
4 – Treyce Horton, Sr., 5-10, 165, Mazama (4A)
4 – Said McWillie, Sr., 5-8, 160, Rogue River (2A)
4 -- Gauge Jenks, Sr., 5-10, 155, Dayville / Monument (1A-6)
3 – Payton Roth, Sr., 6-4, 200, Jesuit (6A)
3—Armando Fajardo, Jr., Taft (2A)
3 – Parker Feld-Gore, Sr., 6-3, 192, Ida B. Wells (6A)
3 – Jamahl Wilson, Jr., 6-0, 185, McKay (5A)
3 – Greyson Harms, Sr., 6-0, 185, Mountain View (5A)
3 – Payton Lambert, Sr., 6-0, 170, Pendleton / Nixyaawii (4A)
3 – Owen Cheyne, Sr., 6-3, 175, Henley (4A)
3 – Zach Wusstig, Sr., 6-1, 190, South Salem (6A)
3 – Jake White, Soph., 6-0, 180, Seaside (4A)
3 – Ty Borde, Sr., 5-11, 180, Stayton (4A)
3 – Ely Palm, Sr., Sutherlin (3A)
3 – TJ Flowers, Jr., St. Mary's, Medford (3A)
3 – Garrett Warren, Sr., 5-7, 175, Triangle Lake (1A-6)
3 – Noah Holub, Jr., 6-4, 200, Valley Christian (3A)
3 – Hayden McMahon, Soph., 5-9, 155, Heppner (2A
3 – Riley Wolfe, Soph., 5-5, 125, Camas Valley (1A-8)
3 – Seth Lamell, Jr, 5-9, 165, Camas Valley (1A-8)
3 -- Christian Halstead, Sr., 6-0, 170, Elkton (1A-6)
3 -- Brody Ackley, Sr., Gilchrist (1A-6)
3 -- Alex Garcia, Sr., 5-10, 160, Crow (1A-6)
Week 6
Passing yards (300 or more yards through the air)
450 – Rocco McClave, Jr., 6-2, 175, Crescent Valley (5A)
344 – Landon Croff, Sr., 6-0, 190, Marshfield (4A)
312 – Jack Wagner, Sr., 6-4, 190, Tualatin (6A)
Touchdown passes (4 or more)
5 – Rocco McClave, Jr., 6-2, 175, Crescent Valley (5A)
4 – Heath Nichol, Sr., Sweet Home (4A)
4 – Max Nowlin, Soph., 6-4, 173, Scappoose (4A)
4 -- Sam Leavitt, Sr., 6-2, 200, West Linn (6A)
4 – Brock Thomas, Sr., 6-0, 175, Sheldon (6A)
4 -- Daschel Smith, Sr., 6-2, 190, South Salem (6A)
4 – JT Knobloch-Scott, Sr., 6-0, 180, North Medford (6A)
4 – Kallen Gutridge, Jr., 6-3, 185, Wilsonville (5A)
4 – Jace Johnson, Sr., 6-2, 175, South Umpqua (3A)
Rushing yards (200 or more on the ground)
290 – Payton Roth, Sr., 6-4, 200, Jesuit (6A)
249 – JaMar Thurman, Soph., 5-9, 151, Lowell (2A)
234 -- Jake Westerman, Jr., 5-10, 185, Gold Beach (2A)
217 -- Zach Smith, Jr., 5-11, 210, Dayton (3A)
212 – Ty Borde, Sr., 5-11, 180, Stayton (4A)
207 – Alex Mahmoud, Sr., Powers (1A-6)
201 – Elijah Garcia, Sr., 5-6, 160, Century (6A)
Receiving yards (150 or more)
220 – Walker Still, Sr., 5-10, 150, Crescent Valley (5A)
215 – Luey Campos, Jr., 5-10, 145, Crescent Valley (5A)
187 – Brady Nichols, Sr., Sweet Home (4A)
165 – Parker Hughes, Jr., 6-1, 180, Harrisburg (3A)
164 – Andreas Villanueva, Sr., 5-10, 160, Myrtle Point (1A-8)
Return yards (200 or more)
None reported
Tackles (12 or more)
17 – Lehi Zylstra, Sr., 5-7, 175, Lowell (2A)
17 -- Adrian Stubbs, Jr., 5-11, 180, Lakeview (3A)
16 -- Cayden Hernandez, Fr., 5-10, 165, Crow (1A-6)
15 – Vaughn Croxton, Sr., 6-1, 230, Tigard (6A)
14 – Brock Dunkin, 12, 6-2, 190, Dallas (5A)
14 -- Dayne Lavoie, Sr., 6-0, 200, La Salle Prep (4A)
14 -- Zach Smith, Jr., 5-11, 210, Dayton (3A)
14 – Jake White, Soph., 6-0, 180, Seaside (4A)
13 -- Joaquin Tijerina, Soph., 5-11, 205, Southridge (5A)
13 – Bowen Johnson, Jr., 5-10, 185, Dayton (3A)
13 – Steven Ward, Jr., 6-0, 220, Dallas (5A)
13 -- Alex Garcia, Sr., 5-10, 160, Crow (1A-6)
12 -- Jackson Powell, Sr., 6-0, 195, Southridge (5A)
12 – Preston Doran, Jr., 6-0, 190, Hillsboro (5A)
Interceptions (2 or more)
2 – Marshune Waters, Sr., 6-0, 175, Grant (6A)
2 – Tyler Rebsom, 12, 6-0, 165, Forest Grove (5A)
2 – Asiel Cruz, Jr., 5-9, 155, Woodburn (4A)
2 – Kristofer Fralich, Jr., 5-11, 165, Cascade Christian (3A)
2 – Drew Hall, Soph., 6-3, 175, Cascade Christian (3A)
Sacks (3 or more)
3 -- Cody Reagan, Jr., 6-2, 225, Prairie City / Burnt River (1A-6)
Touchdowns scored (3 or more actually scored (rushing, receiving and return); does not include TD passes))
6 – Jackson Pfeiffer, Sr., 5-11, 180, Silverton (5A)
5 – Payton Roth, Sr., 6-4, 200, Jesuit (6A)
5 -- Jake Westerman, Jr., 5-10, 185, Gold Beach (2A)
4 -- Tim Crowell, Sr., 5-10, 150, Regis (2A)
4 – Cru Newman, Jr., 5-11, 180, Central Catholic (6A)
4 – Logan Whitlock, Jr., 5-9, 175, Henley (4A)
4 -- Zach Smith, Jr., 5-11, 210, Dayton (3A)
4 – Devon Anderson, Sr., 6-0, 155, North Eugene (5A)
4 – Brayde Owen, Sr., 6-1, 190, Gladstone (4A)
4 -- Christian Halstead, Sr., 6-0, 170, Elkton (1A-6)
4 – Garrett Warren, Sr., 5-7, 175, Triangle Lake (1A-6)
4 -- Nate Clark, Sr., 6-0, 200, Spray / Mitchell / Wheeler (1A-6)
4 -- Cole Teel, Sr., 6-1, 185, Prairie City / Burnt River (1A-6)
3 – Brady Nichols, Sr., Sweet Home (4A)
3 – Ashtyn Irwin, Soph., 5-10, 155, Enterprise (1A-8)
3 – Marcus Allen, Sr., 6-0, 200 West Albany (5A)
3 – Waylon Riedel, Sr., 5-10, 200, Estacada (4A)
3 – Sam Stephens, Jr., 5-8, 155, Summit (5A)
3 – Alex Mahmoud, Sr., Elkton (1A-6)
3 – Cooper Hiday, Sr., 5-11, 160, Wilsonville (5A)
3 – Rocco McClave, Jr., 6-2, 175, Crescent Valley (5A)
3 – Tyler Hart-McNally, Soph., 5-9, 170, West Albany (5A)
3 – Emilio Miranda, Sr., 5-9, 175, Dallas (5A)
3 – Taeler Pfenning, Soph., 5-5, 150, Canby (5A)
3 -- Ty Beyer, Sr., 5-7, 165, Woodburn (4A)
3 -- Carter Boise, Sr., 5-10, 180, Spray / Mitchell / Wheeler (1A-6)
3 – Kaden Sutton, Jr., Yamhill-Carlton (3A)
3 – Kameron Rague, Soph., 6-2, 185, Cascade Christian (3A)
3 – JaMar Thurman, Soph., 5-9, 151, Lowell (2A)
3 – Brayden Webb, Jr., 5-11, 155, Oakland (2A)
3 -- Jaxon Grover, Jr., 5-10, 160, Joseph (1A-6)
3 – Hunter Vaughn, Fr., 5-10, 160, North Douglas / Yoncalla (2A)
3 – Alex Escamilla, Sr., 5-7, 140, Umatilla (2A)
3 –Grady Dunlea, Sr., 5-11, 180, Lost River (1A-8)
3—Deacon Gourlie, Fr., 5-6, 145, Pilot Rock (1A-8)
3 – Warren Rose, Sr., 6-5, 200, St. Paul (1A-8)
3 – Ty Borde, Sr., 5-11, 180, Stayton (4A)
Week 5
Passing yards (300 or more yards through the air)
420 -- Diego Rodriguez, Soph., 6-1, 170, Ontario (3A)
390 – Kaden Hale, Jr., 6-3, 190, Forest Grove (5A)
353 -- Daschel Smith, Sr., 6-2, 190, South Salem (6A)
322 – Blake Baker, Sr., 5-11, 165, Clackamas (6A)
306 – Paul Hobson, Jr., 6-3, 185, Baker (4A)
Touchdown passes (4 or more)
5 – Kaden Hale, Jr., 6-3, 190, Forest Grove (5A)
4 – Hogan Carmichael, Sr., 6-4, 205, Summit (5A)
4 – Avirey Durdahl, Soph., 6-0, 185, Nelson (6A)
4 – Brock Thomas, Sr., 6-0, 175, Sheldon (6A)
4 – Kallen Gutridge, Jr., 6-3, 185, Wilsonville (5A)
4 – Shaw Stork, Sr., 6-2, 185, Henley (4A)
Rushing yards (200 or more on the ground)
444 – Jamahl Wilson, Jr., 6-0, 185, McKay (5A)
407 -- Cole Teel, Sr., 6-1, 185, Prairie City / Burnt River (1A-6)
350 – Blake Herinckx, Jr., North Lake (1A-6)
315 – Said McWillie, Sr., 5-8, 160, Rogue River (2A)
263 -- Jordan Fisher, Sr., 5-8, 175, Westview (6A)
238 – Brandon Markus, Jr., 5-10, 155, Lakeview (3A)
230 – Austin Rapp, Sr., 5-7, 155, McMinnville (6A)
226 – Connor Hanson, Sr., 6-0, 185, Creswell (3A)
226 – Rayden Taylor, Sr., 6-2, 190, Toledo (2A)
202 -- David Brown, Sr., 6-1, 175, Eagle Point (5A)
200 – Konner Grant, Sr., 5-11, 190, Tigard (6A)
Receiving yards (150 or more)
237 – James Oberhelman, Sr., 6-5, 190, Forest Grove (5A)
226 – A.J. Perez, Sr., 6-2, 190, Clackamas (6A)
209 – Jackson Tunick, Sr., 6-0, 168, Grants Pass (6A)
175 – Noah Holub, Jr., 6-4, 200, Valley Christian (3A)
165 – Rasean Jones, Fr, 6-2, 180, Baker (4A)
153 – Rowan Files, , Jr., 6-2, 189, Lowell (2A)
Return yards (200 or more)
None reported
Tackles (12 or more)
22 – Ashtyn Irwin, Soph., 5-10, 155, Enterprise (1A-8)
18 – Preston Wylie, Sr., 5-9, 170, Riddle (1A-6)
16 -- Reid Linkmeyer, Soph., 6-2, 190, Liberty (6A)
16 -- Ethan Thompson, Jr., 5-11, 160, Dayville / Monument (1A-6)
14 – Tanner Kraushaar, Sr., 6-2, 190, Seaside (4A)
13 – Juan Beltran, Sr., 5-9, 150, Creswell (3A)
13 – Noah Holub, Jr., 6-4, 200, Valley Christian (3A)
13 – Adam Slail, Sr., 6-0, 220, Southridge (5A)
13 – Ben Wyse, Sr. 6-2, 183, Triangle Lake (1A-6)
13 -- Dayne Lavoie, Sr., 6-0, 200, La Salle Prep (4A)
13 -- Aiden Hazen, Soph., 6-0, 180, Marist Catholic (4A)
12 -- Jackson Powell, Sr., 6-0, 195, Southridge (5A)
Interceptions (2 or more)
2 – Eljah Douglass, Sr., 6-1, 180, Sherwood (6A
2 – Cole Massar, Sr., 5-10, 178, Sunset (6A)
2 – Payton Giusto, Sr., 5-9, 150, Sandy (6A)
2 – Riley Wolfe, Soph., 5-5, 125, Camas Valley (1A-8)
2 – Jack Roscoe, Soph., 5-4, 120, North Lake (1A-6)
2 -- Luke Womack, Jr., 6-4, 190, Nelson (6A)
Sacks (3 or more)
4 – Colton Siewell, Jr., 6-1, 210, Bandon / Pacific (2A)
3 – Payton Whitmore, Fr., 5-11, 184, Dayville / Monument (1A-6)
Touchdowns scored (3 or more actually scored (rushing, receiving and return); does not include TD passes))
7 -- Cole Teel, Sr., 6-1, 185, Prairie City / Burnt River (1A-6)
6 – Jamahl Wilson, Jr., 6-0, 185, McKay (5A)
6 – Blake Herinckx, Jr., North Lake (1A-6)
5 – Rowan Files, , Jr., 6-2, 189, Lowell (2A)
5 – Josiah Heintzman, Jr., Franklin (6A)
5 – Said McWillie, Sr., 5-8, 160, Rogue River (2A)
4 -- Jaxon Doyle, Jr., 5-10, 185, Putnam (5A)
4 – Payton Roth, Sr., 6-4, 200, Jesuit (6A)
4 -- Jordan Fisher, Sr., 5-8, 175, Westview (6A)
4 – Zhaiel Smith, Soph., 5-9, 165, Central Catholic (6A)
4 – Austin Rapp, Sr., 5-7, 155, McMinnville (6A)
4 -- Ty Beyer, Sr., 5-7, 165, Woodburn (4A)
4 – D'Angelo Macedo-Baker, Sr., 5-10, 186, Scappoose (4A)
4 – Ashton Hardy, Sr., 6-2, 200, North Douglas / Yoncalla (2A)
4 – Connor Hanson, Sr., 6-0, 185, Creswell (3A)
3 – Hudson Davis, Sr., 5-10, 205, Newberg (6A)
3 – Lucas Ashley, Sr., 6-1, 205, Dayton (3A)
3 – Ashtyn Irwin, Soph., 5-10, 155, Enterprise (1A-8)
3 – Cameron Proudfoot, Jr., 5-8, 160, Heppner (2A)
3 – Nolan Abrams, Jr., 5-11, 160, Cascade (4A)
3 – Cole Massar, Sr., 5-10, 178, Sunset (6A)
3 – Zach Wusstig, Sr., 6-1, 190, South Salem (6A)
3 – Eli Freitag, Jr., 5-11, 175, Bandon / Pacific (2A)
3 -- David Brown, Sr., 6-1, 175, Eagle Point (5A)
3 – Jack Sorensen, Sr., 5-11, 170, Bend (5A)
3 – Ty Borde, Sr., 5-11, 180, Stayton (4A)
3 – Cole Hansen, Jr., 6-1, 180, North Bend (4A)
3 – Payton Lambert, Sr., 6-0, 170, Pendleton / Nixyaawii (4A)
3 – A.J. Sargent, Sr., 5-9, 155, Marist Catholic (4A)
3 – Kaden Salamanca, Sr., 6-1, 187, Umatilla (2A)
3 – Preston Wylie, Sr., 5-9, 170, Riddle (1A-6)
3 -- Jaxon Grover, Jr., 5-10, 160, Joseph (1A-6)
Week 4
Passing yards (300 or more yards through the air)
465 – Wyatt Geiger, Jr., 5-10, Days Creek (1A-6)
442 – Axel Prechel, Soph., 5-11, 160, Corvallis (5A)
385 -- Deacon Edgar, Sr., 5-11, 180, South Medford (6A)
351 – Ryan Oliver, Sr., 6-3, 200, Lakeridge (6A)
340 -- Tyler Knapp, Soph., 5-11, 150, Enterprise (1A-8)
323 -- Kollin Schumacher, Jr., 5-8, 150, Regis (2A)
307 -- Sawyer Teeney, Soph., 5-11, 165, Silverton (5A)
305 -- Sam Leavitt, Sr., 6-2, 200, West Linn (6A)
Touchdown passes (4 or more)
7 – Wyatt Geiger, Jr., 5-10, Days Creek (1A-6)
6 – Logan Backman, Jr., 6-0, 170, Myrtle Point (1A-8)
6 -- Kollin Schumacher, Jr., 5-8, 150, Regis (2A)
5 – Ryan Oliver, Sr., 6-3, 200, Lakeridge (6A)
5 – Caeleb Kasperek, Jr., 6-2, 210, Springfield (5A)
5 -- Tyler Knapp, Soph., 5-11, 150, Enterprise (1A-8)
4 – Jonny Ellis, Jr., 5-10, 175, Century (6A)
4 – Jack Wagner, Sr., 6-4, 190, Tualatin (6A)
4 -- Deacon Edgar, Sr., 5-11, 180, South Medford (6A)
4 – Ben Schneider, Soph., 6-0, 175, Oregon City (6A)
4 – Axel Prechel, Soph., 5-11, 160, Corvallis (5A)
4 – Jace Johnson, Sr., 6-2, 175, South Umpqua (3A)
4 – Wyatt Burg, Sr., 5-10, 150, Perrydale (1A-8)
Rushing yards (200 or more on the ground)
437 – Jacob Hadley, Soph., 5-9, 150, Willamina (2A)
302 -- Cole Teel, Sr., 6-1, 185, Prairie City / Burnt River (1A-6)
291 – Rayden Taylor, Sr., 6-2, 190, Toledo (2A)
283 – Nate Young, Jr., 5-8, 138, Monroe (2A)
251 -- David Brown, Sr., 6-1, 175, Eagle Point (5A)
239 – JaMar Thurman, Soph., 5-9, 151, Lowell (2A)
220 -- Carter Boise, Sr., 5-10, 180, Spray / Mitchell / Wheeler (1A-6)
218 -- Nate Clark, Sr., 6-0, 200, Spray / Mitchell / Wheeler (1A-6)
Receiving yards (150 or more)
288 -- Jaxon Grover, Jr., 5-10, 160, Joseph (1A-6)
194 – Jack Lyda, Sr., 5-9, 160, Banks (3A)
189 – Jackson Tunick, Sr., 6-0, 168, Grants Pass (6A)
179 – Jace Burton, Jr., 5-10, 164, Jesuit (6A)
164 – Eric Danka, Jr., 6-0, 185, Perrydale (1A-8)
160 – Truman Brasfield, Soph., 6-1, 160, Churchill (5A)
Return yards (200 or more)
225 -- Eli Wright, Sr., 6-4, 210, Prairie City / Burnt River (1A-6)
Tackles (12 or more)
20 -- Carlos Recendiz, Sr., 6-0, 160, Kennedy (3A)
15 – Vaughn Croxton, Sr., 6-1, 230, Tigard (6A)
15 – Cameron Nix, Soph., 6-0, 195, North Medford (6A)
14 -- AJ Pugliano, Jr., 6-4, 225, North Medford (6A)
14 – Tanner Kraushaar, Sr., 6-2, 190, Seaside (4A)
14 – Joel DeJong, Jr., 5-11, 180, Lost River (1A-8)
14 -- Carter Boise, Sr., 5-10, 180, Spray / Mitchell / Wheeler (1A-6)
13 – Caleb Clardy, Sr., 6-0, 205, David Douglas (6A)
13 -- Ben Wyse, Sr., 6-2, 190, Triangle Lake (1A-6)
12 – Morgan Gallagher, Jr., 6-3, 205, Dayton (3A)
12 – Ryan Bates, Sr., 6-0, 175, Dayton (3A)
12 -- Nate Clark, Sr., 6-0, 200, Spray / Mitchell / Wheeler (1A-6)
12 -- Reid Linkmeyer, Soph., 6-2, 190, Liberty (6A)
Interceptions (2 or more)
4 – Parker Feld-Gore, Sr., 6-3, 192, Ida B. Wells (6A)
4 -- Eli Wright, Sr., 6-4, 210, Prairie City / Burnt River (1A-6)
3 – Andreas Villanueva, Sr., 5-10, 160, Myrtle Point (1A-8)
2 – Dylan Schifferdecker, Jr., 6-1, 190, Springfield (5A)
2 – Danny Doan, Jr., 5-9, 180, Churchill (5A)
2 – Cade Dimmick, Sr., 6-2, 175, Creswell (3A)
Sacks (3 or more)
None reported
Touchdowns scored (3 or more actually scored (rushing, receiving and return); does not include TD passes))
7 – Jacob Hadley, Soph., 5-9, 150, Willamina (2A)
6 -- David Brown, Sr., 6-1, 175, Eagle Point (5A)
6 – Marcus Jordan, Sr., 5-9, 180, Oregon City (6A)
5 – Jayden Christy, Sr., 6-0,185, Santiam Christian (3A)
5 -- Tim Crowell, Sr., 5-10, 150, Regis (2A)
4 – Jemall Brumfield, Sr., 5-9, 220, Franklin (6A)
4 – Andreas Villanueva, Sr., 5-10, 160, Myrtle Point (1A-8)
4 – Nate Young, Jr., 5-8, 138, Monroe (2A)
4 - Drew Prickel, Sr., 5-8, 155, Marist Catholic (4A)
4 – Garrett Willenberg, Sr., 5-10, 220, Sandy (6A)
4 – Daniel Iwamizu, Sr., 5-11, 205, Hidden Valley (4A)
4 -- Carter Boise, Sr., 5-10, 180, Spray / Mitchell / Wheeler (1A-6)
4 – Rayden Taylor, Sr., 6-2, 190, Toledo (2A)
3 – Braedy Vogt, Sr., 5-11, 180, South Salem (6A)
3 – Vaun Halstead, Sr., 6-0, 205, Thurston (5A)
3 – Ben Winjum, Sr., 6-0, 200, West Linn (6A)
3 – Chili Stephens, Sr., 6-0, 215, Lakeridge (6A)
3 – Andrew Walker, Sr., 6-1, 175, South Medford (6A)
3 – Drew Rodriguez, Sr., 6-2, 205, Sprague (6A)
3 – Logan Whitlock, Jr., 5-9, 175, Henley (4A)
3 – Jackson Pfeiffer, Sr., 5-11, 180, Silverton (5A)
3 -- Trey Dieringer, Sr., 6-1, 203, Scappoose (4A)
3 -- Colby Campbell, Sr., 6-1, 196, Scappoose (4A)
3 – Ashton Crossen, Jr., 6-0, 165, Banks (3A)
3 – Grafton Robinson, Sr., 5-9, 170, Sheldon (6A)
3 – Kameron Rague, Soph., 6-2, 185, Cascade Christian (3A)
3 – Gabe Williamson, Soph., 6-0, 170, Oakland (2A)
3 – Mason Crawford, Sr., 6-1, 165, Perrydale (1A-8)
3 -- Cole Martin, Sr., 6-2 185, Powder Valley (1A-8)
3 – Trevor Williams, Sr., North Lake (1A-6)
3 – Blake Herinckx, Jr., North Lake (1A-6)
3 -- Jake Westerman, Jr., 5-10, 185, Gold Beach (2A)
3 -- Judah Werner, Sr., 5-10, 185, Tillamook (4A)
3 -- Jaxon Grover, Jr., 5-10, 160, Joseph (1A-6)
3 -- Cole Teel, Sr., 6-1, 185, Prairie City / Burnt River (1A-6)
3 -- Jack Nguyen, Sr., 6-0, 175, Creswell (3A)
Week 3
Passing yards (300 or more yards through the air)
359 -- Drew Nees, Jr., 6-1, 179, Sunset (6A)
Touchdown passes (4 or more)
5 -- Deacon Edgar, Sr., 5-11, 180, South Medford (6A)
5 – Brock Thomas, Sr., 6-0, 175, Sheldon (6A)
5 -- Daschel Smith, Sr., 6-2, 190, South Salem (6A)
5 – Jack Klee, Jr., 6-1, 170, Southridge (5A)
5 -- Kollin Schumacher, Jr., 5-8, 150, Regis (2A)
4 – Jack Wagner, Sr., 6-4, 190, Tualatin (6A)
4 – Ryan Oliver, Sr., 6-3, 200, Lakeridge (6A)
4 – Logan Backman, Jr., 6-0, 170, Myrtle Point (1A-8)
4 – Rocco McClave, Jr., Crescent Valley (5A)
4 – Connor Crum, Jr., 6-0, 160 – Mountain View (5A)
4 – Tyson Delplanche, Sr., 5-11, 175, St. Mary's (3A)
4 – George Polschneider, Jr., 5-11, 170, St. Paul (1A-8)
4 – Gus Gamache, Jr., 5-8, 145, Triangle Lake (1A-6)
4 -- Drew Nees, Jr., 6-1, 179, Sunset (6A)
Rushing yards (200 or more on the ground)
306 – Nate Young, Jr., 5-8, 138, Monroe (2A)
260 – Jackson Pfeiffer, Sr., 5-11, 180, Silverton (5A)
251 – JaMar Thurman, Soph., 5-9, 151, Lowell (2A)
242 – Tyee Yanez, Sr., 5-8, 160, Siletz Valley (1A-6)
240 -- David Brown, Sr., 6-1, 175, Eagle Point (5A)
217 – Said McWillie, Sr., 5-8, 160, Rogue River (2A)
206 -- Zach Smith, Jr., 5-11, 210, Dayton (3A)
204 – Ashtyn Irwin, Soph., 5-10, 155, Enterprise (1A-8)
202 – Ty Pugliano, Sr., 5-10, 190, North Medford (6A)
201 – Jayden Christy, Sr., 6-0,185, Santiam Christian (3A)
201 – Clay Smith, Soph., 5-10, 180. St. Paul (3A)
Receiving yards (150 or more)
156 – Cooper Beltz, Sr., 6-2, 190, Clackamas (6A)
Return yards (200 or more)
None reported
Tackles (12 or more)
20 -- Ty Beyer, Sr., 5-7, 165, Woodburn (4A)
17 -- Devin Martin, Jr., 5-10, 185, Harrisburg (3A)
15 -- Warren Haatia, Jr., 6-0, 192, Scappoose (4A)
15 – Jackson Powell, Sr., 6-0, 195, Southridge (5A)
14 – Tyee Yanez, Sr., 5-8, 160, Siletz Valley (1A-6)
14 -- Ethan Thompson, Jr., 5-11, 160, Dayville / Monument (1A-6)
13 -- Chase Duncan, Sr., 5-10, 155, Enterprise (1A-8)
13 – Adam Slail, Sr., 6-0, 220, Southridge (5A)
Interceptions (2 or more)
2 – Treyce Horton, Sr., 5-10, 165, Mazama (4A)
2 – Jacob Neely, Fr., 5-8, 150, Pleasant Hill (3A)
2 -- Alisjah Tucker, Sr., 6-1, 175, Southridge (5A)
Sacks (3 or more)
4 -- Colton Crowl, Sr., 5-9, 170, Mountain View (5A)
3 -- Spencer Elliott, Sr., 6-2, 245, Summit (5A)
3 -- Ivan Surcamp, Fr., 5-10, 165, Triangle Lake (1A-6)
Touchdowns scored (3 or more actually scored (rushing, receiving and return); does not include TD passes))
6 – Jackson Pfeiffer, Sr., 5-11, 180, Silverton (5A)
4 – Nick Gribble, Sr., 6-0, 190, Sherwood (6A)
4 – Luey Campos, Jr., Crescent Valley (5A)
4 – Nate Young, Jr., 5-8, 138, Monroe (2A)
4 – Garrett Warren, Sr., 5-7, 175, Triangle Lake (1A-6)
3 – Cohen Hall, Jr., 5-11, 160, Canby (5A)
3 – Tyson Van Gastel, Jr., 6-2, 210, Mazama (4A)
3 – Ty Pugliano, Sr., 5-10, 190, North Medford (6A)
3 -- Josiah Davis, Sr., 6-1, 225 – North Salem (6A)
3 -- David Brown, Sr., 6-1, 175, Eagle Point (5A)
3 – Tyler Creswick, Jr., 6-2, 180, Putnam (5A)
3 – John Lemmons, Jr., 5-6, 150, Marshfield (4A)
3 – Ashton Moody, Jr., 5-11, 165, Cascade Christian (3A)
3 – JaMar Thurman, Soph., 5-9, 151, Lowell (2A)
3 – Jacob Logan, Jr., 6-0, 195, South Umpqua (3A)
3 – Jayden Christy, Sr., 6-0,185, Santiam Christian (3A)
3 – Logan Kind, Sr., 6-1, 185, Banks (3A)
3 – Emilio Jaimez, Sr., 6-0, 155, Umatilla (2A)
3 – Warren Rose, Sr., 6-5, 200, St. Paul (1A-8)
3 – Andreas Villanueva, Sr., 5-10, 160, Myrtle Point (1A-8)
3 -- Cole Martin, Sr., 6-2 185, Powder Valley (1A-8)
3 – Randy Turner, Sr., 5-9, 135, Mohawk (1A-8)
3 – Adrian Mojica, Sr., 5-8, 195, Bonanza (1A-8)
3 – Ashtyn Irwin, Soph., 5-10, 155, Enterprise (1A-8)
3 – Nathan Rausch, Sr., 5-11, 170, Elkton (1A-6)
3 – Nate Clark, Sr., 6-0, 215, Spray / Mitchell / Wheeler (1A-6)
3 -- Tim Crowell, Sr., 5-10, 150, Regis (2A)
3 – Jake White, Soph., 6-0, 180, Seaside (4A)
3 -- Conner Devine, Sr., 5-9, 170, Bandon (2A)
Week 2
Passing yards (300 or more yards through the air)
525 -- Daschel Smith, Sr., 6-2, 190, South Salem (6A)
445 -- Diego Rodriguez, Soph., 6-1, 170, Ontario (3A)
400 -- Sam Leavitt, Sr., 6-2, 200, West Linn (6A)
395 -- Jack Lidbeck, Jr., 6-1, 170, Harrisburg (3A)
328 -- Kollin Schumacher, Jr., 5-8, 150, Regis (2A)
Touchdown passes (4 or more)
6 -- Jack Lidbeck, Jr., 6-1, 170, Harrisburg (3A)
5 -- Daschel Smith, Sr., 6-2, 190, South Salem (6A)
5 -- Diego Rodriguez, Soph., 6-1, 170, Ontario (3A)
5 – DJ Heikes, Sr., 5-10, 140, Dayville / Monument (1A-6)
4 – TC Manumaleuna, Jr., 6-2, 205, North Salem (6A)
4 – George Polschneider, Jr., 5-11, 170, St. Paul (1A-8)
4 – Blake Baker, Sr., 5-11, 165, Clackamas (6A)
4 – Hogan Carmichael, Sr., 6-4, 205,Summit (5A)
4 – Quinton Buckland, Jr., 6-2, 175, Elmira (3A)
4 – Jojo Harrower, Soph., 6-3, 174, Ashland (4A)
Rushing yards (200 or more on the ground)
351 -- Jordan Fisher, Sr., 5-8, 175, Westview (6A)
302 – Nate Young, Jr., 5-8, 138, Monroe (2A)
270 – Said McWillie, Sr., 5-8, 160, Rogue River (2A)
252 -- Tyler Konold, Jr., 6-0, 200, Canby (5A)
246 -- Nathan Dalton, Sr., 5-11, 195, Lost River (1A-8)
243 -- Shaw Burns, Sr., 6-1, 180, Hood River Valley (5A)
225 -- Jacob Bell, Sr., 5-10, 165, Cascade (4A)
224 – Payton Roth, Sr., 6-4, 200, Jesuit (6A)
215 – Nate Clark, Sr., 6-0, 215, Spray / Mitchell / Wheeler (1A-6)
212 – Logan Whitlock, Jr., 5-9, 175, Henley (4A)
212- Drew Prickel, Sr., 5-8, 155, Marist Catholic (4A)
212 -- Zach Smith, Jr., 5-11, 210, Dayton (3A)
210 – Jacob Hadley, Soph., 5-9, 150, Willamina (2A)
206 -- Jake Westerman, Jr., 5-10, 185, Gold Beach (2A)
Receiving yards (150 or more)
278-- Mark Hamper, Sr., 6-2, 205, West Linn (6A)
271 -- Jaxon Grover, Jr., 5-10, 160, Joseph (1A-6)
220 -- Tim Crowell, Sr., 5-10, 150, Regis (2A)
185 -- Nate Clark, Sr., 6-0, 215, Spray / Mitchell / Wheeler (1A-6)
182 -- Matt Bell, Sr., 5-10, 165, Ontario (3A)
165 -- Tini Tinitali, Sr., 6-0, 190, South Salem (6A)
Return yards (200 or more)
None reported
Tackles (12 or more)
18 – Brody Buzzard, Fr., 6-0, 180, Harrisburg (3A)
15 – Jackson Powell, Sr., 6-0, 195, Southridge (5A)
14 -- Ty Beyer, Sr., 5-7, 165, Woodburn (4A)
13 – Karsten Sande, Jr., 6-0, 160, Cascade (4A)
13 -- Stealth Franklin, Jr., 5-8, 155, Bandon (2A)
13 -- Chase Duncan, Sr., 6-0, 170, Enterprise (1A-8)
12 – Braedy Vogt, Sr., 5-11, 180, South Salem (6A)
Interceptions (2 or more)
2 – Ben Jennings, Jr., 6-1, 160, Pendleton / Nixyaawii (4A)
2 – Denver Johnson, Jr., 5-9, 135, Lakeview (3A)
2 – Cole Larson, Jr., 5-11, 180, Southridge (5A)
2 -- Nelson Wilstead, Jr., 6-0, 190, Gold Beach (2A)
2 – Jacob Neely, Fr., 5-8, 150, Pleasant Hill (3A)
Sacks (3 or more)
4 – Hatimu Letisi, Jr., 6-0, 250, South Salem (6A)
4 – Dominic Berg, Jr., 6-1, 215, Seaside (4A)
Touchdowns scored (3 or more actually scored (rushing, receiving and return); does not include TD passes))
5 – Jacob Hadley, Soph., 5-9, 150, Willamina (2A)
4 -- Jordan Fisher, Sr., 5-8, 175, Westview (6A)
4 – Jaden Mitchell, Sr., 5-10, 180, Gresham (6A)
4 – Erick Gonzalez, Sr., 6-0, 165, North Salem (6A)
4 – Jacob Logan, Jr., 6-0, 195, South Umpqua (3A)
4 -- Nate Young, Jr., 5-8, 138, Monroe (2A)
4 – Said McWillie, Sr., 5-8, 160, Rogue River (2A)
4 -- Nathan Dalton, Sr., 5-11, 195, Lost River (1A-8)
4 – Garrett Warren, Sr., 5-7, 175, Triangle Lake (1A-6)
4 -- Nate Clark, Sr., 6-0, 215, Spray / Mitchell / Wheeler (1A-6)
4 -- Zorion Issangya, Sr., 5-10, 180, Ridgeview (5A)
3 – Mark Hamper, Sr., 6-2, 205, West Linn (6A)
3 – Tytan Rekow, Jr., 6-2, 160, Liberty (6A)
3 – Lonnie Burt, Jr., 6-1, 200, Jesuit (6A)
3 – Malakai Nutter, Sr., 5-9, 205 (5A)
3 -- Tyler Konold, Jr., 6-0, 200, Canby (5A)
3 – Cory James, Sr., 6-1, 185, Estacada (4A)
3 – Jayden Christy, Sr., 6-0,185, Santiam Christian (3A)
3 – Nate Arce, Sr., 5-10, 195, Dayton (3A)
3 – Wyatt Reed, Soph., 6-0, 180, North Douglas / Yoncalla (2A)
3 -- Tyler Creswick, Jr., 6-1, 180, Putnam (5A)
3 -- Jaxon Doyle, Jr., 5-10, 185, Putnam (5A)
3 -- Tim Crowell, Sr., 5-10, 150, Regis (2A)
3 -- Jaxon Grover, Jr., 5-10, 160, Joseph (1A-6)
3 -- Jackson Davis, Jr., 6-0, 185, Harrisburg (3A)
3 -- Ethan Carlson, Sr., 6-2, 195, Summit (5A)
3 -- Matt Bell, Sr., 5-10, 165, Ontario (3A)
3 -- Ruger Thompson, Jr., 6-0, 175, Seaside (4A)
3 – Logan Whitlock, Jr., 5-9, 175, Henley (4A)
3 - Tyler Thompson, Fr., 5-9, 170, Dayville / Monument (1A-6)
3 – Gavin White, Jr., 5-10, 165, Ashland (4A)
Week 1
Passing yards (300 or more yards through the air)
412 – Jojo Harrower, Soph., 6-3, 174, Ashland (4A)
380 – Daschel Smith, Sr., 6-2, 190, South Salem (6A)
374 -- Jack Lidbeck, Jr., 6-1, 170, Harrisburg (3A)
362 – Ryan Oliver, Sr., 6-3, 200, Lakeridge (6A)
334 – Kyrin Fuimano, Jr., 6-0, 190, McKay (5A)
311 – Lukas Hews, Jr., 6-3, 190, West Albany (5A)
Touchdown passes (4 or more)
5 – Ryan Oliver, Sr., 6-3, 200, Lakeridge (6A)
5 – Jack Klee, Jr., 6-1, 170, Southridge (5A)
4 – Colton Horner, Jr., 5-9, 170, Redmond (5A)
Rushing yards (200 or more on the ground)
300 -- David Brown, Sr., 6-1, 175, Eagle Point (5A)
245 -- Jacob Bell, Sr., 5-10, 165, Cascade (4A)
243 – Tyler Konold, Jr., 6-0, 200, Canby (5A)
240 – Nathan Dalton, Sr., 5-11, 195, Lost River (1A-8)
237 – Jordan Fisher, Sr., 5-8, 175, Westview (6A)
232 – Jake Westerman, Jr., 5-10, 165, Gold Beach (2A)
220 – Dylan Damewood, Sr., 6-2, 185, Glide (2A)
214 -- Ty Beyer, Sr., 5-8, 165, Woodburn (4A)
206 – Zach Smith, Jr., 5-11, 210, Dayton (3A)
200 – Josiah Davis, Sr., 6-1, 225 – North Salem (6A)
Receiving yards (150 or more)
235 – Baylor Corbin, Sr., 6-2, 180, Lakeridge (6A)
164 – Jackson Davis, Jr., 6-1, 185, Harrisburg
163 -- Jaxon Grover, Jr., 5-10, 160, Joseph (1A-6)
160 – Esteban Mendez, Sr., 5-8, 160, South Salem (6A)
153 – Reid Gray, Sr., 5-10, 155, Nelson (6A)
Return yards (200 or more)
None reported
Tackles (12 or more)
17 -- Adrian Stubbs, Jr., 5-11, 180, Lakeview (3A)
16 – Jackson Powell, Sr., 6-0, 195, Southridge (5A)
15 -- Brody Buzzard, Fr., 6-0, 180, Harrisburg (3A)
15 – Logan Kind, Sr., 6-1, 185, Banks (3A)
13 – Braedy Vogt, Sr., 5-11, 180, South Salem (6A)
13 -- Izzy Jantes, Jr., 6-0, 235, Seaside (4A)
13 -- Dayne Lavoie, Sr., 6-0, 200, La Salle Prep (4A)
12 -- Boone Standley, Jr., 6-5, 245, Nelson (6A)
12 – Dylan Damewood, Sr., 6-2, 185, Glide (2A)
12 -- Trey Dieringer, Sr., 6-1, 203, Scappoose (4A)
12 -- Gilbert Whitlatch, Sr., 5-11, 180, Tillamook (4A)
12 -- Chase Duncan, Sr., 6-0, 170, Enterprise (1A-8)
Interceptions (2 or more)
3 – Jack Davis, Sr., 6-0, 155, Pendleton / Nixyaawii (4A)
3 -- Jack Nguyen, Sr., 6-0, 175, Creswell (3A)
3 - James Burney, Sr., 5-10, 165, Joseph (1A-6)
2—Anthony Jara, Jr., 5-9, 150, The Dalles (4A)
2 -- Austin Goetz, Sr., 6-2, 215, Tigard (6A)
2 -- Tucker Wright, Jr., 6-1, 185, Prairie City / Burnt River (1A-6)
2 – Jacob Neely, Fr., 5-8, 150, Pleasant Hill (3A)
Sacks (3 or more)
5 – Bryce Rollins, Sr., 6-9, 250, Ione / Arlington (1A-8)
Touchdowns scored (3 or more actually scored (rushing, receiving and return); does not include TD passes))
7 -- David Brown, Sr., 6-1, 175, Eagle Point (5A)
5 – Jackson Pfeiffer, Sr., 5-11, 180, Silverton (5A)
4 – Jackson Tunick, Sr., 6-0, 168, Grants Pass (6A)
4 – Nathan Wachs, Sr., 6-2, 175, Redmond (5A)
4 – Jacob Logan, Jr., 6-0, 195, South Umpqua (3A)
4 -- Zach Smith, Jr., 5-11, 210, Dayton (3A)
4 -- Ty Beyer, Sr., 5-8, 165, Woodburn (4A)
4 – Jake Westerman, Jr., 5-10, 165, Gold Beach (2A)
4 -- Cole Martin, Sr., 6-2 185, Powder Valley (1A-8)
3 – Mark Hamper, Sr., 6-2, 205, West Linn (6A)
3 – Cooper Hiday, Sr., 5-11, 160, Wilsonville (5A)
3 -- Baylor Corbin, Sr., 6-2, 180, Lakeridge (6A)
3 – Logan Malinowski, Sr., 6-1, 215, Bend (5A)
3 – Marcus Allen, Sr., 6-0, 200 West Albany (5A)
3 – Andrew Kelly, Sr., 5-10, 180, Crater (5A)
3 – Kameron Rague, Soph., 6-2, 185, Cascade Christian (3A)
3 – Jake White, Soph., 6-0, 180, Seaside (4A)
3 -- Andre Niko, Jr., 6-4, 215, The Dalles (4A)
3 -- Manatu Crichton-Tunai, Sr., 6-0, 215, The Dalles (4A)
3 – Parker Feld-Gore, Sr., 6-3, 200, Ida B. Wells (6A)
3 -- Errol Moreland, Jr., 5-10, 160, Southridge (5A)
3 -- Tucker Wright, Jr., 6-1, 185, Prairie City / Burnt River (1A-6)
3 – Garrett Warren, Sr., 5-7, 175, Triangle Lake (1A-6)
3 – Mitch Dumford, Sr., 6-2, 165, Triangle Lake (1A-6)
3 -- Jordan Fisher, Sr., 5-8, 175, Westview (6A)
3 -- Cole Martin, Sr., 6-2 185, Powder Valley (1A-8)
Season-long stat stars
Passing yards (2000 or more yards through the air)
2,934 -- Sam Leavitt, Sr., 6-2, 200, West Linn (6A)
2,860 -- Daschel Smith, Sr., 6-2, 190, South Salem (6A)
2,776 – Brock Thomas, Sr., 6-0, 175, Sheldon (6A)
2,704 – Rocco McClave, Jr., 6-2, 175, Crescent Valley (5A)
2,710 – Jack Wagner, Sr., 6-4, 190, Tualatin (6A)
2,696 – Ryan Oliver, Sr., 6-3, 200, Lakeridge (6A)
2,424 – Hogan Carmichael, Sr., 6-4, 205, Summit (5A)
2,304 – Cru Newman, Jr., 5-11, 180, Central Catholic (6A)
2,262 -- Jack Lidbeck, Jr., 6-1, 170, Harrisburg (3A)
2,248 – Kallen Gutridge, Jr., 6-3, 185, Wilsonville (5A)
2,236 -- Diego Rodriguez, Soph., 6-1, 170, Ontario (3A)
2,160 – Paul Hobson, Jr., 6-3, 185, Baker (4A)
2,137 -- Kollin Schumacher, Jr., 5-8, 150, Regis (2A)
2,078 -- Axel Prechel, Soph., 6-0, 160, Corvallis (5A)
2,041 – Jace Johnson, Sr., 6-2, 175, South Umpqua (3A)
Touchdown passes (25 or more)
41 – Brock Thomas, Sr., 6-0, 175, Sheldon (6A)
36 -- Sam Leavitt, Sr., 6-2, 200, West Linn (6A)
34 – Hogan Carmichael, Sr., 6-4, 205, Summit (5A)
33 -- Daschel Smith, Sr., 6-2, 190, South Salem (6A)
32 – Kallen Gutridge, Jr., 6-3, 185, Wilsonville (5A)
31 -- Kollin Schumacher, Jr., 5-8, 150, Regis (2A)
28 – Rocco McClave, Jr., 6-2, 175, Crescent Valley (5A)
28 -- Diego Rodriguez, Soph., 6-1, 170, Ontario (3A)
28 – Ryan Oliver, Sr., 6-3, 200, Lakeridge (6A)
28 – Jack Wagner, Sr., 6-4, 190, Tualatin (6A)
27 – Jace Johnson, Sr., 6-2, 175, South Umpqua (3A)
27 – Logan Backman, Jr., 6-0, 170, Myrtle Point (1A-8)
26 – Cru Newman, Jr., 5-11, 180, Central Catholic (6A)
Rushing yards (1,000 or more on the ground)
2,555 -- Jordan Fisher, Sr., 5-8, 175, Westview (6A)
2,212 -- Cole Teel, Sr., 6-1, 185, Prairie City / Burnt River (1A-6)
1,992 – JaMar Thurman, Soph., 5-8, 155, Lowell (2A)
1,949 – Payton Roth, Sr., 6-4, 200, Jesuit (6A)
1,922 – Rayden Taylor, Sr., 6-2, 190, Toledo (2A)
1,693 -- David Brown, Sr., 6-1, 175, Eagle Point (5A)
1,642 – Austin Rapp, Sr., 5-7, 155, McMinnville (6A)
1,626 – Logan Whitlock, Jr., 5-9, 175, Henley (4A)
1,605 – Marcus Jordan, Sr., 5-9, 180, Oregon City (6A)
1,582 -- Zach Smith, Jr., 5-11, 210, Dayton (3A)
1,575 – Jacob Hadley, Soph., 5-9, 150, Willamina (2A)
1,568 -- Jake Westerman, Jr., 5-10, 185, Gold Beach (2A)
1,564 -- Nate Clark, Sr., 6-0, 200, Spray / Mitchell / Wheeler (1A-6)
1,516 – Trevor Anderson, Sr., 5-11, 195, Mazama (4A)
1,475 – Nate Young, Jr., 5-8, 138, Monroe (2A)
1,464 -- Jamahl Wilson, Jr., 6-0, 185, McKay (5A)
1,386 -- Cade Olds, Sr., 5-10, 190, Oakland (2A)
1,362 – Garrett Warren, Sr., 5-7, 175, Triangle Lake (1A-6)
1,342 – Said McWillie, Sr., 5-8, 160, Rogue River (2A)
1,312 – Elijah Garcia, Sr., 5-6, 160, Century (6A)
1,272 – Nate Arce, Sr., 5-11, 195, Dayton (3A)
1,270 – Sam Stephens, Jr., 5-8, 155, Summit (5A)
1,243 – Jake White, Soph., 6-0, 180, Seaside (4A)
1,227 -- Carter Boise, Sr., 5-10, 180, Spray / Mitchell / Wheeler (1A-6)
1,223 – Devon Anderson, Sr., 6-2, 170, North Eugene (5A)
1,210 – Kameron Rague, Soph., 6-2, 185, Cascade Christian (3A)
1,194 -- Blake Herinckx, Jr., 5-8, 145, North Lake (1A-6)
1,189 -- Josiah Davis, Sr., 6-1, 225 – North Salem (6A)
1,104 – D'Angelo Macado, Sr., 5-10, 170, Scappoose (4A)
1,053 – Ashtyn Irwin, Soph., 5-10, 155, Enterprise (1A-8)
1,038 – Ty Borde, Sr., 5-11, 180, Stayton (4A)
1,023 – Kohler Hernandez, Sr., 5-10, 175, Central (5A)
1,012 –Konner Grant, Sr., 5-11, 190, Tigard (6A)
1,008 – Clay Smith, Soph., 5-10, 180, St. Paul (1A-8)
Receiving yards (850 or more)
1,380 -- Mark Hamper, Sr., 6-2, 205, West Linn (6A)
1,139 -- Jaxon Grover, Jr., 5-10, 160, Joseph (1A-6)
1,100 – Luey Campos, Jr., 5-10, 145, Crescent Valley (5A)
1,071 -- Tim Crowell, Sr., 5-10, 150, Regis (2A)
1,045 – Cooper Hiday, Sr., 5-11, 160, Wilsonville (5A)
1,035 -- Justice Anthony, Jr., 5-11, 175, McKay (5A)
973 – Matt Bell, Sr., 5-10, 165, Ontario (3A)
884 -- Jackson Davis, Jr., 6-0, 185, Harrisburg (3A)
868 – Truman Brasfield, Soph., 6-1, 160, Churchill (5A)
Return yards (350 or more)
501 – Alex Metianu, Jr., 5-7, 130, Douglas (3A)
483 – Mark Wiepert, Soph., 6-1, 180, Wilsonville (5A)
406 – Garrison Gunder, Sr., 5-11, 180, Tillamook (4A)
405 – Matteo Walker, Jr., 5-10, 175, Ontario (3A)
358 – Cole Massar, Sr., 5-10, 178, Sunset (6A)
Tackles (100 or more)
147 – Ethan Biondine, Jr., 6-0, 220, Lakeridge (5A)
124 – Tashi King, Jr., 6-0, 210, Lakeridge (6A)
118 – Mark Wiepert, Soph., 6-1, 180, Wilsonville (5A)
118-- Cade Olds, Sr., 5-10, 190, Oakland (2A)
114 -- Devin Martin, Jr., 5-10, 185, Harrisburg (3A)
111 -- Trey Dieringer, Sr., 6-1, 203, Scappoose (4A)
106 – Ty Borde, Sr., 5-11, 180, Stayton (4A)
108 – Bowen Johnson, Jr., 5-10, 185, Dayton (3A)
109 – Griffin Withalm, Jr., 5-8, 150, McKenzie (1A-6)
109 – Vaughn Croxton, Sr., 6-1, 230, Tigard (6A)
109 -- Gabe Williamson, Soph., 6-0, 170, Oakland (2A)
109– Lehi Zylstra, Sr., 5-7, 175, Lowell (2A)
107 – Roman Pena, Sr., 5-9, 165, Taft (2A)
105 – Dylan Nance, Sr., 5-9, 180, Wilsonville (5A)
103 -- Nate Clark, Sr., 6-0, 200, Spray / Mitchell / Wheeler (1A-6)
101 – Braden Snoderly, Sr., 6-1, 215, Canby (5A)
100 -- Ethan Thompson, Jr., 5-11, 160, Dayville / Monument (1A-6)
Interceptions (6 or more)
12 – Connor Dunlea, Jr., 5-10, 167, Lost River (1A-8)
10 – Cole Collins, Sr., 5-7, 165, Oakland (2A)
10 – Jacob Neely, Fr., 5-8, 150, Pleasant Hill (3A)
7 -- Nate Clark, Sr., 6-0, 200, Spray / Mitchell / Wheeler (1A-6)
6 -- Carter Boise, Sr., 5-10, 180, Spray / Mitchell / Wheeler (1A-6)
6 – Noah Bjornstedt, Jr., 6-1, 196, Colton (2A)#
# = total through Week 7
Sacks (11 or more)
19 -- Owen Koegler, Jr., 6-2, 160, Camas Valley (1A-8)
14 – Campbell Sager, Sr., 6-5, 240, Westview (6A)
14 -- Coen Egner, Soph., 5-6, 150, Oakland (2A)
13 -- Jake Chenoweth, Jr., 5-11, 165, Oakland (2A)
13 – Ryder McElroy, Sr., 6-3, 215, Wilsonville (5A)
12.5 – Teitum Tuioti, Sr., 6-3, 220, Sheldon (6A)
12 -- Warren Haatia, Jr., 6-1, 205, Scappoose (4A)
12 – Chip Allers, Sr., 6-3, 220, Summit (5A)
11 – Eli Wright, Sr., 6-4, 210, Prairie City / Burnt River (1A-6)
Touchdowns scored (23 or more actually scored (rushing, receiving and return); does not include TD passes))
36 -- Jordan Fisher, Sr., 5-8, 175, Westview (6A)
35 -- Nate Clark, Sr., 6-0, 200, Spray / Mitchell / Wheeler (1A-6)
33 -- Cole Teel, Sr., 6-1, 185, Prairie City / Burnt River (1A-6)
33 – Jackson Pfeiffer, Sr., 5-11, 180, Silverton (5A)
33 – Garrett Warren, Sr., 5-7, 175, Triangle Lake (1A-6)
31 – JaMar Thurman, Soph., 5-8, 155 , Lowell (2A)
29-- Cade Olds, Sr., 5-10, 190, Oakland (2A)
27 -- David Brown, Sr., 6-1, 175, Eagle Point (5A)
26 – Logan Whitlock, Jr., 5-9, 175, Henley (4A)
25 -- Jake Westerman, Jr., 5-10, 185, Gold Beach (2A)
24 -- Zach Smith, Jr., 5-11, 210, Dayton (3A)
24 – Rayden Taylor, Sr., 6-2, 190, Toledo (2A)
23 – Payton Roth, Sr., 6-4, 200, Jesuit (6A)
23 -- Carter Boise, Sr., 5-10, 180, Spray / Mitchell / Wheeler (1A-6)
Field goals (40 yards or longer)
51 yards – Marco Torres, Soph., 5-10, 150, Sandy (6A) (Oct. 6 v. Clackamas)
45 yards – Tanner Hoskins, Jr., Tillamook (4A) (Oct. 21 v. Scappoose]
43 yards -- Marco Torres, Soph., 5-10, 150, Sandy (6A) (Sept. 2 v. Sunset)
42 yards – Luis Perez-Villegas, Sr., 5-8, 180, Regis (2A) (Sept. 29 v. Central Linn)
42 yards – Nate Duenas, Sr., 6-1, 170, Tigard (6A) (Sept. 29 v Oregon City)
40 yards – Cole Crossen, Sr., 5-11, 165, Banks (3A) (Sept. 9 v. Tillamook)
40 yards – Dominic Castanon, Sr., 6-3, 170, Central (5A) (Nov. 4 v. Eagle Point)