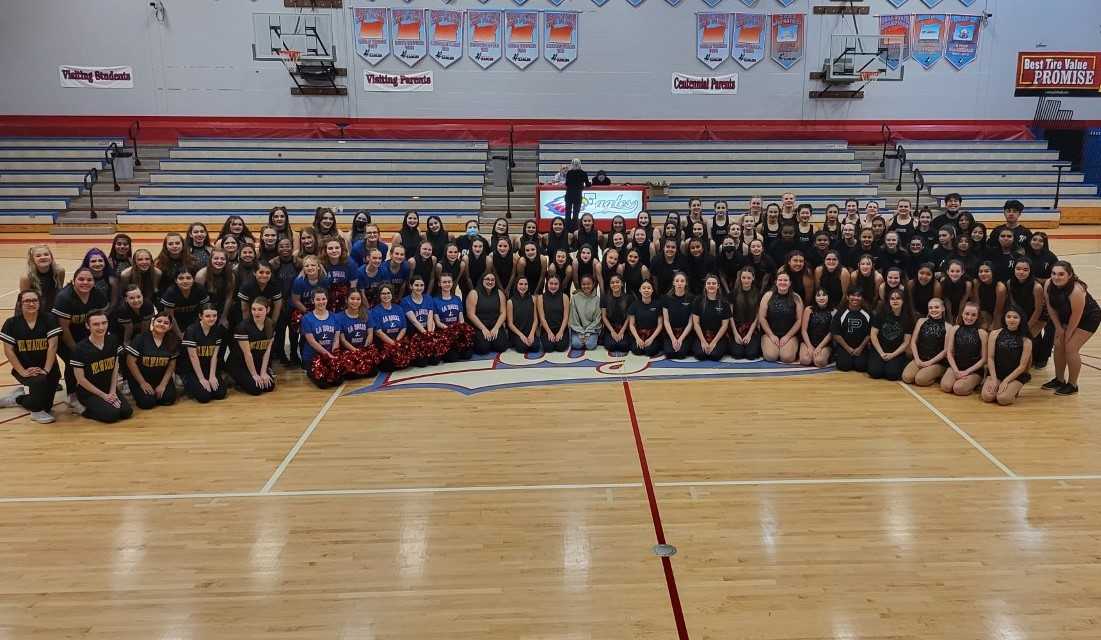 The eight dance teams from the 5A Northwest Oregon Conference gathered Nov. 9 for their annual All-League Dance Showcase hosted by Centennial High School.
Started in 2018, the annual showcase is an opportunity for dance teams to perform together in a setting other than a competition.
Each team performs either a halftime routine or a routine they plan to take to an upcoming competition.
The annual Showcase honors all seniors, a league coach of the year, novice and advanced drill down winners and an All-League Dance Team.
Showcase drill down winners:
Novice:
Elise Quinlan, Canby
Trinity Lazarus, Centennial
Aleta Panyanouvong, Centennial
Valerie Gaxiola, Centennial
Vivian Davis, Centennial
Advanced:
Alexis Lewis, Putnam
Patricia Campbell, Canby
Zoie Fulks, Canby
Gracie Chaffee, Canby
Lacie Wheeler, Wilsonville
Dancers named to the All-League team are nominated by their school's coaching staff based on their dance ability, school involvement, and academic achievement. All-League dancers must be a Junior or Senior and have a 3.0 cumulative GPA.
2022 NWOC All League Dance Honorees:
Maddy DeHart, Parkrose
Lily Brown, Parkrose
Kyra Lorio, Wilsonville
Simone Dluhy, Parkrose
Lacie Wheeler, Wilsonville
Alexis Lewis, Putnam
Marissa VanHoose, Canby
Ella Reivilli, Milwaukie
Ainsley Lemuz, Canby
Itati Bernal, Milwaukie
Mia Morfin, Canby
Angelia Allworth, Putnam
Hannah Thompson, Canby
Claire Baker, Canby
Duyen Nguyễn, Centennial
Sofia Burgher, La Salle Prep
Fia Cooper, La Salle Prep
Lian Ning, Centennial
Kamryn Houghton, La Salle Prep
Claire Schnyder, La Salle Prep
Alivia Siscaretti, Centennial