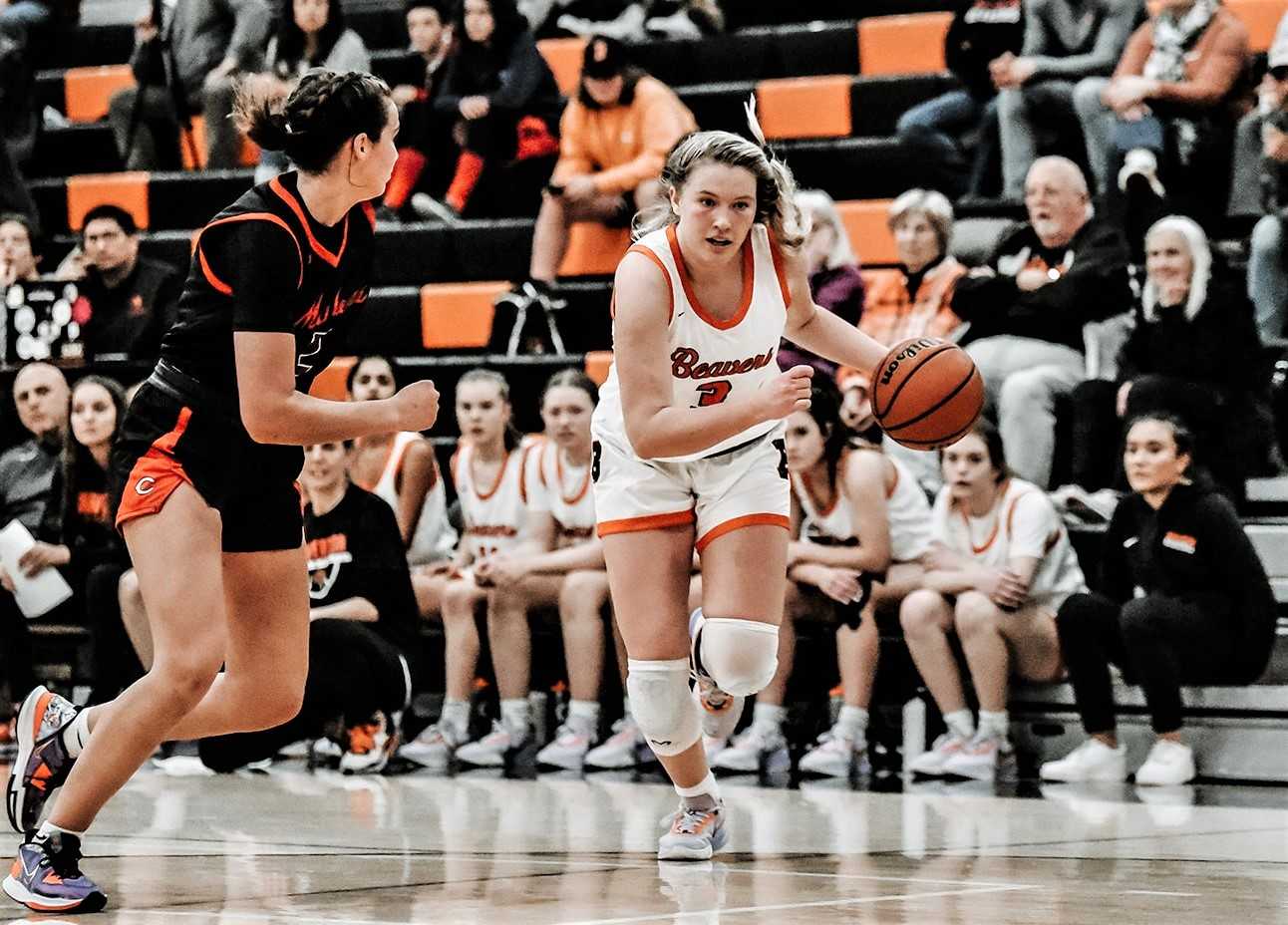 In a normal year, reigning 6A girls basketball champion Beaverton would be an overwhelming favorite to repeat.
The Beavers, No. 1 in the preseason coaches poll, bring back four starters from a 26-1 team, including the 6A player of the year in senior forward Lainey Spear and a second-team all-state pick in senior guard Zoe Borter.
But this is not a normal year.
The state has an unusually deep pool of contenders. No. 2 Clackamas has 6-foot-1 forward Jazzy Davidson, the top-rated sophomore in the nation. The Cavaliers, No. 3 Jesuit and No. 4 Benson have added transfers to bolster already talented rosters.
No. 5 Barlow and No. 6 South Medford have experienced casts led by Oregon State commits Kennedie Shuler and Donovyn Hunter, respectively. And several other teams appear poised to make a move.
"The state's going to be really tough," Beaverton coach Kathy Naro said. "I would say it's the deepest I've seen. I think there are several teams that could beat another team on any given night. There's not that separation with one or two teams. It's going to be a fun year. There's a lot of great basketball in the state."
Spear is looking forward to the challenge.
"We play a lot of them in preseason, so it'll be really fun to match up against them and see where we are against them," Spear said. "I'm just excited to play them. There's so much talent and there are so many schools that are good."
Coming off their first state championship, the Beavers have their sights on a repeat.
"Obviously, that's the main goal," Borter said. "But we're taking it one step at a time. Definitely, there's a lot of great competition. We're just excited to play and see where we're at. We've all played together for so long, I feel like we have pretty good chemistry. I think we're getting better every day."
Spear and Borter, who led Beaverton in scoring last season at 16 points per game, join senior point guard Madison Naro and senior guard Jaydin Lutu as returning starters.
"There's just a maturity about all of them," Kathy Naro said. "I feel like everybody has stepped up another level from last year. So I definitely think we can reach even higher than last year. But when you lose pieces, and add pieces, it can take a minute for that puzzle to come together."
Spear said the players that are stepping into new roles are fitting in nicely.
"They play similar to the seniors that we lost," Spear said. "They work really well with the group we already have. I think we have an even deeper bench this year, and we can incorporate them a little bit and kind of expand our game."
The Beavers looked on point in their season opener Wednesday when they rolled to a 43-29 win over visiting Camas, which returned most of its players from a team that finished fourth in the Washington big-school tournament last season. Beaverton led 28-10 at half and 43-18 midway through the fourth quarter before giving up the last 11 points.
Borter (14 points), Spear (13 points) and Naro (nine points) all showed an ability to score inside and outside, combining for seven of the team's eight three-pointers.
"Lainey, Zoe and Madi have all worked so hard at their games, that everything that they do well, they're just doing even better," Kathy Naro said.
The 6-1 Spear, who also averaged 8.1 rebounds and 3.3 steals last season, is a lock-down defender, often keeping the opponent's best player in check. She intends to be more offensive minded this season.
"'I've been trying to be more versatile, like shooting it from outside but also taking it inside and posting up," Spear said. "I've been working on my shooting a lot and it's starting to kind of pay off, which I'm glad to see."
Kathy Naro said that Spear's offensive game has continued to evolve.
"Her outside shot and her touch around the basket, her ability to score at all three levels, has gone to another level," she said. "And defensively, she's just phenomenal."
Beaverton won with defense last season, holding opponents to a 6A-low 30.0 points per game, including 26.0 in five postseason games. They smothered Camas in the opener.
"I think it's a part of our identity and how we are," Kathy Naro said. "We thrive on defense, and defense creates offense."
Beaverton figures to get a serious challenge in the Metro League from Jesuit, a quarterfinalist last season.
The Crusaders not only bring back an excellent nucleus that includes senior point guard Emma Sixta (14.1 points), 6-1 junior post Kendra Hicks (9.8 points, 12.8 rebounds) and sharpshooting senior guard Avery Edwards (12.5 points, 79 three-pointers), but they have added Oregon-bound senior guard Sofia Bell.
The 6-1 Bell, rated as the No. 26 senior prospect in the nation by ESPN, is a transfer from St. Mary's Academy, where she averaged 23 points and eight rebounds per game as a junior.
Clackamas started four freshmen last season, when it lost to Beaverton in the semifinals. Davidson arrived on the high school scene with a splash, averaging 22.4 points, 8.0 rebounds, 2.6 assists, 4.1 steals and 1.3 blocks.
The Cavaliers expect to get a major boost from a healthy Rhyan Mogel, a senior guard who has committed to Portland. Mogel was the Mt. Hood Conference player of the year as a sophomore, when she averaged 17.3 points, 6.6 rebounds, 3.2 assists and 4.4 steals and shot 42.5 percent from three-point range, but she missed most of her junior season after suffering a torn ACL.
Clackamas picked up a key transfer from West Linn in Allie Roden, who as a freshman last season averaged 13.7 points and made 41 three-pointers for a quarterfinal team. The Cavaliers also have a strong interior presence with 6-3 senior Eliza Buerk, a Davidson commit.
Clackamas absorbed a blow in July, however, when guard Dylan Mogel – a first-team MHC pick as a freshman – tore her ACL and is expected to miss at least six months.
Benson coach Eric Knox said his team reminds him of when the Techsters won the 6A title in 2019. They have four starters back from last year's quarterfinal team, including 6-1 junior post Mahogany Chandler-Roberts (16.7 points, 8.7 rebounds), Fresno State-bound senior guard Malaya LeSueur (14.3 points) and junior guard Maurianna Hashemian-Orr (14.4 points).
Benson added a transfer from Grant in junior guard Eboni Clay, the sister of former Westview standout Jaime Nared, and a promising freshman in 5-11 Marmar Massey.
The Techsters also are motivated to make up for last season, when Chandler-Roberts – the Portland Interscholastic League player of the year – sprained her ankle in practice the day before the state tournament and she missed a 53-47 quarterfinal loss to South Medford.
Barlow still has its two best players from a team that lost to Beaverton 56-39 in the final in the 5-10 Shuler (17.1 points, 7.1 rebounds, 4.6 assists, 3.7 steals) and 6-0 senior guard Annie Koenig (15.3 points, 4.7 rebounds).
South Medford, which lost to Barlow 44-42 in the semifinals, is counting on a big season from Hunter, a 6-0 guard who averaged 23.0 points last season.
The Panthers return two other starters in senior guards Tatum Schmerbach and Kendall Fealey and welcome a freshman class that coach Tom Cole calls his best ever. The class includes highly skilled, 5-6 guard Taylor Young, who has three Division I offers, as well as 5-10 forward Dyllyn Howell and athletic 6-3 center Mayen Akpan.