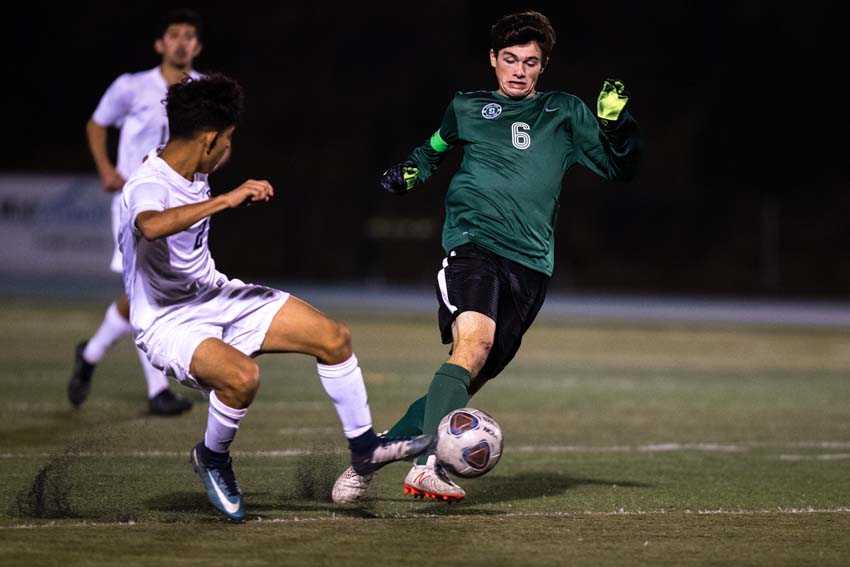 There will be one reigning state champion playing for a title on Saturday and three runners up looking to go one better after Tuesday's and Wednesday's semifinal action in all classifications.
Jesuit joined Corvallis and Catlin Gabel when it eliminated Forest Grove in overtime yesterday.
Woodburn won the 5A title in 2017 but will play for the 4A crown this year.
The finals in all classifications are on Saturday, with the 6A and 5A championship matches set for Hillsboro Stadium while 4A and 3A/2A/1A will play at Liberty HS in Hillsboro..
6A
Jesuit 2, Forest Grove 1 (OT) – See OSAAtoday feature story on the game, played on Wednesday, at this link: http://www.osaa.org/today/article/308/view?title=Boys+soccer%3A+Penalty-kick+save+gives+Jesuit+2-1+win+over+Vikings
Summit 2, David Douglas 1 (OT) -- See OSAAtoday feature story on game at this link: http://www.osaa.org/today/article/302/view?title=Boys+soccer%3A+Summit+survives+another+OT+to+reach+6A+final
5A
La Salle Prep 3, Central 2 -- See OSAAtoday feature story on game at this link: http://www.osaa.org/today/article/303/view?title=Boys+soccer%3A+La+Salle+rallies+late%2C+beats+Central+3-2+in+5A+semi
Corvallis 3, South Albany 0 -- Liam Clark, Jonah Craig and Edgar Monroy scored second-half goals for the host Spartans, who avenged a regular-season loss to South Albany to blank their conference rivals and return to the 5A championship match for the second straight season. "It was a hard-fought match that was officiated very well," said losing coach Tony Vandermeer. "The championship match will have two great teams with a number of DI players that are coached very well. It should be a great game."
4A
North Marion 1, Phoenix 0 – Senior midfielder Andres Agabo tallied in the 66th minute, a power-packed, left-footed blast from 18-yards-out and the Huskies won on the road for the third consecutive match to reach the championship for the first time since winning it all in 2014. The loss was the first of the season for Phoenix, which yielded just six goals the entire season.
Woodburn 6, Madras 0 -- After scoring twice in the first half courtesy of Jesus Rodriguez and Rodolfo Campuzano, the Bulldogs added four second-half goals, including a second from Rodriguez, to secure their sixth finals appearance in the past seven seasons. Woodburn captured state titles in 5A the past two years. On Aug. 30, Woodburn defeated North Marion, 5-1, in the season opener for both teams.
3A/2A/1A
Oregon Episcopal School 6, Riverside 2 – Freshman Connor Mansfield opened the scoring for the top-seeded Aarvarks and added two more goals in a match where OES never trailed. Riverside, the defending state champions, tied the match on a first-half penalty kick converted by Gerardo Lopez but Jason Lim and Jonah Song sandwiched Mansfield's second goal to help Oregon Episcopal open up a commanding 4-1 lead. Ulyses Lopez scored a second-half goal for Riverside, but Mansfield answered with a nice goal assisted by Derek Seneker to regain a three-goal lead and Kennedy Balandi added one more for good measure to complete the score. OES, making its first championship match appearance since 2015, will take on a Catlin Gabel team it tied, 1-1, on Sept. 28 then defeated, 1-nil, one week later.
Catlin Gabel 2, St. Mary's (Medford) 1 -- See OSAAtoday feature story on game at this link: http://www.osaa.org/today/article/304/view?title=Soccer%3A+Catlin+Gabel+puts+two+teams+in+the+finals