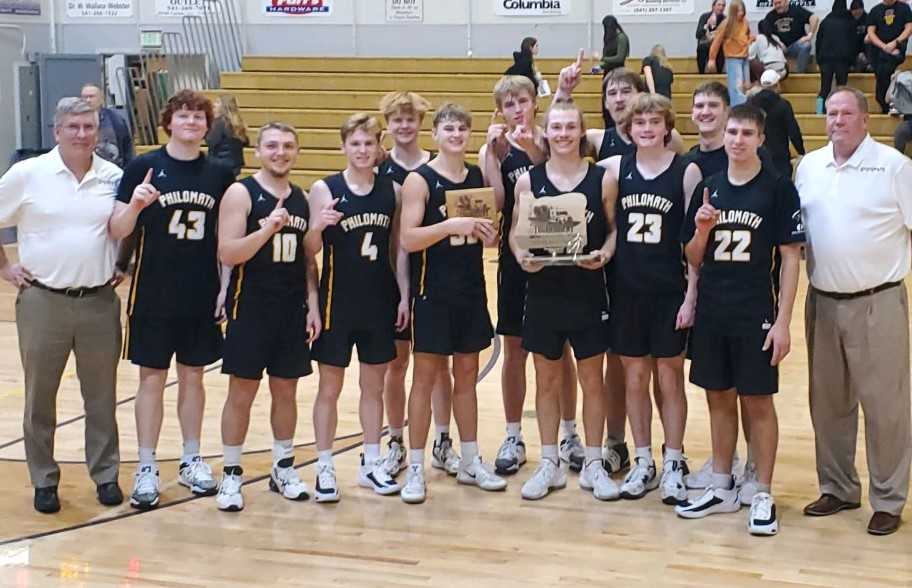 Philomath padded its impressive early-season resume with a championship in the South Coast Les Schwab Tournament at Marshfield High School last weekend.
The Warriors, No. 1 in the OSAAtoday 4A boys basketball coaches poll, improved to 7-0 by beating 5A No. 5 Redmond 50-42, 4A No. 4 Junction City 56-49 and 3A No. 2 Cascade Christian 47-43 in overtime in the championship game.
Six of Philomath's wins have come against teams ranked in the top 10 of the coaches polls. The Warriors also beat Junction City in their season opener and defeated 4A No. 9 Gladstone and 4A No. 7 Henley.
"We've played some awfully good teams," Philomath coach Blake Ecker said. "This must be the toughest preseason I've ever had."
The fast start has underscored the team's high expectations after reaching the quarterfinals last season.
"Their goal was, 'Hey, we're not going to lose,'" Ecker said. "We had a pretty good idea that we were going to be in the thick of things. I think we are for sure right now. There are several teams that have a good shot at going all the way, and you'd have to include us in that right now."
Senior guard Cole Beardsley was the MVP of the tournament at Marshfield, averaging 17.3 points in three games. The 6-foot-2 Bearsdley is leading the Warriors in scoring this season at about 16 points per game.
Philomath won the tournament despite one of its best players, 6-6 senior forward Ty May, struggling with his offense. May averaged 10.6 points in the three games, about four points below his average.
"Ty was in a little funk last weekend," Ecker said. "But to have one of our best players in a funk and not playing well, and still beat those three teams, that says something about the guys pulling together and getting things done. I think our upside is still high. To be honest, that's kind of nice."
Beardsley scored 19 and 20 points in the wins over Redmond and Junction City, respectively. He and junior guard Preston Kramer each scored 13 points against Cascade Christian (2-1) as the Warriors handed the reigning 3A champion Challengers their first defeat of the season.
Philomath led Cascade Christian 37-30 after three quarters before the Challengers rallied to force overtime at 41-41. The Warriors took broke the 41-41 tie with 38 seconds left in overtime when 6-7 senior Chad Russell cut to the hoop and scored on a reverse layup off a feed from Beardsley.
"That was a play we drew up," Ecker said. "We played them last year in the first game of that tournament and beat them on the same exact play, with the same guy."
Cascade Christian failed to score on its next two possessions, and Beardsley and May added two free throws each to make it 47-41.
Challengers junior center Austin Maurer finished with a team-high 18 points, seven rebounds and seven blocks, becoming only the second player this season to reach double figures against Philomath. Ecker said that Russell was key in helping to neutralize the 7-0 Maurer.
"He blocked a few of his shots," Ecker said of Russell, who scored six points. "It was awesome because the crowd really got into it and supported him. He's kind of an underdog, and everyone expected Maurer to just kind of tear him up, and he did a fantastic job on him."
Beardsley, May and Russell are returning starters from last season. The new starters are junior post Jacob Peters and Kramer, whose sister, Sage, led Philomath's girls to a 4A title last season and now plays at Westmont College in Santa Barbara, Calif.
"His confidence has really grown," Ecker said of Kramer. "He's very, very capable of scoring in bunches."
The Warriors are part of a loaded Oregon West Conference, where they shared the title with Cascade last season. Philomath, No. 2 Cascade (5-0), No. 5 Stayton (4-0) and No. 6 North Marion (5-0) – the only remaining unbeaten teams in 4A – will battle it out in the Oregon West.
The Warriors are off until playing in the Clarke Cochrane Christmas Classic in Ketchikan, Alaska, Dec. 28-30. They appeared in the tournament in 2014, 2016 and 2018.
"They love their basketball in southeast Alaska," Ecker said. "It's probably better than the state tournament."
New faces, same result
Despite the dramatic turnover of its roster, Westside Christian appears to be a serious 3A contender again this season.
The Eagles graduated their entire starting lineup from last season, when they went 25-3 and lost in the 3A semifinals to Cascade Christian. But with a new cast, they are 6-0 and ranked No. 1 in the OSAAtoday 3A coaches poll.
"We have a mix of kids that were role players on last year's team, now getting a chance to start, and a few transfers that were looking for something different in their schooling and basketball experience," coach David Henry said. "This team is very talented, and should have a great year, but they look a lot different than last year's roster."
Jonah Jones, a 6-4 senior forward who transferred from 6A Wells, is averaging 15 points per game. He had 24 points and 17 rebounds in a 77-47 win over Newport on Saturday.
Junior forward Dax Hanzlik (6-5) and junior guard Kahlid Hodge (5-7), returners from last season, are averaging 16 and 10 points, respectively. Senior guard Colby Ackerman (6-0), a transfer from 6A Lakeridge, is contributing 10 points per game.
Other transfers include 5-7 senior guard Ethan Chiong (Tualatin), 6-6 sophomore forward Ben Everhart (Sherwood) and 5-9 junior guard Jayvone Goodrich (Lake Oswego).
Five of Westside Christian's wins have come against teams ranked in the top 10 of the coaches polls: 1A No. 5 Trinity Lutheran, 2A No. 2 Salem Academy, 3A No. 3 Dayton, 3A No. 6 Banks and 3A No. 10 Santiam Christian.
"We are beating solid teams early while we get comfortable with each other," Henry said.
The Eagles will get a rematch with No. 2 Cascade Christian on Friday in the Christmas Classic at Cascade Christian.
Crunch bunch
Under first-year coach Sky Stickney, 5A No. 3 Churchill has shown a knack for pulling out close games during a 6-0 start.
Five of the Lancers' wins have come by seven points or fewer. Their closest wins have come against 6A teams, edging Jefferson 51-48, Sheldon 49-46 and Sunset 41-39.
"More than anything, it has been us hanging on and executing down the stretch," Stickney said. "I think I prefer it to be that way at this point over blowing teams out. … We are learning to close out close games and value every possession
"We talk a lot about embracing the magnitude of the moment and executing with disciplined decision-making every day we are in the gym."
Stickney, a 2007 Churchill graduate, assisted at Sheldon and Thurston before taking over the Lancers for Kelly Bokn, who retired after going 279-99 in 14 seasons.
"There isn't a program I would rather be at," said Stickney, who played for Larry Williams and John Roche at Churchill. "This is my ideal coaching opportunity, and I am honored to be the next man in line from a rich history of phenomenal coaches, and one of the most accomplished programs in our state."
Stickney said he has a "wonderful relationship" with Bokn.
"He's been a huge advocate for me in my coaching," Stickney said. "I often hear from him each week after our games."
Churchill is winning with balance. The Lancers' leading scorers are seniors Pete Pennington (10.5 points, 6.5 rebounds), Bugsy Jensen (9.7 points), Cooper Case (7.5 points) and Carsen Luna (7.0 points, 6.3 assists). Jensen is averaging 5.2 steals and has drawn 14 charges.
Scoring leaders
Top 6A and 5A scorers, through Sunday:
(Courtesy of Jed Tai, Prep Hoops Oregon)
6A
Winters Grady, Lake Oswego 34.5
Jackson Shelstad, West Linn 33.3
Esyah Pippa-White, Gresham 25.8
Moroni Seely-Roberts, Lincoln 24.0
Trey Saunders, South Eugene 23.2
Josiah Lake, Tualatin 23.2
Chance White, Roosevelt 23.0
Dylan Douangphrachanh, Benson 22.8
Jaden Steppe, Tualatin 20.7
Charlie Kapranos, Grant 20.5
Jalen Atkins, Barlow 20.0
Kalim Brown, Tigard 19.4
5A
Quincy Townsend, Mountain View 26.8
Pearson Carmichael, Summit 24.8
Kallen Gutridge, Wilsonville 21.4
Connor Gensman, Canby 20.5
Logan Law, Milwaukie 18.7
Brysen Kachel, West Albany 18.0