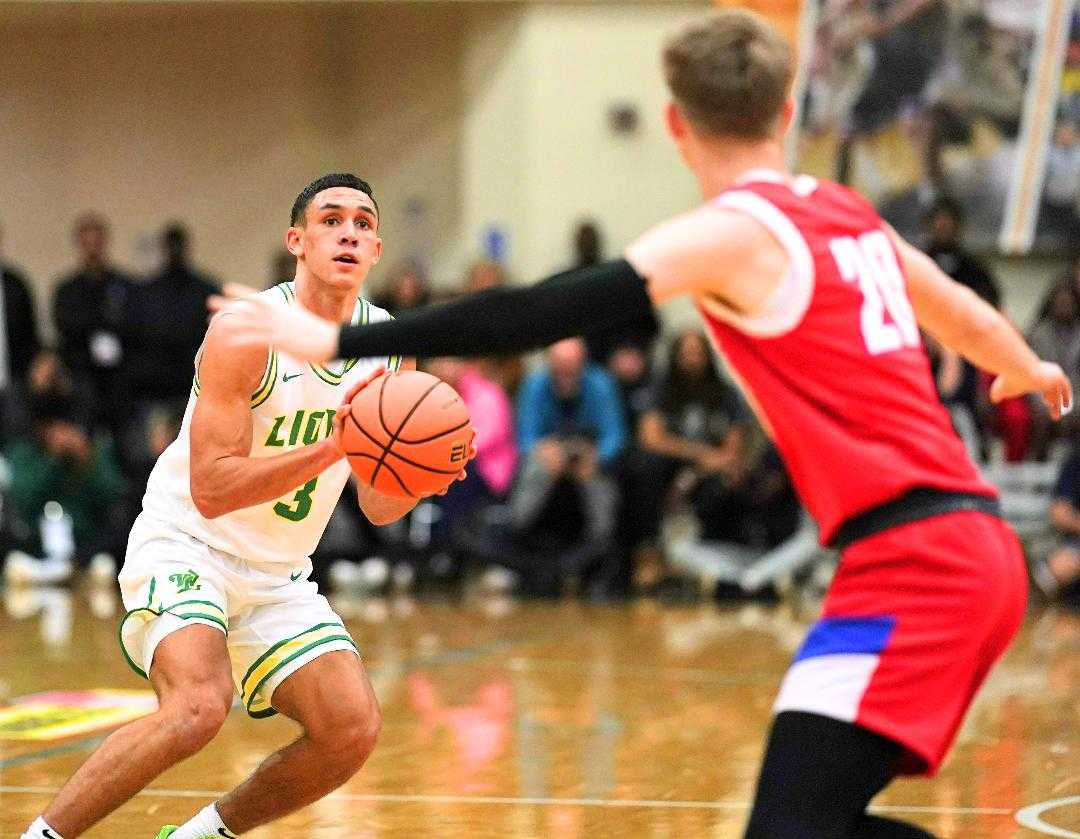 West Linn knows that it still has plenty of work left to accomplish its lofty goals this boys basketball season.
But who can blame the 6A No. 1 Lions for taking a day or two to savor what they accomplished in the Les Schwab Invitational at Liberty High School last week?
In perhaps the most stunning run in the history of the prestigious tournament, West Linn knocked off two national powers to take home the first-place trophy. One night after an 86-69 semifinal win over Sierra Canyon (Calif.), ranked No. 16 in the SBLive/Sports Illustrated Power 25, the Lions took down national No. 1 Duncanville (Texas) 62-50 in the final Friday night.
Considering the Lions' resume also includes wins over two strong California programs – Modesto Christian and St. John Bosco – in winning the Capitol City Classic the previous week, a national ranking could be in the offing.
"That's the biggest text I've been getting from a lot of people, like, 'Where does that rank you guys?''" West Linn coach Robert Key said. "I'm thinking, 'Where do we stand?' Those four teams mean something, that West Linn got it done. I'm curious. I'm not going to worry about it, but it'll be super exciting to see if we get in that top 25."
Still, after posing with the LSI bracket and trophy, the Lions can't afford to be consumed with a sense of achievement. Their primary goal – a 6A championship – still lies before them.
"Like I told the kids, January, February, March, it's a totally different season," Key said. "I said, 'Our job is not done, and don't be satisfied.' They understand that."
The Lions said they "shocked the world" with their win over Sierra Canyon, which features the sons of LeBron James – Bronny and Bryce. Twenty-four hours later, they one-upped themselves by stunning Duncanville.
West Linn defeated 6A co-No. 9 Barlow 87-60 in the first round before turning back 6A No. 5 Tualatin, the reigning state champion and their Three Rivers League rival, 73-69 in overtime in the quarterfinals.
"The key component was, How do you get to the semifinals?" Key said. "Then you think about it one game at a time. It played in our favor."
The Lions rode an otherworldly performance from Oregon-bound senior point guard Jackson Shelstad. The 6-foot Shelstad averaged 33.0 points, 7.5 rebounds and 2.5 assists at the LSI. He scored 43, 38 and 30 in the last three games.
"Just his mindset alone, the will to win," Key said of Shelstad, who is averaging 31.0 points this season. "And having the presence of mind about double teams, that they're going to send two or three people at him. Just his vision to find the open man. His vision is pretty spectacular."
Senior guard Adrian Mosley, a transfer from Grant, averaged 17.8 points, 5.5 rebounds, 3.0 assists and 2.5 steals at the LSI. He had 28 points and 11 rebounds against Sierra Canyon.
Shelstad and Mosley, veterans of the elite AAU circuit, were unfazed by the high-caliber competition.
"What's crazy is they know these guys by name. They've seen them," Key said.
West Linn was able to overcome a dramatic disadvantage in size against Sierra Canyon and Duncanville. The Lions' front line featured 6-3 seniors Mark Hamper and Sam Leavitt – who have signed with Idaho and Michigan State, respectively, for football – and 6-2 Drake Gabel, an Oregon State baseball signee.
"I'll tell you one thing about this group of young men, their physicality is unmeasured," Key said. "They know how to compete at the highest level. Mark Hamper is as tough as they come. Just his IQ as an athlete is off the charts."
Hamper, Leavitt and Shelstad are only a month removed from helping lead West Linn's football team to the 6A title.
"The thing about these football players, basketball is one of their options," Key said. "They love the game. They've played it for a long time, but their success went the other way."
The Lions believe they have plenty of room to improve. Their shooting was inconsistent at the LSI – they went 3 for 26 from three-point range against Sierra Canyon and Duncanville – and they went only six deep because they were missing two rotation players in senior guard Blake Oltmans and junior guard Nick DiGuilio.
Oltmans, a starter last season, aggravated an ankle injury at the Capitol City Classic and sat out the LSI. DiGuilio, who has been out with a broken foot, has been cleared to return to practice Jan. 6.
Crane streak snapped at 41
Senior guard Landen Mitchell scored 27 points Friday as host Salem Academy ended Crane's 41-game winning streak, defeating the Mustangs 47-43 in the final of the Crusader Classic tournament.
Crane (10-1), which went 31-0 to win the 1A title last season, had the seventh-longest winning streak in state history. The Mustangs are No. 1 in the 1A coaches poll.
"To beat a team like Crane, I don't care what division they are, they can beat the best 2A or 3A teams," said Salem Academy coach Ben Brown, whose team is ranked fourth in 2A. "That was a pleasant surprise. When they beat Gold Beach (in the semifinals), man, they looked unbeatable."
The Crusaders (6-3) overcame injuries to go 3-0 in the tournament. They lost senior shooting guard Luke Molan to a broken wrist in practice before the tournament and senior wing Jaren Oglesby to a sprained ankle in the second quarter of a 33-27 semifinal win over 2A No. 5 Mannahouse Academy (9-1).
Salem Academy trailed Crane 29-23 at half before rallying behind Mitchell, who hit two three-pointers and drew two charges to help the Crusaders take the lead. Senior Jackson Oglesby also had a big game with eight points, 11 rebounds and six assists.
Salem Academy was able grind out the win in the absence of Molan, who is expected to miss 3-6 weeks, and the 6-foot-5 Jaren Oglesby, who could be out for up to a month, according to Brown.
"They all stepped up," Brown said. "They were excited to go out and compete against Crane. Us coaches were looking around like, 'OK, this is a reaction we didn't expect.' Coming out of two really quality wins, we at least know that our team is going to come fight every night."
The 6-8 Jackson Oglesby leads the team in scoring (15.0 points per game) and rebounds (10.0). Mitchell and Jaren Oglesby average 14 and 13 points, respectively.
Challengers stop No. 1 Summit
Cascade Christian, No. 2 in the OSAAtoday 3A coaches poll, showed that it can punch above its weight Friday.
The Challengers got 27 points from 7-foot junior Austin Maurer to defeat 5A No. 1 Summit 78-75 in the final of the Les Schwab Holiday Hoopfest at Summit.
"That's the biggest win in Cascade basketball history, beating the No. 1 team in 5A on their home court," Cascade Christian coach Brian Morse told the Mail-Tribune. "It was a fun game to be a part of and the kids really stepped up and played tough."
Cascade Christian (6-2) jumped out to an 18-9 lead behind Maurer, who scored 11 points in the first quarter. The Challengers led 43-35 at half and 64-58 after three quarters and held on after Summit cut the lead to one point in the final two minutes.
Morse raved about the play of Maurer.
"The bigger the game, the bigger the moment for him, is something that we have found throughout his career," Morse told the Mail-Tribune. "He stepped up tonight, and this was by far his best game of the year."
The Challengers also got key contributions from sophomore Drew Hall (14 points) and junior Colsen Brown (11 points). Junior Pearson Carmichael led Summit (5-3) with 26 points.
It was the third tournament of the month for Cascade Christian. The Challengers lost to 4A No. 1 Philomath 47-43 in the final of the Les Schwab South Coast Tournament in Dec. 17 and fell to 3A No. 1 Dayton 57-50 in the first round of the Christmas Classic at Cascade Christian on Dec. 21.