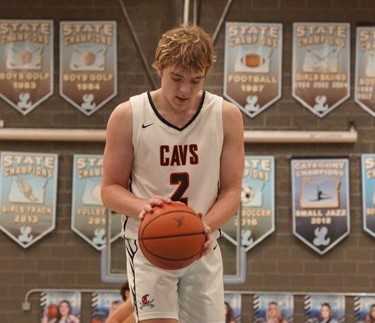 Expectations were modest for the Clackamas boys basketball team this season. But one month into the season, the Cavaliers have done nothing but quietly stack up victories.
With a 76-74 triple-overtime home win over Liberty on Tuesday, Clackamas improved to 9-0. The Cavaliers have climbed to No. 2 in the OSAA 6A power rankings, but without a win over an elite team, they remain outside the top 10 in the OSAAtoday 6A coaches poll.
"We haven't played any of the top dogs, so I don't know," coach Ryan King said. "We're going to worry about ourselves, kind of find out where we sit."
The Cavaliers will face their first ranked team Tuesday when they open Mt. Hood Conference play at home against No. 5 Central Catholic (4-5). The conference also includes No. 6 Barlow (6-3) and Gresham (6-2), which has appeared in the top 10.
"We've got all these top 10 teams in the state in our league, so we'll find out," King said.
King went 98-37 in five seasons as the Cavaliers' coach before stepping down in 2017. He led them to the state tournament three times, including a runner-up finish in his final year.
He returned to replace Cameron Mitchell and inherited a team that brought back one starter, senior guard Garrett Strube, after finishing 12-13 last season. Clackamas has been far from dominant, with six wins coming by single digits, but the team's play during the 9-0 start has surpassed expectations.
"If you would've talked to me in the summer, I would've been like, 'Whoa.' It would've been a surprise, for sure," King said. "The kids are willing themselves to wins right now. They're just trying to compete all the time and not worry about things they can't control."
The 6-foot-1 Strube, a Mt. Hood second-team pick last season, is averaging a team-high 16.7 points per game. In a season-best 24-point game against La Salle Prep on Dec. 20, he erupted for 20 points in the third quarter, making six three-pointers.
"He's consistent. You know exactly what you're going to get from him," King said. "He gives maximum effort on both ends of the floor. He takes care of the basketball, gets us into the offense, defends, scores, creates things for us. He's a steady-Eddie."
King's son Tyler, a 6-6, 230-pound senior who plays defensive end for the football team, is averaging 11.0 points. He provided the winning basket in Tuesday's win, making a four-footer at the buzzer off a feed from Strube. He had 20 points and 18 rebounds in a win over South Eugene on Dec. 19.
Senior wings Parker Harrison (6-4) and Cooper Beltz (6-3) are averaging 11.0 and 10.0 points, respectively, as the Cavaliers share the wealth on offense.
"They're just working as team," Ryan King said. "There's no individual star or a kid that has to fill it up for us. We could have four or five kids go for double digits for us. Every night kids are filling roles and playing for each other."
Clackamas' last three wins have been its closest games. The Cavaliers defeated Southridge 48-45 in the final of the Lakeridge Tournament, then won at Woodburn 52-50 before the dramatic victory over Liberty.
"They're playing hard, giving themselves opportunities," Ryan King said.
The coach said Tuesday's game was the team's best win of the season.
"It was a good job by the kids just being gritty and fighting," he said. "We had opportunities and didn't convert, and the kids didn't quit. That was a big win for those kids to understand what that takes, to overcome some obstacles."
Since King last coached the Cavaliers, he helped out in the youth program and spent two seasons assisting at Lakeridge under David Duong, his former assistant at Clackamas.
"I enjoy being around the kids. I missed it," said Ryan King, whose sophomore son, Carson, plays on JV. "And I didn't want to miss watching my kids play."
Lewis & Clark heats up
No. 3 Westside Christian struck the first blow Tuesday in what should be a highly competitive race in the 3A Lewis & Clark League.
Jonah Jones, a 6-5 senior, had 23 points and 11 rebounds and 6-5 junior Dax Hanzlik added 14 points and nine rebounds as the Eagles (11-1) won 58-51 at No. 4 Oregon Episcopal (8-2) in the league opener.
The Aardvarks got 12 points each from seniors Levi Edelman, Henry Gewecke and Cyrus Forney.
The league also includes No. 5 De La Salle North Catholic (9-3), which beat Catlin Gabel 90-36 at home Tuesday. De La Salle North Catholic plays at Westside Christian on Thursday.
Rough road
Reigning 1A champion and No. 1 Crane, which had its 41-game winning streak snapped by 2A Salem Academy on Friday, faces two big tests this week.
On Friday, the Mustangs (10-1) play host to No. 2 Nixyaawii (10-1), a team it defeated 62-46 on the road Dec. 8. On Saturday, they play at No. 3 Trinity Lutheran (10-2).
Notes: Tyler King's winning basket for Clackamas against Liberty was among four buzzer-beating game-winners Tuesday night. Cleveland's SC Tresvant drilled a 35-footer as time expired for a 72-69 win at Benson. Roosevelt's Utrillo Morris hit a runner at the buzzer to beat host Grant 62-60. And David Ghetie's three-pointer at the end of the second overtime lifted Lakeridge over Sunset 86-85. Ghetie scored 38 points and Sunset's Kayin Turner had 35. … West Linn, fresh of beating national powers to win the Les Schwab Invitational, had to come from behind in the second half to win 60-51 at Nelson on Tuesday. The 6A No. 1 Lions (11-0) trailed 40-33 before taking over with a 19-2 run. They got 24 points from Adrian Mosley and 19 from Jackson Shelstad. … Liberty's James Kefgren, a 6-2 sophomore, scored 34 points in three quarters in a 79-54 win over Fort Vancouver (Wash.) on Dec. 29.