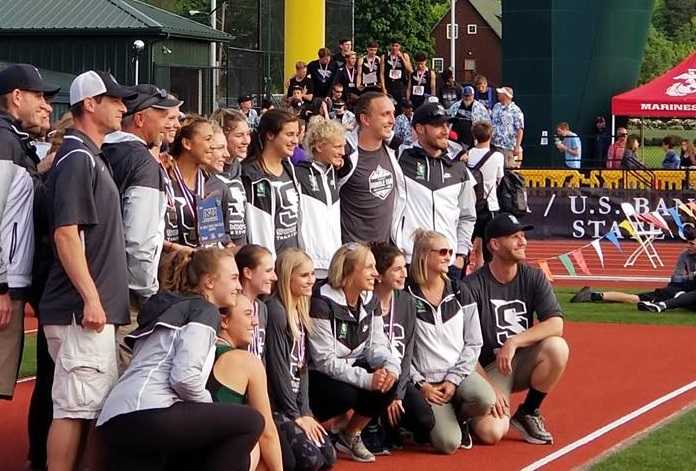 Summit is well aware that it probably wore out its welcome in Class 5A in recent years.
Summit grew past the Class 6A enrollment years ago, but in 2013 received a geographic exception from the OSAA (along with neighboring Bend) to remain in Class 5A. No Class 6A leagues were willing to deal with the travel issues of bringing Summit and Bend aboard.
Bend has had its share of success of late, but nothing like Summit, which has racked up state championships at a dizzying pace. The Storm has won 74 state titles in 15 sports since moving down to Class 5A when the six-classification system was implemented in 2006-07.
"A lot of people want to say we're the big fish in the small pond, but we just had this perfect storm of athletes come through here," Summit athletic director Mike Carpenter said.
That's all about to change in 2018-19. For the first time since 2005-06, the three Bend schools – Summit, Bend and Mountain View --will play in the big-school division when they join five Salem schools to form the Mountain Valley Conference.
"I'm sure there are some programs in 5A that want to see us move up, and maybe get what's coming to us," Carpenter said. "6A is going to be a different beast, for sure."
Summit's perennial powerhouse programs will face the ultimate test. It starts this fall with the Storm's girls cross country team, which has won 10 consecutive state championships, and girls soccer team, which last year won its sixth state title since 2010.
"For the most part, our coaches are excited," Carpenter said. "They're not scared off by the challenge at all."
Summit's girls cross country team was so dominant that it had five of the top six finishers in the Class 5A meet last year. Four of those runners are eligible to return this season.
But Summit's most thorough domination has been in girls track, where it won all 12 state championships since joining Class 5A. To continue its state supremacy, the Storm must put an end to Jesuit's three-year reign in Class 6A.
Summit also has won nine Class 5A titles in girls golf, eight in boys tennis and seven in boys swimming.
Bend's volleyball team, the two-time reigning Class 5A champion, needs to raise its game against the Class 6A powers.