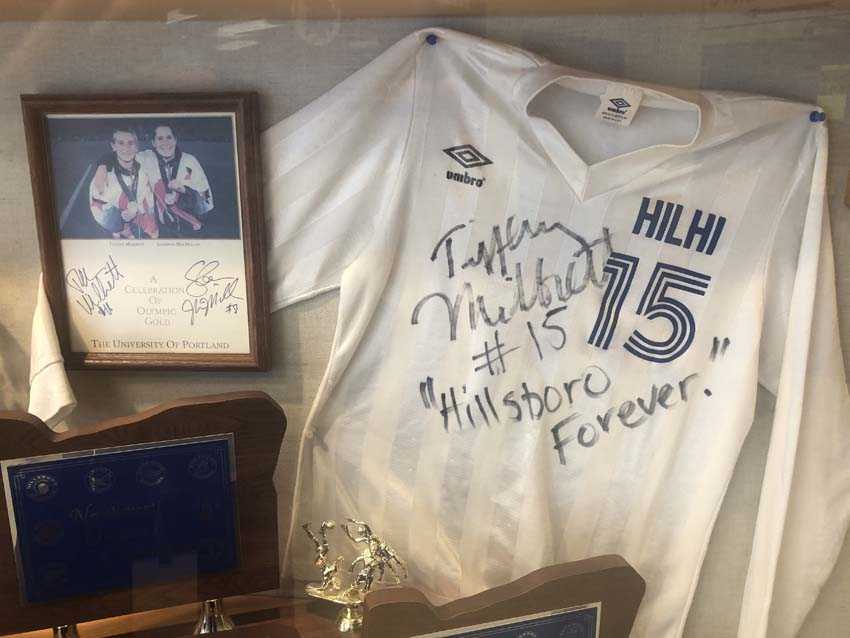 Crescent Valley and Churchill will play for the OSAA 5A girls soccer title tomorrow. Crescent Valley, as a team, has scored 46 goals this season in 16 matches. Churchill has netted 44 in 17 matches.
In 1989, Tiffeny Milbrett, a senior at Hillsboro High, scored 54 all by herself! And she needed only 14 matches to do it!
"She was a one-woman show," said current Hilhi AD Steve Drake. "She was the Michael Jordan of soccer."
The 54 goals set a state record that still stands today.
"She had amazing speed and the ability to blow by people," Drake recalled. "Every team tried to stop her by committing two defenders to her. She could not be stopped."
Milbrett, who turned 46 last month, went on to have a well-documented Hall of Fame career at the University of Portland and scored 100 goals as a member of Team USA, including a goal against China in 1996 that clinched Olympic gold for the Americans. But in many ways her high school career at Hillsboro was even more impressive.
Milbrett was a tiny tyke when she enrolled as a freshman at Hilhi back in 1986, but she had a big reputation. She'd been dominating soccer pitches and basketball hardwoods since her mother, Elsie, first signed her up for youth sports at age 8.
Elsie was a single mom and a weekend warrior who took Milbrett with her to adult softball and soccer games.
"I remember growing up on the sidelines of her practices and her games," said Milbrett. "I always asked, 'When can I be on a team?' I had an aptitude for sports and was an athlete at heart, always at the park playing in the neighborhood with the boys."
Milbrett and her older brother played lots of different sports and also enjoyed snow skiing and water skiing.
"We were as active as we could be," she said. "I just remember soccer being the most empowering; the most fun."
In all the sports she played, Milbrett, who stands just 5-3, had two calling cards: speed and tenacity.
"She only had one speed: top level," said Drake. "And she was a fierce competitor."
"I had explosiveness and agility and competed incessantly," Milbrett recalled. "I had a drive to play to my fullest."
Milbrett played varsity soccer for four years at Hilhi and was a starter at point guard for the varsity basketball team for three. Both teams were unremarkable when she first arrived on campus and she single-handedly transformed them into competitive squads. The Spartans won the Metro League title in soccer when she was a senior, defeating defending-state champion Beaverton to qualify for the state playoffs. And the basketball team, which had tasted limited success before she arrived, also qualified for state.
"She is still on the record board for assists and steals," noted Drake. "She was as talented on the basketball court with her ability to accelerate and burst."
"It's not that I wanted to be successful; I just wanted to play the games to the fullest," Milbrett explained. "Whatever the game called for, I did it. The point of soccer is to score goals. In basketball it's to score points."
Milbrett also lettered for four years as a sprinter and long jumper for the Spartan track team.
"I knew I was going to play one sport in college but until then I was going to experience it all," she said. "Track was my least favorite because it didn't have a ball."
As a junior, Milbrett qualified for the state meet in the 100 and long jump but couldn't compete because of soccer conflicts. She qualified again in the long jump as a senior and went this time, finishing sixth with a leap of 17 feet, 7 inches.
"There were others with my much longer legs," said Milbrett, explaining why she did not win.
Milbrett, who was the Oregon 3A soccer Player of the Year as a sophomore, repeated as a junior when she scored an incredible 46 goals for a team that did not even make the state playoffs. She followed that up with 54 goals her senior year in 14 matches, an average of almost four goals per match! Milbrett had top-end speed, explosiveness with the ball at her feet and elite dribbling ability, making getting one-on-ones with the goalkeeper routine.
Milbrett said that setting records – in addition to the single-season record, she also has the Oregon career goals mark of 131 – wasn't a focus of hers while she was playing.
"My whole thing is, I love scoring goals," she explained. "I'd score one and wanted to get the next one as quick as I could. I had no qualms about scoring multiple goals because that's the game. Scoring goals is what I did and it's what I wanted to do. Poor Forest Grove. I scored eight against them one game."
Her most memorable goal came against undefeated Barlow in the 3A quarterfinals. She drew a penalty kick and then converted to beat the Bruins, 2-1, hitting the ball with authority to her left, the side she favored most.
The final match of her high school career ended in defeat, when the Spartans lost in the semifinals to powerhouse Catlin Gabel.
"It was a back and forth game; I did not play well," she recalled. "They were well organized and better overall."
Since graduating from Hillsboro High, Milbrett has resisted overtures to return for one celebration or another, making an exception in 1999 when the school soccer field was named for her and trailblazing boys coach Jan Pedersen.
"She doesn't like the recognition or want the recognition," Drake said.
Upon retirement after a long career playing both internationally and professionally, Milbrett turned to coaching. She still lives in Portland but coaches in Denver for the Colorado Rapids Youth Soccer Club.
"I was always the shortest player on my team, but never felt short until I started coaching fulltime and all these players are taller than I am," Milbrett said. "Man I feel short."
Her advice to young females?
"Stop worrying about the social stuff and do what's in your heart and be okay with it. I know first-hand that it wasn't so normal for girls to be a top-level athlete. I didn't care and did what I did and felt fortunate to be treated by my coaches like a top-level male athlete. I am so thankful for them treating me with that respect."
Milbrett also credited her mother with making her journey so much easier.
"My mom never put pressure on me to be a certain way, to conform," Milbrett explained. "I wanted to play and had the potential and desire and drive. I did what was in my heart. I was strong enough to ignore everything else."