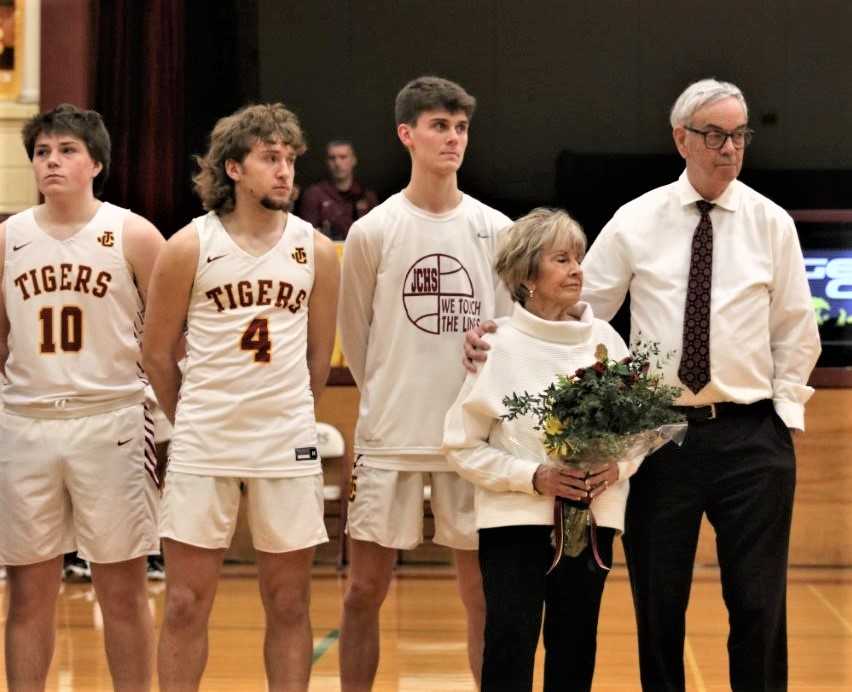 Craig Rothenberger has had more than his share of rewarding experiences in his 54 seasons of coaching boys basketball, the last 43 as the head coach at Junction City.
But this season has a deeper meaning for Rothenberger, who is No. 3 on the state's all-time wins list with a career record of 706-519. Not only is it his final season, but he is getting a chance to coach three of his grandsons in senior point guard Court Knabe, senior guard Gunner Rothenberger and junior wing Cooper Rothenberger.
"It's been a ball," Craig Rothenberger said. "They're all three really good kids that are easy to coach. It's been a lot of fun for me and my wife (Arlene) to watch. I'm pretty blessed. It's pretty unique to coach three grandsons."
Rothenberger has coached Knabe, a fourth-year starter, throughout his high school career. But it is his first time coaching Gunner and Cooper, transfers from 2A Toledo, where they played under their father Bart, now the athletic director at 1A Alsea.
Rothenberger, 75, said it was an ideal scenario for his final season of coaching. He has yet to decide if he also will leave his position as Junction City's athletic director.
"I"m going, 'How do you top this?'" he said. "It would be hard to match it. So I just decided that this would be a good time to step down."
Rothenberger's only state title came with Junction City in 1994, but the way the Tigers are playing, they could make a serious run this season. Coming off a state runner-up finish last year, Junction City is 17-2 and No. 3 in the OSAAtoday 4A coaches poll, both losses coming against No. 1 Philomath (14-1).
Junction City graduated its two tallest players from last season, but despite not having a starter taller than 6-foot-2, the Tigers have held their own against some of the state's top teams. They have beaten No. 4 Baker, No. 6 Seaside and No. 8 Henley (twice). They also have defeated two ranked 3A teams in No. 9 Pleasant Hill and No. 7 Creswell.
Rothenberger said the Tigers "certainly have the potential" to push for a title, even if they don't pass the eye test.
"If you lined the teams up, and looked at them and looked at us, well … we're kind of unassuming looking," he said. "But we were last year, too. And we were bigger last year."
Junction City returned three starters in Knabe (6-2), senior post Kaleb Burnett (6-2) and senior wing Jaxson Kister (5-10). Burnett, a 4A first-team pick as a junior, is averaging 22 points per game. Knabe is averaging nine points and six assists.
Gunner Rothenberger (5-10), a starter on Toledo's 2A title team as a freshman in 2020, has helped boost the offense, averaging 12 points. Gunner and Cooper Rothenberger (6-0) have been a natural fit with the team considering they grew up in Junction City and played with the returning starters through junior high school.
"They probably played 150, 200 games together," Craig Rothenberger said. "They're not like normal transfer kids in that they know these guys."
For years, Rothenberger has preached the importance of taking quality shots, breaking down the defense with ball movement. He has been critical of the shot clock, which will debut in Oregon next season, saying that it will lead to more three-point attempts and lower-percentage shots.
"I think it will ugly up high school basketball," he said.
Rothenberger said the introduction of the shot clock "had nothing to to with" his decision to retire from coaching, "but I'd be lying to you if I told you I was a fan, because I'm not. I don't think high school basketball needed it. I didn't say a lot because the younger guys that are coming up in line, that's what they wanted. I was pretty much a minority.
"What they're looking for is one-on-one play. I think a lot of fans and a lot of young coaches think the beauty of the game is one-on-one play, and that's because of the influence of the NBA. The beauty of the game, I think, is five people working together."
Rothenberger graduated from Nestucca, where he played on one of the first teams of legendary coach Barry Adams. As a student-teacher, he lived with Adams and assisted him in the program at Lebanon.
"Barry Adams is my mentor for basketball and a lot of things," Rothenberger said. "He was the guy that I built my career around, his approach to the game."
Rothenberger went 55-34 in four seasons at Tillamook Catholic (1969-73) and 45-57 in five seasons at Nestucca (1975-80) before taking the job at Junction City in 1980. He has gone 606-428 with the Tigers.
"My plan was to be here five or six years," Rothenberger said. "At that time I was thinking about, 'You've got to move up to the big school.' I had a couple opportunities where I could have done that. Just my kids fit in well here. It didn't seem right. I don't regret it at all. I've had a great run here."
Maurer sidelined
Reigning 3A champion Cascade Christian may have to finish the season without its star player, 7-0 junior center Austin Maurer.
The right-handed Maurer, who is averaging 17.1 points, fell on his right elbow when he was fouled on a breakaway dunk attempt early in a 76-41 win at Coquille on Jan. 20. He has missed the last three games for the co-No. 1 Challengers (16-2, 10-0 Far West League), all wins.
Maurer is scheduled to undergo an MRI on Wednesday. Cascade Christian coach Brian Morse said that an orthopedic surgeon believes Maurer may have two small fractures in his elbow joint.
"Once they receive the results of the MRI, they will know how to treat it," Morse said. "I'm obviously praying we get him back before the state tourney, but he could be done for the season."
Knights in control
De La Salle North Catholic took a commanding lead in the 3A Lewis & Clark League with an 80-67 home win over Westside Christian on Thursday in a matchup between teams tied for No. 3 in the OSAAtoday 3A coaches poll.
Elliot Ball-Dowling, a 6-7 senior wing, made seven three-pointers and finished with 29 points and eight rebounds as the Knights (17-3, 9-0) opened a two-game lead over the second-place Eagles (18-3, 7-2) with three league games remaining.
Sophomore post Jaylen Hill had 12 points, six rebounds and five assists and junior guard Quincy Aranda added 10 points and eight assists for De La Salle North Catholic, which led 37-28 at half and 63-42 after three quarters.
Westside Christian got 17 points and 11 rebounds from senior Jonah Jones, 15 points from senior Ethan Chiong and 13 points and six assists from junior Kahlid Hodge.
The Knights have won both meetings between the teams this season, rolling 75-52 at Westside Christian on Jan. 5.
Woodburn separates in MWC
On an eight-game winning streak, No. 4 Woodburn is running away with the 5A Mid-Willamette Conference.
The Bulldogs (12-3, 9-0) solidified their lead Thursday with a 65-55 win at second-place Central (9-6, 6-3). Woodburn holds a three-game edge over Central, Crescent Valley (9-7, 6-3) and West Albany (9-7, 6-3).
Senior wing Spencer Karsseboom (6-3) and junior forward Liam Slattum (6-8) scored 19 and 18 points, respectively, in the win over Central. Sophomore wing Cruz Veliz added 15 points for the Bulldogs, who opened a 19-6 lead and held off the Panthers, who closed to within 48-47 with 4:55 left in the game.
-- Jeremy McDonald contributed to this report