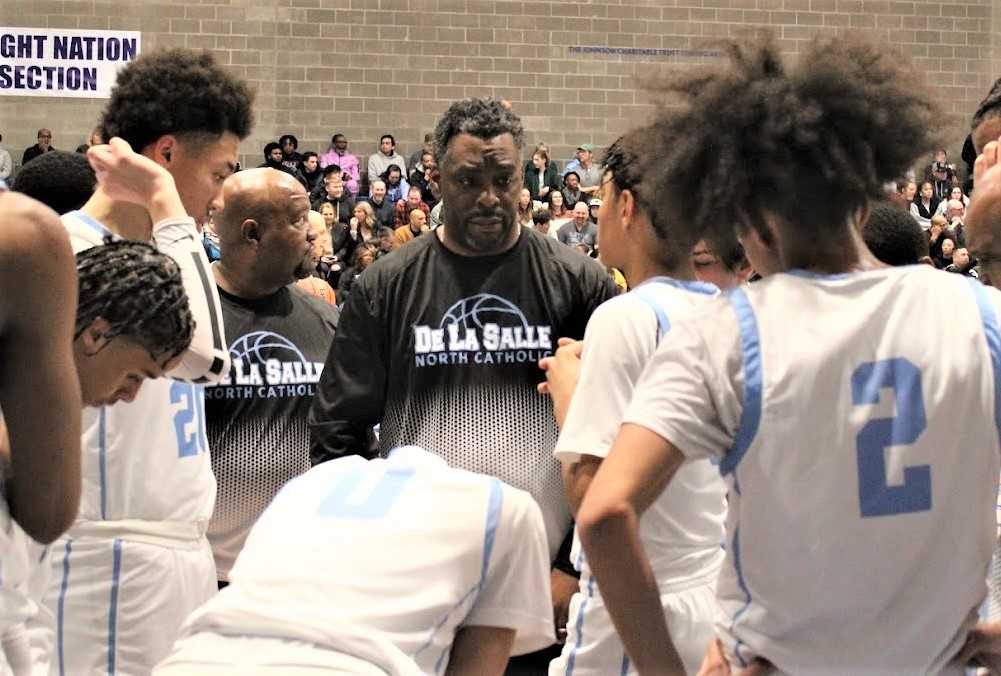 Entering the boys basketball season, the transfer of three starters from last year's 3A runner-up team seemed to deliver a mortal blow to De La Salle North Catholic's chances of winning a state title.
First-team all-state guard TJ Latu and guard Quincy Aranda left for Jefferson and guard JahAllah Van landed at Lincoln, leaving the Knights scrambling to fill those spots. The loss of Latu, who led the team in scoring at 16 points per game, was particularly painful.
"It was a huge blow because he was so gifted offensively," coach James Broadous II said. "We didn't know where we were going to pick up those points. He was the type that could make something out of nothing."
As it's turned out, though, De La Salle North Catholic has reinvented itself and returned to the 3A tournament as a threat to win it all. The No. 2 Knights (23-3) will carry a 16-game winning streak into a quarterfinal against No. 7 Creswell (20-4) on Thursday in the OSAA/On Point Community Credit Union 3A tournament at Marshfield High School.
"We've been trending in the right direction," said Broadous, who led the team to state titles in 2018 and 2019. "Our guys have sort of bought in to what we do. They actually bought in a lot sooner than I would have anticipated considering we lost so much from last year."
In all, De La Salle North Catholic lost seven players from a team that fell to Cascade Christian 52-45 in last year's final. Somehow, the Knights have shrugged it off and kept right on winning.
"Realistically, this team is better than last year's team," Broadous said. "If it's not the deepest team we've had, it's one of two."
The emergence of 6-foot-5, 245-pound sophomore post Jaylin Hill (11.0 points, 8.5 rebounds) and the breakout shooting season of 6-7 senior wing Elliot Ball-Dowling (12.5 points) are the biggest factors for the Knights. They lead a balanced offense that includes senior forward Israel Hill Jr. (10.0 points), senior guard Jordan James (10.0 points) and Aranda (11.0 points), who transferred back and rejoined the team early in the season.
"Those shots and those buckets are sort of spread around," Broadous said. "You don't go through as many droughts when you have so many guys who can score."
The Knights are averaging 71.4 points per game, up from 63.3 last year. They rank second in 3A scoring behind Cascade Christian (72.0).
Hill, a JV/varsity swing player as a freshman, has become the catalyst for the offense. He gets deep post position and either scores or finds open teammates. The team has come to lean on him.
"When things aren't going well, and we need a bucket, we can get the ball inside and something can happen," Broadous said. "And we have some pretty good shooters surrounding him. We've sort of changed our game according to our personnel. I would love to have TJ, but Jaylin is more of a calming factor for us."
Hill, who played defensive end for Grant's football team, puts pressure on defenses with his physicality, instincts, soft touch and court awareness. As the season has progressed, he has improved at finishing through contact.
"He just really took off this year," Broadous said. "He's a load right now. If he's standing in a doorway, you're not going to push him through that doorway."
Ball-Dowling, a starter last season, has provided scoring punch off the bench. He made nine three-pointers in a game against Lewis & Clark League rival Westside Christian.
"I would say any game that you come to, Elliot is the best shooter on the court," Broadous said. "We needed him to be a threat. He was one of those guys who didn't want to force any shots. Now he's gotten to the point where he'll let it go."
Loaded with ball handlers, the Knights play a positionless style. They often use multiple players with point-guard experience at the same time, making efforts to press them mostly futile. They prefer to draw opponents into an open-court game.
De La Salle North Catholic is 3-0 against top-seeded Westside Christian, beating the Eagles 75-52 and 80-67 in Lewis & Clark play and 70-59 in the league championship Feb. 18. The Knights also handled No. 5 seed Oregon Episcopal by 20 and 25 points in league games.
De La Salle North Catholic's only loss to an Oregon team was a 56-52 defeat at No. 3 seed Dayton in its third game of the season. The Knights were missing Aranda, who was not yet eligible.
"We were still trying to figure things out," Broadous said. "They were a little ahead of the game than we were."
If De La Salle North Catholic gets past Creswell, it would face either No. 3 Dayton or No. 6 Cascade Christian in the semifinals.
"There are no cakewalks at this point," Broadous said. "Our side of the bracket is stacked. I'm not mad that Cascade Christian and Dayton are playing each other."
3A boys quarterfinals, Thursday, Marshfield HS
No. 8 Pleasant Hill (21-5) vs. No. 1 Westside Christian (25-4), 1:30 p.m.: The teams have a recent history, with Westside Christian eliminating the Billies 81-51 in the quarterfinals last year and dominating them again 75-43 in a nonleague game Feb. 16. The Eagles, who have never won a title, graduated the entire starting lineup from a team that lost to Cascade Christian in last year's semifinals. They rebuilt with an influx of transfers, including 6-4 senior forward Jonah Jones from 6A Wells. Of their four losses this season, three were against league rival De La Salle North Catholic and one was to Cascade Christian. Pleasant Hill, which won its last of four titles in 1999, features 6-2 sophomore guard Gavin Inglish (21.3 points, 6.0 rebounds, 44.8 percent from three-point range), the unanimous Mountain Valley Conference player of the year, and junior point guard Matthew Nguyen (first-team all-league). The Billies lost senior starter Matthew Dutton for the season in January when he had surgery to remove blood clots in his right forearm.
No. 5 Oregon Episcopal (19-7) vs. No. 4 Banks (22-3), 3:15 p.m.: Banks, the 4A champion in 2019 and a 4A semifinalist last year, has been dominant in its first season in 3A. The Braves' only loss to a 3A team came against Westside Christian in early December. They landed three players on the Coastal Range League first team in senior guards Ben Mayo (20.0 points), Wyatt Selleck (9.0 points) and Ian Bodine (12.0 points). With nine seniors, many of whom have played together since grade school, Banks has excellent team chemistry. The Braves are allowing a 3A-low 35.8 points per game. Oregon Episcopal comes from the tough Lewis & Clark League, where it was 0-3 against Westside Christian and 0-2 against De La Salle North Catholic. The Aardvarks have 5-8 senior guard Levi Edelman (19.0 points), a transfer from 6A Cleveland who has set a school record with 70 three-pointers and made first-team all-league. Seniors Cyrus Forney (10.0 points, 7.5 assists), Henry Gewecke (10.5 points, 8.5 rebounds) and 6-5 senior AJ Matheson-Lieber (12.0 points, 1.2 blocks) set school records for assists, rebounds and blocks, respectively. Oregon Episcopal, the 2020 champion, was a quarterfinalist leat year.
No. 6 Cascade Christian (24-4) vs. No. 3 Dayton (25-1), 6:30 p.m.: Cascade Christian, state runner-up in 2020 and 2021, won its first title in 13 years last season. The Challengers are led the reigning 3A player of the year in 7-0 junior Austin Maurer (18.0 points, 8.3 rebounds, 2.2 assists, 3.8 blocks, 60.0 percent field goal), who has returned to the lineup in the playoffs after missing four weeks with two small fractures in his right arm. He has scored 53 points in two postseason games, recording 10 blocks in a second-round win over Amity. Cascade Christian also has sophomore point guard Drew Hall (17.9 points, 6.1 rebounds, 4.7 assists, 3.1 steals), a member of South Medford's 6A tournament team last season. The Challengers rolled top-seeded Westside Christian 57-26 on Dec. 23 and beat 5A No. 1 Summit on Dec. 30. Dayton is the only 3A team to beat Cascade Christian, winning 57-50 at Cascade Christian on Dec. 21. The Pirates have won all five of their titles since 2001, most recently in 2015 and 2017. They are in the quarterfinals for the ninth consecutive year. Dayton has won 24 in a row since its only loss to Westside Christian. Junior point guard Boston Hodges (12.0 points), the quarterback of the semifinal football team, was the PacWest Conference player of the year. Senior guards Lucas Ashley and Michael Freeborn also were first-team picks. Ashley is questionable for the tournament with an injury.
No. 7 Creswell (20-4) vs. No. 2 De La Salle North Catholic (23-3), 8:15 p.m.: De La Salle North Catholic, the runner-up last year, has made the final eight in all 11 seasons under coach James Broadous II (236-53). The Knights have appeared in seven finals since 2009, winning in 2018 and 2019. First-team all-state guard TJ Latu and JahAllah Van transferred to Jefferson and Lincoln, respectively, but De La Salle North Catholic has retooled and takes a 16-game winning streak into the tournament. The Knights are 3-0 against the top seed, Lewis & Clark League rival Westside Christian. Their only in-state loss came against Dayton, a 56-52 defeat on Dec. 10. Jaylin Hill, a 6-5, 245-pound sophomore post, is averaging 11.0 points and 8.5 rebounds. Creswell, a semifinal team in 2020, is back in the quarterfinals after a two-year absence. The Bulldogs won titles in 1969, 2000 and 2004. Max Velarde (14.0 points, 6.0 rebounds, 3.5 steals), a 6-4 senior guard, and Connor Hanson (10.0 points), a 6-0 senior guard, were Mountain Valley Conference first-team picks. AJ Hodge (12.0 points), a 6-4 senior forward, was named to the second team. Creswell is holding foes to 37.6 points per game, second in 3A to Banks.
3A girls quarterfinals, Thursday, North Bend HS
No. 9 Lakeview (24-4) vs. No. 1 Banks (25-2), 1:30 p.m.: Banks, the 4A runner-up in 2017, is playing its first season in 3A. The Braves battled it out in the Coastal Range League with Corbett, splitting two regular season games and falling to the Cardinals 47-41 in a league playoff. Banks has two first-team all-league selections in 5-11 senior post Alex Saunders (14.2 points, 3.0 steals, 5.7 deflections) and senior guard Hailey Evans (7.3 points, 3.0 assists, 2.5 steals). Madison Walker, a 5-11 senior post, is adding 8.3 points and 7.0 rebounds per game. The Braves missed the state tournament the last three years. Nick Rizzo has returned for his third stint as the team's coach. Lakeview is the only tournament team to win on the road in the round of 16, defeating De La Salle North Catholic 58-43. The Honkers made the 2A final eight the last two years, losing to Central Linn in the quarterfinals both times. They have never appeared in a state final. Coach Cody Blair is 57-11 in three seasons. Lakeview dropped both games to Far West League rival Sutherlin and also lost to 4A Henley and 1A power Crane. Kenna Stratton, a 6-0 junior forward, is averaging 14.0 points and 10.0 rebounds. Stratton and senior guard Breanna Strubel made the Far West first team.
No. 5 Santiam Christian (23-5) vs. No. 4 Amity (21-4), 3:15 p.m.: The PacWest Conference rivals meet for the fourth time this season and the third time since Feb. 9. Amity defeated Santiam Christian 44-35 and 50-47 in league games, but the Eagles prevailed 41-36 in a league playoffs. Santiam Christian has the PacWest player of the year in 5-11 senior wing Tayla Yost (17.2 points, 7.0 rebounds, 4.0 assists) and a first-team selection in 5-11 senior wing Maddie Fields (14.0 points, 8.5 rebounds, 3.0 assists). The Eagles, who lost in the semifinals in 2021 and the quarterfinals last year, haven't made the championship game since taking the 2A title in 1997. Amity had two players on the PacWest first team, 5-6 freshman guard Alyssa McMullen (9.9 points) and 5-10 sophomore wing Saralynn Grove (8.5 points, 5.4 rebounds). Freshmen Adie Nisly (9.4 points, 5.3 rebounds) and Eliza Nisly (9.0 points, 3.5 steals) made the second team. Senior guard Ellie McMullen, first-team all-state last season, suffered an ACL injury in the state tournament last year and returned to the lineup six games ago.
No. 6 Nyssa (22-4) vs. No. 3 Corbett (23-3), 6:30 p.m.: An intriguing matchup between Nyssa, the reigning 3A champion, and Corbett, last year's 4A runner-up. Nyssa has not lost to a 3A team this season, falling only to 4A No. 1 Baker (twice), 2A No. 2 Central Linn and unbeaten Melba (Idaho). Nyssa's game revolves around 6-5 senior Gracie Johnson (19.1 points, 11.8 rebounds), the Eastern Oregon League player of the year who has signed with Utah State. The Bulldogs also have first-team all-league junior guard Clarita Arizmendi (6.7 points, 4.8 rebounds, 3.2 steals). Corbett is chasing its first title since 1987 behind coach Bill Schimel, who played for the school's boys title teams in 1994 and 1995. His daughters – junior Ally Schimel (19.0 points, 8.0 rebounds, 4.5 assists, 4.0 steals, 2.2 blocks), the Coastal Range League MVP, and sophomore Lilly Schimel (10.0 points, 9.0 rebounds) – are key cogs, as are junior Ella Holwege (12.0 points, 8.0 rebounds, 4.0 assists, 4.0 steals) and sophomore Taylor Donahue (14.0 points). Holwege and Ally Schimel were starters last year, when the Cardinals lost to Philomath in the 4A final. Corbett went 2-1 against top-seeded Banks this season.
No. 7 Pleasant Hill (22-1) vs. No. 2 Sutherlin (26-2), 8:15 p.m.: Sutherlin and Pleasant Hill enter the tournament with winning streaks of 18 and 20, respectively. Sutherlin won five 4A titles (2008, 2014-17) under coach Josh Grotting but has yet to reach the top after moving to 3A in 2018-19. The Bulldogs lost to Clatskanie in the final in 2020 and 2021 and fell to Nyssa in the semifinals last year. They brought back their entire starting lineup, led by the Far West League player of the year in senior guard Micah Wicks (22.0 points, 6.0 assists, 4.0 steals) and two other first-team selections in senior guard Ava Gill (7.0 points) and junior forward Madison Wagner (10.0 points, 6.0 rebounds, 4.0 assists). The team's seniors completed their careers unbeaten in league. The Bulldogs' two losses came against Amity. Pleasant Hill has made one final, finishing as runner-up in 1999. The Billies, who won six games last season, haven't lost since falling to 4A Junction City in their third game. Kim Beer, who went 34-52 in his previous stint as the Billies' coach (2010-13), returned to the bench this season. He installed a 2-3 zone defense that is holding opponents to a 3A-low 22.2 points per game. Sophomore post Claire Crawford (10.0 points, 7.0 rebounds) and senior wing Kiley Campos (6.0 points, 4.0 steals) made the Mountain Valley Conference first team. Cheyenne Green, a 6-1 sophomore, is contributing 8.0 points and 6.0 rebounds.