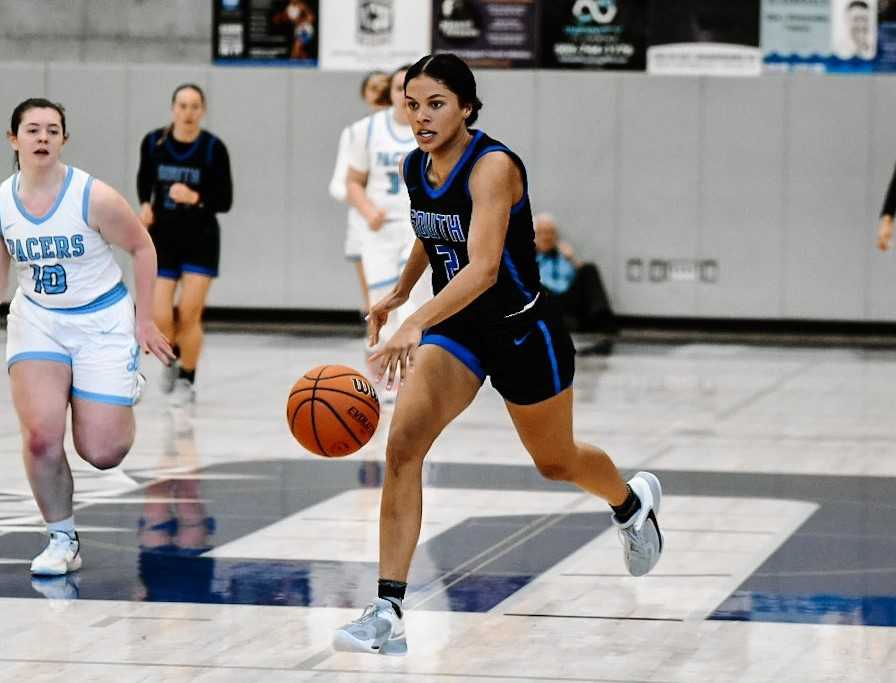 Sure, South Medford could have used a few close games in the last couple months to prepare for this week's 6A girls basketball tournament at the Chiles Center.
Since a challenging December, the Panthers have crushed their competition, winning their last 15 games by an average of 37.3 points. It's the type of thing that could dull a team's competitive edge.
But according to coach Tom Cole, the wide margins have come with some benefits. They have allowed his promising freshman class – perhaps the best in his 16-year tenure with the team – to find varsity footing.
"It's allowed us to build a little depth," said Cole, whose team plays No. 10 West Salem in a Wednesday night quarterfinal. "Our young kids have gained a lot of experience. I feel like this group has grown up quite a bit since the beginning of the season."
Freshman guard Taylor Young (9.0 points, 3.4 steals) cracked the starting lineup midway through the season. Two other freshmen – 6-foot-2 center Mayen Akpan and 6-0 forward Dyllyn Howell – have been key contributors off the bench.
Cole said that the six freshmen on the roster remind him of the Class of 2021, which was thrown into the fire at an early age and went on to win an unofficial state title as seniors.
"They were thrust into playing significant minutes as freshmen with no leadership," Cole said. "The difference is this group has some great seniors."
The Panthers expect the newcomers to play important roles, but if they are going to make a run at their first OSAA title since 2012, they will need a big tournament from their star, Oregon State-bound senior guard Donovyn Hunter.
The 5-foot-11 Hunter is averaging 18.4 points, 4.2 rebounds, 2.1 assists and 4.5 steals per game. She was voted player of the year, as well as defensive player of the year, in the Southwest Conference.
"She's so talented and so poised," Cole said. "She's very proficient scoring, but she's also just as committed defensively. I don't know that her game ever gets the credit it deserves because of how good of a two-way player she is. She's helped to set a tone defensively for the other kids."
Cole said that Hunter is as good as any of the Division I college players that have come through South Medford in his time as coach. As far as raw talent, he said she compares with Ashley Bolston, a 2014 graduate who went on to play at Washington State and Portland State.
"The very defining difference is that Donovyn's motor runs high pace every game," Cole said. "Her talent is accentuated by her relentless work ethic. She's a kid who doesn't want to lose a sprint in practice.
"I think she's really underrated. Not only is she a special kid in terms of basketball, she's also a really great kid. She's got an old soul. She's super kind, very humble."
In addition to Hunter, senior guards Kendall Fealey (9.9 points, 1.9 steals) and Tatum Schmerbach (7.4 points, 4.2 rebounds) also are providing strong senior leadership. Fealey, a returning starter and first-team all-conference pick, and Schmerbach have signed with Oregon Tech.
South Medford has never won a title at the Chiles Center. The Panthers finished off a 30-0 season in 2012 by winning the final at the Moda Center. Two years ago, they won the unofficial state bracket in late June at Grant High School.
"I know that in 2021 we didn't have a traditional venue, but it was also a year that we were very, very dominant," said Cole, whose team finished the abbreviated season 13-0. "We went out of our way to play anyone we could to prove that. Whether or not it was under the realm of the OSAA, it was secondary to the reality that we were the best team in the state.
"Obviously, winning one anywhere is great, but the venue is less important than the outcome."
The Panthers have brought many dominant teams to the Chiles Center and had their high hopes dashed. They suffered four consecutive quarterfinal losses before reaching the final four in 2020, only to have the tournament canceled by the COVID outbreak. They returned to the semifinals last year but lost to Barlow 44-42.
With a potent mix of emerging rookies and proven veterans, South Medford believes it has another shot at the blue trophy. After not seeing the top 6A teams for two months, though, the Panthers will need to quickly find another gear.
"You can't fabricate a high-pressure, small-margin-of-error kind of a late-minute game," Cole said. "I have witnessed that on more than one occasion. That's a hard thing to prepare for, especially when you have to do it in multiple nights."
6A girls quarterfinals, Wednesday, Chiles Center
No. 8 Willamette (18-7) vs. No. 1 Jesuit (25-2), 1:30 p.m.: Jesuit dominated Willamette 68-38 on the road Dec. 16, taking a 36-12 lead at half behind senior guard Sofia Bell, who finished with 26 points. The addition of the Oregon-bound Bell from St. Mary's Academy helped the Crusaders dethrone Beaverton in the Metro League. The 6-0 Bell was named the Metro player of the year, averaging 18.6 points, 4.3 rebounds, 3.2 assists and 3.4 steals. Jesuit, on a 19-game winning streak, has lost only to Clackamas and Sierra Canyon (Calif.). Willamette moved to 6A this season after making the 5A quarterfinals last year. The Wolverines start five sophomores, including 5-11 Brynn Smith (16.3 points, 41 three-pointers) and 5-11 Maddy Warberg (10.6 points, 51 three-pointers), who made the Southwest Conference first and second team, respectively. Smith is the niece of former Churchill and Oregon standout AD Smith. Willamette coach Danielle McBride (Bellando) played for the school's 5A title team in 2007. The Wolverines won four 5A titles (2007, 2009, 2013, 2014). Jesuit's lone championship was in 2011.
No. 5 Clackamas (23-4) vs. No. 4 Beaverton (19-8), 3:15 p.m.: A rematch of last year's semifinal, when Beaverton smothered high-scoring Clackamas 41-28 on the way to its first title. Clackamas got some payback early this season by winning 42-38 at Beaverton, ending the Beavers' 23-game winning streak. Clackamas, No. 1 in the OSAAtoday 6A coaches poll for most of the season, is unbeaten in the state. The young Cavaliers feature 6-1 wing Jazzy Davidson (22.5 points, 7.2 rebounds, 2.9 blocks), considered among the top sophomores in the nation. Davidson has struggled against the defense of Beaverton senior Lainey Spear (6-1), though, scoring 8, 6 and 3 points in her three games against the Beavers. Clackamas also has University of Portland-bound senior guard Rhyan Mogel (10.3 points, 4.7 rebounds, 4.1 assists). Beaverton returned four starters from last year's champion in Spear (14.1 points, 7.1 rebounds, 2.4 steals), senior guard Zoe Borter (15.3 points, 4.7 rebounds) and senior point guard Madison Naro (10.2 points, 5.1 rebounds, 5.2 assists). Spear (Portland), Borter (UC Santa Barbara) and Naro (Santa Clara) have signed with colleges. The Beavers have made the final four in each of the last four OSAA tournaments. Beaverton coach Kathy Naro, the daughter of former NBA coach Rick Adelman, played for Tigard's title team in 1988.
No. 6 Barlow (22-5) vs. No. 3 Tualatin (24-2), 6:30 p.m.: Barlow played in its first final last year, losing to Beaverton. The Bruins returned their top two players in senior point guard Kennedie Shuler (18.5 points, 4.6 rebounds, 7.3 assists, 4.4 steals), an Oregon State commit, and senior guard Annie Koenig (17.3 points, 4.2 rebounds, 44.2 percent three-point). Shuler was the co-player of the year in the Mt. Hood Conference, sharing the honor with Clackamas' Davidson. Against in-state opponents, Barlow lost twice to Clackamas and once each to Jesuit and Beaverton. The Bruins survived a battle in the second round of the playoffs, holding off Benson 60-56 behind 26 points from Koenig. Tualatin wins with an airtight 2-3 zone defense that holds foes to a 6A-low 27.5 points per game. Olivia Poulivaati (9.0 points, 6.1 rebounds, 2.3 steals), a 6-0 senior post who has committed to Nevada, was the Three Rivers League defensive player of the year. Poulivaati and senior guard Tabi Searle (10.5 points, 5.0 rebounds, 3.9 assists, 2.1 steals) were first-team all-league selections. The Timberwolves' only losses were by five points to Washington runner-up Camas and a four points to Jesuit.
No. 10 West Salem (21-5) vs. No. 2 South Medford (25-2), 8:15 p.m.: West Salem is playing in the state tournament for the first time in the history of the program, which started in 2002-03. The Titans, who are on a 14-game winning streak, have won their conference the last two seasons. Senior guard Lizzy Bennett (15.7 points), the Mountain Valley Conference player of the year last season, is co-player of the year in the Central Valley Conference this season along with her teammate, senior Mady Diaz (13.8 points). Freshman Emma Zuniga (14.2 points, 8.7 rebounds) also made the first team. Sixth-year West Salem coach Katie Singleton (Steigleman), a former all-state player at Sheldon (2008), holds the Corban University career scoring record. South Medford is a mainstay in the tournament, missing it only once (2018) since 2011. Coach Tom Cole is 339-96 in 16 seasons, leading the Panthers to a title in 2012 and second place in 2013 and 2014. The Panthers' only losses this season came against Beaverton and unbeaten Incarnate Word (Mo.). South Medford thrives in transition, averaging 18.1 steals per game.
6A boys quarterfinals, Thursday, Chiles Center
No. 9 Central Catholic (15-11) vs. No. 1 West Linn (25-1), 1:30 p.m.: West Linn, unbeaten in Oregon and No. 1 in the OSAAtoday 6A coaches poll all season, is the consensus favorite to win its first title since Payton Pritchard led the Lions to four in a row (2013-16). The Lions gained national attention in late December by beating powers Sierra Canyon (Calif.) and Duncanville (Texas) in winning the Les Schwab Invitational. Their only setback is a 63-53 defeat at De La Salle (Calif.). Oregon-bound 6-0 senior point guard Jackson Shelstad (28.7 points), the Three Rivers League player of the year, has scored 33 and 41 in the playoffs. He hit 7 of 8 from three-point range in the second round against Jesuit. Senior guard Adrian Mosley (16.0 points), a transfer from Grant, was first-team all-league. The team also features senior forward Mark Hamper, the Three Rivers defensive player of the year and an Idaho football commit, and senior guard Sam Leavitt, signed with Michigan State football as a quarterback. Lions first-year coach Robert Key led Grant to the 2018 title. West Linn, a semifinalist last year, will try to follow 6A titles in football and wrestling. Central Catholic, which won its only title in 1994, has reached the tournament for the third time in four postseasons. The Rams have two first-team all-Mt. Hood players in 6-3 sophomore guard Isaac Carr (14.9 points) and 6-5 junior forward Marley Zeller (16.0 points, 6.6 rebounds). Gray Thompson, a 6-7 senior, has returned after missing much of the season with a broken wrist.
No. 5 Gresham (22-4) vs. No. 4 Lincoln (23-4), 3:15 p.m.: Heather Seely-Roberts, who coached Lakeridge to the girls final in 2004, is the first woman to lead a boys team to the big-school tournament. She guided Yamhill-Carlton to the unofficial 3A title in 2021 with her twin sons, Moroni and Malachi Seely-Roberts, now seniors with the Cardinals. The 6-6 Moroni, the Portland Interscholastic League player of the year, is averaging 23.2 points, 9.0 rebounds, 4.5 assists and 2.1 steals. The 6-8 Malachi, first-team PIL, is putting up 19.0 points, 6.0 rebounds, 6.8 assists and 2.0 steals. Lincoln also has two 6-10 players in senior Graham Eikenberry (8.6 points, 7.1 rebounds) and junior Evan Heisler. The Cardinals won the last of their three titles in 1957. Gresham is in the quarterfinals for the first time since 1992, when it lost to Sheldon in its only finals appearance. The Gophers earned their spot by edging Benson 62-61 in the second round. Gresham 6-2 senior point guard Esyah Pippa-White (23.6 points), a four-year starter, made the Mt. Hood first team. The Gophers also have junior guard RJ Alexander (13.3 points) and senior guard Scotty Riddle (12.9 points), the conference co-defensive player of the year. Pippa-White's mother, Jenny, played at Ashland under Seely-Roberts.
No. 6 Beaverton (20-7) vs. No. 3 Tualatin (21-5), 6:30 p.m.: Tualatin is back in the tournament despite graduating four starters from the school's first title team. The Timberwolves' lone returning starter is senior guard Josiah Lake (25.6 points), a dangerous deep shooter. Jaden Steppe (19.6 points), a 6-8 junior forward and a key rotation piece last season, is a threat on the perimeter and posting up. Last year's coach, Todd Jukkala, stepped down and he was replaced by Bubba Lemon, the grandson of late Harlem Globetrotters great Meadowlark Lemon. Tualatin went 0-3 against Three Rivers rival West Linn, but was competitive, losing in double overtime at the Les Schwab Invitational and by six and 11 points in league games. The Timberwolves defeated Beaverton 53-52 at the LSI, coming back after trailing by 10 points at half. The teams also met in the quarterfinals last year, with Tualatin prevailing 54-43. Beaverton features senior guard Brady Rice (14.4 points, 5.0 rebounds), a first-team Metro League pick, and 6-4 senior guard Jalen Childs (13.0 points), a transfer from Sunset. Junior Max Elmgren shot 59.6 percent (28 of 47) from three-point range in Metro games. Chance Winter, a 6-11 junior center who transferred from Glencoe, is the son of former Glencoe star Stephanie Block, who played at Oregon State and Boise State. The Beavers' only title came in 1998.
No. 7 Mountainside (19-7) vs. No. 2 Barlow (24-3), 8:15 p.m.: Barlow has a knack for drama, winning three overtime games (two in double overtime) and two others in regulation on late-second shots. The Bruins are led by 6-3 sophomore guard Jalen Atkins (23.0 points, 3.5 assists, 48.0 percent three-point), the Mt. Hood player of the year. Mason Bierbrauer (16.2 points, 5.0 rebounds), a 6-5 sophomore forward, made the Mt. Hood first team, and senior guard Jahvari Martino (12.8 points) was selected as the conference's co-defensive player of the year. The Bruins are on pace to set school records in field-goal and free-throw shooting. Barlow's only losses have come against No. 1 West Linn, No. 3 Tualatin and No. 6 Beaverton. It is the Bruins' 33rd consecutive playoff appearance under coach Tom Johnson, who is 686-341 in 40 seasons, 37 at Barlow. Five players have fathers that played for the Bruins under Johnson. Barlow has not won a title, finishing second in 1996. Mountainside, which opened in 2018, made its first state tournament last year, losing in the semifinals to Summit. Brayden Boe (17.0 points, 6.0 rebounds, 6.0 assists), a 6-4 sophomore point guard, was the Metro player of the year. He had 22 points, eight assists and five rebounds in a second-round win over Clackamas. Boe and junior guard Quinn Haveman (15.0 points) are the only starters back from last season, but the 6-3 Haveman, the team's best defender, was lost in the sixth game with a broken ankle and is doubtful for the tournament. Jaylin Ormond (13.0 points, 9.0 rebounds), a 6-5 senior post, provides a strong interior presence.