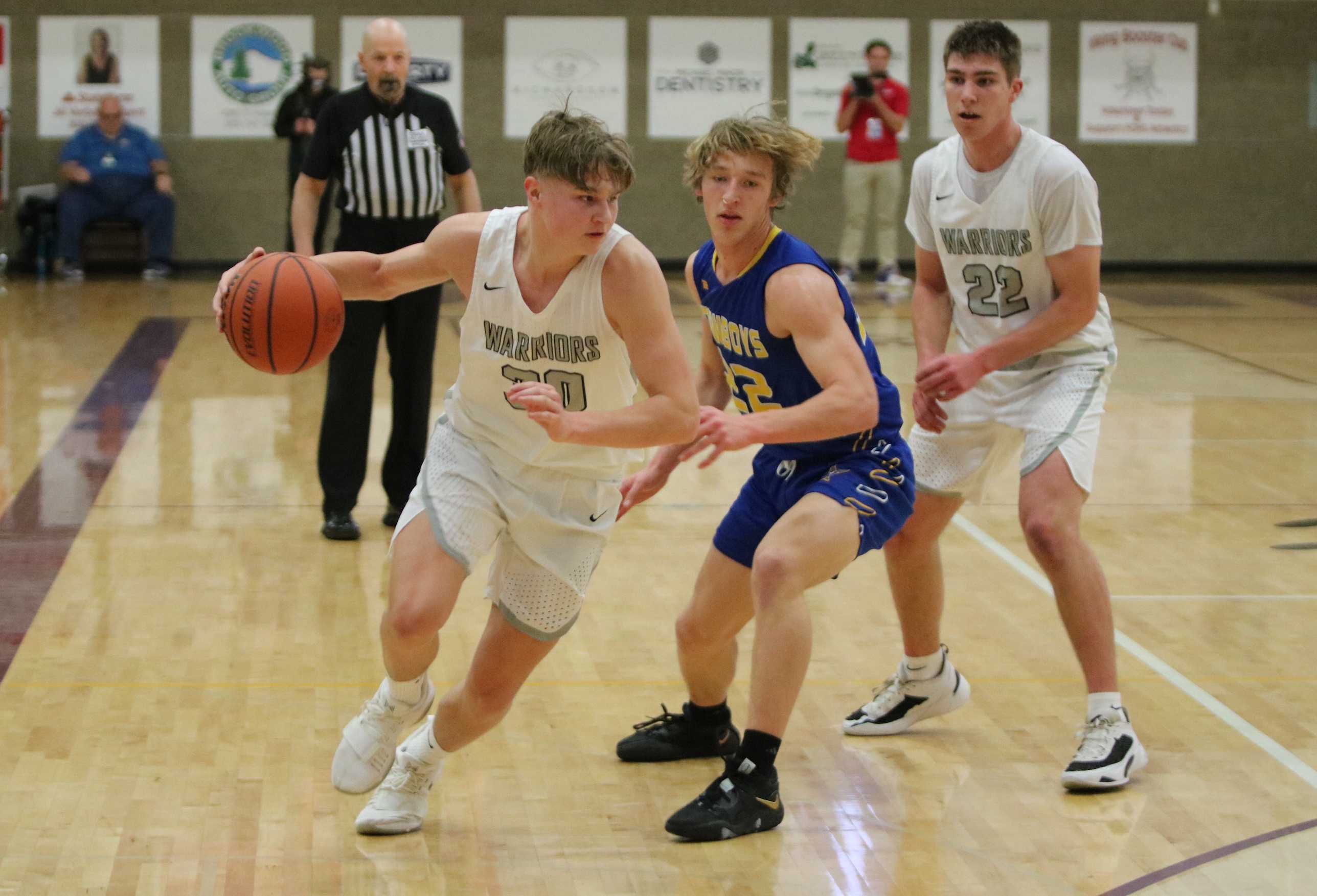 FOREST GROVE -- When they shared the basketball Thursday afternoon, the Philomath Warriors were at their best.
Before figuring that out, though, they had to endure a rough first quarter.
Philomath's Ty May led finished with a game-high 16 points, eight rebounds, and two assists, leading a balanced attack that carried the top-ranked Warriors to a 54-43 victory over the Crook County Cowboys in the quarterfinals of the OSAA/OnPoint Community Credit Union 4A boys basketball playoffs at Forest Grove High School.
Jacob Peters added 12 points and Preston Kramer also finished in double figures with 11 points to help send Philomath (21-4) into Friday's semifinals against Skyline Conference champion Henley, a 77-61 winner over Baker.
"Good to get the first one out of the way," May said. "We definitely have to come out working hard tomorrow."
Philomath didn't hit the floor running against Crook County (16-9). Maybe it was a case of needing to burn off nervous energy or playing in the 1:30 p.m. tourney opener or uncertainty over how best to attack the Cowboys (16-9) from Prineville.
The Warriors overcame a sluggish start to take a 12-10 lead at the end of the first quarter. They then closed the second quarter on an 18-6 run to open a 33-21 halftime lead, effectively seizing control of the game.
So what changed between the 5:58 mark of the second quarter when the score was tied 15-15 and the end of the first half.
"I think we were a little nervous and we were a little selfish with the basketball and we're passing the ball very together," Philomath coach Blake Ecker said. "Once we figured that out halfway through the second quarter, we played really well to end the half.
"When we play like that, we're pretty hard to defend. But we can't do that. We can't be selfish. And that's what we were to start off the game."
Kramer, Philomath's 6-foot-2 junior, was one of the catalysts behind the second-quarter surge, scoring nine points on a pair of three-pointers, a running lay-in, and a free throw.
"They just left Preston open a couple of times," Ecker said. "He's a hard guy to read sometimes, but he hit a couple of shots from the perimeter, and then that opened up the drive as well for him."
To close the half, Chad Russell got inside for a chippy, May converted a three-point play, and Cole Beardsley knocked down a three from the left wing to put the Warriors up by 12.
"Definitely nerves and we were a little tight," said May, trying to explain the slow start. "We haven't played in almost a week, so it was good to get out there and play. And it was definitely a new environment to get used to.
"In the second quarter, we started playing together as a team. I mean, we just worked hard as one unit and when we play together like that, it's hard to beat us."
May led the third-quarter charge by scoring three of Philomath's first four baskets including a three-pointer from the left wing that put the Warriors on top 42-26 with 2:28 remaining.
"We were kind of able to slow the temp down after that," May said. "We've got a point guard in Cole Bradley who can control the flow of any game. I mean, he handles pressure like nobody's business. So, once you get a lead like that, you can kind of slow the temp down and play your game."
The Warriors extended the lead to as many as 21 points, 50-29, in the fourth quarter. Crook County then chipped away over the final 4:40 to at least cut the deficit briefly inside of double digits in the closing seconds.
Crook County's Cameron Carr finished with a team-high 11 points and Edward Freauff chipped in 10 for the Cowboys, who shot 30.6 percent (15 of 49) from the field and were out-rebounded 38-24.
"We got destroyed on the glass, absolutely destroyed," Crook County coach Jason Mumm said. "I thought we defended really, really well, and then we just gave up way too many offensive rebounds.
"Philomath is big and strong and physical, and we just didn't rebound well. So, when you don't rebound it well and you don't shoot it well, that's not a recipe for success."
Mumm also gave credit to the Philomath's defense and the job the Warriors did in holding Tyson Martinez, Logan Matthews, and Freauff to a combined 25 points on 8-for-30 shooting from the field.
"They doubled Eddie every time he got it," Mumm said. "They tried to limit Tyson's looks from the perimeter. They didn't let Logan get to rim. So, they scouted us well and did a good job defensively against us.
"We had to make shots. We didn't shoot the ball very well from the free-throw line, we missed some easy ones at the basket, and we missed some open looks from the three-point line that we normally make. And then, again, you can't give up that many offensive rebounds and expect to win a state tournament game."
For Philomath, Kaden Muir finished with eight points, Beardsley had five points, a game-high 10 rebounds, and six assists, and Russell chipped in two points, three rebounds, and six blocked shots.
"It's nice to get this one under your belt, gain some experience, and be able to move forward," Ecker said. "We'll see what happens with our game going forward.
"Whoever we play is going to be a good squad, there's no doubt about it. You get this far, you've got to come in, you've got to make shots, you've got be able to do things the right way — things that you're capable of doing all the time, but on a little more of a consistent basis."
Philomath's win sets up a showdown with No. 5-seeded Henley (17-6) — a team the Warriors rolled 71-41 on Dec. 10 at the Marist Catholic Tournament in Eugene.
May insisted that the Warriors will be ready.
"This is the playoffs, so seeding doesn't matter once you get here," May said. "We take every game like it's our last and play hard no matter what."
In Thursday's other quarterfinals:
Cascade 74, Marist Catholic 35: Samuel Horne had a game-high 20 points with six rebounds and seven steals, pacing the defending state champion Cougars into the semifinals for the third year in a row.
Cascade faced little resistance from the Spartans of Eugene as the Cougars raced to a 21-2 lead at the end of the first quarter and then coasted into the semifinals and a rematch of last year's championship final against Junction City.
Cascade's Droiy Comstock finished with 14 points and eight rebounds, and Anthony Best added 12 points and four steals for the Cougars, who shot 50 percent (27 of 54) from the field. They also had a 40-24 advantage in rebounds and a 23-13 edge in turnovers.
Marist Catholic's Cooper Mullens had a team-high eight points, Christian Guerrero and Ben Roman added six points each, and Kaden Erlenbush had a team-high eight rebounds.
Henley 77, Baker 61: Markus McCreadie broke loose for a game-high 29 points on 12-for-13 shooting from the field as the Hornets pulled away from the Bulldogs in the second half.
Trailing 37-35 at halftime, Henley outscored Baker 22-15 in the third quarter to take a five-point lead. The Hornets then dominated the fourth quarter, closing the game on a 20-9 run.
For Henley, Blayne Boersma finished with 17 points, Aiden Hayes had 10 points, five rebounds, and five assists, and Shaw Stork chipped in seven points and a game-high eight assists.
Baker's Isaiah Jones had 20 points and seven rebounds, and Paul Hobson added 12 points and was the only other player to score in double figures for the Bulldogs.
Junction City 68, Gladstone 37: Kaleb Burnett scored 21 of his game-high 29 points in the second half as the Tigers turned a two-point game at halftime into a blowout.
Leading 27-25 at halftime, Junction City cranked up its defensive pressure in the third quarter and outscored the Gladiators 31-7 to all but put the game out of reach before the start of the fourth quarter.
Junction City's Gunner Rothenberger finished with 12 points, and Court Knabe added 10 points, four rebounds, and four assists for the Tigers (25-2).
"I don't think we did much of what we wanted to do in the first half," Junction City coach Craig Rothenberger said. "We started out fairly well, but then became impatient, which is pretty rare for us.
"We talked about that at halftime. We hurt Gladstone a little with our pressure in the second half. Our kids pressure well. They play hard on defense, and the second half they really got after it."
Gladstone's Ben Hoffman had a team-high 14 points and was the only player to score in double figures for the Gladiators, who shot 25 percent (4 of 16) from the field in the second half and 39.5 percent (15 of 38) for the game.