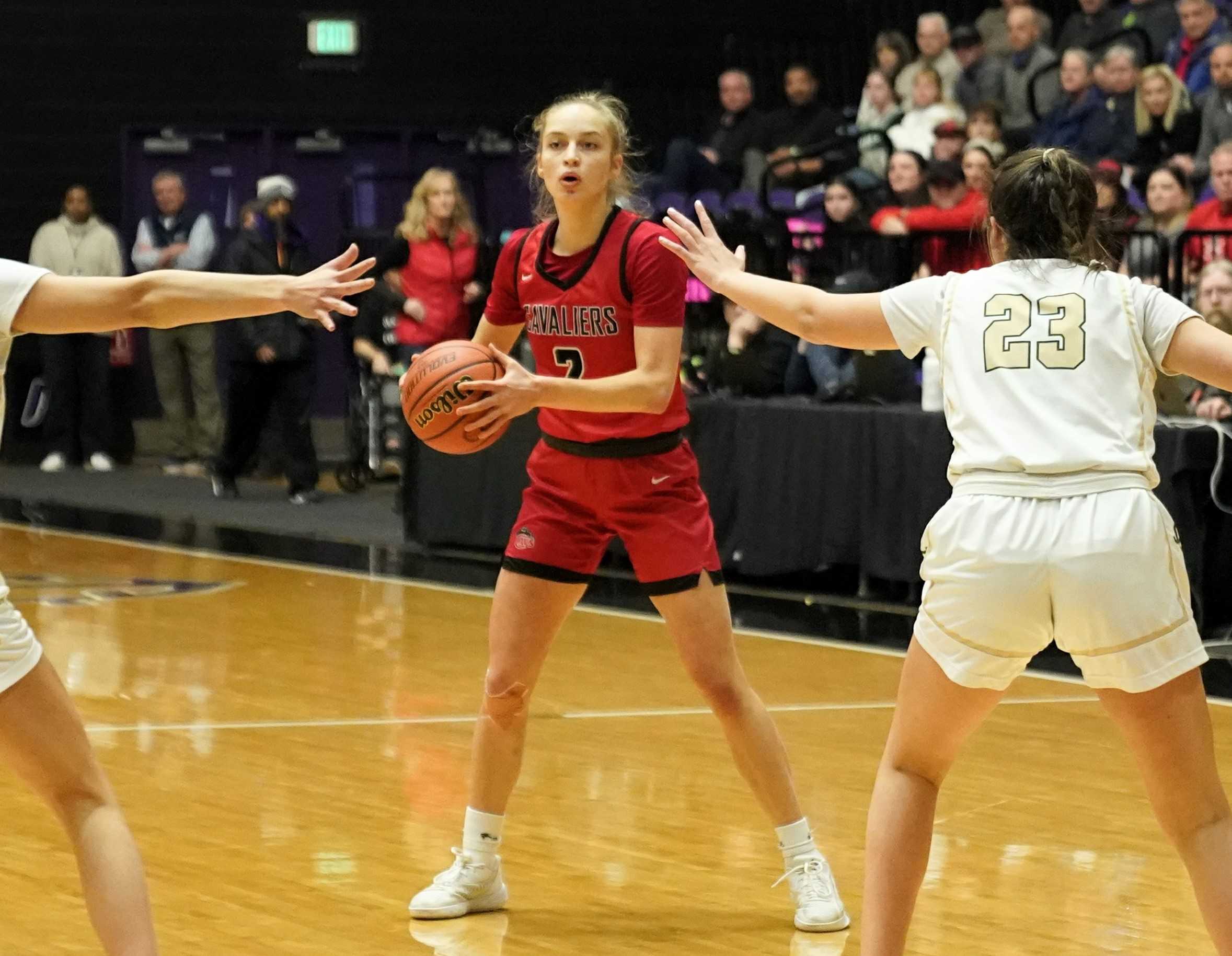 PORTLAND – On a day when their offense was stuck in neutral, the Clackamas Cavaliers turned to their veteran leader, Rhyan Mogel.
The senior point guard, playing on her future home court at the University of Portland's Chiles Center, provided a steady hand to guide Clackamas past Jesuit 39-34 in the semifinals of the OSAA/OnPoint Community Credit Union 6A girls basketball tournament Friday afternoon.
Mogel scored six of the Cavaliers' nine points in the fourth quarter – hitting 6 of 9 free throws – as Clackamas refused to surrender the lead to the hard-charging Crusaders. Mogel finished with a game-high 14 points, four rebounds, two assists and two steals.
"Rhyan's a coach on the floor," Clackamas coach Korey Landolt said. "Her leadership this year has been such a difference-maker for us. There's multiple times where her and I connect, and she just gets everybody on the same page.
"It makes my job a lot easier when I can go through a kid because they all look up to her. They all want to do what's right by her."
Clackamas star sophomore Jazzy Davidson – held to eight points, well off her 22.5 average – had praise for Mogel, who was the Mt. Hood Conference player of the year as a sophomore but missed most of her junior season while recovering from a torn ACL.
"She kind of saved us today," Davidson said. "It's just amazing having a teammate like her."
By beating the top-seeded Crusaders (26-3), the fifth-seeded Cavaliers (25-4) advance to the state championship game to play No. 2 South Medford (27-2). They beat South Medford 59-54 in last year's third-place game.
It is the second state final for Clackamas, which lost to Jesuit in the 2011 final.
"It's super fun," Mogel said. "This is a really special group, so to get to have an opportunity at a championship now, it's just awesome."
The Cavaliers, who have not lost to an Oregon team this season, nearly stumbled Friday against Jesuit a team they defeated 47-29 in December. The Crusaders were physical with Davidson and had Clackamas out of sorts.
Jesuit senior Sofia Bell, signed with Oregon, helped lead the defense against Davidson, who shot 3 of 10 from the field.
"They took us out of a lot of stuff we like to do," said Davidson, who had 10 rebounds. "They kind of shut me down when I was driving, and the refs weren't really helping us out. So we just had to battle through that."
Jesuit rallied from a 17-6 deficit midway through the second quarter to pull within one point three times in the second half. But the Cavaliers, who lost to Beaverton in the semifinals last year, kept their cool and responded each time.
"The difference between us and a couple months ago and us now is we really trust each other and we just wait it out," Mogel said. "No one's really trying to force anything, and eventually we kind of found our stride a little bit, and we got it done."
Jesuit cut the Clackamas lead to 30-29 on a rebound basket by junior post Kendra Hicks with 7:00 left in the game. The Cavaliers pushed their edge back to 34-29 on two free throws from Mogel and a driving basket by sophomore Allie Roden.
Crusaders senior point guard Emma Sixta drove to cut the lead to 34-32 with 1:20 to go. After Clackamas sophomore Sara Barhoum split two free throws for a 35-32 lead with 44 seconds left, Bell missed a three-point attempt with 30 seconds remaining.
Mogel went to the line with 19 seconds on the clock. She made the first and missed the second, but chased down the rebound, was fouled, and hit two free throws for a 38-32 cushion with 17 seconds left.
The performance of Mogel, who also took on the challenge of guarding Bell when Davidson picked up two fouls in the first quarter, epitomized Clackamas' success this season, according to Landolt.
"When somebody's having a rough night, somebody else picks it up," Landolt said. "They had to do that tonight. It's cool to see."
The Cavaliers, who held Jesuit to a season-low point total in the first meeting, once again clamped down on the Crusaders. Jesuit shot 29.2 percent from the field, including 0 for 14 on three-pointers as Bell (0 for 6), Sixta (0 for 5) and senior sharpshooter Avery Edwards (0 for 3) couldn't find their strokes.
Bell finished with 11 points and six rebounds, going 4 for 18 from the field. Hicks had 11 points and eight rebounds and Sixta added 10 points.
"I thought we had a little trouble making some shots early, and rebounding out of our zone early, and we spotted them that 17-6 lead," Jesuit coach Jason Lowery said. "After that, we were fine."
The Crusaders held Clackamas to 36.1 percent shooting.
"Defense is what we do, so I never worry about us defending," Lowery said. "It was just tough for us to get some baskets tonight."
No. 2 South Medford 71, No. 6 Barlow 33: The Panthers (27-2) went on a 20-0 run in the first quarter to open a 22-4 lead and coasted past the Bruins (23-6) in a game that went to a running clock in the fourth quarter.
Oregon State-bound senior guard Donovyn Hunter had 23 points, four rebounds, four assists and four steals to lead South Medford, which avenged last year's two-point semifinal loss to Barlow.
Junior forward Kim Ceron scored 12 points and senior Kendall Fealey, sophomore Sara Schmerbach and freshman Taylor Young added nine points each. Young had five of the Panthers' 14 steals.
"Barlow was a team that helped end our chances last year, and the way that it happened, a lot of those kids remember that," South Medford coach Tom Cole said. "They felt pretty motivated about getting an opportunity to play again in another semifinal game, and maybe impact the outcome a little different."
The Panthers jumped all over the Bruins with their pressure defense, converting steals into baskets.
"I told my team before we left, 'Focus on the defense, because once you get a steal, your nerves start to go down,'" Hunter said. "Everyone, I guess, took the advice."
Hunter said her team entered the game with a different mindset than last year.
"Everyone is more confident in ourselves," she said.
South Medford focused its defense on Barlow senior guards Kennedie Shuler and Annie Koenig. Shuler shot 7 of 16 and scored 18 points. Koenig was 1 for 11 and had 10 points.
"We knew that both those kids have the ability to beat us," Cole said. "We just tried to stay focused, dial in on defense, and I think everybody accepted the assignments. They really rose to the challenge defensively in the first half."
South Medford, which won an unofficial state title in 2021, won its only OSAA championship in 2012. The Panthers were runners-up in 2013 and 2014.