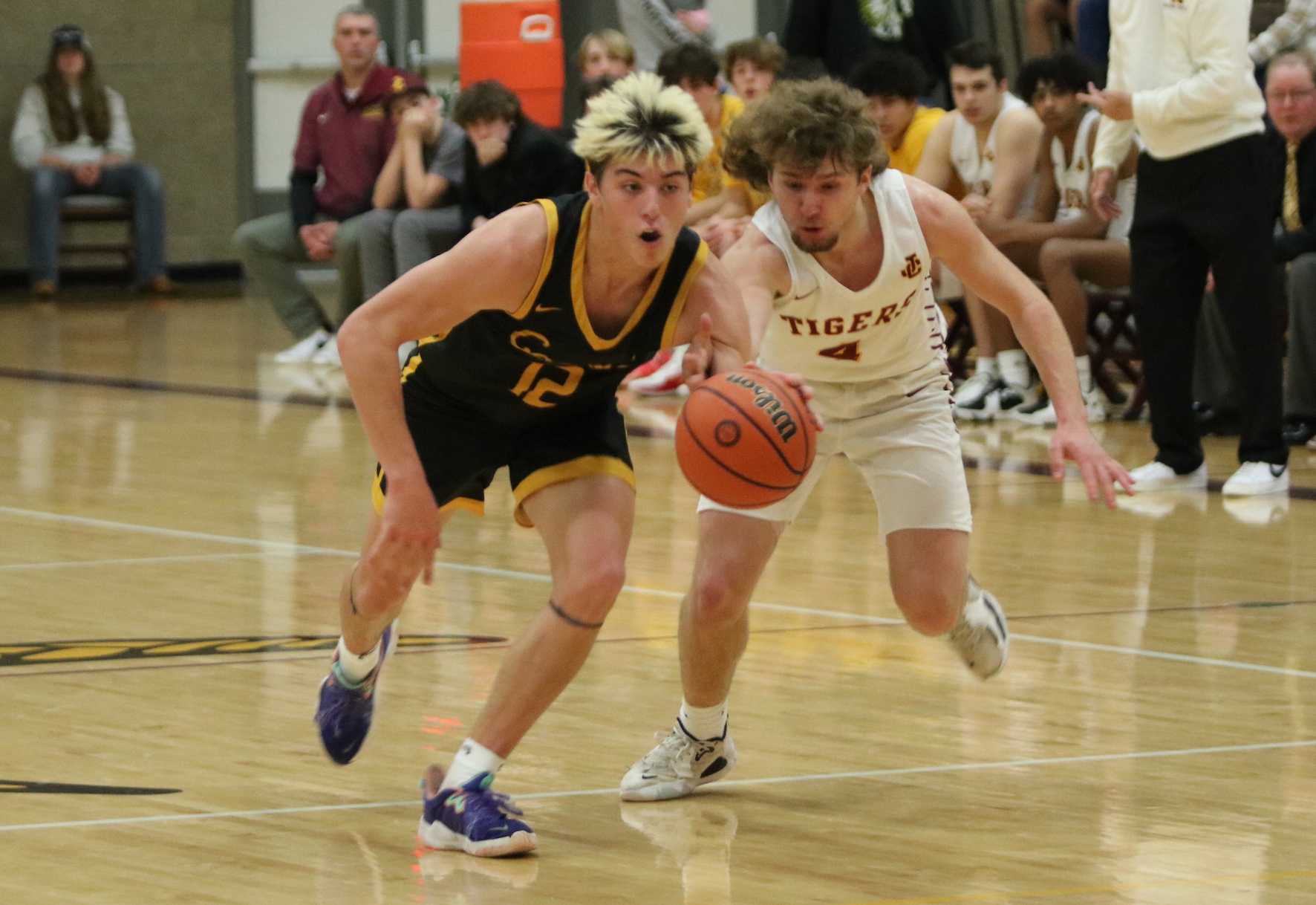 FOREST GROVE -- The Cascade Cougars are big, strong, and tough, and they overpowered the Junction City Tigers on Friday.
Cascade's Spencer Horne had a team-high 21 points with eight rebounds as the Cougars overpowered the Tigers 66-53 in the semifinals of the OSAA/OnPoint Community Credit Union 4A boys basketball tournament at Forest Grove High School.
Anthony Best added 20 points and seven rebounds to help send the defending state champion and No. 3-seeded Cougars of Turner into Saturday's all-Oregon West Conference championship against top-seeded Philomath.
"I'm just super-proud of the boys," first-year Cascade coach Justin Amaya said. "The coaching staff came in with a great game plan and … it worked. Our game plan worked."
Even though Philomath is the No. 1 seed, Cascade swept the two-game season series with the Warriors, winning by scores of 50-49 and 64-61 en route to an undefeated league record. So, the Cougars (23-3) know what to expect in their bid to become the first team to win back-to-back state titles since Seaside in 2017 and 2018.
"All year, we've believed that we have the toughest league in the state," Amaya said. "It's going to be a great game tomorrow. Both games in the regular season could have gone either way. Philomath is the real deal. I have so much respect for them, their players, and their coach … it's going to be a good one."
In a rematch of last year's championship final, Junction City got the early jump in Friday's semifinal when Court Knabe knocked down a pair of threes from the left wing and the Tigers emerged from a fast-paced first quarter with a 15-13 lead.
The Cougars then turned up the physical play at both ends of the court in the second quarter and outscored the Tigers 15-9 to lead 28-24 at halftime.
"Cascade in a really physical basketball team and I knew physically it was going to be a battle because we're not as big," Junction City coach Craig Rothenberger said. "We did most things well. We just had a couple of stretches where we didn't take care of the ball.
"Some of that was because of Cascade. They're just strong and their approach is they're going to beat the daylights out of you and they (the officials) aren't going to call them all. That's kind of the way they attack you."
To start the third quarter, Cascade consistently worked the ball inside to Best, the 6-foot-6 sophomore wing, who scored the first eight points in a 10-4 run that extended the lead to 38-28.
Junction City's Kaleb Burnett had nine third-quarter points, including a basket that cut Cascade's lead to 42-36, but the momentum still belonged to the Cougars. The proof of that came in a 7-2 run to close the third quarter, followed by a 9-3 run at the start of the fourth that pushed the lead to 58-41 with 3:26 remaining.
"We had a couple stretches where we didn't get the ball down very well," Rothenberger said. "You do that, you stay closer, and you have your opportunities.
"I thought we were fine at halftime. In the third quarter, they picked it up with their defensive pressure and we struggled offensively and turned the ball over. That's probably the reason they got up on us by 10. Then we're trying to chase them and they're not an easy team to chase."
Cascade's Droiy Comstock had 10 points off the bench, Samuel Horne added nine points and three assists, and Landon Knox scored six points. The Cougars shot 54.3 percent (25 of 46) from the field, 46.2 percent (6 of 13) from long range, and 52.6 percent (10 of 19) at the free-throw line. They also had a 28-21 edge in rebounds.
For Junction City, Burnett had a team-high 21 points and six rebounds, Knabe had 11 points and six assists, and Gunner Rothenberger added nine points, five rebounds, and three assists.
The Tigers shot 51.4 percent (19 of 37) from the field, 21.1 percent (4 of 19) from distance, and 73.3 percent (11 of 15) at the foul line.
"We had nothing but respect for Junction City," said Spencer Horne, Cascade's 6-3 senior guard. "They're so disciplined and they have a really good coach, but we knew, in the end, we'd pull through. We have a really talented squad, one through five, and we have all kinds of confidence.
"This is amazing. It's the best feeling in the world when you get to the end of the game, and … that was our goal. We're going to have to play better offensively in the final. Some of us, including me, were trying to create our own shots. We know all of us can do it, but tomorrow, sharing the ball is going to be key."
Philomath 45, Henley 37: Senior guard Cole Beardsley knocked down four three-pointers and finished with a game-high 17 points as the top-seeded Warriors outlasted the Hornets of Klamath Falls in a defensive standoff that wasn't decided until the final three minutes.
Philomath's Ty May had 13 points and Preston Kramer added eight points and eight rebounds to help lift the Warriors (22-4) into Saturday's championship final against Oregon West Conference rival Cascade.
"It was tough," Beardsley said. "Nothing is easy, especially at state. We're just glad we're moving on. We've just got to remain humble because nothing's over. This feels great, but the job's not finished."
Getting past the Hornets was a struggle. There were nine lead changes before Philomath cobbled together an 8-0 run in the final 3:12 of the second quarter to take a 23-16 lead into halftime.
In the second half, the Warriors pushed the lead to as many as 10 points a couple of times, but Henley battled back to get with two points twice in the fourth quarter — the last time on a Markus McCreadie lay-in that made it 34-32 with 3:22 remaining.
Then Philomath put together a two-minute stretch of stellar defense that stymied Henley and ignited the Warriors' transition offense. Chad Russell scored on a lay-in, Kemper hit another, May did the same with an assist from Kemper, and then Beardsley stole the ball and scored, putting Philomath back up by 10 points, 42-32, with 1:07 to play.
"That sealed it for us," Beardsley said. "Obviously, it's not over until the buzzer sounds, but that was just adrenalin kicking in and us getting after it as a team right there. So, it was great."
Philomath coach Blake Ecker also heaped praise on the Warriors defenders after Henley shot 42.1 percent (16 of 38) from the field and 44.4 percent (4 of 9) from three-point range. They also forced 23 turnovers, which the Warriors turned into 16 points at the offensive end.
"I thought both teams played hard defensively, no doubt about it," Ecker said. "We did a really good job of getting out on their shooters, not allowing them open looks from the three-point line.
"I give our guys a lot of credit for getting after it and playing hard that way — flying around, getting tips, and rebounding. Henley didn't have a lot of extra opportunities at the basket."
McCreadie, Henley's 6-7 junior post, had 16 points and was the only player to score in double figures for the Hornets. Owen Cheyne and Shaw Stork had six points each, and Luke Bennett, Blayne Boersma, and Chris Janney chipped in three points each.
"It was kind of what we expected," Henley coach Luke Hammond said. "Philomath is here all the time for a reason. I thought our kids played their butts off and in the fourth quarter to still be with a team like that took a pretty impressive effort. We just didn't take care of the ball when we needed to, and every time we made a run, they had a good answer for it."
Philomath is in the final for the seventh time in school history and the Warriors are seeking their fourth state championship.
"It's awesome for the kids," said Ecker, who guided Philomath to titles in 2014 and 2016. "I'm really proud of them. They battled, they fought hard, and it's been a long season for them. I mean, they've had a target on their back for a long time, and we're now where we wanted to be at the start of the season.
"I really felt that we had a good opportunity to be there. So, I'm proud of them. And I'm excited for them. But we've got one more game. I'm telling you … in the 4A tournament, there are two teams left, and we're one of them. And we've got to go out and compete as hard as we can in the next game, no matter who we play."
In Friday's consolation games:
Crook County 60, Baker 52: Junior guard Logan Mathews scored a game-high 23 points with eight rebounds and five assists as the Cowboys of Prineville rallied from an 11-point deficit midway through the third quarter.
Junior post Edward Freauff added 18 points, 12 rebounds, and three blocked shots to help send Crook County (17-9) into Saturday's fourth-place game against Marist Catholic.
Sophomore guard Isaiah Jones led Baker with 10 points and was the only player to score in double figures for the Bulldogs (22-6).
Baker opened a 28-23 halftime led and then extended that advantage to 38-27 after Giacomo Rigueriro hit a three-pointer with 5:52 remaining in the third quarter.
Crook County climbed within 44-37 at the end of three quarters and then went on a 21-4 run, putting the game out of reach on a Nate Jensen jumper that gave the Cowboys a 58-48 lead with 1:18 to play.
Cameron Carr finished with seven points, and Kiernan Teasdale added five points and seven rebounds for the Cowboys, who shot 58.5 percent (24 of 41) from the field and enjoyed a 40-18 advantage in points in the paint. Crook County also had a 38-25 edge in rebounds, which helped offset the Cowboys' 24 turnovers.
Marist Catholic 57, Gladstone 49: Senior guard Cooper Mullens went 5-for-7 from long range and finished with a team-high 23 points, leading the Spartans of Eugene to a wire-to-wire victory over the Gladiators.
Junior forward Kaden Erienbush scored 13 points to help the Spartans (15-12) bounced back from Thursday's quarterfinal loss to Cascade.
Gladstone guard Carver Mellema, one of nine seniors on the Gladiators' roster, led all scorers with 24 points. Senior forward Cohen Daves added nine points, Ben Hoffman, Brayde Owen, and Hayden Smith — all seniors — chipped in four points each for the Gladiators (15-11).
Mullens scored nine first-half points to help pace Marist Catholic to a 31-20 halftime lead.
The Spartans then went on an 11-7 run that ended with Erienbush knocking down one of two free throws to push the lead to 42-27 with 1:55 remaining in the third quarter.
For the game, Marist Catholic shot 64.5 percent (20 of 31) from the field, 50 percent (5 of 10) from three-point range, and 60 percent (12 of 20) at the free-throw line. The Spartans also shined at the defensive end, holding Gladstone to 35.7 percent shooting (20 of 56) from the field.