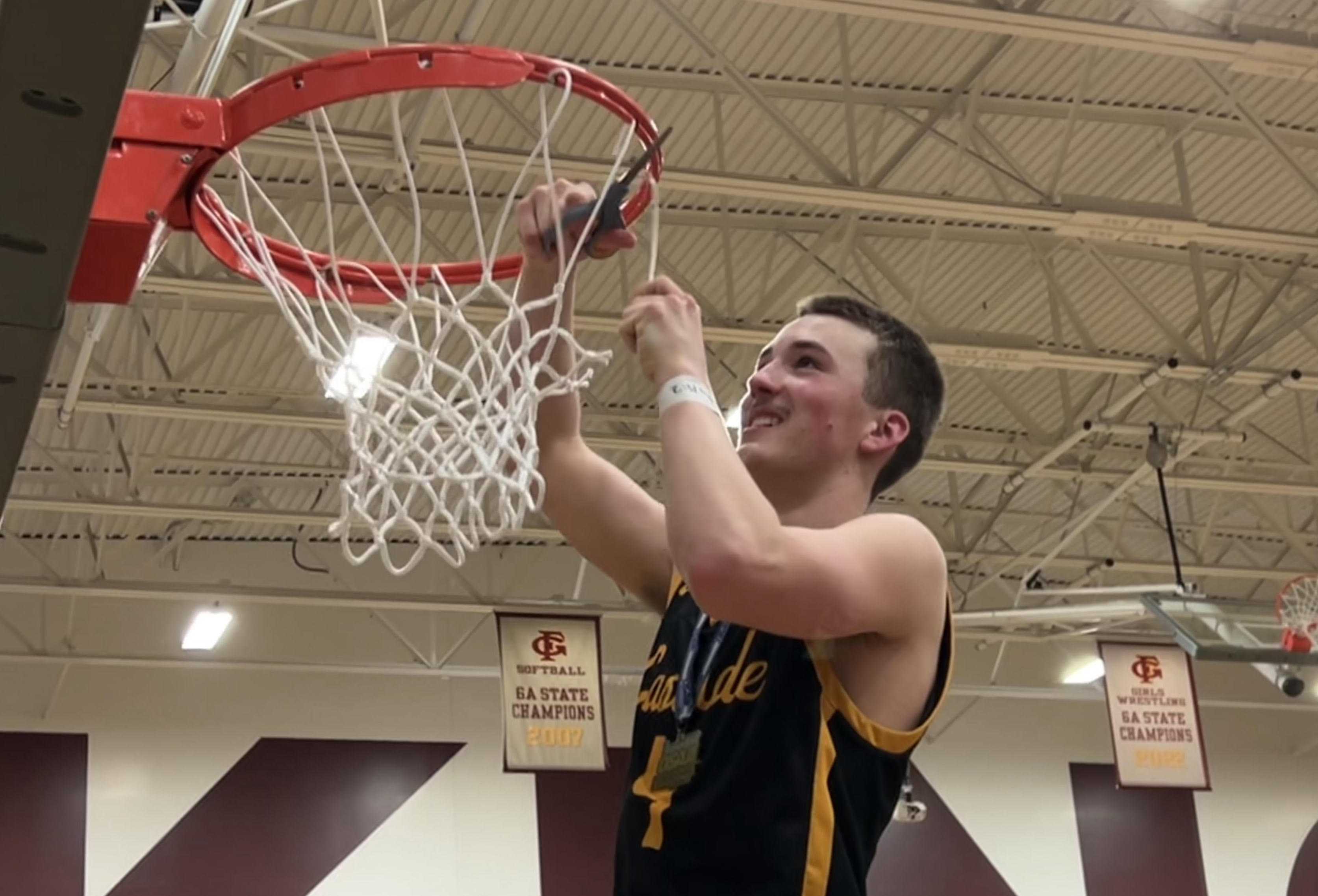 FOREST GROVE -- Cascade had Philomath's number both times the Oregon West Conference rivals met during the regular season and they had it again on Saturday night.
Cascade sophomore Landon Knox had a game-high 19 points and senior Spencer Horne added 16 as the Cougars clinched their second consecutive OSAA/OnPoint Community Credit Union 4A boys basketball state championship with a 61-52 victory over the top-seeded Warriors at Forest Grove High School.
Knox scored 11 of his 19 points in the third quarter when the Cougars of Turner went on a 22-9 run and turned a four-point deficit into a 43-34 advantage heading into the fourth quarter.
The Warriors trimmed to deficit to seven points, 52-45, with 1:13 remaining, but that was as close as they got.
The Cougars (24-3) earned their third state championship and became the first 4A boys team to win back-to-back titles since Seaside in 2017 and 2018.
"The whole entire game was unreal for me," Cascade coach Justin Amaya said. "It hasn't sunk in yet. I'm just so proud of these boys.
"Everyone doubted us all year. We weren't predicted to win our league. We weren't predicted to beat Philomath. But we stuck together. We talked about 'holding the rope' and playing together. Look up that poem, 'Hold the Rope,' and you'll know what I'm talking about."
Cascade defeated Philomath twice during the regular season, winning by scores of 50-49 and 64-61 en route to going undefeated in Oregon West Conference play. Yet when the computer program that determined the seeding for this year's tournament made Philomath the No. 1 seed and Cascade the No. 3 seed, the Cougars felt as if they still had something to prove.
"People were doubting us and we just proved everybody wrong," said Horne, one of seven seniors on Cascade's roster. "I believe that we were the more talented team tonight. Philomath is very disciplined and well-coached, but the keys tonight were valuing possessions, playing good man-to-man defense, and rebounding."
The Cougars also knocked down some big shots at key times — none bigger than the 6 1/2-minute stretch in the third quarter when they knocked down 9 of 12 shots from the field and seized control of the game.
Knox led the third-quarter surge with five baskets, including a three-pointer. The Cougars also got two baskets from Samuel Horne, a three and two free throws from Rogue Newton, and one basket from Spencer Horne.
"These kids play with ice in their veins and they just got after it," Amaya said. "I tried not to over-coach the. I just wanted them to play basketball and I wanted to be calm, cool and collected for them, and they responded."
Philomath's response? The Warriors didn't have one.
"Cascade shot the ball very well," Philomath coach Blake Ecker said. "They got on a run in that third quarter and it was hard to play from behind against them. They kind of iced it out a little bit in the fourth, even when we tried to do some different things to try and speed them up.
"We did the best we could and they deserved to win. They played better than us tonight."
Philomath's Ty May had a team-high 13 points, Kaden Muir had 12 points, and Preston Kramer added 11 points for the Warriors (22-5).
"We stayed with Cascade most of the game," said May, the Warriors' 6-foot-6 senior. "Then they got the momentum and just kind of carried it out the rest of the way. We were trying to play catch-up most of the time, and we couldn't pull ourselves out of that hole.
"I have to give credit to Cascade's defense. They were flying around, making plays, working hard. They were getting out on our shooters and we had contested looks, so kudos to them. They won it."
Said Ecker: "To finish second in the state, we need to hold our heads high. I'm proud of our guys. It's a little letdown. Our goal was to win it all, but … I'm still proud of our guys."
For Cascade, Kaiden Ford had nine points, Anthony Best had seven points and six rebounds, and Samuel Horne and Newton added five points each.
"Glory to God," said Knox, the sophomore who played his freshman year at 1A Crosshill Christian in Turner. "I couldn't have done this without Him. He gives me the strength to be able to play and it just felt so awesome to be able to win a championship with my brothers.
"I was just trying to win it for my team. I wanted to go out there and give it my all, and if it was making shots, making passes, or grabbing rebounds, that was it. Everyone gave it their all. Everyone bought in. And it was just a great team win."
In Saturday's other games:
Junction City 64, Henley 56: Senior Kaleb Burnett erupted for 25 points, 16 rebounds, and two blocked shots as the second-seeded Tigers held off a late charge by the Hornets to win Saturday's third-place game.
Junction City's Gunner Rothenberger had 17 points and seven rebounds and Cooper Rothenberger had 10 points to help hand their grandfather, Tigers coach Craig Rothenberger, career win No. 739 in the final game of his 52-year career.
"This is it, yeah," Craig Rothenberger said. "This is the last one. It's a little difficult, but I've prepared for it."
Coming off Friday's semifinal loss to Cascade, the Tigers jumped out to an 11-5 lead at the end of the first quarter against Henley and then dictated how the game was played for most of the final three quarters.
Trailing 51-37 in the fourth quarter, Henley went on a 14-6 run to creep within six points with just over a minute to play. The Hornets then were forced to foul and Junction City responded by knocking down 7 of 10 free throws in the final 59 seconds to seal the decision.
"Last night, we were all pretty sad," said Burnett, the Tigers' 6-foot-3 post "It was pretty heartbreaking because our goal was to get a state title. But we figured it was our last game with this senior group and with Coach Rothenberger, so we might as well pull together and end the season on a win.
"Coach deserves it. I wish we could have got him a state title, but this will do."
Junction City got eight points from Jaxson Kister and four points from Court Knabe. The Tigers shot 45 percent (18 of 40) from the field and won the game at the free-throw line where they shot 79.4 percent (27 of 34), taking 17 more foul shots than Henley.
"I was pleased with our effort," Craig Rothenberger said. "Obviously, down the stretch we were tired and defensively we kind of broke down. Henley kept coming at us."
For Henley, Owen Cheyne had a team-high 22 points, Shaw Stork had 10 points, and Markus McCreadie added nine points and seven rebounds as the Skyline Conference champions finished the season with a 17-8 record.
Rothenberger, 75, started his coaching career in 1970 at Tillamook Catholic where he coached four seasons from 1970 to 1973. He then coached five seasons at Nestucca (1976-1980) before launching a 44-year run at Junction City in 1981.
His career record stands at 739-522, ranking third among Oregon high school coaches in all-time wins behind only Mike Doherty and Gary Hull. He also won one state championship with Junction City in 1994.
He coached both of his sons, Bart and Ty, and this season's roster included three grandsons — senior Court Knabe, senior Gunner Rothenberger, and junior Cooper Rothenberger.
"This has been such a part of my life for so long," he said. "I'm going to have a lot of free time on my hands. I hope to help some younger coaches if they want it and share what I know.
"I had an awfully good run. I think it's been a great career. It's been fun for me and I've never been to work a day in my life. How many people can say that?"
Crook County 52, Marist Catholic 47: Junior forward Edward Freauff was a force around the basket, finishing with a game-high 19 points, 17 rebounds, and three blocked shots as the Cowboys of Prineville downed the Spartans of Eugene in Saturday's fourth-place game.
Junior forward Kieran Teasdale had 12 points and six rebounds, and junior guard Logan Mathews added 11 points and eight rebounds for the Tri-Valley Conference-champion Cowboys (18-9).
Marist Catholic senior guard Cooper Mullens had a team-high 17 points and was the only player to score in double figures for the Spartans (15-13).
There were five lead changes in the game, yet Crook County came away with an edge in all four quarters, outscoring Marist Catholic 12-11 in the first quarter, 10-9 in the second, 11-10 in the third, and 19-17 in the fourth.
Marist Catholic was within striking distance almost the entire way. Trailing 37-30 early in the fourth quarter, the Spartans went on a 10-3 run that ended with Kai Holmes knocking down a three-pointer that tied the score at 40-40 with 3:34 remaining.
Freauff answered for Crook County on the ensuing possession, touching off a 10-1 run that put the game away.
The Cowboys graduate three seniors, including starting guard Cameron Carr but are set to return four starters next season.