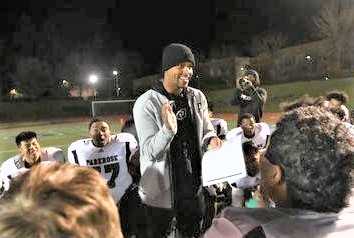 After college coaching stops at UCLA and Nebraska, Keanon Lowe is returning to Oregon high school football.
The former Jesuit and Oregon standout, who was the 5A coach of the year at Parkrose in 2019, has been hired as the coach at 6A Mountainside, the school announced Tuesday. He replaces John Mannion, who started the program in 2018 and stepped down after last season.
In January 2020, Lowe was hired to succeed Chris Miller as the coach at 6A West Linn, but he resigned six months later to accept a position at UCLA. He spent the 2020 season at UCLA and 2021 at Nebraska before moving back to the Portland area last year with his fiance, Midori Portillo.
"This whole last football season, I kind of took a step back from coaching," Lowe said. "It was the first time I wasn't part of a team since I was eight years old.
"It was a good year, but it was a tough year, because football is something that I love. So I was patient this whole year, and I was going to make sure, wait for the right opportunity to come up."
Lowe said he wasn't going to return to coaching unless he was able to make a full commitment and find the right situation. His familiarity with the Mountainside community was a key factor.
"I spent a lot of time around that community during my high school days at Jesuit," Lowe said. "My younger brother (Trey) went to some of those feeder schools. I know that Murrayhill community well. It just felt right."
Lowe made a dramatic impact in his first head coaching job at Parkrose. Before he took over in 2018, the Broncos had lost 23 consecutive games. They went 5-5 in his first season and 7-3 in his second year, leading them to their first playoff win in school history.
Lowe said that former Jesuit and Oregon lineman Doug Brenner, who coached with him at Parkrose, will join him at Mountainside. Lowe is just getting started filling out his coaching staff.
" I have a huge address book of people that I'm going to reach out to," Lowe said. "We're going to build a pretty awesome staff. We're going to try to build something that the community ad kids can be proud of and that's going to last for a long time."
Lowe is hopeful that his brother Trey, a redshirt junior running back at Oregon State, will eventually join him.
"The plan is whenever he is done playing, he's going to come and coach with me, which is special on a whole another level," Lowe said.
Mannion went 29-20 in five seasons with the Mavericks, including 9-2 last year, when they reached the 6A quarterfinals. The team will graduate many key players, but Lowe is encouraged by the young talent in the program. The freshman team went undefeated last season.
Lowe said he went to Oregon high school games every Friday last fall.
"I saw everyone play," he said. "I kept up with it, knowing that I'd get back in the game. I've been preparing for this moment for an entire year. Now I get to set my roots down at Mountainside. The plan is to be there for a long time and hopefully build something really special there."
Lowe moved back to the Portland area when Miduro was hired as the trainer for Portland State women's basketball. The couple plans to marry in late June.
"We're exactly where we want to be," Lowe said.
Oregon high school football is close to Lowe's heart.
"I always tell people that the high school level, especially here in Oregon, it's my favorite," he said. "It's where I've had the most fun. It's where I've been able to grow the most as a coach."