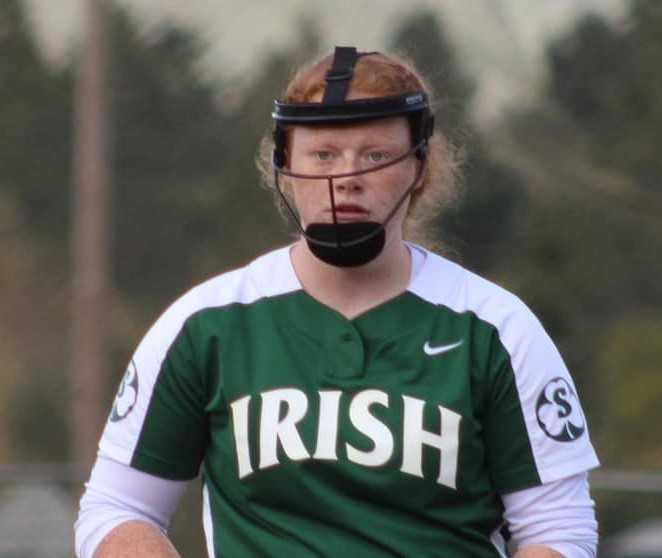 Three weeks into the softball season, Sheldon is starting to look like the team to beat in 6A.
The Irish (9-0, 4-0 Southwest Conference), ranked No. 3 in the last OSAAtoday 6A coaches poll released March 28, are stacking up wins against tough competition. They have beaten No. 1 Oregon City, No. 2 South Medford, No. 5 McNary, No. 9 North Medford and 5A No. 1 Bend.
"We want that tough schedule," said coach Mike Faulconer, who guided Sheldon to its only state championship in 2019. "We were fortunate enough to get some wins here. The real good thing is it's setting us up for the rest of the season because we've seen a lot of good pitching and good teams."
Sheldon took the inside track in the Southwest this week by defeating South Medford 10-0 in six innings Tuesday and sweeping a doubleheader at North Medford on Wednesday, winning 6-4 and 4-0.
Oregon State-bound junior pitcher Payton Burnham picked up all three wins. She tossed a one-hitter with nine strikeouts and no walks against South Medford. She threw a no-hitter with 12 strikeouts and two walks in the first game against North Medford and recorded a two-hitter with 15 strikeouts and three walks in the nightcap.
For the season, Burnham is 9-0 with a 0.26 ERA. In 55 innings, she has allowed 15 hits, struck out 106 and walked 11. She mixes a 64-mph fastball with an effective drop, riseball and changeup.
"She definitely added some polish to her game," Faulconer said. "She's learning how to pitch and not just using the power. She throws very hard, but she's getting some better spins on the ball. It's moving more. She's doing some different things, locating pitches well, not giving up walks. She's really been fantastic."
The Irish, who have only one senior on their roster, have held opponents to a 6A-low nine runs and scored 67 runs. So far, the lineup has been productive from top to bottom.
"It feels like there's always somebody stepping up and making it happen," Faulconer said. "There are a lot of dangerous hitters in this lineup. We have some power, but we have speed. We kind of just have it all. It think it's going to be tough for teams to prepare for us."
Junior Kinley Pappas is hitting .519 with five doubles in the leadoff spot. She has eight stolen bases and has scored nine runs.
"She's been a catalyst for us," Faulconer said.
Junior Brooke Peterson is hitting .421 with nine stolen bases and senior Meara Sain is batting .414 with eight RBIs and eight stolen bases. Burnham leads the team in RBIs with nine and three others have eight.
Sheldon's most dramatic win came against Oregon City. The Irish trailed 1-0 with two outs in the bottom of the seventh but freshman Soraya Dorsey hit an RBI double and sophomore Jazmin Gallegos followed with a hard grounder that got past the first baseman, scoring the winning run.
The Irish got a key addition with junior shortstop Avery Coffin, who joined the team this season after playing in Sheldon's baseball program. Coffin has been outstanding on defense and flashed her power with a grand slam against South Medford.
Faulconer said he was optimistic that Coffin would eventually join the softball team. A pitcher in baseball, she has a rocket for an arm.
"You think they might beat something out, and then all of a sudden you see this laser going across the field," Faulconer said. "She's a lot of fun to have on the team."
Sheldon graduated four starters from last year's team, which shared the Southwest title with South Medford and reached the 6A quarterfinals before falling at McNary 2-0, the team's only shutout of the season. The Irish got some payback with a 5-3 home win over McNary on March 17.
"We were disappointed with the way last season ended," Faulconer said. "It was a lot of frustration. But we got them on our early-season schedule, so they got a chance to get that win and feel good about it."
Tigers pounce
Yamhill-Carlton, No. 1 in the OSAAtoday 3A coaches poll, posted an impressive 15-0, five-inning win at 4A No. 2 Stayton on Wednesday.
Junior center fielder Maddy Tuning went 4 for 5 with a triple and four RBIs to lead the way for the Tigers (8-2). Senior infielder Lexiss Antle went 2 for 3 with four RBIs and scored three runs and senior outfielder Alyse Hurley went 2 for 2 with two RBIs and scored three runs.
Senior Briley Ingram picked up the win in the circle for Yamhill-Carlton. She allowed six hits, struck out eight and walked two against the Eagles (7-3).
It was the Tigers' third consecutive win since a 2-1 loss to No. 3 Burns in a rematch of last year's 3A final, won by Burns 3-1. The game was played at Vale.
Antle is off to a fast start at the plate She is batting .484 with three doubles, three triples, 12 RBIs and 20 runs scored.
Grizzlies outlast OC
No. 6 McMinnville overcame a three-run deficit for a 6-5, 11-inning home win over No. 1 Oregon City on Wednesday.
The Grizzlies (7-1) fell behind 5-2 when the Pioneers (7-2) scored three runs in the top of the eighth inning, the first run coming on a homer by senior Allyson Nordling.
But McMinnville stayed alive by answering with three runs in the bottom of the inning as junior Peyton Justice hit an RBI single and sophomore Laney Reed followed with a two-run single.
Under international tiebreaker rules, the Grizzlies got the winning run when freshman Ava Fleischman ripped a one-out RBI double off the fence in right-center field in the bottom of the 11th.
Sophomore Mackenzie Roberts got the win for McMinnville, giving up nine hits and one earned run and striking out four. The Grizzlies got nine hits off Oregon City junior ace Lily Riley, who fanned 14 and was charged with five earned runs.
With the win, McMinnville bounced back from a 5-0 home loss to 5A No. 1 Bend on Tuesday. In that game, Bend junior Addisen Fisher pitched a two-hitter with 15 strikeouts and no walks.